As Pokémon Go continues its massive surge of international popularity, there has already been a wide variety of creative methods from various players who have tried different ways to beat Ninatic's gaming system Different Pokemon GO hacks have been released for each Smartphone platform. Even we have published Pokemon GO hacks for Rooted Android device. But with hardware specs bumping up and leaving reason for rooting your smartphone, not everyone would void their smartphone's warranty for a game. So, today we're here with Pokemon GO hack for Non-Rooted Android.

Non-Rooted Pokemon GO hack does not require any Root not even any Custom recovery. This method does work on any Android device. If you follow each step correctly, you'll get Pokemon GO Android hack with Joystick (Arrow keys) to move along with location spoofing which means you can play Pokemon GO from anywhere in the world. The entire method is really simple to follow. Let's just jump into the guide.
Don't forget, the rooted hack has much more features & advantages over non-rooted Hack. This Guide is for devices running Android Marshmallow & above. If you are using Jellybean/KitKat/Lollipop, you can refer new Pokemon GO hack for Jellybean & above.
Prerequisites:
1. Pokemon GO Game:
2. Pokemon GO Fake GPS Joystick & Routes Go

Currently this is the only app that tends to work with all the security updates & allows you to change your location using a Joystick. I know it's a paid app now, but it's better to spend few bucks rather than getting your Pokemon GO account banned. You can also try FlyGPS, but FlyGPS does not have automated altitude and it rubber-bands a lot more, so it is prone to softbans.
Using Pokemon GO GPS Spoofing on a Non-Rooted Android device doesn't allow you use the app to it's full potential, due to which you will face Rubberbanding affect (You can avoid Rubberbanding affect by covering your phone in an Aluminium foil. This blocks the original GPS to track your current location) also you might face "GPS Signal not found" issue, but I have added solution for everything at the bottom of this article. Please try to read everything before asking any question.
Check if you need to Root?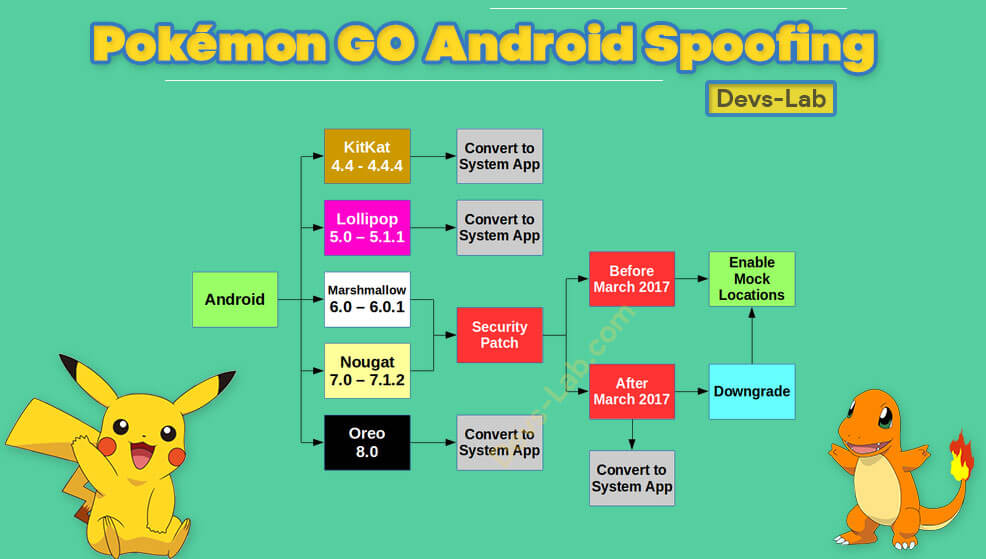 How to setup Pokemon GO Fake GPS hack in Android (No Root)
Step 1. Download and install both the required Apps mentioned above.
Step 2. Go to Settings App > About Phone > Tap on build number 7 times (Until it says, you're now a developer) to activate Developer options in your device.
Step 3. Go to Settings > Developer options. Locate "Select mock location app" & select FakeGPS Route.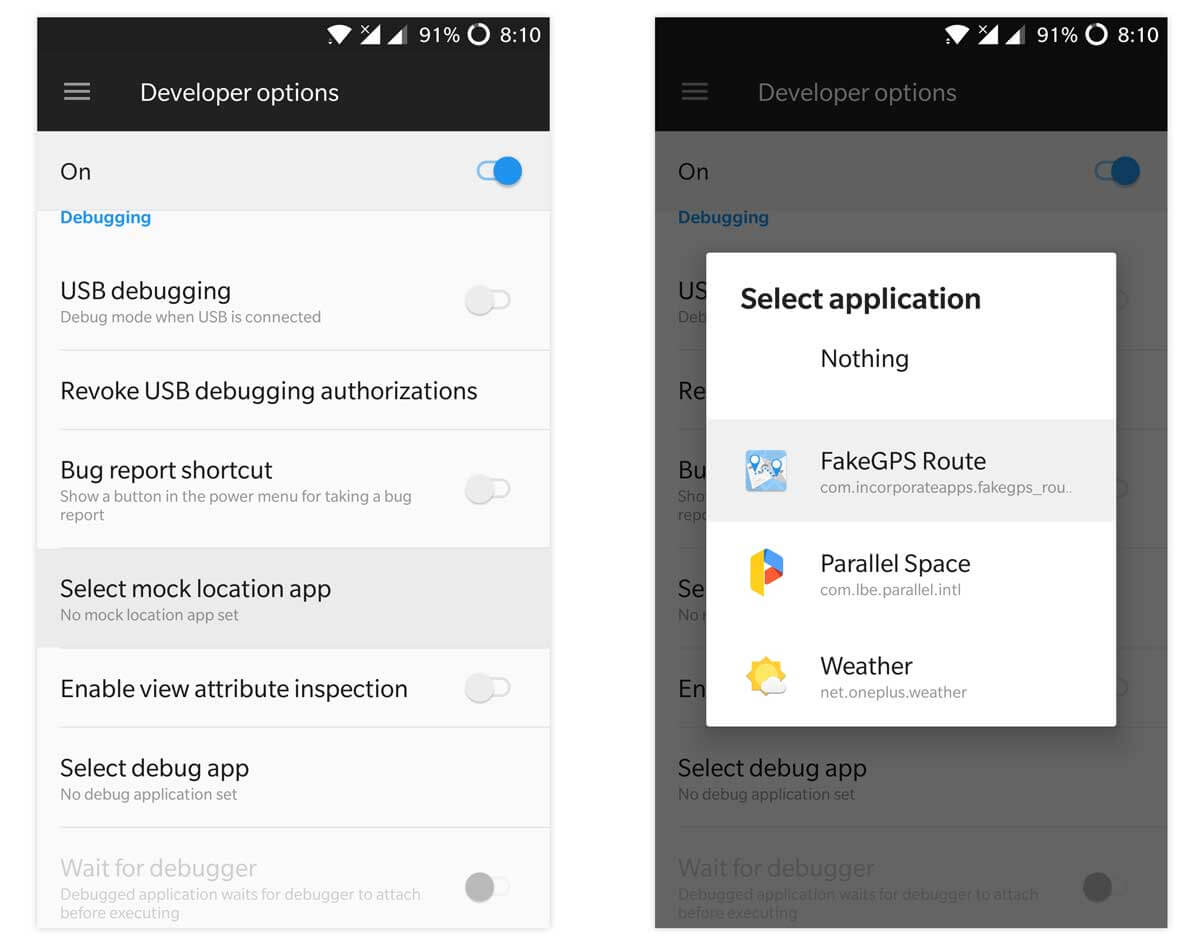 Step 4. Again go to Settings > Location & set GPS mode to High accuracy (Use GPS, WiFi, Bluetooth or mobile data) to allow the FakeGPS app to function properly.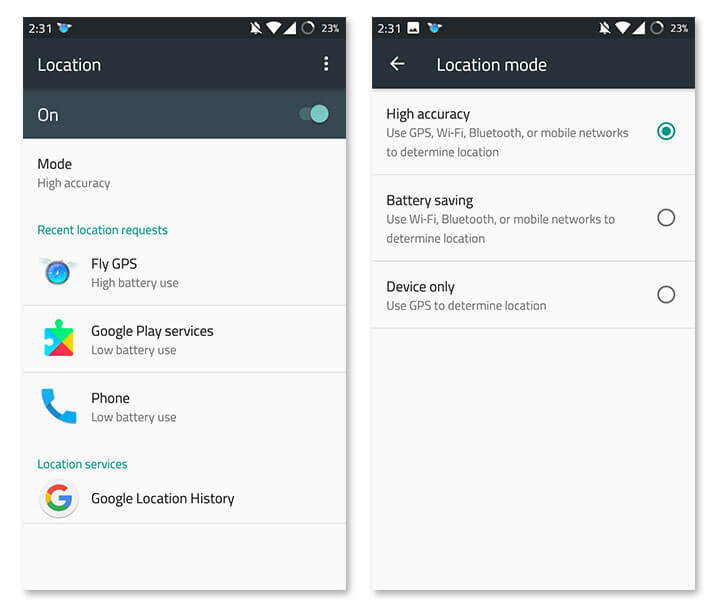 Step 5. Now launch Fake GPS Routes and enable your device's GPS.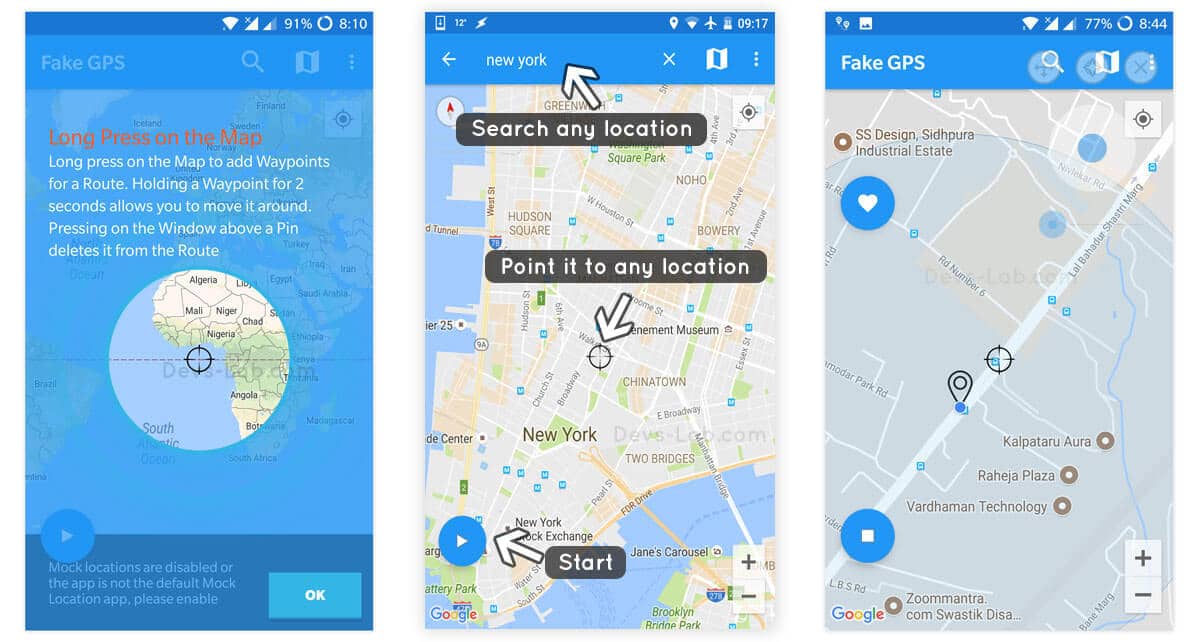 Step 6. Go to Fake GPS App's Settings > Enable "Non-Root Mode". Scroll below and also enable "Joystick". (Avoid using the Joystick if you don't want too many "GPS Signal not found".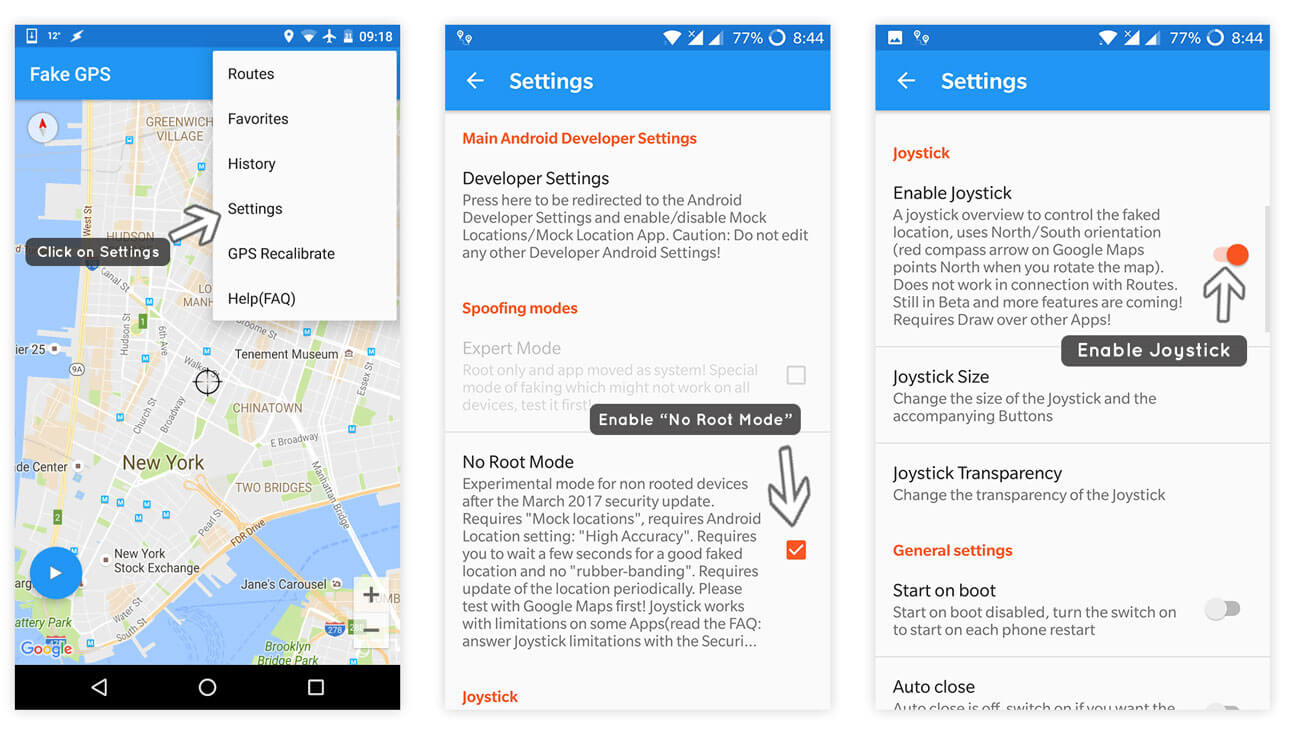 Step 7. Point the red dot to any desired location and click on the "Play" button to enable the FakeGPS.
Step 8. To ensure that everything is working, check your notification Panel, you'll find a Fake GPS notification. (The notification also has option to Enable/Disable Joystick on the go). Open Google Maps and check if your location is being shown as your selected location.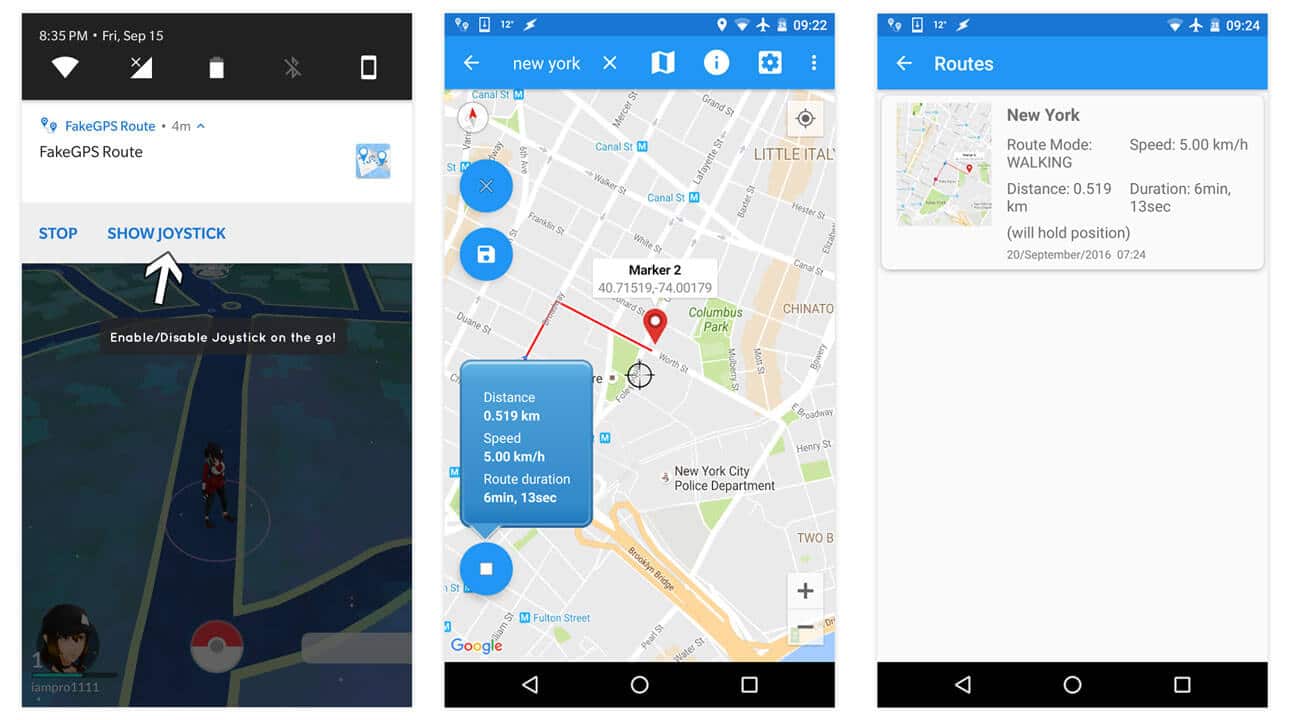 Step 7. Now, once you start the Pokemon GO App, you'll find yourself at the desired location. In this case I would consider you have not enabled Joystick (Recommended), to move forward, you can switch to FakeGPS App, move the point to the desired point and hit "Play" button. Switch to Pokemon GO and you'll be see your character running to the location.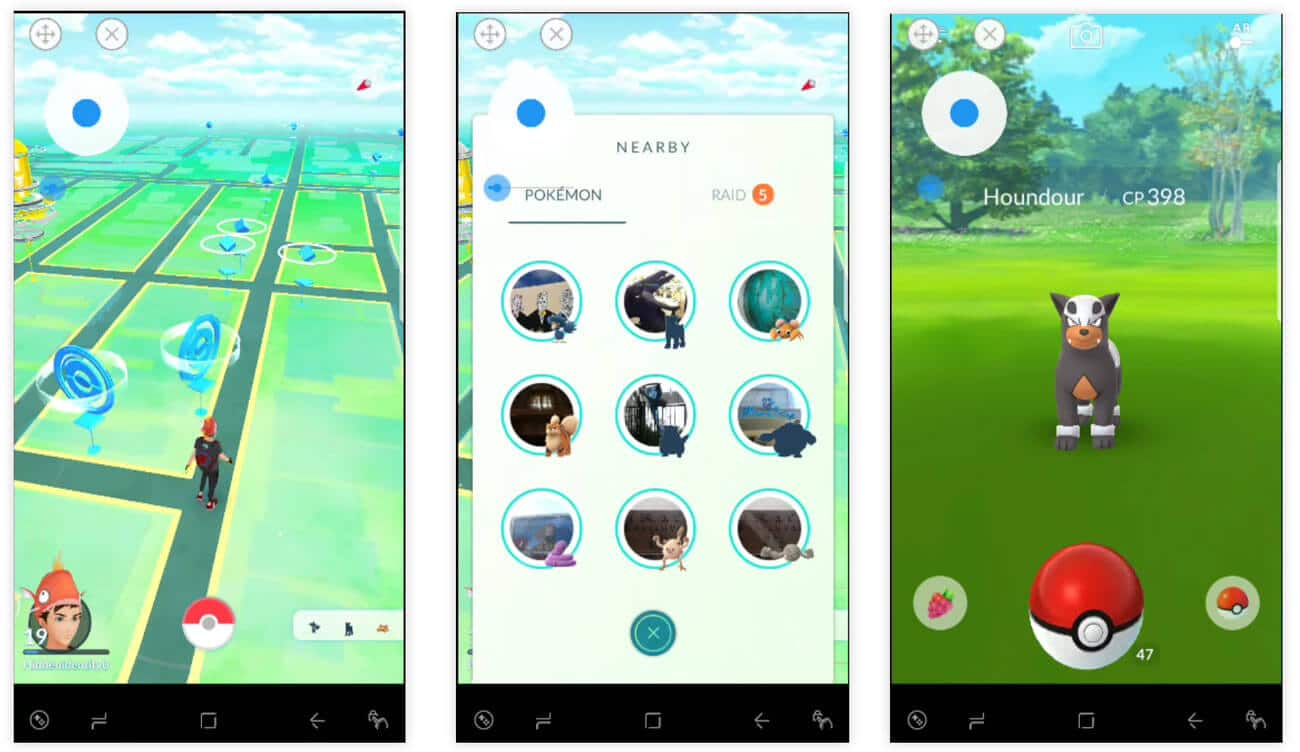 Few Points to note while changing location:

Don't change locations too frequently (Like every 2-3 secs).
Don't jump too far so that the Pokemon GO servers find it fishy; which would result in soft ban.
If you're using Joystick, whenever you get "GPS Signal not found", just move the Joystick & it the warning would disappear.
If you keep getting "GPS Signal not found", just close Pokemon GO and relaunch it.
While Pokemon GO started from the early days of release & the hacks remained the same while the App got updated many times with fixes to catch spoofers. While one might think spoofing would get their account banned, there are players who have been spoofing since months & jumping around different regions without any problem.
Earlier players in different communities concluded that Pokemon GO servers ban player by analysing their behaviour i.e Behavioral analysis. As per this, the servers keep a track of your location and open the alert flag if you have been jumping to different location in short time span. While this sounded sensible, many players have been spoofing randomly & have never faced any ban. So this Analysis theory was discarded.

My understanding is that no perm bans were handed out for spoofing, just botting. Many players (like myself) stopped spoofing and went legit, others continued spoofing through the warnings because almost no bans were being handed out, and many others changed their setups in hopes of getting unshadow banned / remove warning (some were successful and some were not, but i did not see a great consensus on what spoofing methods worked better than others).
Some people here mentioned they have multiple accounts and spoof using the same phone. All they do is fighting one raid within their city (within 1 hour actual driving distance) which probably take 5 to 15 mins a day. And they login one account after another to fight the same gym RAID.
Some of their account received warning and some didn't since they giving out RED warning. Pretty much the only explanation is either they don't monitor all accounts around the same time (still use behavioral analysis). It is also possible that few of those accounts take longer to fight raid because need to wait for people (or take longer to throw the balls) and some don't so the accounts that spend more time spoofing were able to get more GPS data to analysis. Either case, something to do with behavioral analysis.
If you think about it, for people that just spoof around the world to snip, it may only take them few seconds to a min to catch one pokemon and there is not enough data to analysis. But if you spoof few miles around locally but you spoof for more than 15 to 30 mins, they probably get enough of your GPS data to analysis your behavior.
FAQs
1. What is Spoofing?
A. Spoofing is when you use a GPS relocation app or service to make your phone think you are somewhere else other than where you really are. Basically, you can catch Pokémon from all around the world and participate in events and features that are not available in your area by setting your location to any area you wish.
2. Error while Entering Raid battles:
A. Enter the Gym and click on Battle. Select your Pokemons and let the timer reach start. As soon as the timer reaches 10 secs (Before starting the match), switch to the Hack, Click on the "Stop" icon and again click "Start". This should fix the issue easily.
3. Will it work with my device with latest Android Security Patch as of now, its Aug 2017 patch?
A. Yes! This hack works with all the security updates. Just avoid using the Joystick if you don't want to get banned. Jump to different locations from the hack.
4. I'm still not able to play, I don't want to buy this App or I want a easier method:
A. If you're still not able to play or annoyed by this procedure, it's better to downgrade your device to below March Security 2017 update. This will allow you to use Spoofing apps without any problem.
5. I don't want to downgrade my phone nor do I want to root my phone:
A. Well, a new guide is on its way. Bookmark this page and check back in a day.
6. Pokemon not showing, Soft ban?
A. The 40-spin for pokestop 40-throw pokeballs has been patched it won't work anymore. So if you want to snipe, or teleport follow the cool down chart or wait 2 hrs as General Rule. Spining a Pokestop 40 times to un-ban your account no longer works.
7. Rubber banding, crazy jumps?
A. As per recent findings, Google Play Services latest update is the reason for random rubber  banding effects. If your google play services version is after January 2018 it is most likely causing the issue so you have to downgrade. To revert to stock Google Play Services unrooted you need to deactivate "find my device" under Android Settings -Security & location and then go to Apps – Google Play services – locate the menu button top right and select "Uninstall updates". Do not update the Play services if prompted.
Here are few examples with latest Security Patch:
1. Moto Z Play Android 7.1.1 (Security patch – 1 August 2017)
2. Samsung S8 Android 7.0.1 (Security Patch – August 2017)
3. Samsung Galaxy S8+ Verizon (Security Patch – August 2017)
4. Redmi 3S with Android 6.0.1 (Security patch – April 2017)
5. Samsung S8+/S8 Android 7.0 with April 2017
Let me put this very straight, Spoofing for Android is difficult as compared to iOS Hack. In Android  you will get many "GPS Signal Not Found" messages, but it will go away, as soon as you switch to the hack and change your location.
Note: In order to enjoy uninterrupted spoofing without worrying about your getting banned, I would suggest you to perform "temporary root" & install this App. Everything is explained in our Pokemon GO Hack (Root) article. The advantage of this root is, your warranty won't be void as we will show you how to restore your device back to normal so that your device remains completely safe!
Real-time Pokemon GO Maps:
London PoGO Map: https://londonpogomap.com/#filter

NYC PoGO Map: https://nycpokemap.com/

Singapore PoGO Map: https://sgpokemap.com/

Las Vegas PoGO Map: https://vegaspokemap.com/

Seattle PoGO Map: https://seapokemap.com/#filter

Portland PoGO Map https://pdxpokemap.com

Seoul Korea PoGO Map: https://seoulpokemap.com/

South/Busan Korea PoGO Map: https://busanpokemap.com/

Philadelphia PoGO Map: https://phillypokemap.com/

Houston PoGO Map: https://houstonpokemap.com/

Boston PoGO Map: https://bostonpogomap.com/

Chicago PoGO Map: https://chipokemap.com/

Vancouver PoGO Map: https://vanpokemap.com/

Toronto PoGO Map: https://torpokemap.com/

Montreal PoGO Map: https://montrealpokemap.com/

Sydney PoGO Map: https://sydneypogomap.com/

Brisbane Australia POGO Map: https://brisbanepogomap.com/#filter

Melbourne PoGO Map: https://melpogomap.com/

Australia PoGO Map: https://valleymap.xyz/map.php

Switzerland PoGO Map: https://pg.festzeit.ch/

South America Region PoGO Map(s): https://beirutescan.com/

Germany PoGo Map: https://gomap.eu/
You can level up easily & faster using this. If you live in small town or somewhere where there's not much of Pokemon, this hack could be very beneficial & easy to use. This hack is for those who don't want to root their device. Don't forget, rooted hack has much more features & advantages over non-rooted Hack. But don't worry! The app developer may come up with lot more features in Non-rooted version too.