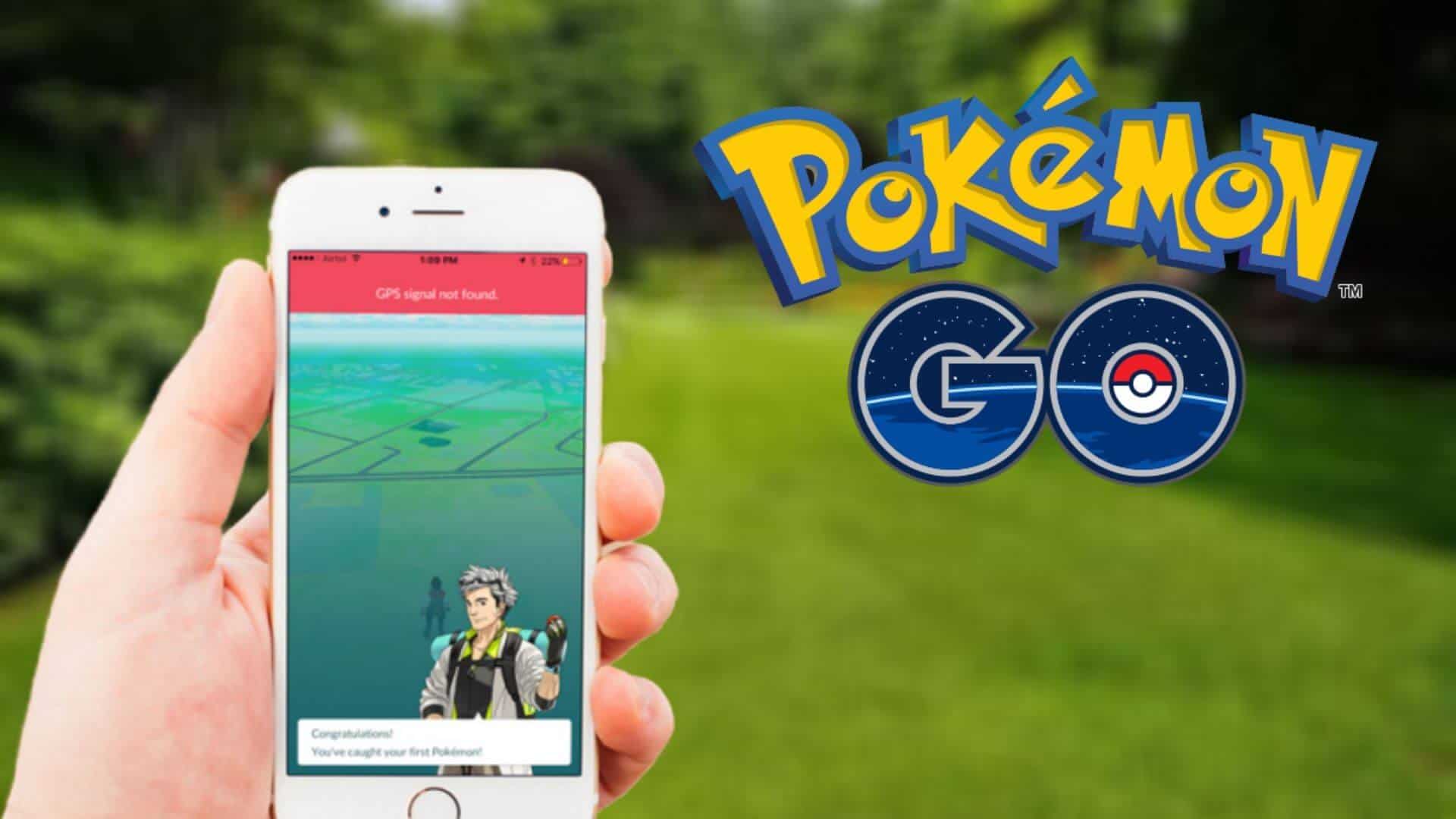 Are you facing Pokemon Go GPS Problems? Well, we have something good to share with you. As we all know, Pokemon Go has been quite a popular game since its launch. All thanks to the game's virtual environment that offers the players a completely unique way to play. Unlike other generic mobile games, Pokemon Go is actually not made to be playable while relaxing on a couch at your home.
You want to play it, you will need to go outside in the real world. But, if you are a person who is looking to catch pokemon without moving out then you can check out our other articles on Pokemon GO Hack for Android, IOS and PC.
Coming back to Pokemon Go GPS, the game's spinal cord is your mobile's GPS system that continuously allows the game to know about your location. It is necessary to share the location because as you go out in the real world, your in-game character does the same as you do. But, for some reasons, Pokemon Go has been misbehaving as people reported that Pokemon Go Can't Find Location properly.
It seems quite obvious to ask "Why can't Pokemon Go find my location?" because, for a dedicated player, this situation is pretty traumatic. Actually, we can solve this issue using some simple tricks. So, if you want to know How to fix Pokemon Go GPS Not Found issues, follow up this guide and get it fixed.
Fixing Pokemon Go GPS Problem
If you are also facing the Pokemon Go GPS Signal Not Found errors, stick right with this guide. Because we will provide you with every possible trick or fix that can help you solve this issue on your devices. Make sure to try out each and every method until the issue gets resolved.
1. Enable GPS
To start fixing the Pokemon Go GPS problems, we will need to check everything from the basic levels. So, as we know the game uses GPS to know your location, there are chances that GPS on your device is not On. This usually happens when your mobile device runs low on battery, the battery saver turns off services like GPS to save a little bit of juice.
So, first of all, we will confirm that GPS is enabled on your device. Hence, follow these simple steps to fix this:
Switch On Location Services on Android
Step 1. Go to Settings on your Android device.
Step 2. Now, scroll down till you find the Privacy and Safety option.
Step 3. Tap on it to access Location Settings.
Note: On some Android Smartphones, the Location Settings might be present somewhere else. So, if you don't find it under Privacy Settings, you can search for it from the search bar given at the top of Settings Page.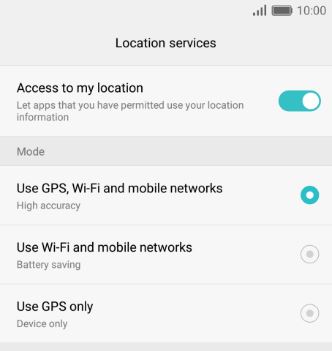 Step 4. In the Location Settings, make sure it is turned On.
Step 5. On the same page, you will find the Location Mode option. Tap on it.
Step 6. Select the GPS, Wi-Fi and mobile network option to get the best location accuracy.
Furthermore, we will need to improve the location scanning for the Pokemon Go app as well. Because sometimes apps do face issues like this due to some bugs. Hence, follow up these steps to make sure every setting is correct for the app as well.
Step 1. Open Settings on your smartphone.
Step 2. Now, go to Location Settings.
Step 3. Under the Location settings tab, you will find the Scanning options.
Step 4. Here, there will be options to toggle on Wi-Fi scanning and Bluetooth Scanning. Enable both.
Step 5. Now, go one step back, and open App Permissions.
Step 6. Make sure the Pokemon Go app has permission to access the location settings. If not, toggle it On.
This will help Pokemon Go to detect your location even if the GPS is not working properly on your phone. Also, the same method will help you resolve other related errors like the "Pokemon GO Failed to Detect Location (12)" error. As phones do not rely on one source only, it can fetch up your location details using the internet as well. That's why we need to enable Wi-Fi scanning to improve the overall location scanning of your device.
Switch On Location Services on iOS
For iOS users, the steps are going to be quite similar. It is just that the technical terms are a little bit different on iOS devices. Still, if you want to know the correct procedure about How To Fix Pokemon Go GPS in iPhones, here's the method for you.
Step 1. Launch the Settings App on your iOS device.
Step 2. Scroll down till you find the Privacy Tab. Tap on it.
Step 3. On the very top, you will have the Location Services Settings.
Step 4. If it's already On, try to turn Off and turn On again. Otherwise, if it's Off, make sure to turn it On.
Also Read: How to track all Pokemon at a particular location
2. Restart The App
In some cases, it is possible that the actual GPS Not Found problem is occurring because of the game itself. In such situations, it may be possible the game's having some bug or maybe it is not able to access the services properly. Hence, the simplest fix you can try with your device to fix this problem is by restarting the app. But, before you restart the app, we suggest you make sure all the GPS and location settings are properly turned On. If you want to know how to turn that On, you can follow up the steps given in the above methods.
3. Reset Network Settings
Reset Network Setting in Android
In Android phones, resetting the Network Settings has quite a simple and straightforward process. Not only it will help solve the "Pokemon Go GPS signal not found 11 Android" error, but also cure most of the network associated problems in Pokemon GO. So, make sure to follow every step of the method precisely. 
Step 1. Go to Settings on your Android device.
Step 2. Scroll down till the end of the menu and tap on the System setting.
Step 3. Here, you will locate the Reset option. It may vary on your phone if you are using some different Android-based OS. But, mostly it's in the System Settings.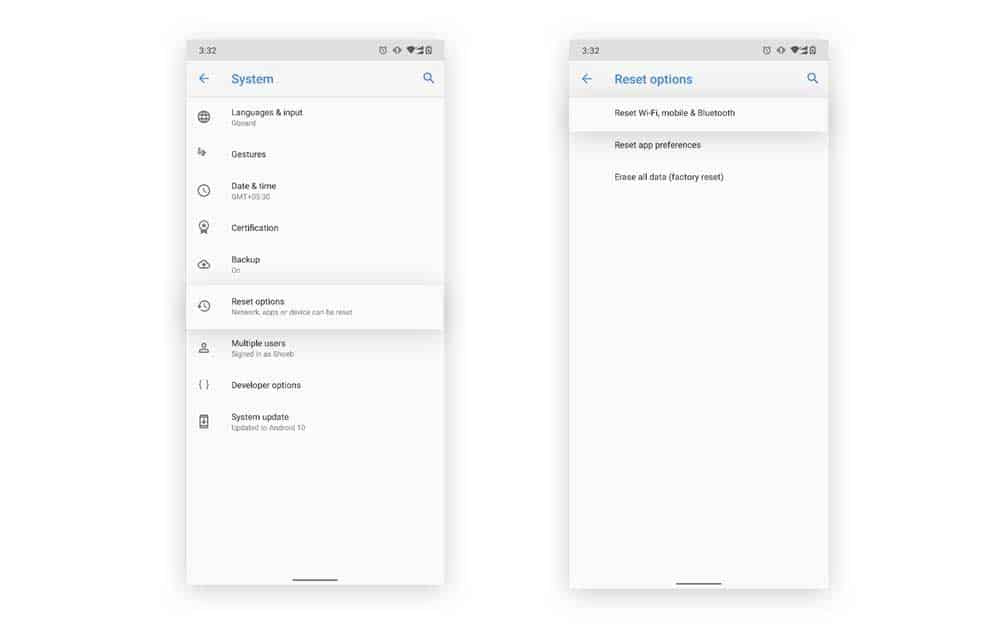 Step 4. In this Backup & Reset window, tap on Reset Network Settings or Reset Wifi, mobile & Bluetooth.
That's it! To confirm the changes, you can even restart your phone and check if the Pokemon Go GPS error 11 still exists or not.
Reset Network Settings in iOS
If you are an iOS user and still Pokemon Go Can't Find Location on your iOS device. Resetting the network might help you to make the game run properly. Hence, do consider trying out this method on your iOS device in case you are having GPS Not Found Pokemon Go errors or any other Pokemon Go GPS Problems on your iPhone.
Step 1. Launch the Settings app on your iOS device.
Step 2. Now, open the General tab and scroll down to the bottom of the page.
Step 3. Here, tap on the Reset Tab.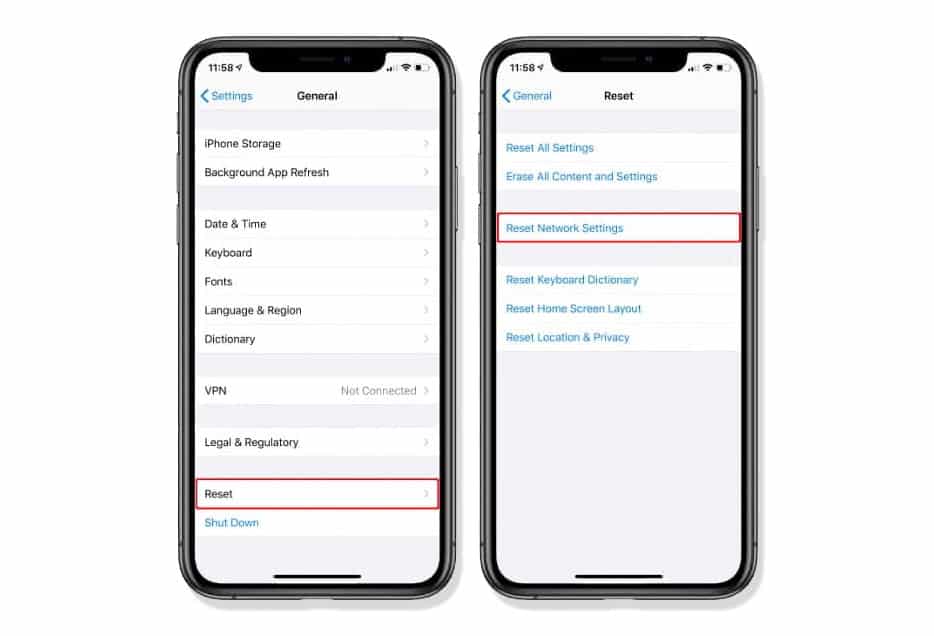 Step 4. Lastly, press the Reset Network Settings option.
This method actually resets all the network regardless it is Wi-Fi connection or cellular network or the GPS. Hence, there are pretty high chances that this method will help you with the Pokemon Go GPS Signal Not Found error.
4. Third Party Applications
After all those fixes, Pokemon Go GPS Signal Not Found error should not occur now. But, for some rarest of cases, if Pokemon Go Can't Find Location till now. Then, you can probably test if the GPS is working properly on your device or not. Till now, we were trying to check it manually. But, for this step, we can give this task to a Third Party Application that can troubleshoot the Pokemon Go GPS Problems for you. Apart from that, do keep in mind that this method only works for Android users. Because iOS does not give permission to third party applications to perform such tasks.
Hence, if you are wondering How To Fix Pokemon Go GPS problem using Third Party Application, here is the proper guide that you can follow:
Step 1. First of all, launch the Google Play Store on your Android smartphone.
Step 2. Now, as we are going to use the GPS Essentials app for this purpose, search for it.
Step 3. Download and Install the GPS Essentials app on your mobile.
Step 4. Once done, launch the app.
Step 5. As soon as you launch the app, it detects the GPS on your device. Thus, it helps you to boost it and increase the overall signal strength.
Step 6. If you think there are any issues with the GPS system on your smartphone, tap on the Compass icon. It will start testing your device's overall signal strength and help you to take down any issue that might be causing the Pokemon Go GPS Signal Not Found error.
Fixing Pokemon Go GPS Signal not found 11 error
The "GPS Signal Not Found 11" Pokemon Go error is quite irritating, especially for someone who loves the game so much. However, it does not seem like a big issue as mobile phones and games often experience small bugs like these. And, fixing such errors for you is our duty. Thus, if you are also experiencing the Pokemon Go GPS error 11 on your device, make sure to try out these easy fixes.
1. Disable Mock Locations
The mock location feature is limited to Android devices and if you have ever visited the Developer Options on your phone. There are chances you might have enabled the Mock Locations mistakenly, and that's potentially causing this error to occur.
Step 1. Generally, the Developer Options setting is present in your Phone's settings.
However, if you don't see it there, go to About Phone section and tap on Build Number seven times in a row, it will enable the Developer Options on your Android Phone.
Step 2. Now, open Settings and visit the Developer Options and ensure that the Allow Mock Locations option is disabled.
2. Update Pokemon GO
Usually, the Pokemon Go GPS signal not found 11 android error occurs when the game can't calibrate its settings with your phone. However, Your phone is not always at fault for the errors you are facing. Maybe you are using an older version of the Pokemon Go that has some bug. That is why keeping the game up to date is quite important, especially when the game uses sensitive resources like location and internet to work properly.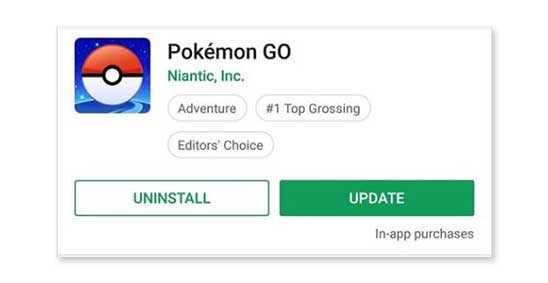 On whichever platform you play Pokemon Go, you can visit the respective Play Store or App Store and search for Pokemon Go in the search bar. Then, visit the Pokemon Go page on Store and see if it shows any available updates for the game. If yes, immediately tap on the Download Update button. Hopefully, after updating the game, you will no longer face the Pokemon GoGPS error 11 in your device.
3. Disable GPS Spoofing Apps
If you have been using any GPS spoofing app recently to jump to various locations without going anywhere. This could be the issue as these applications ruin your experience and game settings as well. Since a GPS Spoofing application sends false data about your location, and your phone's GPS sends different data to the app, it creates ambiguity.
That is why the Pokemon Go app can't detect your location accurately, and you end up encountering the Pokemon Go GPS signal not found (11) error. Disabling such GPS spoofing applications on your phone and running the Game without them would be a much better option for you. Hopefully, it will solve the GPS signal not found 11 Pokemon Go error as well.
4. Reset the Location Settings
Any location-based error that can occur in the game can be solved by resetting the location settings on your device. We have already covered this method in a section above; you can refer to that as resetting the Location settings is quite helpful in correcting the GPS signal not found 11 Pokemon Go error as well.
5. Reset Network Settings
In case you think there is some network related problem going on your phone, you can consider to restart your device and see if the problem gets fixed. However, if nothing works, resetting the Network Settings of your phone is the last and best option left for you to try out.
We have already mentioned how to Reset Network Settings on both iOS and Android devices in a section above; you can refer to that solution and fix this error. Once you fix this error, you can concentrate on evolving your Eevee into its best evolution.
Other Pokemon Go Questions
1. Can we play Pokemon Go Without GPS?
Pokemon Go can use three different methods to detect your current location. Even if the game finds out any issues with the GPS, it will show up an error only when there are no other methods left to detect your location. Hence, if you are wondering whether it is possible to play Pokemon Go without GPS or not. Yes, that's definitely possible. But, the major thing you will need is an active internet connection. Either use a Wi-Fi connection or a cellular network so that the game can know your location.
But, when it comes to detecting the location precisely, GPS is best for that purpose. However, if you don't have access to GPS, still the game is playable. But, the major downside is that the gameplay experience is not going to be great since all that depends on your internet connection in this situation. So, a minor fluctuation in the internet connection might make your in-game character jump from one location to another without any accuracy.
Also Read: Pokémon Go Adventure Sync Not Working
2. Getting a driving warning when you're not actually driving?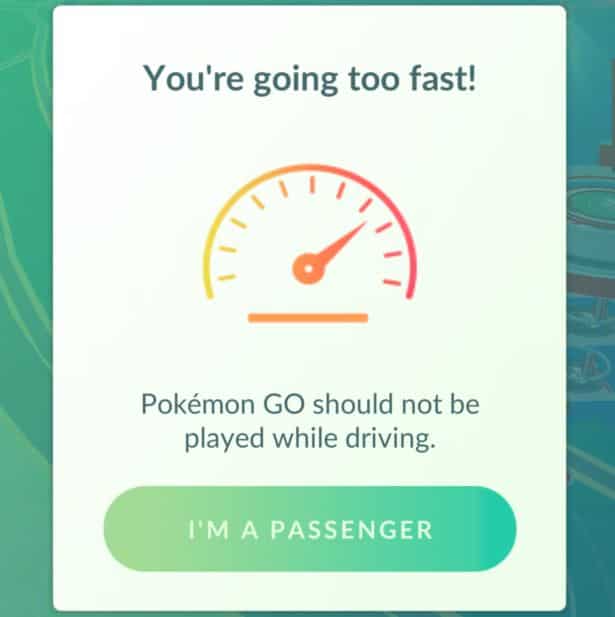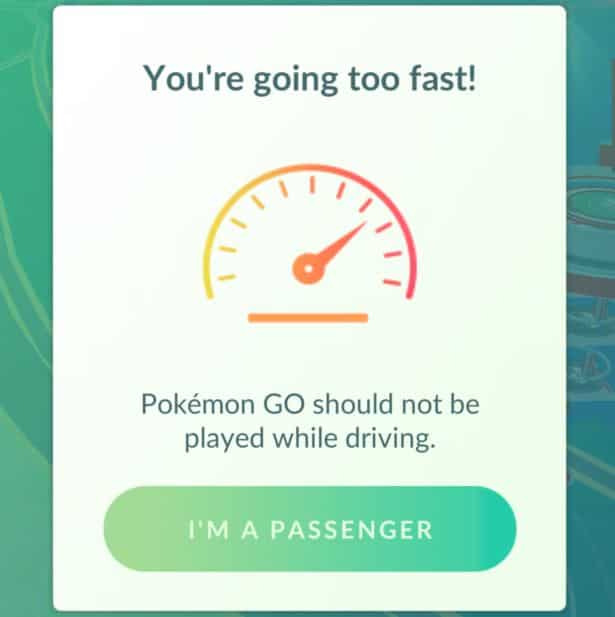 In case you are facing such issues on your device while playing Pokemon Go. It primarily happens because of GPS drift in which the game can not detect your actual location and lock on to it. Because of a weak GPS signal, the game detects your location moving from one location to another quite rapidly. As a result, it shows you the driving warning.
A quick way to fix this issue is to improve the location scanning that we have already discussed under the Enable GPS section. On the other hand, you can also try to go near a window or outside your house to gain the GPS signal strength for better and accurate results.
3. Why can't I play Pokemon Go on my rooted phone?
In the earlier version of Pokemon Go, players with rooted devices were able to play the game by violating the actual rules. The basic rule of the game says that players have to go outside and travel in the real world to play the game. However, rooted android phones can use various kinds of Fake GPS apps that will change the device's location and trick the game. This had an absolutely unfair advantage over the players that play the game fairly.
Niantic looked into the matter and decided to ban all the players who use a rooted device to play the game. Pokemon Go asks you for accessing the storage permissions to check if your device is rooted or not. If it finds any kind of files that gives it a hint about root such as files with keywords like "Root", "Magisk" or "Xposed", your account will get locked. However, since Pokemon does not ban your account permanently. Still, it locks the game on that particular device that has root related files.
Hence, in case you want to get out of the lockout and play Pokemon Go on the same device. You have two choices here. Either you can delete all the root related log files, APKs, and all other stuff and unroot the device. Turning it back to the state of an unrooted device will make it run on your mobile.
On the other hand, if you want to keep the root enabled on your device, and still want to run Pokemon Go normally. Then you can read our article on How To Setup Magisk Manager On Rooted Android Device To Hide "Root". By using this guide, Pokemon Go won't be able to detect any kind of suspicious files on your device and you can play the game easily.
Conclusion
Since the game works quite uniquely than other normal mobile games, it is common to face such small issues. But, we assure you if you follow up this guide properly, it will help you solve mostly all the Pokemon Go GPS Problems for both your iOS or Android devices. Hence, this was all about the methods that will help you tackle all the Pokemon Go GPS Signal Not Found errors. So, if any of these fixes solved the error for you, don't forget to let us know. Moreover, in case you are facing any other issues regarding Pokemon Go, make sure to let us know in the comments section below.