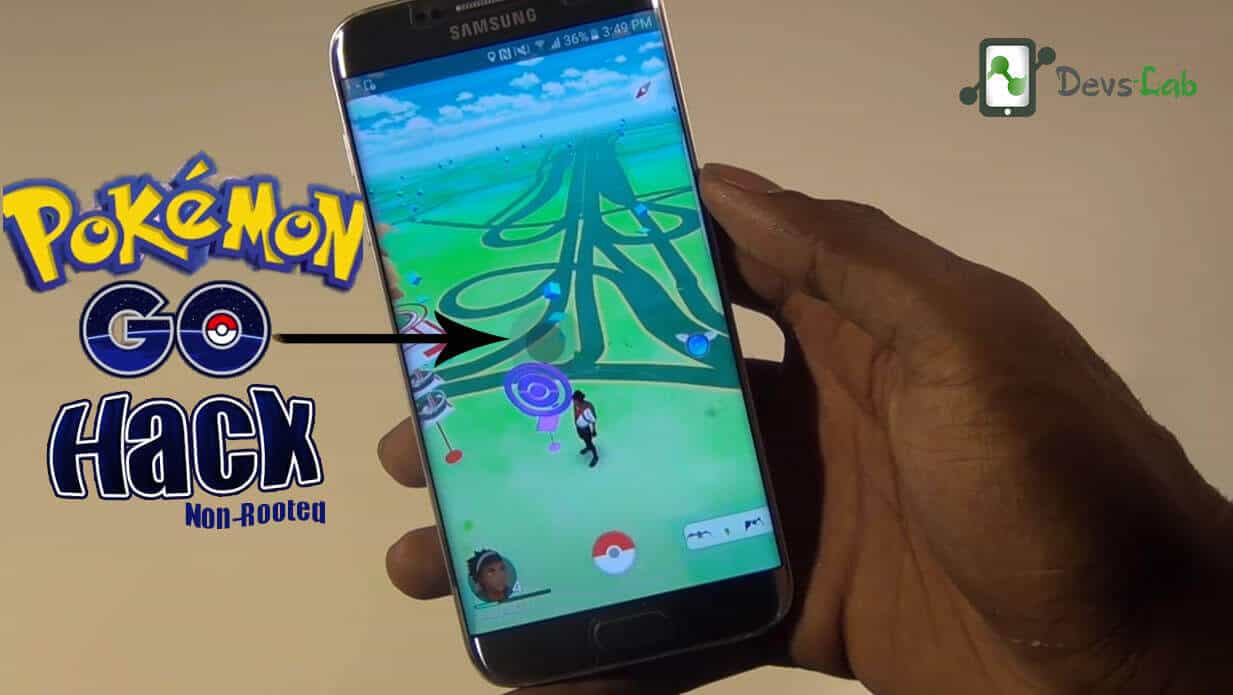 As Pokémon Go continues its massive surge of international popularity in gaming industry, there has been many attempts to trick Niantic systems by spoofing locations or using Joysticks. Pokemon GO hack for Android, bonus & rewards sheet, cheat sheet to fight with Team GO Rocket have been flooding the internet since the launch of the augmented reality (AR) mobile game.
Even we published Pokemon GO hacks for rooted Android devices. But with hardware specs bumping up in latest Flagships and budget smartphones, Android rooting has become less popular. No one wants to void their smartphone's warranty for a game.
In this article, we'll cover working Pokemon GO Joystick Hack along with best GPS Spoofing/Hacking Apps of 2021. Now you might ask, why would you ruin the joy of game by doing so? Well, if in case you're tired, not feeling well or its raining outside & you can't go out. Why miss the adventure? Enjoy it from your home, and you can still catch 'em all. During regular days you can enjoy the original game. Sounds amazing, isn't it? Let's jump to the procedure.
If you follow all the steps as provided, you'll get the GPS location spoofing, Joystick and Teleport feature which will allow you to catch Pokemon from anywhere in the world. If you're an iOS user, you can check our Pokemon GO iOS Hack which is pretty simple as compared to Android. Also, you can play it on your PC using the methods mentioned in our article on How To Play Pokemon GO On PC Using Arrow Keys
The hack was pretty easy but due to latest Google Play Services and Android security patches, there has been many issues in the working. Also, Pokemon GO detects if you have installed any GPS spoofing app on your Android. But it isn't the same with all Android versions. We have found different ways to still use the hack depending on your device & Android version. In order to find which method works for your phone, you need to know the Android version of your device & the security patch which is installed.
Update: This guide words for all the Android devices from Android ICS 4.0 to Android Q (Yes, it works on the Android Q latest build on OnePlus 8).
Pokemon GO Android Hack (2021)
Before starting with the tutorial, make sure you have installed the original game from PlayStore. You can choose any of the spoofing apps from below. Currently this three are the only app that tends to work with all the security updates & allows you to change your location using arrow keys. You can try the free ones as it has worked for Galaxy S10's latest security patch without any issue, but if that doesn't work, you need to buy the 3rd app.
I know it's a paid app now, but it's better to spend few bucks rather than getting your Pokemon GO account banned. You can also try Fly GPS, but it does not have automated altitude and it rubber-bands a lot more, so it is prone to softbans.
1. Fake GPS GO Spoofer
2. FGL Pro
Using Pokemon GO GPS Spoofing on a Non-Rooted Android device doesn't allow you to use the app to its full potential, due to which you will face Rubber Banding effect (You can avoid Rubber Banding effect by covering your phone in an Aluminium foil. This blocks the original GPS to track your current location) but you might face "GPS Signal not found" or "Failed to Detect Location (12)" error. However, you can fix the errors using these guides on Pokemon GO GPS Signal Not Found & Pokemon GO Failed to Detect Location (12).

3. Pokemon Go Fake GPS Joystick & Routes Go
---
What is Pokemon GO Joystick Hack (Fake GPS Spoofing)?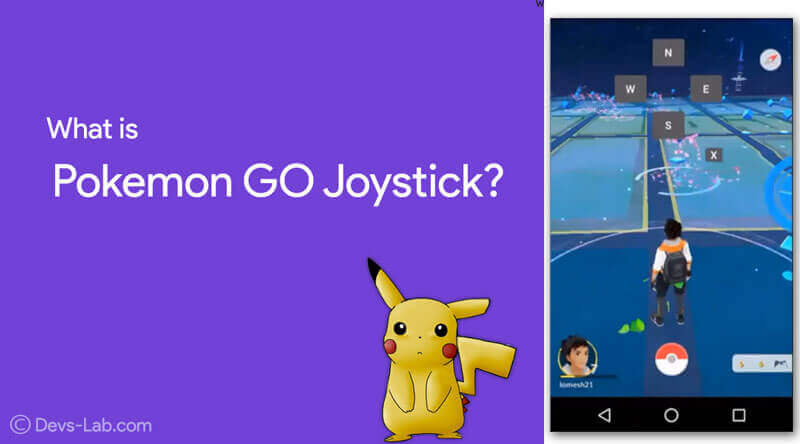 Pokemon GO App is created using Google Maps' API. It tracks your location with your phone's GPS & shows different types of Pokemon as per assigned by Niantic based on location. Pokemon GO joystick apps makes the GPS believe that you are changing locations which in turn moves you in the game. The app offers control buttons (similar to a joystick arrow keys) to move in any direction you want. You can also adjust your moving/running speed. The joystick appears as an overlay (PIP) in the Pokemon GO game so you can watch your character move live.
We don't mean to ruin a game which was meant to make people walk and explore places around. But do you want to go everytime? During a pandemic like this, roaming outside can cost you your life. It's for situations like this, this cheat can help you play and be safe at the same time.
---
Should you Root your Android for Spoofing?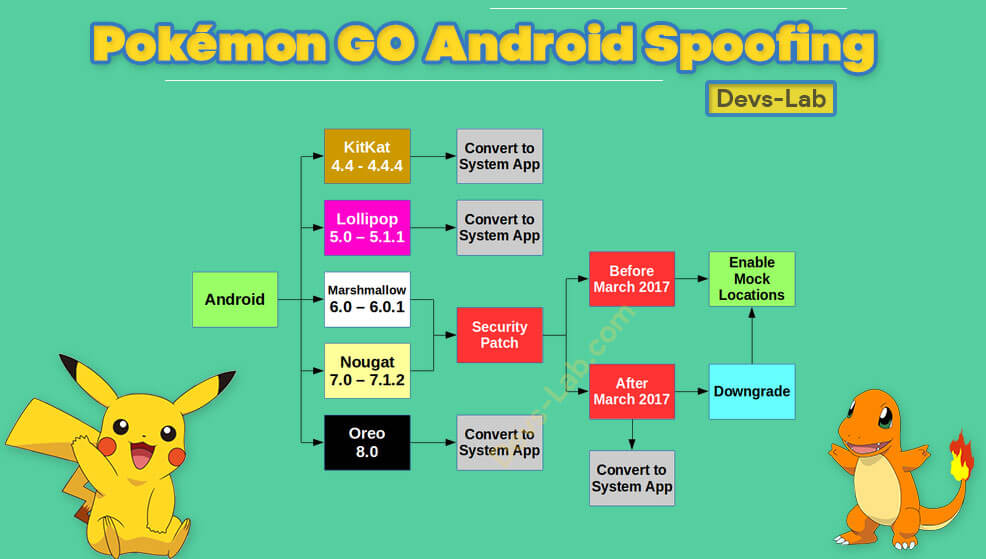 Earlier in 2019, we used to install the Fake GPS app and enable the Mock location option, and we were all set to begin spoofing. But now, whenever the mock locations checkbox is enabled, Niantic detects that you are spoofing. In order to avoid this, you need to install the Pokemon GO Android hack App either by Downgrading your phone or by Rooting and converting the App into System App or you don't need to do anything depending on the Android version of your device.
While some might think downgrading and rooting are pretty much same, Downgrading and rooting are two separate things. You do not need to root to downgrade your version of Android. Downgrading your version of OS would not void the warranty of your phone; as long as you use official firmware. Before jumping on whether you should root or not, let's check if you really need to root your Android device.
To check Android version on your device, Go to Settings App > About Phone > Check Android version.
---
How to Setup Pokemon GO Fake GPS App – Android
Step 1. Download and install both the required Apps mentioned above.
Step 2. Go to Settings App > About Phone > Tap on build number 7 times (Until it says, you're now a developer) to activate Developer options in your device.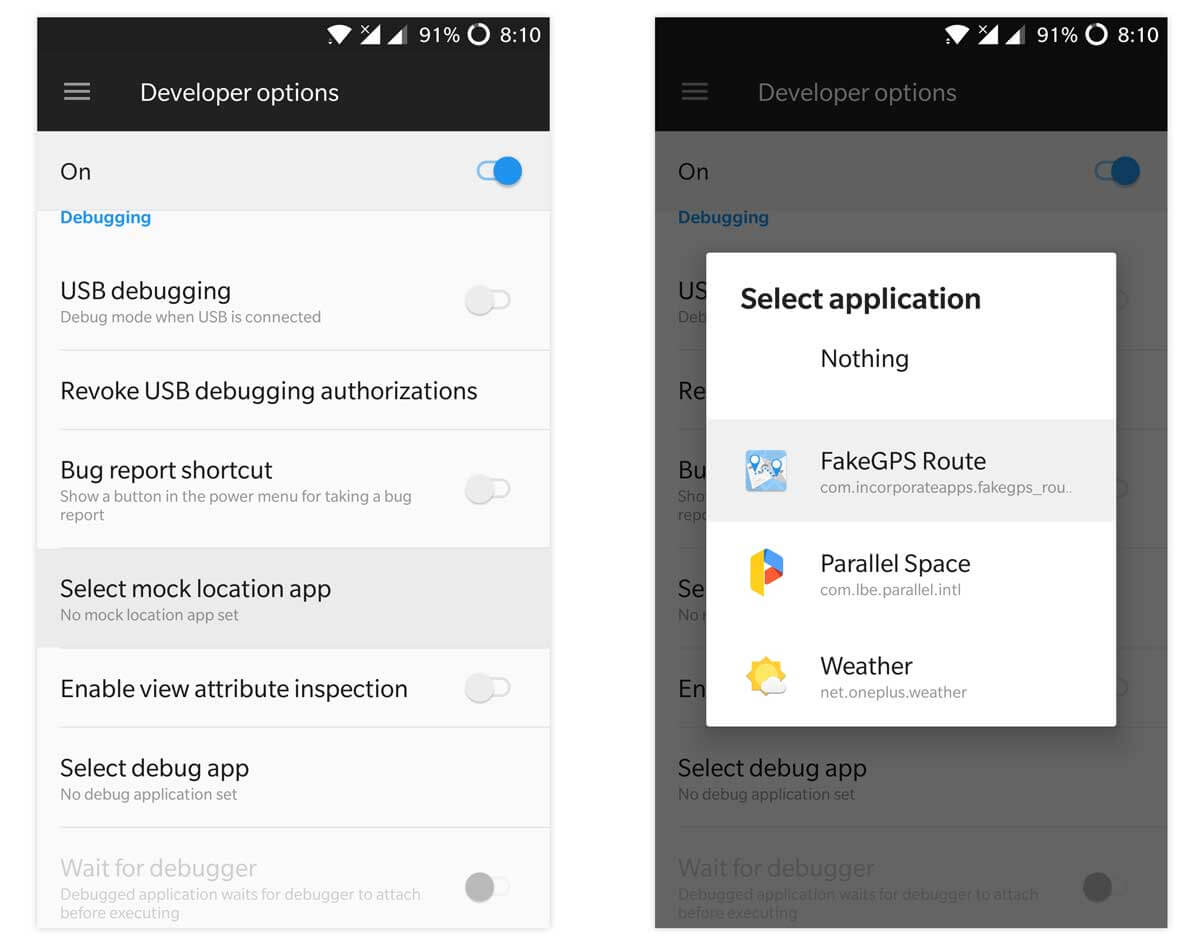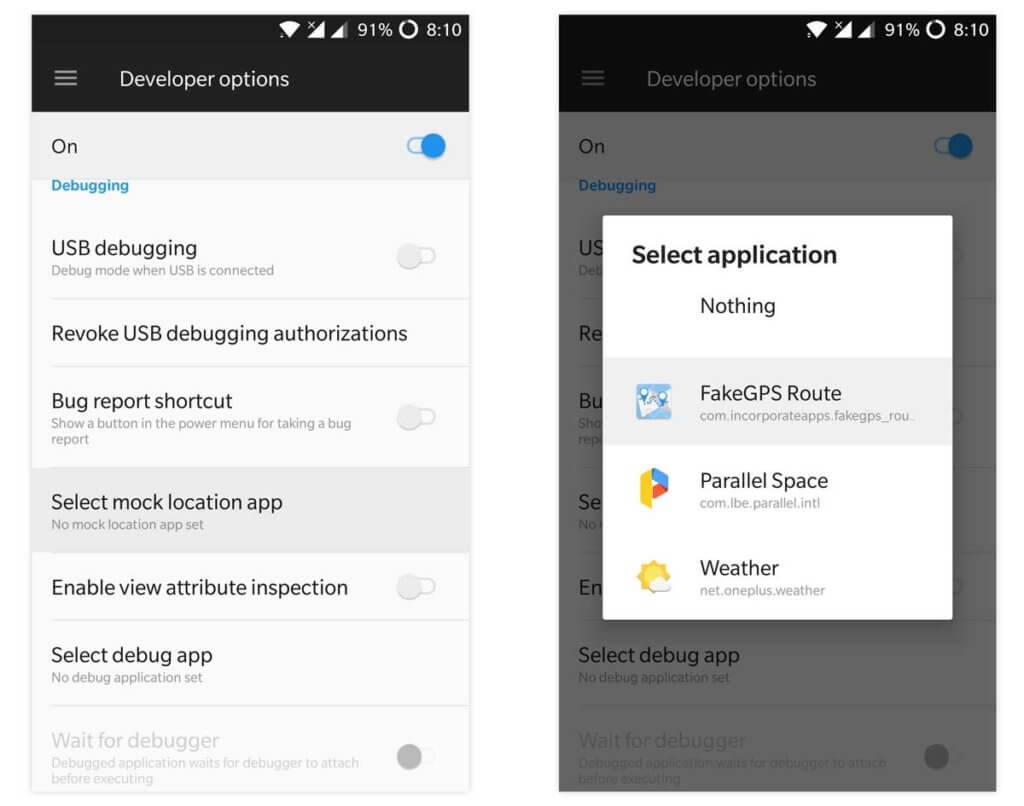 Step 3. (For Android 6.0 and above with Security patch before March 2017) Go to Settings > Developer options. Locate "Select mock location app" & select Fake GPS Route.
Step 4. Again go to Settings > Location & set GPS mode to High accuracy (Use GPS, WiFi, Bluetooth or mobile data) to allow the Fake GPS app to function properly.
Step 5. Now launch Fake GPS Routes and enable your device's GPS. You can search any location or Point the pointer to any spot you want to spawn.
Step 6. Go to Fake GPS App's Settings > Enable "Non-Root Mode". Scroll below and also enable "Joystick". (Avoid using the arrow keys if you don't want too many "GPS Signal not found".
Step 7. Point the red dot to any desired location and click on the "Play" button to enable the Fake GPS.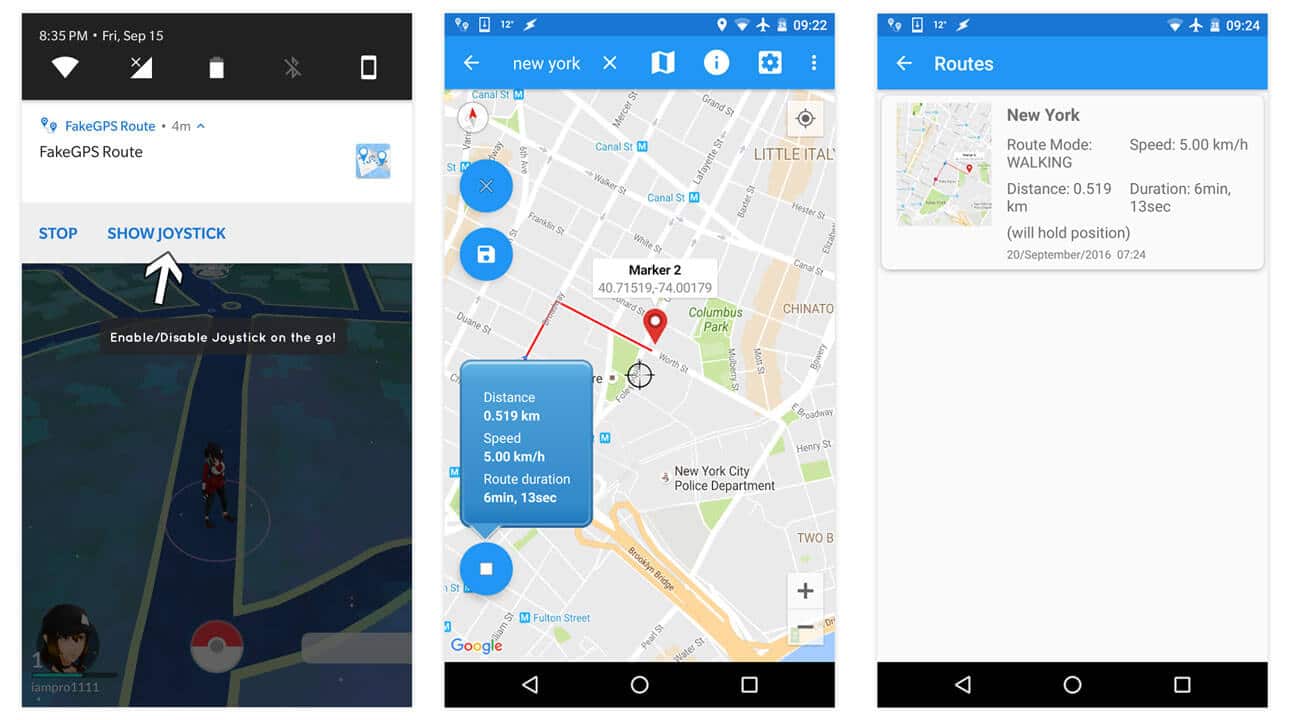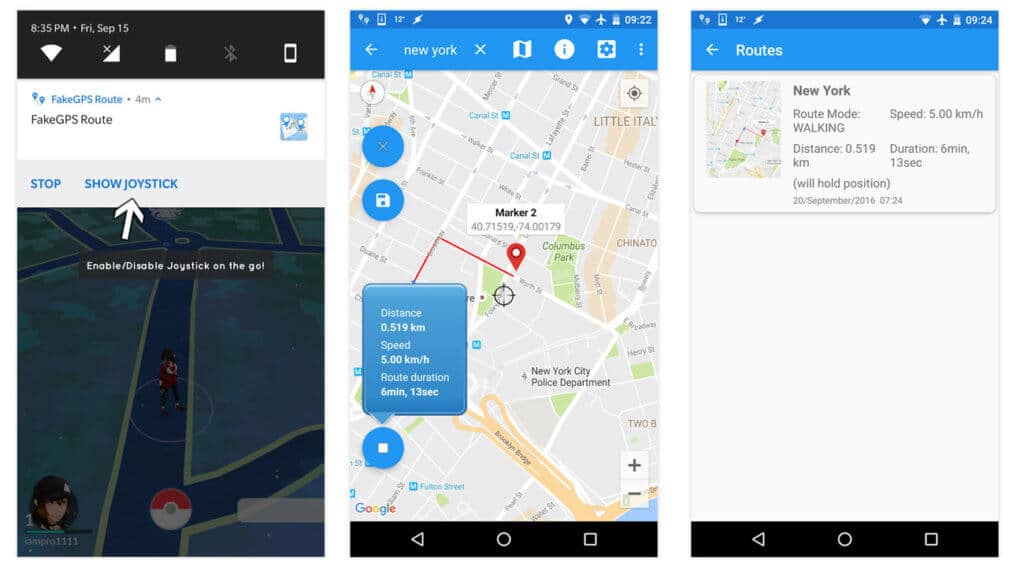 Step 8.To ensure that everything is working, check your notification Panel, you'll find a Fake GPS notification. (The notification also has the option to Enable/Disable Arrow keys on the go). Open Google Maps and check if your location is being shown as your selected location.
Step 9. Now, once you start the Pokemon GO App, you'll find yourself at the desired location. In this case, I would consider you have not enabled Joystick (Recommended), to move forward, you can switch to Fake GPS App, move the pointer to the desired point and hit "Play" button. Switch to Pokemon GO, and you'll see your character running to the location.
Also Read: Pokemon GO Search Terms & Strings (Full List)
---
How to Downgrade Google Play Services
Downgrading Google Play Services is restricted by Google by avoid old protocols used by devices. Since it's restricted, there's no 1 click go method to disable updates and downgrade to the version we want. Follow the method to downgrade the app. Remember, some Google Apps might not work once you have downgraded. You will have to do this steps again if you update the Google Play Services app by mistake.
---
Installing Magisk for Spoofing (Requires Root)
If you're running Android 8.1 and above, you can't downgrade your Google Play services app. Only solution is to root your device and install Magisk.
We can't use the spoofing apps directly as Niantic detects any 3rd party apps with spoofing or joystick in their name. If you keep spoofing without putting the app in system, you might get banned. I would suggest you to perform rooting and all this steps only if you're using Pokemon GO on your secondary device. Rooting your device can cause instability with payment apps.
---
Spoofing using VMOS (Parallel OS)
To play Pokemon Go on Android 10, you need to download an app called VMOS. It's a software based on Virtual Machine (VM). The VMOS system can activate the root in a single click without actually rooting your main Android. It can be regarded as a virtual box for Android. VMOS can be installed in the form of a normal app in Android. It is an emulator and also a one click App cloner, moreover, VMOS is not controlled by the host system. (Android On The Phone).
VMOS APK: Download
VMOS creates a virtual Android environment and runs on Android 5.1.1 with a working Google play store and network connectivity. You can sign in with your Gmail account and access the full play store and download new apps as well. VMOS allows to use two Android systems on one phone; so, you can use it to run duplicate apps with different accounts. VMOS can also be used to separate your work account from your personal accounts.
---
Spoofing Tips
---
FAQs
1. What is Spoofing?
Spoofing is when you use a GPS relocation app or service to make your phone think you are somewhere else other than where you are. You can catch Pokémon from all around the world and participate in events and features that are not available in your area by setting your location to any area you wish.
2. Error while Entering Raid battles
Enter the Gym and click on Battle. Select your Pokemon and let the timer reach start. As soon as the timer reaches ten secs (Before starting the match), switch to the Hack, Click on the "Stop" icon and again click "Start." This should fix the issue quickly or if you are getting Network Error 2 popup then follow this guide on How to Fix Pokemon GO Network Error 2.
3. I'm still not able to play, I don't want to buy this App or I want a easier method
If you're still not able to play or annoyed by this procedure, it's better to downgrade your device to below March Security 2017 update. This will allow you to use Spoofing apps without any problem.
4. Pokemon not showing, Soft ban?
The 40-spin for pokestop 40-throw pokeballs has been patched it won't work anymore. So if you want to snipe, or teleport follow the cool down chart or wait 2 hrs as General Rule. Spinning a Pokestop 40 times to un-ban your account no longer works.
5. Rubber banding, crazy jumps?
As per recent findings, Google Play Services latest update is the reason for random rubber-banding effects. If your Google Play Services version is after January 2020, it is most likely causing the issue, so you have to downgrade. To revert to stock Google Play Services unrooted you need to deactivate "find my device" under Android Settings -Security & location and then go to Apps – Google Play services – locate the menu button top right and select "Uninstall updates." Do not update the Play services if prompted.
6. GPS Signal not found
This is a harmless error. The error means that the game is not able to receive your location. The error is shown to legit users as well.  All spoofers will receive this error when their spoofing app loses the ability to spoof. This is a common problem/error on phones without root. When you see this error on unrooted phones reload your spoofing position and the error will go away.
7. My character keeps teleporting between locations.
Install an app from the Play Store called "DisableService" and allow root (obviously), search for the service "Fused Location" under System tab and disable that service. Then reboot. Doing this trick will disable your real GPS and then no teleporting will be happening. If you want your real GPS back, just enable "Fused Location" again and reboot.
8. I get authentication error whenever I try to Sign into Pokemon Go
Make Sure you have removed the Xbin file and disabled root. Once done, restart your phone. If its not fixed, you can check our guide on Pokemon GO Unable to Authenticate
9. My GPS is rubberbanding in VMOS
Make sure your GPS has been turned off in the primary OS. If its on, your GPS will keep getting rubber banded.
10. Is VMOS safe For My Phone? And once rooted can I go back to my phone with no-root?
Yes, VMOS Is safe as you are only rooting the app not your phone.
Let me put this very straight, Spoofing for Android is difficult as compared to spoofing on iOS. In Android, you will get many "GPS Signal Not Found" messages, but it will go away, as soon as you switch to the hack and change your location.
Note: In order to enjoy uninterrupted spoofing without worrying about your getting banned, I would suggest you to perform "temporary root" & install this App. Everything is explained in our Pokemon GO Hack (Root) article. The advantage of this root is, your warranty won't be void as we will show you how to restore your device back to normal so that your device remains completely safe!
---
Real-time Pokemon GO Maps
You can level up easily & faster using this. If you live in a small town or somewhere, where there's not much Pokemon to catch, this hack could be very beneficial. This hack is for those who don't want to root their device. Don't forget; the rooted hack has much more features & advantages over non-rooted Hack. But don't worry! The app developer may come up with a lot more features in Non-rooted version too.