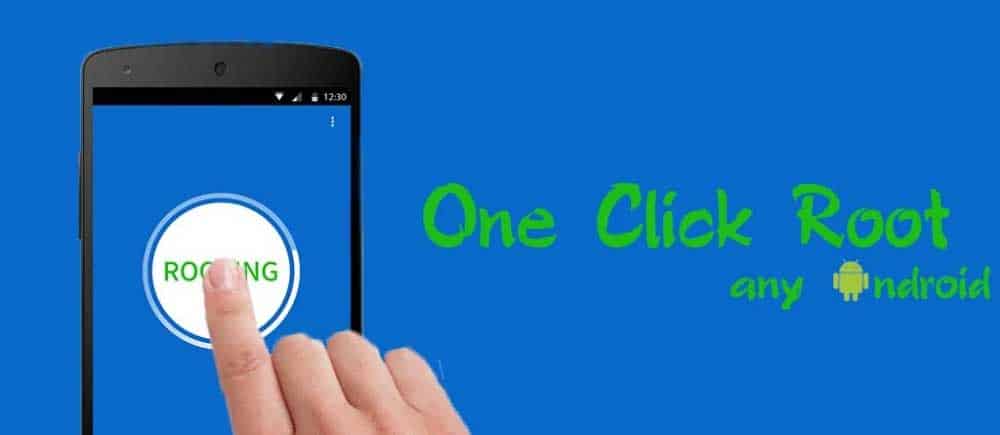 Android is becoming one of the most popular OS for smartphones as it provides lot more freedom and room for customizations. A stock Android phone comes with lots of Pre-installed Apps which are not used by most of the users. Each of this pre-installed apps eats up your RAM, CPU & battery in the background, indirectly slowing up your device performance. In this guide, we're going to guide you through different processes of rooting your Android phone without PC.
One of the main reason for rooting is to uninstall this bloatwares & customizations. Before Proceeding make sure you know about What is Rooting? and what are the advantages and disadvantages of Rooting & how it could affect your smartphone's warranty?
Also, we won't be responsible for any damage done to your device while following any of the below-mentioned steps. You're held to be solely responsible for your decisions of rooting your Android smartphone. Nowadays, a single click rooting doesn't work for latest android versions, rooting any android devices is now done by Bootloading, TWRP and then by installing Magisk or Supersu.zip files.
Charge your phone upto 40%
Make sure you have unlocked your device's bootloader. You can refer our guide for unlocking the bootloader on your Android device.
Backup data. Although Rooting doesn't delete your data but its better to backup your important data like Contact & messages.
We won't be held responsible for any damage caused during any of this process.
Root any Android without PC
1. 360 ROOT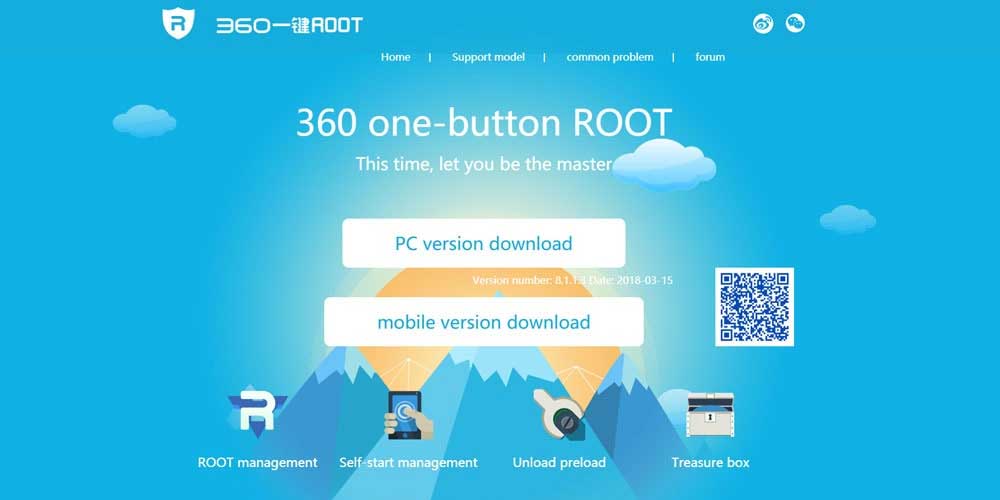 This app is particularly popular for being purely beginner friendly. It allows you to root your device without any use of PCs and even if you don't have any prior experience of rooting an android device. The App UI is pretty simple to use; so that even a non techie users can root their Android phones easily.
This app has made rooting no more a technically complicated task that only advanced Android users can perform. Though this app has made rooting easier, it should still be kept in mind that before proceeding to root your device, it is a great idea to keep a full backup of your device so that there is no risk of data loss.
How to Use 360 Root Without PC
While using 360 root, you must check that your Android device is running at least Android KitKat or above. Besides that, you must have an internet connection while performing the root. Once these prerequisites are fulfilled, you can follow the below-mentioned steps to root the phone using the 360 Root app.
Go to the Settings > Security and Enable the installation from unknown sources option.
Nextly you will have to download the apk file of the 360 root app using the browser of your device.

Not install the apk that you have just downloaded by clicking on the install button. This will initiate the installation process which will be completed once all the criterias are met.

Once the 360 root app is installed, launch the app. You will be greeted by the logo of the app.

The app will ask for some permissions and you need to grant all the permissions to the app.

Next click on the 'start' button in the middle of the screen. This will take you to an another screen which has a button called 'Root'.

Click on this 'Root' button which will start the rooting operation of your android smartphone.

You will be able to see the percentage of the ongoing rooting on the screen. Once this reaches 100%, the rooting operation will be successfully completed.
2. Kingroot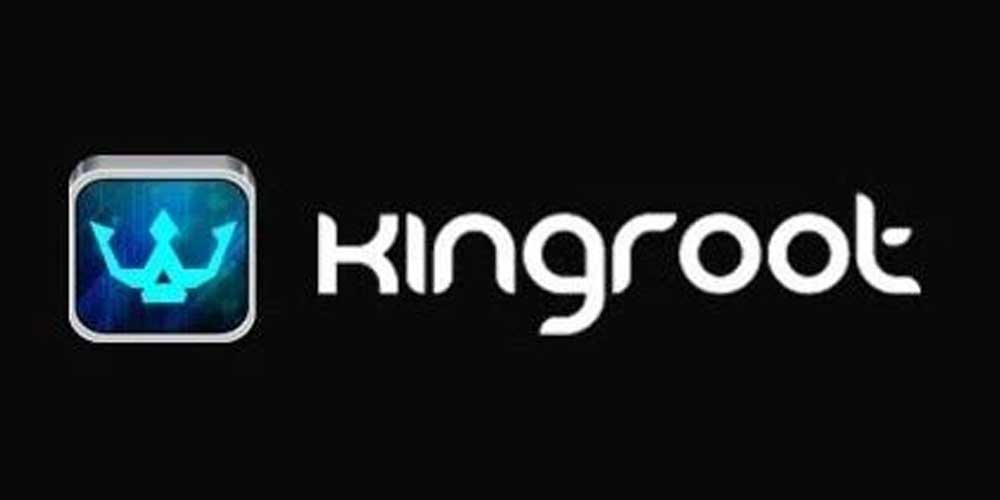 Kingroot is another Android one click App to get easy root access with pretty good success rate. KingRoot is an amazing tool for "lazy people" who just want to get root access but don't want to flash any third party Recovery into their lovely device. It is one of the most famous root tool in China. They have their own App (Kingroot)  to handle root permissions. It doesn't have an English translated App.
This one click rooting app is provided by KingRoot studio and is available for free. This application allows you to root your android device pretty quickly without any hassles. All you need to do is install the app and click on the Root button. The major advantage of this app is that it does not require internet connectivity to root your phone. Once you have downloaded the app with internet connection on, you can stop the connectivity and still continue the rooting process.  Another major advantage of the Kingroot app over other one click rooting apps is that the data or files of the device do not get affected while rooting the phone which means there is no chance of data loss.  
Download: Kingroot App.
How to Install and Use Kingroot app
Download the kingroot APK in your smartphone or tablet.

Once the download is complete, tap on the

com.kingroot.kinguser.apk

file and select Install to start the installation process.

While doing so, you will get a "Blocked by Play Protect" prompt saying "This app contains code that attempts to bypass Android's security protections". Click on the

Details

option in the prompt message and select "

Install anyway

" to continue the installation.

You will get a confirmation message once the app is installed.

Next, you will have to tap on

Open

to launch the app in your device.

Click on 'Try to Root' to start rooting, follow the on screen messages. This will start rooting your device, hold on till it shows Rooted Successfully.
If this App fails to Root your device you don't need to worry. Just uninstall the app. This will cause no harm to your device.
The above-mentioned steps will let you successfully install the Kingroot app and get root access to your android device.
3. Root Master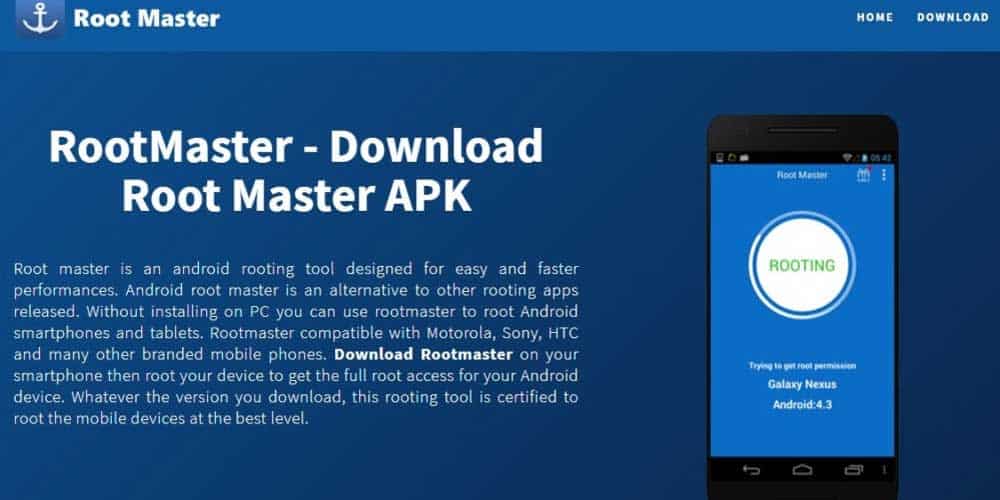 Root Master is another awesome app that enables you to root your android device at just one click. The use of this app will nullify the use of PC while rooting your android device. Once your device is rooted with this app, you will be able to use all the features of the Android operating system, which usually is not available on a normal phone.
It is worth to mention that the Root Master app was initially developed by a Chinese Team and so was provided in Chinese language. However the app was later translated to English to make rooting easier for people who don't understand Chinese.
Along with rooting this app can also be used for unrooting an Android device. More importantly, this app is regularly updated so that it supports all kinds of devices. The unavailability of the app for PC should be the only disadvantage of this app.
How to Use Root Master
Follow the following steps for installing Root master in your device and rooting it in just one click. But please keep in mind that before rooting the phone, it is always recommended to keep a backup of your data so that you do not need to worry about data loss.
Visit the website

root-master.com

and download the app using any browser in your device.

Install the app and launch the stock "Settings" application. This may give a confirmation dialog message stating "Allow Installation from Unknown Sources". Enable the option.

Once the program has been installed, you can launch the app and click on "Start" button to begin the rooting process. Please be noted that the rooting will last for a few minutes.
After the rooting process is completed, you can install any source of app you like. Besides that you can also install the Xposed framework and its modules to make your phone a super powerful device.
4. iRoot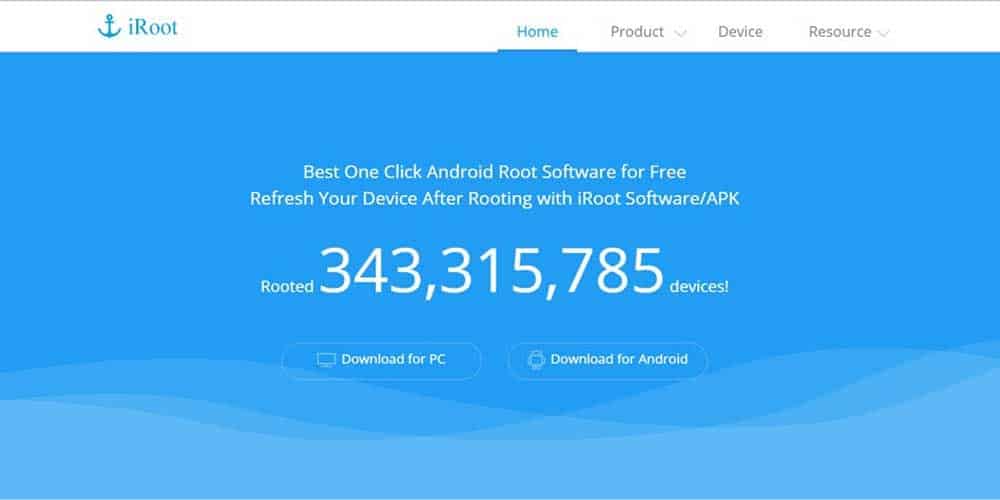 Like the apps mentioned above, iRoot also enables you to root your smartphone or tablet. Rooting no longer is a complicated task as with this app you can root your phone or tablet in just one click. The rooting procedure involving iRoot app does not affect the data of your phone which means there is no risk of data loss. Besides that, once you complete the rooting of your phone using the iRoot app, it will recommend specific apps which if the install will increase the performance of the phone.
How to Use iRoot
The usage of iRoot app is quite straight forward. You will require to follow the below-mentioned steps.
Download iRoot apk on your device. You might need to enable the installation from unknown sources option in order to download the apk.

Once the download is complete, install the app in your device

Now launch the app and simply click on the

"Root Now" button

to root your device.
These three simple steps will root your phone and make it a powerful handheld device. One important thing that you should keep in mind is that you will require to have 50% charge on your phone in order to have uninterrupted rooting using iRoot app.
5. Towel Root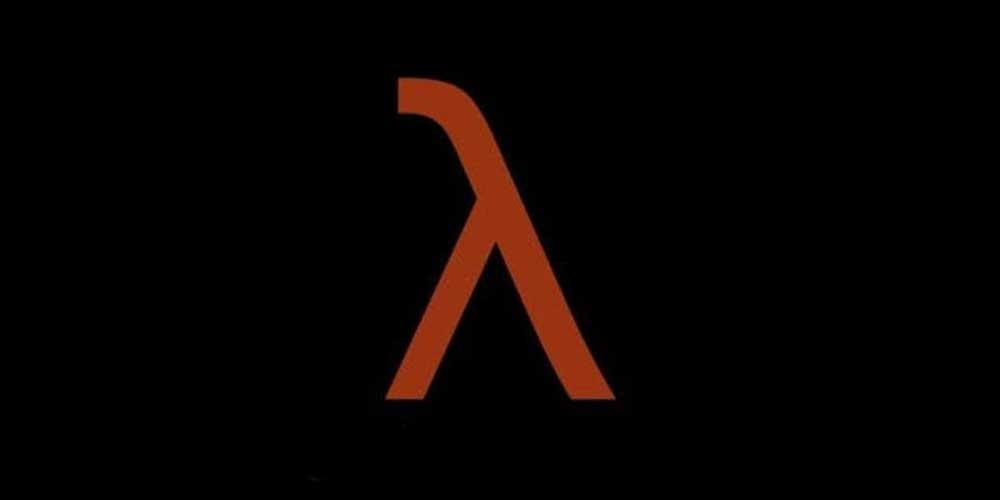 The biggest plus point of Towel root is, it does not require internet connectivity during the rooting process. Besides that, its size is the smallest as compared to any one click rooting apps. Even though its size is close to 100kb, it is still effective in performing one click root of android device. If you are using an Android device that was launched before June 2014, you can very well use this app to root your device.
How to Use Towelroot
The use of this app is very simple and straightforward. Just install the Towelroot apk in your smartphone or tablet and launch the app. Now click on the Make it Ra1n button given inside the app to start the rooting process.
One important fact that has to be kept in mind is that Towelroot has been discontinued by it developer and does not support Android 6.0 and newer versions.
6. Framaroot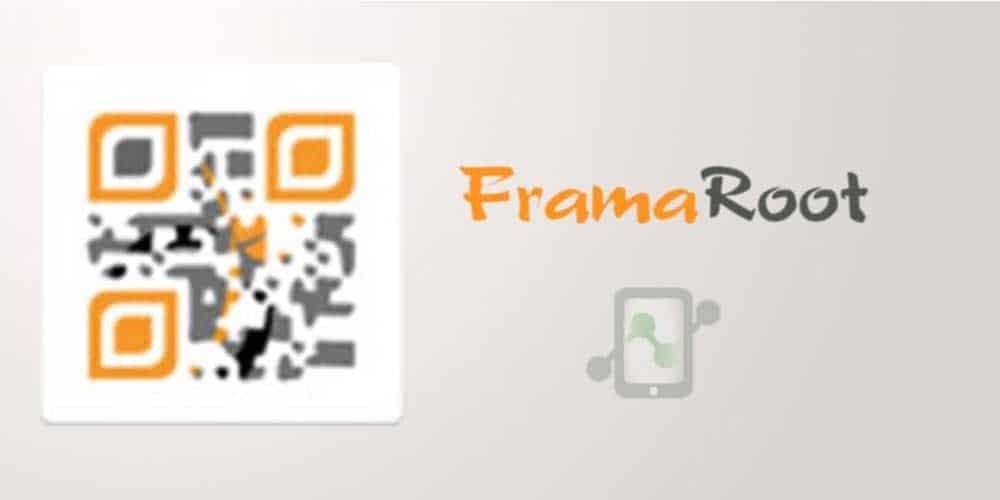 Framaroot is a one click Root software by alephzain. As its too outdated app, success with this App is quite less. But, it's best for few Mediatek devices, Asus, LG, Samsung etc.
How to Use Framaroot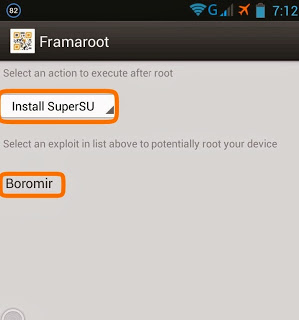 Download Framaroot from Below Given link : Framaroot -1.9.3.apk
Install the app normally. If its shows some security error, Goto Settings > Security > Select Allow unknown sources.
Open Framaroot, for root select Install SuperSU and Click on first option. A Message will popup saying : "Success ???? … Superuser and su binary installed. You have to reboot your device"
Reboot your device and you are done. You have Successfully rooted your Android device.
For unroot select Unroot and Click on the first option.
Conclusion
To wrap up the discussion, it should be noted that all the above mentioned apps allow you to root an Android device at ease. Rooting an Android device converts the device into a powerful gadget. Many features that are not available on a normal Android phone can be installed on a rooted Android phone. We recommend PC rooting softwares as Apps are less efficient this days.
However, with that being said it should also be considered that rooting has its own share of risks. Rooting by any ways including the use of the above mentioned apps may permanently void the warranty of your device. There are high chances that your phone or tablet may end up bricked as a result of rooting. Hence, we highly recommend you to know and research about the risks that rooting calls for and be prepared for any outcome at the end of rooting.