Pokemon GO hacks, tricks, and secrets have been flooding the internet since the launch of this augmented reality (AR) mobile game. If you are still not aware of Pokemon GO game, you might be living in a cave. Anyways here's a brief description: It's a pseudo reality game where players hunt virtual Pokémon on their phones in real-life locations. It uses the camera and GPS on the player's device to catch Pokémon.
There's much more to it, of course, but that's the general gist. Naturally, the internet has gone bonkers for the game. I assume it's a combination of the super cool technology and the fact that anything Pokemon hits all our nostalgia buttons in all the right ways. If you've been wondering whether there are ways to make your "Pokemon Go" experience even better, guess what? We're here with a simple hack (cheat) which allows you to catch Pokemon without moving & I mean it!
Now you might ask, why would you ruin the joy of game by doing so? Well, if in case you're tired, not feeling well or its raining outside & you can't go out. Why miss the adventure? Enjoy it from your home, and you can still catch 'em all. During regular days you can enjoy the original game. Sounds amazing, isn't it? Let's jump to the procedure.
For iOS devices: Pokemon GO iOS Spoofing (2018)
Prerequisites: 
1. An Android device with Unlocked bootloader, device's TWRP Recovery file and Minimal ADB Tools or Odin (for Samsung)
2. Pokemon GO Game:
3. Pokemon GO Location Spoofer Free
OR
3. Pokemon GO Fake GPS Joystick & Routes Go
Currently this two are the only app that tends to work with all the security updates & allows you to change your location using a Joystick. You can try the free one as it has worked for Galaxy S9's latest security patch without any issue, but if that doesn't work, you need to buy the 2nd app.
Create Pokemon GO Spoofing App as System App

Before starting of with anything, let me clear everything about the above image. After the recent Pokemon GO updates, Niantic has started detecting spoofing apps installed in your smartphones. In order to avoid this, you need to install the Pokemon GO Android hack App either by Downgrading your phone or by Rooting and converting the App into System App.
While some think downgrading and rooting are pretty much same, Downgrading and rooting are two separate things. You do not need to root to downgrade your version of Android. Downgrading your version of Android should not void the warranty on your phone as long as you use official firmware. Converting a joystick to a system app usually requires root privileges. You can convert a joystick to a system app without rooting your Android, but you will need help from a custom recovery.
The easiest versions of Android to spoof on are Marshmallow and Nougat before the March 5, 2017 security update. After the March Android security update, many people started complaining about Pokemon GO Spoofing not working or they are facing shadow ban.
In this guide, we'll not talk about downgrading as who wants to use the old security patch or old Android version. We'll discuss the most simplest and fastest way to push the Joystick App to your System folder without rooting your phone or installing TWRP (We'll just use TWRP to boot it once & not install it).
This guide is not for Samsung phones, as far as our test goes, Samsung phone doesn't require any rooting to use the Fake GPS app. You can see the Fake GPS working perfectly in Galaxy S9 with June 2018 Patch without rooting:
What is Pokemon GO Joystick Hack?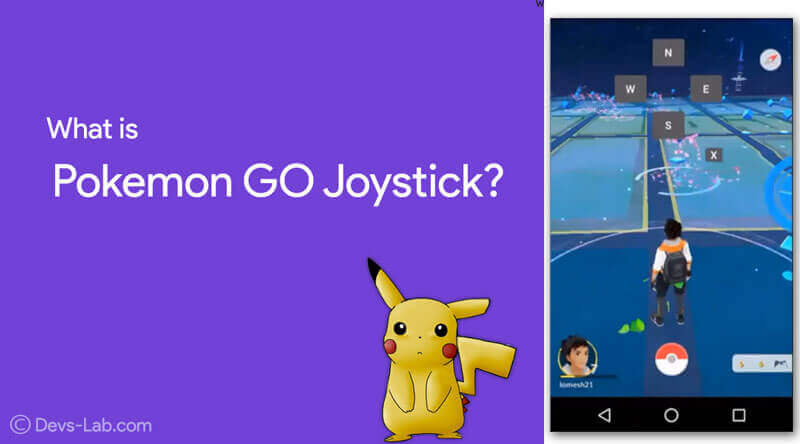 Pokemon GO App is created using Google Maps' API. It traces your location with your device's GPS & shows the type of Pokemon as per the region shown in Google maps. This app (Pokemon GO hack Joystick ) makes the GPS believe that you are changing locations which in turn moves you in the game. The app offers control buttons (similar to a joystick arrow keys) to move in any direction you want. You can also adjust your moving/running speed. The joystick appears as an overlay.
| | |
| --- | --- |
| App Name | Pokemon GO Joystick |
| Last Updated | 8th Aug |
| App version | 2.5 |
| Android Version Required | 4.0+ (Rooted) |
| App Size | 32 MB |
| Other Requirements | Xposed Framework |
| Features | Joystick for Pokemon GO Game |
Features
Boomerang feature: Jumping to desired location – Just tap on any location & you'll be there! A useful feature if you want to catch water Pokemon in big lakes, bakes or finding grass Pokemon in dense forest.
Settings – change update interval, speed, altitude, accuracy, spoofing and much more
Tap on any point on screen to move in that direction – Option to hide joystick in this mode.
Clear mock location history – restore original location
Automated movement around location in a radius
Search for a location in map
Store favourite locations as bookmarks and load them quickly!
Choose starting location in map – Now you can enter latitude and longitude
Use the persistent notification use toggle joystick on/off on the fly!
Root support for mock location disabled
Now you can catch 'em all like a boss!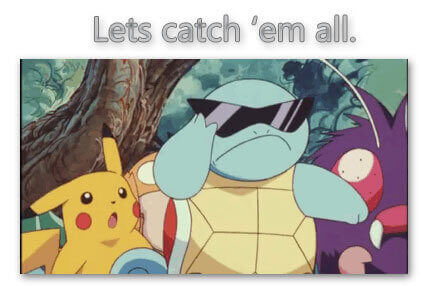 How to make Pokemon GO Fake GPS as System App:
Step 1. Follow the ADB guide to install adb files and launch the adb.exe file from the adb folder. Move the downloaded TWRP file for your device into the ADB folder. (Change the TWRP file name to twrp.img)
Step 2. Connect your device with your computer using the USB cable provided with the device.
Step 3. Make sure to enable USB debugging and allow adb access (Everything is mentioned in the ADB guide)
Step 4. Type the following command in adb command window to check if everything is working perfectly.
adb devices

Step 5. Reboot your phone into bootloader mode. Some phones will bring you to download mode instead of bootloader mode. Usually you should be able to get into bootloader mode from download mode. To boot into bootloader/fastboot mode, type the following command:
adb reboot fastboot
Step 6. Boot the device into TWRP mode, by typing following command:
fastboot boot twrp.img
Wait a few seconds and your phone will reboot into the TWRP custom recovery. Now watch the following video and do as explained:
After moving the joystick into the "/system/priv-app" folder, you should be able to restart your phone normally. Open your joystick app and make sure that either "system mode" or "root mode" is enabled.
If you need to use TWRP again, you will need to repeat this process since TWRP is not actually installed or flashed on your device.
How to install Pokemon GO Joystick using Xposed:
Note: This method doesn't work as Pokemon has started banning users with root enabled devices. However, if you can use our Pokemon GO hack for PC if you want to avoid the hassle of rooting or performing all the complex procedures.
Step 1. Assuming that you have installed Xposed in your device, Install the Joystick app in Android using the downloaded apk file.
Step 2. Now launch Xposed app in your device & go to Modules option & check "Pokemon GO Joystick module".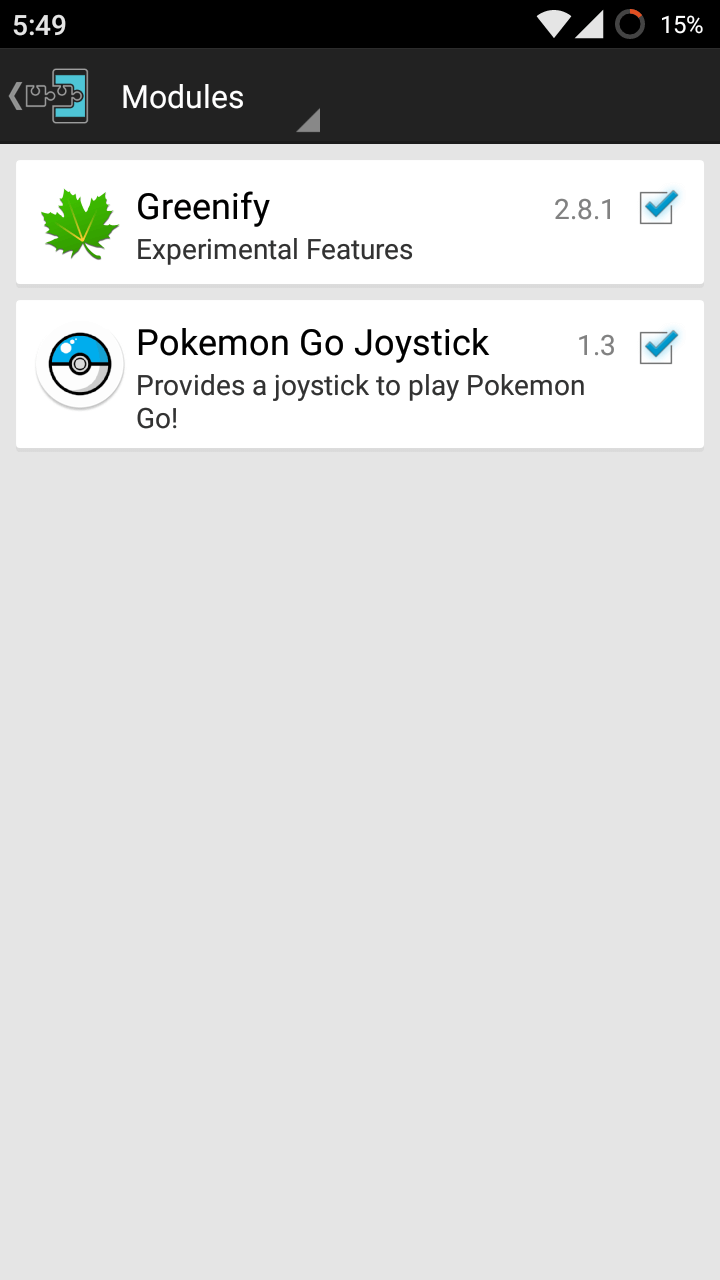 Step 3. Now restart your device to allow the module to use Xposed framework.
Step 4. Start the app by launching it from list of installed apps.
Step 5. Toggle master switch on & select the speed at which you want to move. At the end tap on Open/Close joystick.

Step 6.
 Now launch Pokemon GO App & start playing. Have fun!
FAQs:
Note: Don't leave the country, you might get banned! When the game says 'failed to detect location', try moving the joystick. The error will go away. Enable 'Continue from where you left/ from chosen locaiton' if you select your start location from map.
1. Pokemon Go v0.37.+ compatibility
Since Pokemon GO servers have started banning rooted devices running Pokemon GO with Xposed modules, we must hide the System Root.
Re-flash custom or restore your System or you can uninstall Xposed, modules & everything.
Remove root (obviously skip this step if your not rooted) – Simply go into the supersu app and remove from there. (How to unroot Android devices)
Now to make Root Systemless,

If you're using TWRP, use the terminal in advanced settings and type the following: echo "SYSTEMLESS=true" > /data/.supersu –
OR You can use your favourite file explorer and create a file named .supersu at: /data/.supersu and simply write in the following line: SYSTEMLESS=true

Flash SuperSU 2.78, which will be flashed in Systemless mode as per the config file we created in the previous step.
Flash Systemless Xposed 86.2 (this version does not depend on Magisk, therefore Magisk does not need to be installed at all).
Flash SUhide (It hides Root from particular app rather then turning off root globally)
2. If you get any location related error in Marshmallow,do this!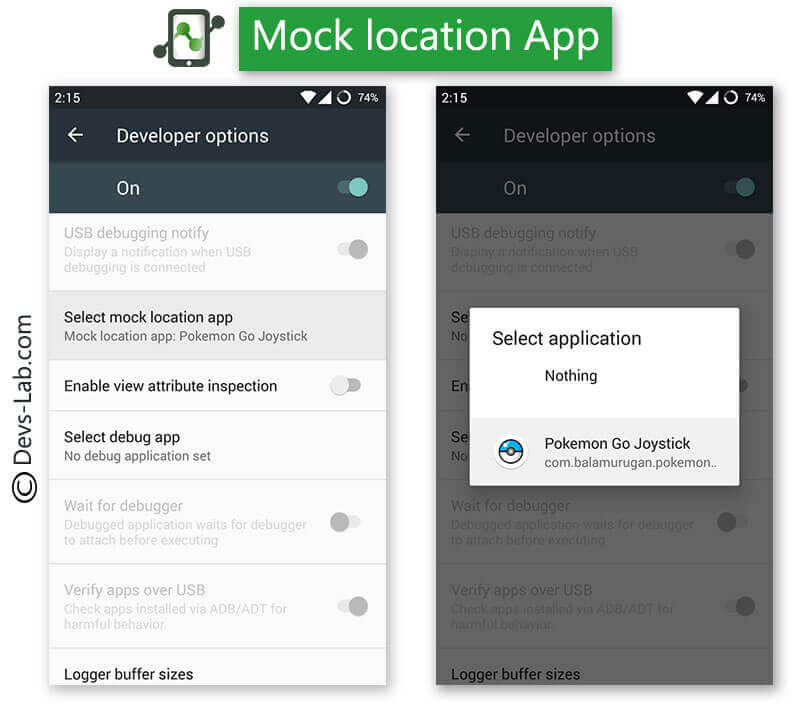 Enable:Settings -> Developer options -> Allow mock locations". Open this app and then Open Settings -> Developer Options -> Choose mock location app -> Choose 'Pokemon Go Joystick'

3. How to Choose starting location?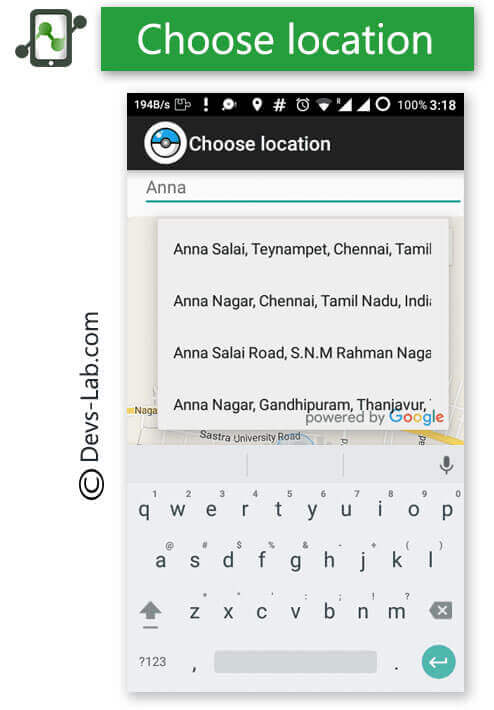 You can enter your desired location name in Choose location option. Make sure you don't enter any location outside your country.
Read: Download Drastic DS Emulator APK Free with unlocked features
4. How to use Bookmark feature?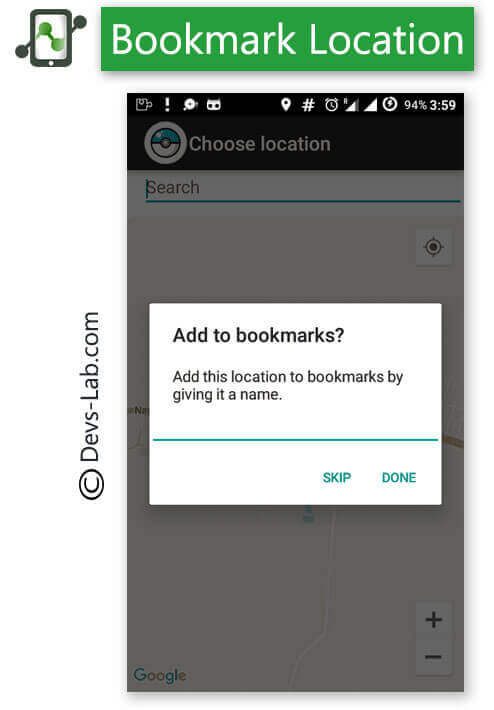 Open map
Tap your favourite location
Give it a name
Done!
5. How to delete Bookmarks?
Long press that bookmark -> Delete.
6. "Failed to detect location." (if this doesn't work, then do the teleportation fix)
Change the GPS to High Accuracy, move your location on GPS Spoofer and restart Pokémon GO.
7. "Pokéstops not working/Pokémon fleeing after 1 Pokéball?"
You probably traveled too fast and got soft-banned, don't worry, it lasts an hour.
8. "My player keeps teleporting between locations."
Install an app from the Play Store called "DisableService" and allow root (obviously), search for the service "Fused Location" under System tab and disable that service. Then reboot. Doing this trick will disable your real GPS and then no teleporting will be happening. If you want your real GPS back, just enable "Fused Location" again and reboot.
9. "When I try to disable AR, everything freezes/crashes."
Disable camera by going into REGEDIT on your computer and going to "HKEY_LOCAL_MACHINE\SOFTWARE\BlueStacks\Guests\And roid\Config". Press camera and change the '1' to a '0', save and you're done.
10. "When I start Pokémon Go Mod Apk, I get a gray screen."
Either close Bluestacks entirely and relaunch Bluestacks or uninstall Bluestacks and redo the tutorial with Bluestacks for Windows 7/8.
11. "When I throw a Pokéball, the game crashes."
Delete your Google account from settings and restart Pokémon GO.
12. How to use 'move on tap':
Enable this mode, by tapping the palm button.
Tap anywhere on the screen for the player to move.
Turn off the mode by using the same button.
NOTE: When Move on tap is enabled, you can't touch items in the game. So enable and disable this mode whenever needed.
12. How to use 'Pokemap':
After searching or without searching, you have to tap on a particular location on map.
And then use 'Load nearby pokemons' button.
Wait for few seconds for it to load the pokemons.
Best practices
When moving form v1.x to 2.x, Clear data before launching the updated app. Make sure you 'Allow mock locations' or Select this app in 'Select mock location app' (Marshmallow) before launching the module
Set location mode to 'Device only' in case you are troubled when fighting/capturing.
Set speed to slow/slower if you want to search for Pokemons. Running faster may not give adequate time for a Pokemon to spawn in that location.
Don't start at far off locations. You might get banned.
We know that this hack ruins the real fun of the game but its for times when you can't go out maybe because of climate issue, time, health issue or any personal issue. Every one deserves to enjoy catching Pokemon. Make sure you don't go too far in search of Pokemon. The game has some rules that you must follow. Don't jump to different countries you might get banned. Don't forget to share this awesome method with all the Pokemon master & friends.