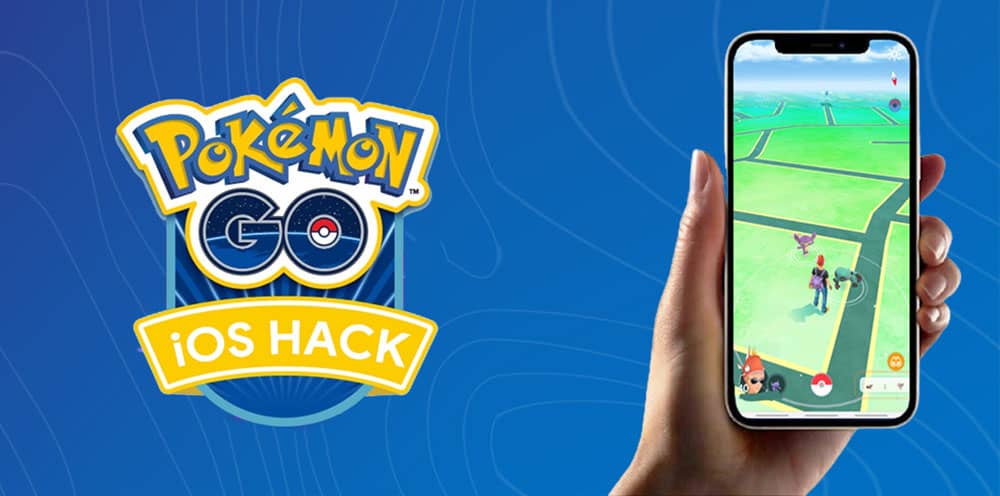 Pokemon GO is not much popular these days as most players got sick of the new Pokemon GO rules and banning. However, there are still players who are attempting to ultimately conquer the game, but at times are struggling.
The augmented reality (AR) game Pokemon GO seems pretty boring after a period as you end up catching all the Pokemons nearby. Well, we have the latest working Pokemon GO iOS Hack 2022 which does not require Jailbreak or any changes to your device.
While we have also covered different Pokemon GO bonus & rewards and Pokemon GO Search Terms & Strings which would help you play the game in a legit way, I bet you don't want to spend your time running around in this pandemic. While this hacks are risky to some level considering how Niantic keeps releasing new updates to catch spoofers, we keep updating our methods every month. If you have an Android device then you can try our Pokemon GO hack for Android. At the moment, Android spoofing is lot more reliable and safe than iOS hacks like iSpoofer & PokeGo++
Pokemon GO iOS Hack (GPS & Joystick Hack)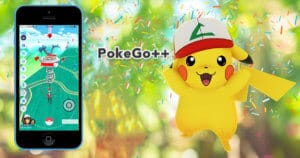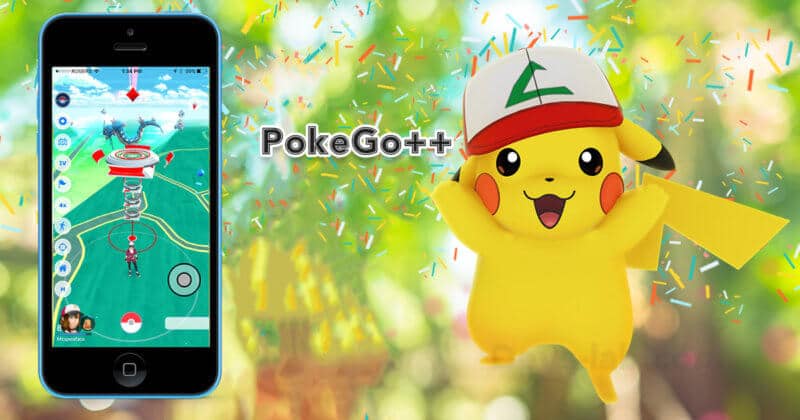 There are various iOS apps that allow you to spoof your GPS location and play Pokemon GO. But only few apps can hide the spoofing from Pokemon GO servers. Up Till June 2019, there were 2 spoofing apps; PokeGO++ and iSpoofer. But a legal notice from Niantic stopped both the apps and soon Niantic started the ban wave.
This left most of the spoofers with not a lot of option in 2020 where everyone was home quarantined. But in 2022, there's a new functional tool & hardware which can easily bypass Niantic's cheat detection and help you travel around the world.
As I promised in 2020, I'll update the article with the most safest way to spoof around in Pokemon GO without getting soft ban or permanent ban. Again, respecting the teleporting cooldown chart is still very important. You don't want to alert the systems by jumping around too quickly which isn't practical.
iSpoofer vs iPoGo vs iTools
| | iSpoofer | iPoGo | iTools |
| --- | --- | --- | --- |
| Installation | Easy to install | Easy/Difficult | Difficult to Install |
| App Stability | Outdated | Certificate Issues in Free | Stable |
| Spoofing/Teleporting | Accurate Cool-down timer | Estimated Cool-down timer | Estimated Cool-down timer |
| Map | Decent | Best | Best |
| GPX Routing | Easier & Better | Difficult to create routes | Easier & Better |
| Pokémon/Quest/Raid Feed | Best | Decent | Best |
| Nearby Pokémon Feed | Same | Same | Best |
| Walking/Joystick | Same | Same | Best |
| Auto runaway if not shiny | Best | Decent | Best |
| IV checking | Decent | Best | – |
iPoGo | Pokemon GO iOS Hack
iPogo is another software that will help you with spoofing your location from one place to another. This software was developed a few months back and has received a lot of possible reviews.
There are two unique features which make iPogo stand out over iSpoofer. The first, and most noteworthy, is the Pokémon Go Plus (Go-Tcha) emulation feature. By enabling this, you can trick the app into thinking there is a Go Plus or Go-Tcha connected to the phone. Combining GPX routing, Auto-walk, and this feature, you essentially have a fully functioning Pokémon Go bot right there on your iDevice which will spin stops and catch Pokémon automatically without you even needing to unlock the device. Depending on who you ask, you're playing with fire by doing this as Niantic is more prone to notice and issue bans for botting than spoofing. However, being mindful of your walk speed and 'botting' duration can significantly reduce that risk. Much like the actual Go Plus or Go-Tcha, it will only throw Pokéballs and will not use any berries.
The other unique feature to iPogo is the ability to set up item limits for each item in the game. You can set a maximum number of each item and then, with the push of a button, the unwanted or extra items are automatically thrown away. For those looking to use the Go Plus emulation feature this can be an awesome addition. Simply set all items to 0 aside from Pokéballs then, when your inventory is full, hit the button to empty it out. You will amass a large amount of Pokéballs and nothing else. This is great for those looking to bot using the above-mentioned method.
Features
It is just like an automated version of Go-Plus without the need of having to buy a physical device.
It can be difficult to delete items while running, with Ipogo, you can choose multiple items and delete them in a single click.
Ipogo also allows you to skip Pokemon capture animation unless the Pokemon is a shiny Pokemon.
Besides these excellent features, the software developers keep developing the app to make it as user-friendly as possible. You also don't need to pay for the software as long as the beta version is running.
The latest beta version of the Ipogo software was released on 6th Jan 2021 which saw a few additions and improvements in the software. In the latest update, the display/IV color on feeds, You can also add the warning text in settings. The update improved the overall app security and also fixed minor bug issues.
How To Install iPoGo
Three different methods can be used to download and install the Ipogo software. You can either download from Signulous, use 3UTools, Matrix Installer or RickPactor. While use Signulous is extremely easy but it's paid, the rest require you to have a Windows or Mac PC and install iPogo every 7 days as the certificate gets revoked.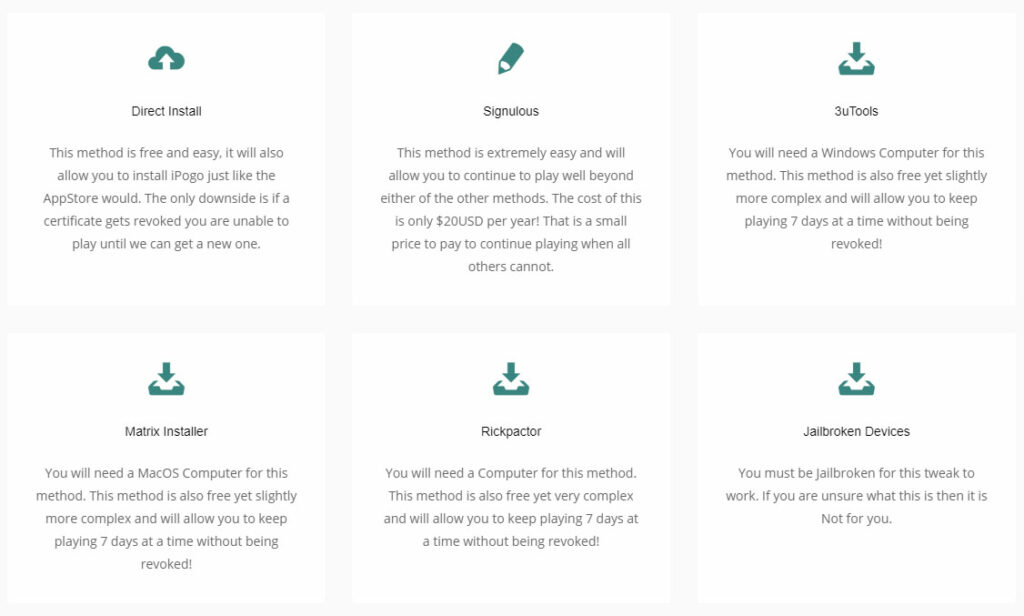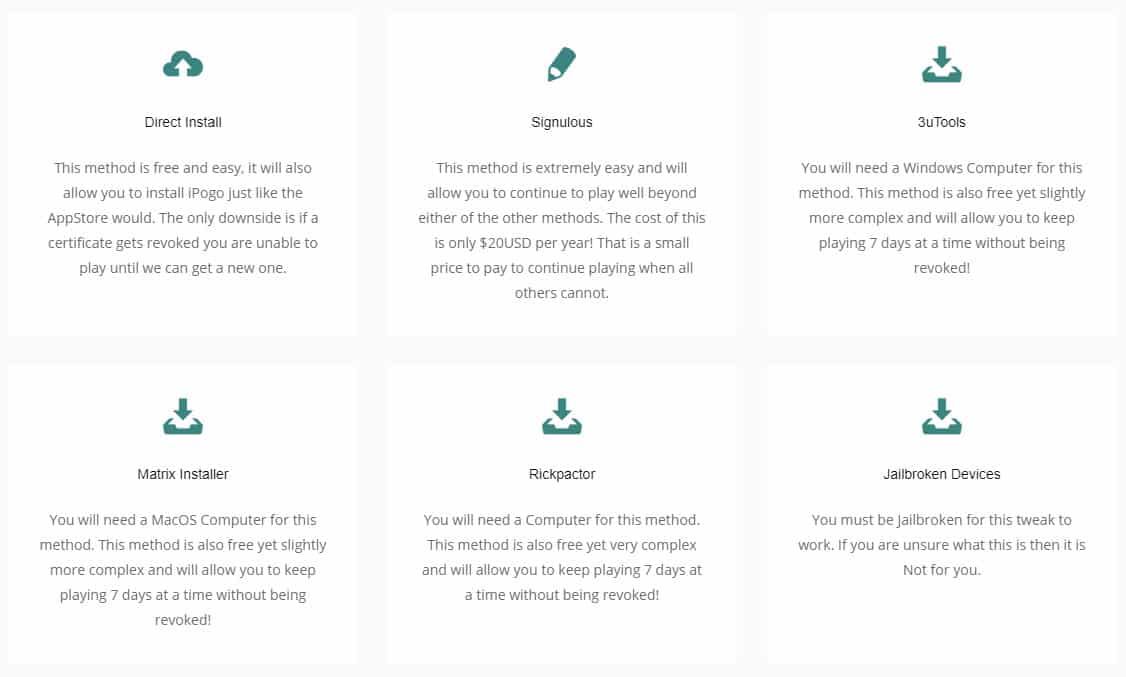 Direct download is the easiest way to download the software. This method allows you to download the software just like you would download any other software from the App Store. The drawback of downloading via this method occurs when the certification gets revoked, you won't be able to play the game unless you get a new one which is bit difficult until iPogo releases a new certificate.
Click on this ipogo.app link in Safari browser.
Wait for the installation to get completed.
After the installation gets completed click on "Send me to Profile Management".
A notification should pop-up, When it does, click on Allow.
Choose the correct profile and click on "trust."
How To Install iPoGo using 3UTools
3UTools is a GUI tool that is used to install the IOS IPA file without the need of having your device jailbroken. You can download 3UTools from below link.
To install this app via this method, you will be required to have a PC, MacOs or a Linux computer for this method. It is a little trickier to install the Ipogo App using this method, but the advantage of using this method is that you can keep playing the game 24*7 without being revoked.
Prerequisites
iPOGO IPA file: Download
3UTools: Download
Official iTunes: Download 64-bit | Download 32-bit

Tip

: Use a new AppleID for this method
Make sure that your iTunes is updated to the latest version.
Installing iPOGO in IOS using 3UTools
Step 1: Open 3uTools and click the Toolbox Tab
Step 2: Locate and Click IPA Signature
Step 3: Click Add File and select the iPogo IPA
Step 4: Click sign with appleID (Add your appleID here)
Step 5: Make sure the AppleID and iPogo File you added are both selected
Step 6: Click Start Signing and wait for it to finish (green writing)
Step 7: Click iDevice, then Click Apps, next Click Import & Install IPA
Step 8: Select the signed IPA from documents (not the original you downloaded)
Step 9: Once Complete go to Settings>General>Device Management and trust the installer on your iDevice
Also read: Fix: Pokemon GO Unable to Authenticate
How To Install iPoGo using Singulous
Signulous is a signing platform for iOS and tvOS. This is a really easy way to install and use the Ipogo app. Signulous allows you to play the game for as long as you would like without any interruption. The drawback? It is a paid software. The software cost $20, but if you are someone who is really into gaming, you won't mind the $20.
You can follow the steps below to install Ipogo via Singulous:
Click on this link.
Choose the "iOS Code Signing" option once you have registered.
Go to the dashboard and click on register
Create a new account for your device.
You will receive an email with the activation link, click on the link to confirm the account.
On your registered device, click on "Setup Device" which you will find under "My Devices."
Follow the prompts to create a temporary account that will help Ipogo link your account to the device.
Once your device has been set up, click on the dashboard.
In the App library, find Ipogo and click on "sign app" followed by "install app."
iPOGO should have been installed on your device, feel free to play Pokemon Go without any issues.
iTools (Hardware) – Pokemon GO iOS Spoofing
iTools is a small hardware which connects to your iPhone through bluetooth and allows you to spoof in Pokemon GO without installing any spoofing apps or modified Pokemon GO app. So, it's the most safest method to spoof on iOS devices.
So, what's the negative part? It costs $79 for the device with lightning adapter! Quite an hefty amount just for enjoying your game without going out. But it makes sense if you don't want to worry about getting banned or using alternate accounts everytime. It's a one time investment. If you don't want to invest, there's always iPOGO via Singulous for $20/year. Both have their pros and cons, it's up to your budget and usage.
iTools BT Joystick 2.0 & Lightning-RJ45 adapter Package: Buy NOW
Once you have bought the hardware, you can find all the instructions for installing and using the device in the package.
PokeGO++ | Pokemon GO iOS Hack
Tip: Niantic is suing PokeGo++, mainly for infringement of Intellectual Property, and I think it's only a matter of time before they sue iSpoofer as well. They could probably throw the ban hammer at any time. I'm sure many of you remember the huge ban wave of April 2018 where a lot of people got banned for using PokeGo++.
Download PokeGO++ iOS Hack
New Cool down Feature Overview
When an cooldown timer is started, the icon will now change colors depending on your location.
The icon will show RED if you are currently located in an area OUTSIDE of your current elapsed cooldown.
The icon will show GREEN if you are currently located in an area INSIDE of your current elapsed cooldown.
For example, you set a cooldown timer of 2hrs.
5 minutes go by and your current location is 1 KM away from your location where you started the cooldown. Your icon will show green meaning the distance of 1KM is within your cooldown of 5 minutes.
The Cooldown icon will automatically update between green and red as you actively walk and teleport making it really easy to determine your current state. The icon will return to the normal color once your cooldown has elapsed.
How to install Poke GO++ Hack in iOS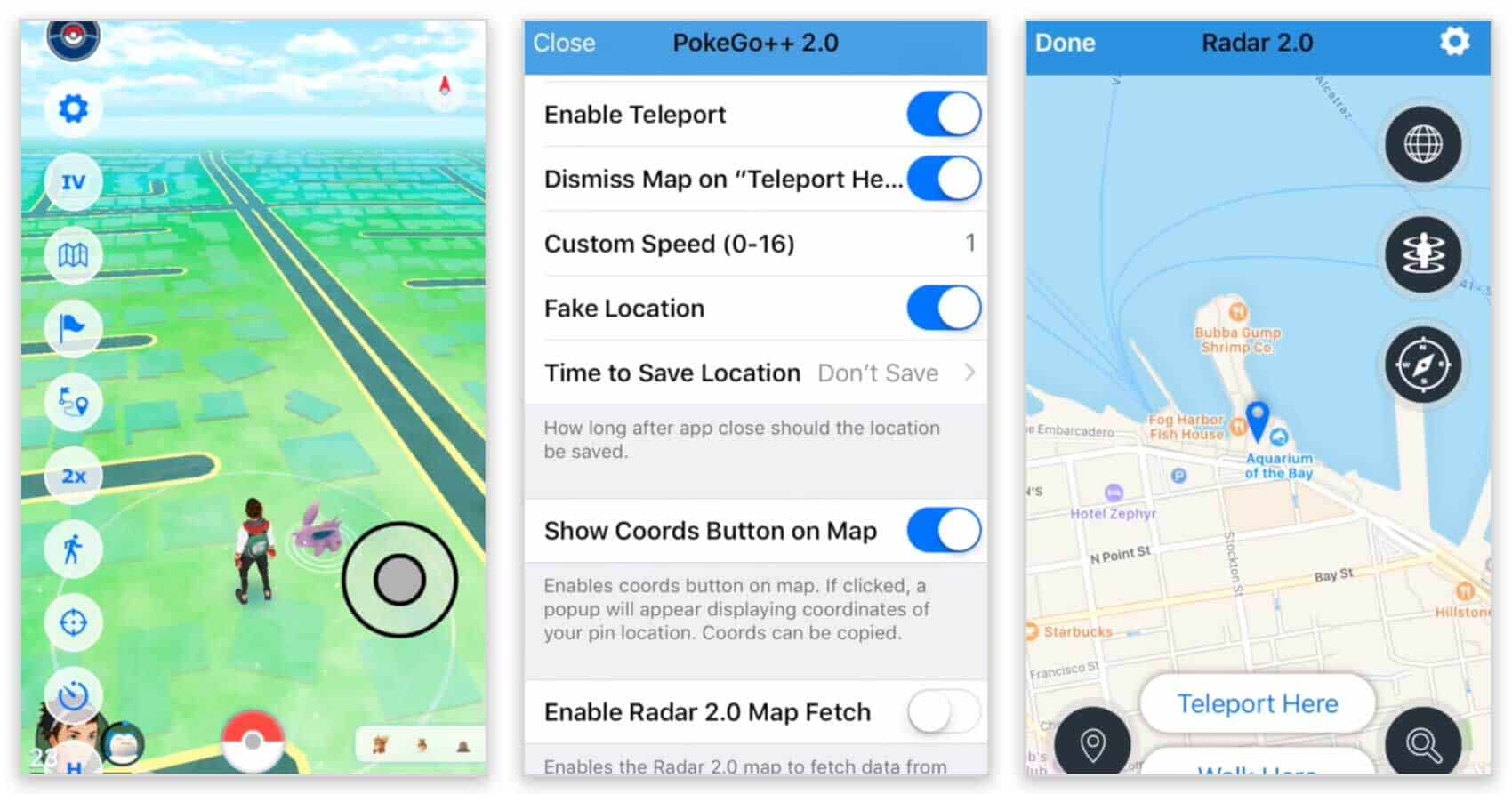 Step 1. Download all the files above and transfer it into your PC (Mac/Windows).
Step 2. Extract Cydia Impactor in your PC & install it.
Step 3. Make sure you have installed iTunes in your Computer & logged into iTunes using the same iTunes ID as used in your Phone.
Step 3. Launch iTunes (Make sure you're logged in) & connect your iPhone to your Computer.
Step 4. Now launch Cydia Impactor. The Cydia Impactor will show your device in the drop down menu.
Step 5. Now Drag and drop the Pokemon GO++.IPA file into the Cydia Impactor. It will ask to confirm your iTunes Account, just fill the details & you're good to go.

Step 5. What Cydia Impactor does is, it will sign the IPA files so that your iPhone security does not reject the app as it's not downloaded from the App Store.
Step 6. Once the installation is completed, you can launch the Pokemon GO App & you can enjoy the Joystick life!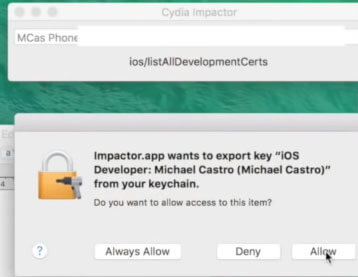 Install Poke GO++ Hack in iOS (Alternate Method)
Now, you can directly download Pokemon GO++ on your iOS device and start playing without any fuss with the PC. Before installing Pokemon GO++ you need to make following changes on your iOS device:
Make sure your Authoritation is turned off.
Turn on Background App refresh. (Settings > General Settings > Background App refresh > Turn on or switch to Wifi & Mobile data option)
Now, to install Pokemon GO++ directly,
Navigate to appzdl.com. Make sure you open this link in your iOS device as this site won't open on PC.
Now, in the search section, type Pokemon GO
You'll find the Pokemon GO++ app. Click on Install.
Once the install is complete, you'll get a popup, click on Allow.
Now, go to Settings > Profile downloaded. Alternatively you can navigate to Settings > General Settings > Profile.
Click on Pokemon GO++ and Install it.
Enter your passcode and follow the on screen instruction to install it.
PokemonGO++ will be installed on your iOS device.
Afraid of using your Phone for spoofing? Well, you can even use Pokemon GO for PC without any hassle of getting yourself banned or caught.
iSpoofer | Pokemon GO iOS Hack (Doesn't work in 2022)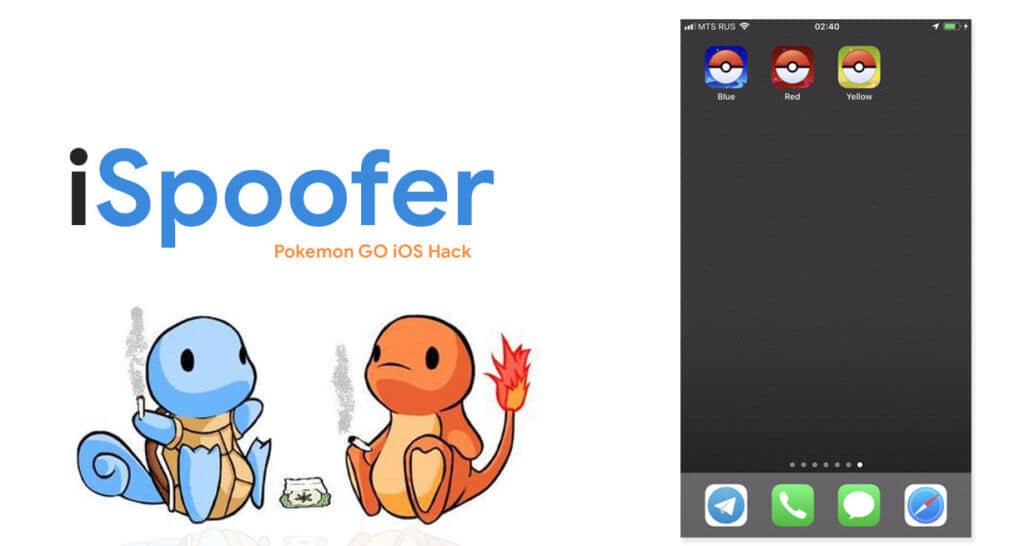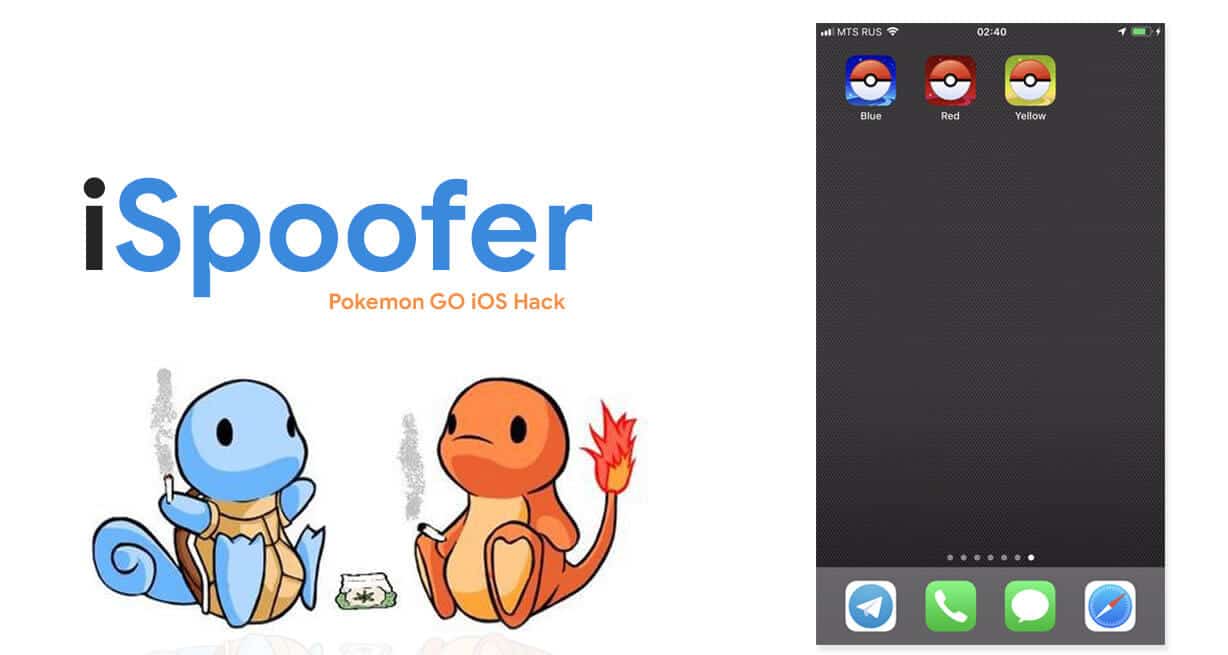 iSpoofer has few more features compared to iPogo but you need to activate the pro version to use the premium features.
Some of the features which are exclusive to iSpoofer are Enhanced throw, you can see nearby Pokemons, you can install multiple instances of Pokemon GO like in the case of WhatsApp & WhatsApp Plus and iSpoofer's support is much better than PokeGO as the developers listen to feature requests from users.
Features of iSpoofer
It will hatch eggs and get buddy candy for you!
Pokemon GO Joystick to move around.
Walk Speed i.e 2 Times, 4 Times or even 8 Times.
Tap to walk.
It has an IV calculator built in not only for the Pokemon you've caught, but also it will show the IV of Pokemon as you're catching them!
Also read: Pokemon GO Team Rocket Guide (Bosses & Grunts Counters)
Free VS Pro Version
| Features | Free Version | Pro Version |
| --- | --- | --- |
| | | |
| Teleport | | |
| Auto-Walking | | |
| | | |
| | | |
| | | |
| Nearby Gym Slots Scanner | | |
| Coordinates Feed | | |
| | | |
| Enhanced Throw | | |
| Fast Catch Trick | | |
| Auto-Generate GPX | | |
Download iSpoofer
How to install iSpoofer in iOS
Step 1. Download all the files above and transfer it into your PC (Mac/Windows).
Step 2. Extract Cydia Impactor in your PC & install it.
Step 3. Make sure you have installed iTunes in your Computer & logged into iTunes using the same iTunes ID as used in your Phone.
Step 3. Launch iTunes (Make sure you're logged in) & connect your iPhone to your Computer.
Step 4. Now launch Cydia Impactor. The Cydia Impactor will show your device in the drop down menu.
Step 4. Now Drag and drop the iSpoofer.IPA file into the Cydia Impactor. It will ask to confirm your iTunes Account, just fill the details & you're good to go.

Step 5. What Cydia Impactor does is, it will sign the IPA files so that your iPhone security does not reject the app as it's not downloaded from the App Store.
Step 6. Once the installation is completed, you can launch the Pokemon GO App & you can enjoy the Joystick life!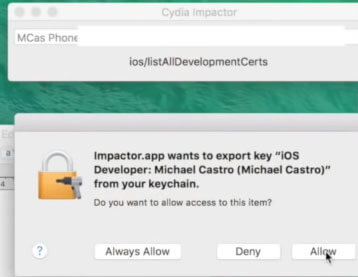 How to Auto-Walk for Free in iSpoofer
Before the setup, remember to set the walking speed reasonable (for example: = < 6km/h)
Turn on Guided Access in the Settings/Accessibility.
Go to Pokemon GO app.
Hold down joystick in your desired direction and DO NOT remove your finger throughout the entire setup process.
Triple-click the physic home button (side button on iPhones without a home button) to setup Guided Access with your other hand's finger (starts holding the dragged joystick).
When the Guided Access UI pops up, tap Options in the bottom-left corner and turn off Touch (still holding the finger).
Tap Done then tap Start in the top-right corner (still hoding the finger).
Input a passcode with your other hand, and confirm the passwords (still holding the finger).
Once the Guided Access Started overlay appears you can remove your finger from the screen
You can turn off whenever you want by pressing 3 times on the home button for hatching new eggs, checking walking distance, etc.
If you want to repeat the autowalk again, simply drag the joystick and hold and press the home button 3 times again at the same time, the sequence will start and you don't have to repeat the whole process above again.
Sometime later, iSpoofer's popup will appears because "wait, that's illegal!". You can leave it be and it has no effect to you. The sequence is still going.
Remember to let the phone screen "always on" because after the popup, some minutes later the screen will be dimmed automatically by your phone default setting. If you can't do the quick check of the phone while leaving it auto-walking, disable the function in your phone setting
If you accidently mess up the whole process and want to restart, simply go to the Setting/Accessibility, switch off the Guided Access and turn it on again. Then, proceed to do the setup steps above.
This method is currently working with the latest version of the spoofing app.
Also Read: Pokemon GO TM Guide | Fast TM & Charged TM
Teleportation Cooldown Chart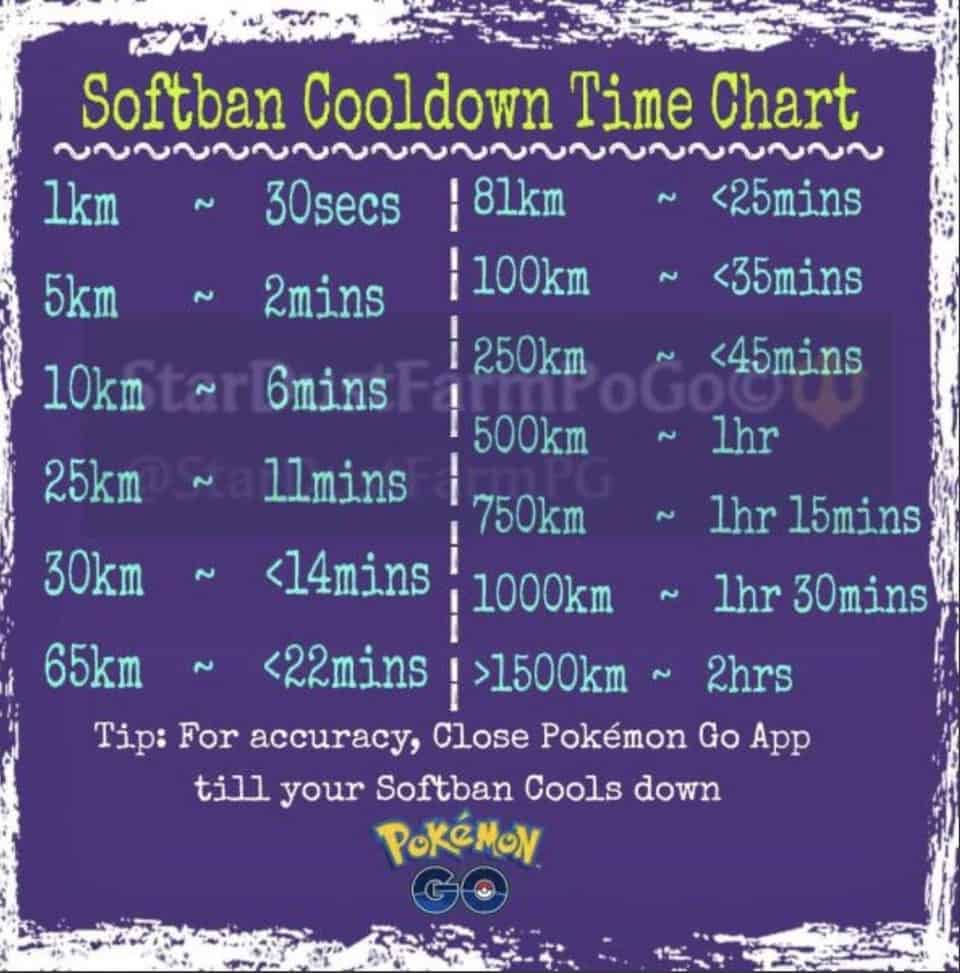 To avoid soft bans respect the teleportation cooldown chart. Some of the accounts received a warning, and some didn't since Niantic is giving out RED warning. Pretty much the only explanation is either they don't monitor all accounts around the same time (still use behavioral analysis). It is also possible that few of those accounts take longer to fight raid because of the need to wait for people. So the accounts that spend more time spoofing were able to get more GPS data for analysis. Either case, this has something to do with behavioral analysis.
If you think about it, for people that spoof around the world to snip, it may only take a few seconds to a min to catch one pokemon, and there is not enough data to analysis. But if you spoof few miles around locally, but you spoof for more than 15 to 30 mins, they probably get enough of your GPS data to analyze your behavior.
Verdict
Now that you can jump to locations, you can snip locations of Pokemon using Pokezz's website. Get the coordinates of location & jump to the location. If you don't find the Pokemon spawned, you must walk around there for sometime, it takes time to load maps & Pokemon. Have fun catching the rare ones. Have any questions? Comment down, we'll try to reply back as soon as possible!
FAQs
1. Error Provision.cpp:150, 173 – App-specific Password
You might have enabled two factor Authentication in your Apple ID. To fix this issue
1. Head to https://appleid.apple.com and log into your Apple ID account.
2. Scroll down to the Security section and click on the Edit button.
3. In this section, find the "APP-SPECIFIC PASSWORDS" part and then click on Generate Password.
4. Enter a name for the password, which could be anything like "Pokemon GO++" and then click on the Create button.
5. Copy the password that is generated.
6. Now, when Cydia Impactor asks you to enter your Apple ID password, use the password generated in the last step.
2. Error Provision.cpp:179 – Application Already Installed
Remove the existing version of Pokemon GO app and, then install the app.
3. Application unauthorized
1. First, tap Cancel to dismiss the message below.
2. Next, tap Settings > General 
3.Then, Device Management
4. Now, tap the app certificate in the ENTERPRISE APP section.
5. Finally, tap "App Developer name", then tap Trust again to complete the process.
4. What is Pokemon Sniping, and how do you do it?
Sniping is when you move transport from one location in the game to another location which is very far from your current location. To snipe, enter the coordinates you want to transport to into Ipogo, choose the Pokemon you want to catch and catch it.
5. Can Niantic detect spoofers?
Niantic cannot detect spoofers until it notices unusual user behaviour. To stay undetected, follow the cooldown shart shown above.
6. How Safe Is Cydia Impactor?
Cydia impactor is quite safe to use. Although Cydia asks for you Apple Id and password, it uses the Apple ID and password to sign in to the app and does not use it for anything else.
7. Does Cydia Impactor Support iOS13?
Cydia Impactor does support iOS 13. The app gets updated every time iOS gets updated so that it stays up to date with all the latest additions made in the iOS.
8. Pokemon GO crashes in iOS
This has nothing to do with the Pokemon GO iOS Hack. However, if Pokemon GO is crashing after the hack then you can follow this guide to fix it.