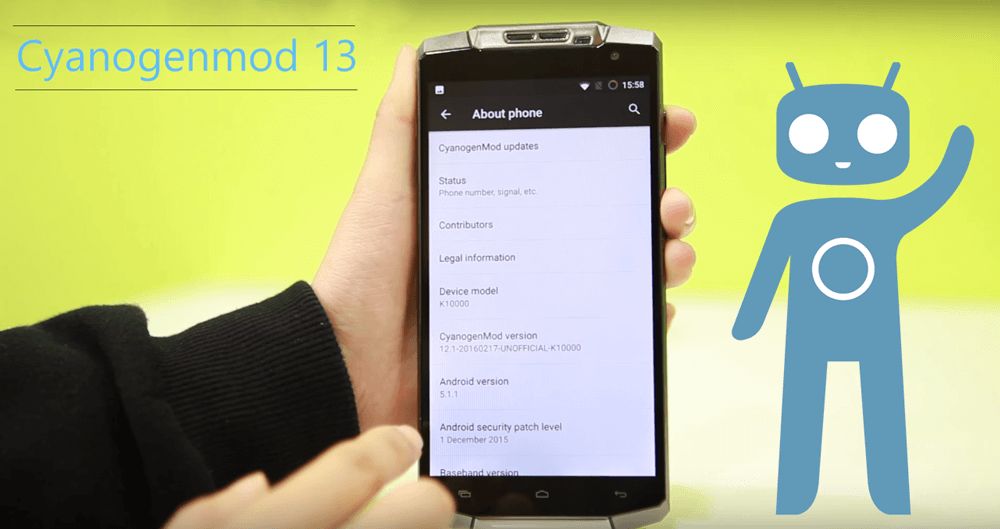 Smartphone with largest battery capacity i.e 10000mAh, Oukitel K10000 gained attraction in smartphone industry mainly because of its large battery at a very low price. But being a Chinese manufactured device, there's no Official custom ROM development because of no kernel sources which is pretty obvious with Mediatek devices. But thanks to tech mashido, from XDA-Developers who have successfully compiled the first CM based ROM for Mediatek MT6735. The ROM is almost stable & can be used as daily driver. Cyanogenmod 12.1 for Oukitel K10000 | Android Lollipop Custom ROM for Oukitel K10000
If you don't know about Cyanogenmod, CM is a open source Android OS that is built from Android base with many customization options & themes which are not found in Stock Android.
ROM Details:
ROM OS Version: 5.1.1 Lollipop
ROM Kernel: Linux 3.4.x
Based On: CM 13
Status: Stable
Prerequisites:
Root (How to root) & Install TWRP recovery (TWRP | How to Install)
Check the battery percentage of the phone, it should be at least 40%.
This ROM is only for Oukitel K10000. Please don't try this on any other smartphones.
Backup all your data: Contacts, Photos, Apps & other files. (Although you will not lose other files except contacts & Apps, but it is better to be on the safer side)
What's working CM 12.1 for Oukitel K10000:
Network
Wifi
Bluetooth
Calls
Camera
Audio
Message
Themes
Wifi hotspot/Tethering
Video Recording
Sound Recording
Bugs: GPS
CM 12.1 Walkthrough
CM 12.1 Features
Visual Changes
There are hardly any differences visually between the Cyanogenmod 12 and Cyanogenmod 12.1. No major differences can be noticed although they have added a few wallpapers.
New Features
Live Display: This feature optimizes the screen depending on the time and conditions. It does to reduce the strain in the eyes, this feature also allows you to change the colour temperature and calibration depending on the time of the day. This feature was one features that was added to the ROM by Cyanogenmod.
You can find this feature by going to settings, under settings you will find display and lights. Once you tap that, you should be able to find Live Display.
LCD Density: This feature allows users to adjust the number of applications or content that appears on the screen. You could change this depending on your preference. Going to a higher density would increase the number of applications on the screen and shifting to a lower density would do the opposite. You can change the LCD Density by tapping on "Display And Lights" which you will fins under the setting menu.
Notification Manager: This feature allows you to enable and disable the heads-up notifications. You can choose the apps from which you would like to receive and block notifications. You can also change the priority of the notification depending on the apps.
Lock screen Visualizer: Cyanogenmod enhanced the feature which is present in Android Lollipop. It has done this by adding a Visualizer to it. The lock screen shows the visualization when music is being played. You can still control the music via the music control that is present on the screen. This feature will be enabled when you install the mod, but can be disabled whenever you want. To disable It you have to find the lock screen option which you should be able to find under the settings menu.
Ambient Display: Cyanogenmod added this feature after Google added the feature on Lollipop on the Nexus 6. This feature shows all unread and new notifications on the screen. The display also lights up when the user picks up his or her phone, this allows the user to view the notifications in a glance. Do note that this feature will depend on the hardware of your device and won't be available on all devices.
Gestures: This feature allows you to customise the double twist and chop-chop gesture.
Other Miscellaneous features.
Search bar in recents menu: Android lollipop had added a search bar in the recents menu and so does the cyanogenmod 12.1. This allows the user to quickly navigate through the recents menu without having to scroll through apps that you opened recently. If you do like this feature, you can disable it. To disable this feature, you have to go to settings under which you will find the "display and lights" tab.
Root access: In cyanogenmod 12.1 the ROM is not rooted by default. You would have to manually enable root access by going to settings, under settings, you will the "developer options" tab. Once you find the developer options tab, click on it and find the root access option and choose whether you would like root access only in ADB or ADB + Apps.
These are all the major features that have been added to cyanogenmod 12.1. If there are any other additional features that we haven't mentioned, you can remind us by typing them down in the comments. If you want to go ahead with installing Cyanogenmod 12.1, just follow the steps below.
How to Install CM 12.1 ROM in Oukitel K10000:
Step 1: Open Flash tool > Install Tools > Output & launch SPMultiPortFlash.
Step 2: Open Download Agent file. Goto File > Open Download Agent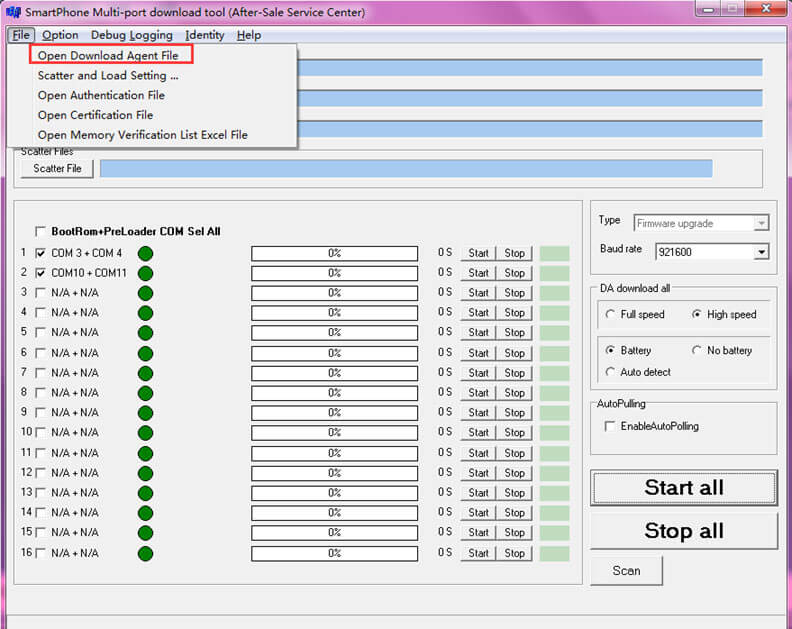 Step 3: Select the "MTK_AllinOne_DA" file from the flash tool output folder.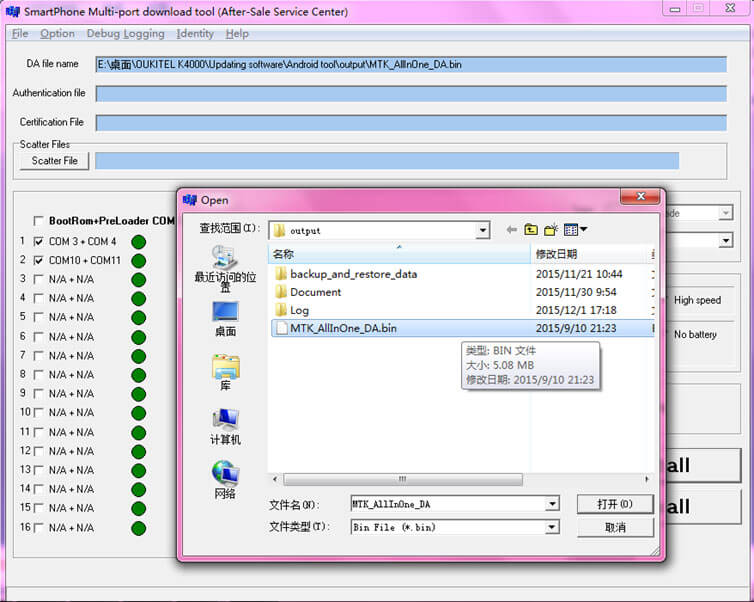 Step 4: Follow futhur steps as shown in the following PPT: Flash Tool Guide
Download CM 12.1 for Oukitel K10000:
Flash Tool for Windows: Download
Credits: tech mashido | Dean Evan
To enable Root access, Goto Developer Options> Root access. Please don't complain about the known bugs. After installing, check All CM 12.1 Themes. If you don't like any themes, you can checkout How to make own Cyanogen theme.
Conclusion
After following the steps, you should have installed Cyanogenmod 12.1 on your mobile device and should be able to enjoy all the features it has to offer. If you ever feel like going back to your stock ROM, you can either restore the backup you took before installing the ROM, or you can flash the stock ROM to go back to your stock ROM.