Samsung's one of the highest selling tablet, Galaxy Tab 3 has finally received Cyanogenmod 12.1 Android Lollipop 5.1.1 update. Although this is an Unofficial update coming from XDA developer, Dark Frenzy. As Samsung won't be releasing any update for Galaxy Tab 3, this is the best way to taste Android Lollipop 5.1.1 in your Samsung Galaxy Tab 3. However, if you are not much into Custom ROMs and all, you don't need to worry as we have tried to explain the entire process in a very simple way such that even a non-technical guy can flash Cyanogenmod 12.1 ROM in Galaxy Tab 3 7.0.
This ROM is Resurrection Remix which uses Cyanogenmod sources. All the flaws of Cyanogenmod are fixed in Resurrection Remix ROM. You can customize everything is Resurrection Remix as it has options to change everything in single click. Each and everything can be customized separately.
Resurrection Remix 5.5.8 (CyanogenMod 12.1)
Features
Navigation Bar
-Enable/Disable Navbar
-Navbar Ring Switch
-Navbar Ring Targets
-Navbar Button Customization
-Navbar Dimensions(Potrait & Landscape)
Statusbar
-Brightness Slider
-Enable/Disable Show Notification Count
-SuperUser Indicator Switch
-Carrier Label
-Carrier Label Switch
-Carrier label Colour
-Quick PullDown Switch
-Smart Pulldown Switch
-Clock Customizations
-Time & date
-Clock Colour
-Day & date Toogle
-Center Clock/Right Clock Choice
-Battery
-Battery Bar customization
-Battery Icon Customization(circle/landscape/Potrait and more)
-Battery % Text
-Network Traffic Indicator
Theme Chooser
-RR exclusive PITCH BLACK THEME
-Animations
-Toast Animations
-ListView Animations
-System Animations
Gestures
-Gestures Anywhere Feature
App Circle Bar
-Choose apps in App circle
-Trigger Width
-Trigger Hieght
-Trigger Position
Recents Panel
-Clear All button Switch
-Clear All Tasks Switch
-Clear All Button Location(Top right,Top Left,Top Center,Bottom Left,Bottom Right,Bottom Center)
Clock Widget
-CLock And Alarm Customizations
-Weather Panel Customizations
-Calender Events
LockScreen
-Lockscreen Shortcuts
-Choose upto 5 Shortcuts
-100+ Icons for Shortcuts
Quick Slider Shortcuts
Notification Drawer
-Weather Display Switch
-Quick Settings
-Choice to Add 20+ Tiles
-Enable 2/3/4 Tiles per Row
-Enable Disable Birghtness Slider in Notification Panel
-Advanced Location Settings Switch(Choose Battery saving/Device Only/High Accuracy Directly in Notification Panel)
-LongPress Toogles to Enter Settings
Buttons
-Backlight Timer
-Backlight Strength
-Navigation Bar left/Right handed mode Switch
-Power Menu
-Power Menu End Calls Switch
Home Button(For devices with HW keys Only)
-Home Button Wake Up
-Home Button answer call
-Long Press Actions
-Double Tap Actions
Back Button(For devices with HW keys Only)
-Wake Up device Switch
Menu Button(For devices with HW keys Only)
-Wake Up Device Switch
-Short Press Actions
-Long Press Actions
Search Button(For devices with HW keys Only)
-Wake Up Device
-Short Press Action
-Long Press Action
Volume Buttons
-Wake Up Device
-Playback Control
-Keyboard Cursor Control
-Swap Buttons on Landscape mode
Bugs in CM 12.1 ROM for Galaxy Tab 3
Seeking of video is slow and loading of video is slow in mx player
Fix: 1. set hw+ as defaul decorder in mx player setting
Fix: 2. enable "Use AwesomePlayer (deprecated)" option from the developer setting.
(Best is to choose first fix). * Enable "Disble HW Overley" option from the developer setting
About CyanogenMod 12.1
CyanogenMod is an alternative operating system intended to replace the one pre-installed on your smart phones and tablets. If you've got an older device that isn't getting updates anymore, or if your device seems unusually slow, or maybe you're sick of spyware, adware, and other unwanted garbage on your phone that you can't remove… Maybe your device is missing features or has been otherwise artificially limited in functionality. Perhaps you just could use a boost in performance. Or maybe you'd like to be more confident that your operating system has included some of the latest bug fixes. If so, CyanogenMod might be for you. You can also check ways to make Android phone faster to speed up your phone without rooting it.
Resurrection Remix the ROM has been based on CM,slim.omni and original Remix ROM builds, this creates an awesome combination of performance, customization, power and the most new features, brought directly to your Device
Note: Devs-Lab won't be responsible for anything that happens to your phone during this Process. If you don't know about Custom ROMs & Rooting, Check What is Rooting & Custom ROMs to learn about it. We will surely help you under such situations but please follow each steps as mentioned.
Prerequisites:
Root & Install Latest 2.8.7 TWRP Recovery in Samsung Galaxy Tab 3 7.0.
Check the battery percentage of the phone, it should be at least 40%.
This ROM is only for Galaxy Tab 3 7.0.. Please don't try this on any other smartphones.
Backup all your data: Contacts, Photos, Apps & other files. (Although you will not lose other files except contacts & Apps, but its better to be on the safer side)
How to Flash Cyanogenmod 12.1 ROM in Samsung Galaxy Tab 3
Step 1. Transfer the downloaded CM 12.1 zip, in your Galaxy Tab 3 SM-T217S
Step 2. Turn off / Switch your Galaxy Tab 3 SM-T217S
Step 3. Press and hold the Volume Up + Home + Power buttons together till the screen turns up you see the Samsung logo, and then release the Power button but keep the Volume and Home buttons pressed until you see the TWRP menu.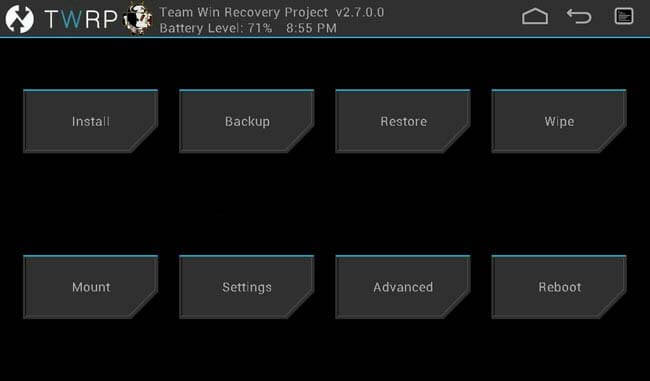 Step 4. Do not forget to perform a nandroid backup. Goto backup option in TWRP and select all the partitions including System, Data, Boot, Recovery, EFS and swipe right to backup.
Step 5. After performing the ROM backup, go back to the TWRP main menu and tap the wipe button.
Step 6. Then, select Advanced Wipe, as well as Dalvik Cache, System, Data, and Cache (Don't select Internal storage) (Refer: How to Install Custom ROMs in Android)
Step 7. Next, swipe to confirm. Wait for the wiping process to complete.
Step 8. Next, Goto TWRP main menu & goto Install option.
Step 9. Locate the CM 12.1 downloaded zip file & tap on it. Now swipe to Install the ROM.
Step 10. From recovery select "reboot" and enjoy.
FAQ's:
1. What about Google Apps?
The ROM already includes all the latest GApps. Don't flash Gapps from any other zip & it may lead to random FCs.
2. How to Install XPOSED?
Xposed Framework is already included in the ROM (Active) so you don't need to flash any Xposed Framework zip. Just install Xposed Installer APK normally.
Download TWRP & CM 12.1 ROM Galaxy Tab 3:
Custom Recovery
RR v5.5.8 (Cyanogenmod 12.1) ROM for Galaxy Tab 3: Download
After Installing the ROM, you can checkout our huge list of best CM 12.1 Themes to save your time searching for the best CM 12.1 Theme. Thanks for XDA Senior Developer, DarkFrenzy for such an awesome gift for Galaxy Tab 3 users.