Xiaomi Redmi Note 3 is surely the Chinese device anyone would prefer over other Samsung or HTC devices that lies in same price range. Only thing that seems sluggish after some time is the custom skin that comes pre-installed. Like in Xiaomi devices its MIUI while in Meizu its Flyme OS. Some might like it because of all the shiny features that are eye catching. But for those who love Performance & simplicity, rooting Redmi Note 3 remains the only way to truly own this device. After rooting, you will might have started looking for custom ROMs & ways to make it a perfect device. Today I'm here with AICP (Android Ice Cold Project) ROM for Xiaomi Redmi Note 3 (Snapdragon).
If you are aware of the famous Cyanogenmod custom ROM, you will be pretty excited to hear that AICP is much modified version which comes with lot more features & customisation options without compromising performance & battery life. This is Official AICP 11 ROM that doesn't have any bugs as per the developers unlike the CM 13 ROM for Redmi Note 3 which was unofficial & Ressurection Remix ROM.
Also read: Cyanogenmod 14 (Bugless) ROM for Xiaomi Redmi Note 3
About AICP ROM (Cyanogenmod 13):
AICP uses Cyanogenmod ROM's bases combined with Liquid smooth ROM, Omni ROM, Carbon ROM & Slimbean. All the features from this ROMs are extracted to form a perfect working package that you can enjoy.
ROM Features:
AICP ROM for Redmi Note 3 details

:

ROM OS Version: 6.0.x Marshmallow
ROM Kernel: Linux 3.10.x
ROM Firmware Required: Unlocked bootloader and TWRP
Based On: CyanogenMod

Prerequisites:
Backup all important data, apps & contacts. If you are running out of storage to backup system files, follow Flashfire technique.
This ROM is for Xiaomi Redmi Note 3 Snapdragon variant only. Please don't install it in any other device.
Device battery charged upto 30% to avoid any shutdown during the process which may lead to permanent failure of device.
How to Install AICP 11 (CM 13) ROM in Xiaomi Redmi Note 3
Step 1. Download the ROM & GApps from the below link. Transfer both the files in your device's storage.
Step 2. Switch off your device & Press Vol down+Power button simultaneously to boot into Recovery mode (TWRP).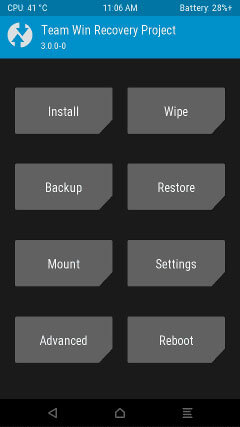 Step 3. (Optional, if you have not followed Flashfire Technique) Goto Backup. Select System, data, boot & swipe to confirm. It will start creating backup of your device. If in case anything goes wrong, you can restore this backup.
Step 4. Goto Wipe>Advanced Wipe>Select Wipe cache, Wipe Dalvik cache, Format System, Wipe data. Swipe for Yes! It will take 10-30secs to wipe all the selected data.
Step 5. Now Go to Install, locate the downloaded ROM file & swipe to Install the ROM file. After the ROM flashing process gets completed again goto Install & Flash the GApps file.
Step 6. After everything is done, wipe cache & dalvik cache. Now Reboot your device.
Step 7. That's it! First boot might take 2-3 minutes. Don't worry! Setup your Google Account & restore all your apps.
Also Read: How to install Sony Walkman in Redmi Note 3
Download AICP 11 (6.0.1) ROM for Redmi Note 3:
AICP 11 ROM: Download
Google Apps: Gapps 6.0.1
To enable Root access, Goto Developer Options> Root access. Please don't complain about the known bugs. After installing, check All CM 12.1 Themes. If you don't like any themes, you can checkout How to make own Cyanogen theme.