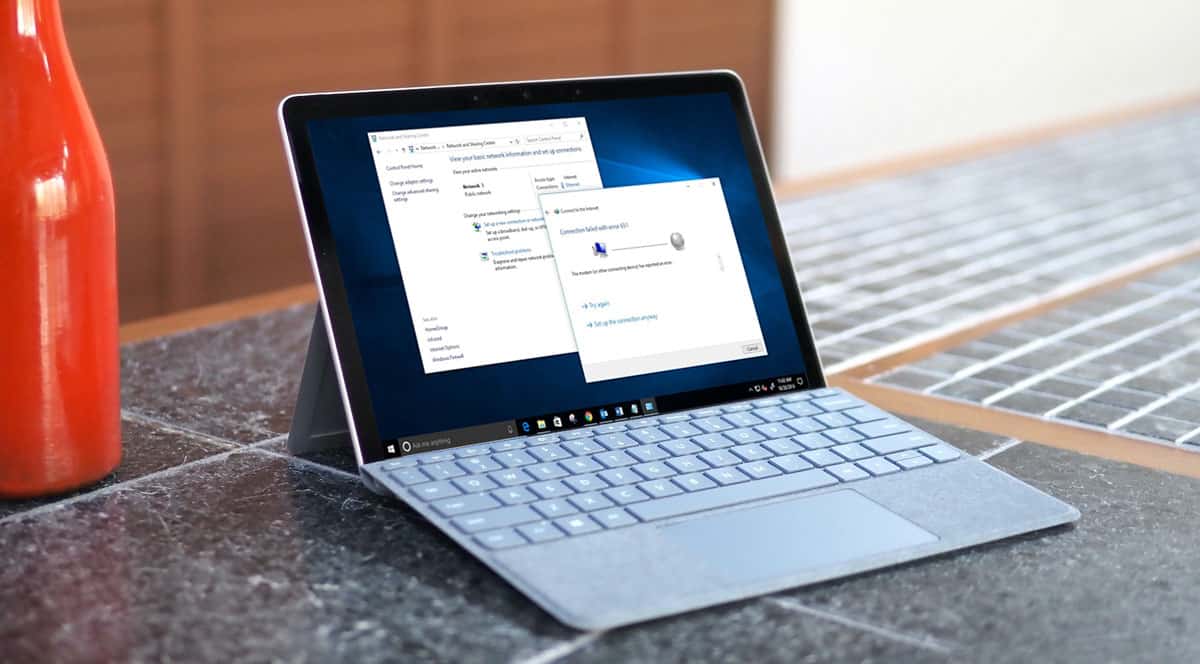 The networking center of Windows 10 offers a wide range of features and options to the user. These allow you to configure networks and use them as per your needs and requirements. While you generally have a great experience using the internet or any other private network on Windows 10, sometimes you might face a few possible errors.
One of these errors is the error 651. This error occurs with a message saying "Connection Failed with Error 651". Just per its name, if you are facing this error your connection to different networks can get disconnected or you might not be able to connect at all. Hence, we are here to show you How to Fix the Connection Error 651. You can simply go through this article until the end to fix the error 651 on your Windows 10 computer.
Fixing Connection Failed with Error 651
| | |
| --- | --- |
| Problem Event Name | Error 651 |
| Error Message | Connection Failed with Error 651 |
| Error Cause | Corrupted registry files and driver problems |
| Common Solution | Update Network Adapter Driver |
Now that you know more about the connection error 651 Windows 10, chances are that you would want to fix it. Unfortunately, fixing this error is not that simple and straight forward since there are various possible reasons that might result in this error. Therefore, we are here with multiple solutions regarding this error so that you can go through the following one by one to fix this error:
1. Update Network Adapter Driver
If you are familiar with Windows computers and their functioning, then you must know that all of the devices connected to your computer require a device driver to perform properly. This device driver is responsible for offering a communication bridge between the hardware devices and software applications installed on your computer. Similarly, the network card or adapter of your computer also has a driver used by Windows for its functioning.
If this driver gets corrupted or outdated due to some reason, you might start facing various kinds of errors including the error 651. Thankfully, fixing such a device driver issue is quite easy on your Windows computer. You can simply update the network drivers on your computer to the latest version by following the given steps one by one:
Step 1. To update your network drivers, first, open Device Manager on your computer by pressing Windows Key + X on your keyboard and selecting from the list.
Step 2. Once you are inside the Device Manager window, expand the Network Adapters list where you can see all of your devices and adapters related to networking.
Step 3. After that, find and identify the default network device of your computer that gets used for all the networking needs.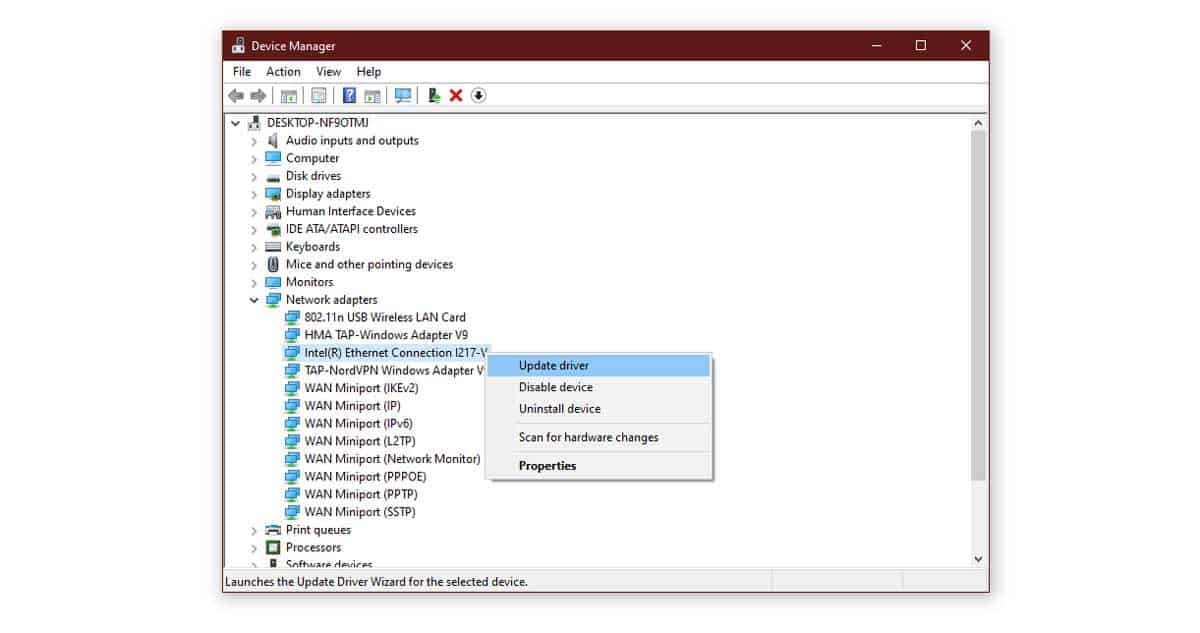 Step 4. Now, right-click on that network device and select the Update Driver option that will open a new window on your screen.
Step 5. In here, click on the Search automatically for updated driver software option that will cause Windows to automatically look for the latest version of Windows drivers.
Step 6. After finding the driver update, it will download and install it on your computer right away.
Step 7. Finally, you can simply reboot your computer after which any issues with the network drivers causing the error 651 should be fixed.
2. Use Safe Boot Mode
A great thing about Windows is that it allows you to boot into safe mode that disables selective features on your computer. Thus, you can use it to disable the networking of your computer to see if you are still facing the error 651.
In case you are still facing the error, it means that it is being caused due to unnecessary and untrusted third party programs that you should uninstall from your computer right away. If you also want to boot your computer into safe mode, it can be done as shown here:
Step 1. Press Windows Key + R on your keyboard, type MSCONFIG in it and press enter.
Step 2. Then, go to the Boot tab, select Safe Boot and Network under the Boot options section, and save these settings by clicking on OK.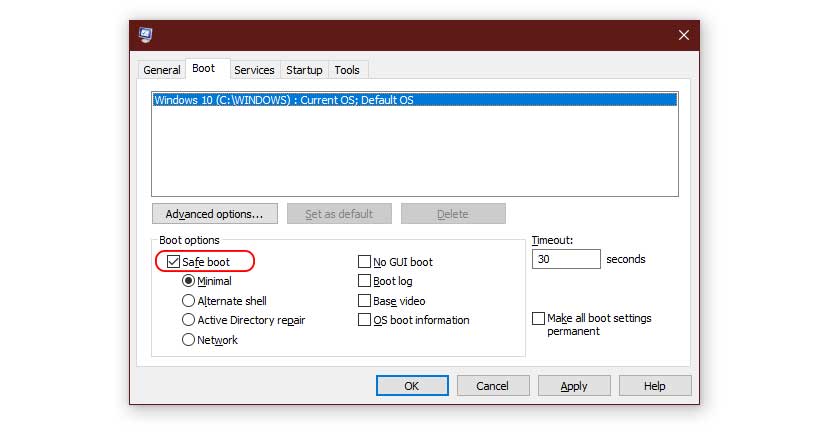 Step 3. Now, simply reboot your computer to get into safe mode with or without networking as per your choice.
3. Disable IPv6 of your Internet Connection
For some users, disabling IPv6 in Windows settings can also fix issues related to error 651. You can easily disable IPv6 via the control panel in Windows as shown here:
Step 1. Open the Control Panel > Network & Internet > Network & Sharing Center in Windows to find all of your network connections.
Step 2. Then, click on your active connection and go to its Properties.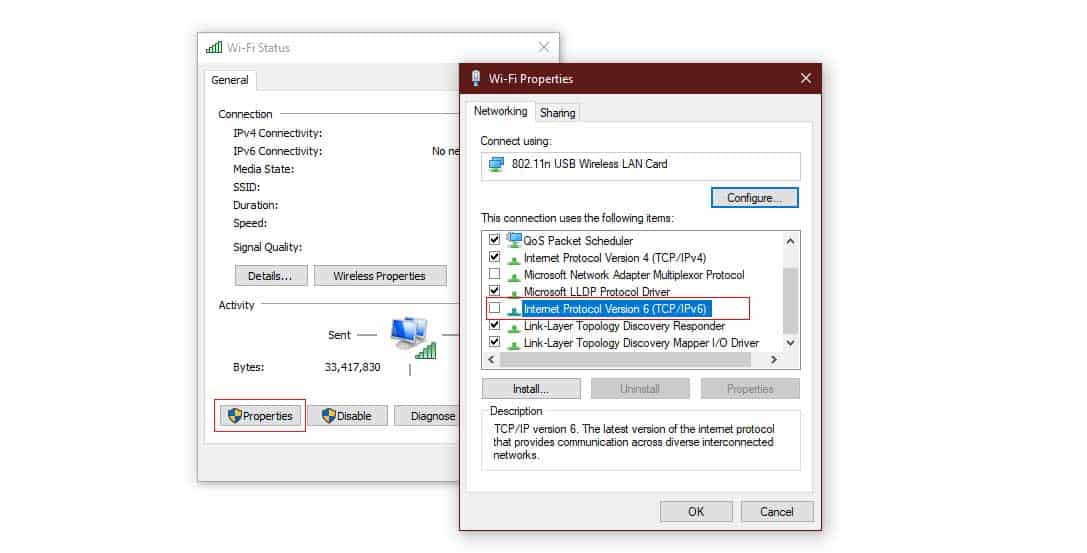 Step 3. Finally, uncheck the TCP/IPv6 option and click on OK to fix these settings for fixing the error 651.
4. Reregister Raspppoe.sys File
Apart from the network adapter drivers, there are various other minor drivers that also play an important role in the functioning of your network devices and other network related processes. One such driver is the raspppoe.sys file that is used by Windows quite often. Due to this, if there is anything wrong with this file, it can result in various kinds of errors including the error 651. In such a case, you need to re-register or replace this driver with a working version as shown here:
Step 1. Press Windows Key + E on your keyboard to open up Windows Explorer on your computer.
Step 2. Now, go to the C:\Windows\System32\drivers directory on your computer where you can find all of the files related to the device drivers installed on your computer.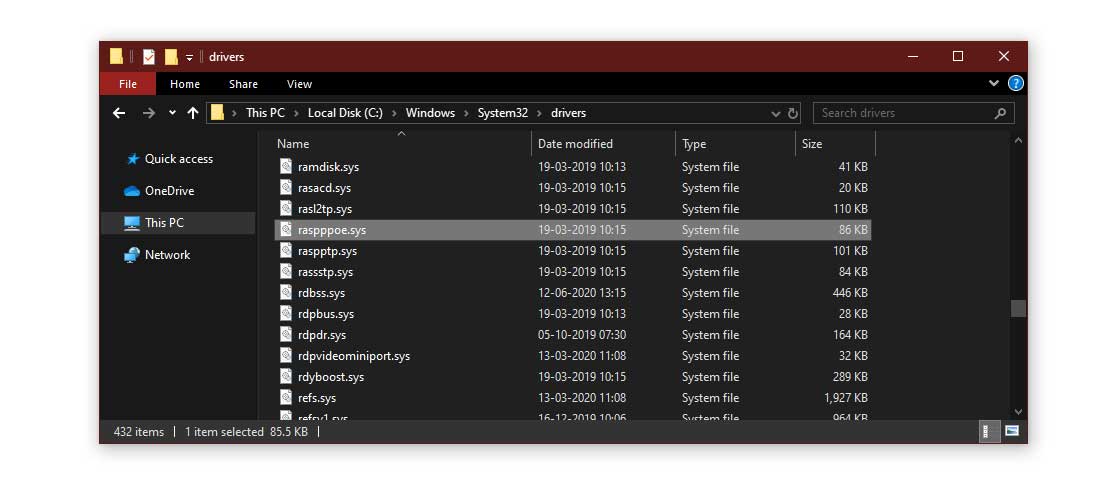 Step 3. Then, search for the raspppoe.sys file and make a copy of this file elsewhere on your computer as a backup.
Step 4. After that, google and find the raspppoe.sys file and download it on your computer. Then, simply replace the file present in the System32 drivers folder that should fix a lot of errors that you are facing on your computer.
5. Reset TCP/IP and Disable Auto Tuning
TCP is used by Windows in most of your private networks for communication. While it works just fine for the most part, sometimes it might start causing errors on your computer. In that case, you can reset TCP in Windows 10 as shown here:
Step 1. Press the Windows key on your keyboard and open Command Prompt as an administrator using the start menu.
Step 2. Once you are inside the Command Prompt window, type the following commands one by one, and press enter on your keyboard after each one to successfully execute them:
netsh int ip reset reset.log
netsh interface tcp set global autotuning=disabled
Step 3. Now, close the Command Prompt window and restart your computer that will reset TCP/IP and fix all issues related to it.
Conclusion
Once you have gone through this article and followed all of the fixes mentioned in it, you must know a lot of things about the error 651. In fact, you must have even fixed this error successfully on your Windows 10 computer. This is simply due to the reason that we have mentioned multiple fixes to the error 651 in this article. In case that you still want to know more about this error, make sure to leave your questions and thoughts in the comments section down below: