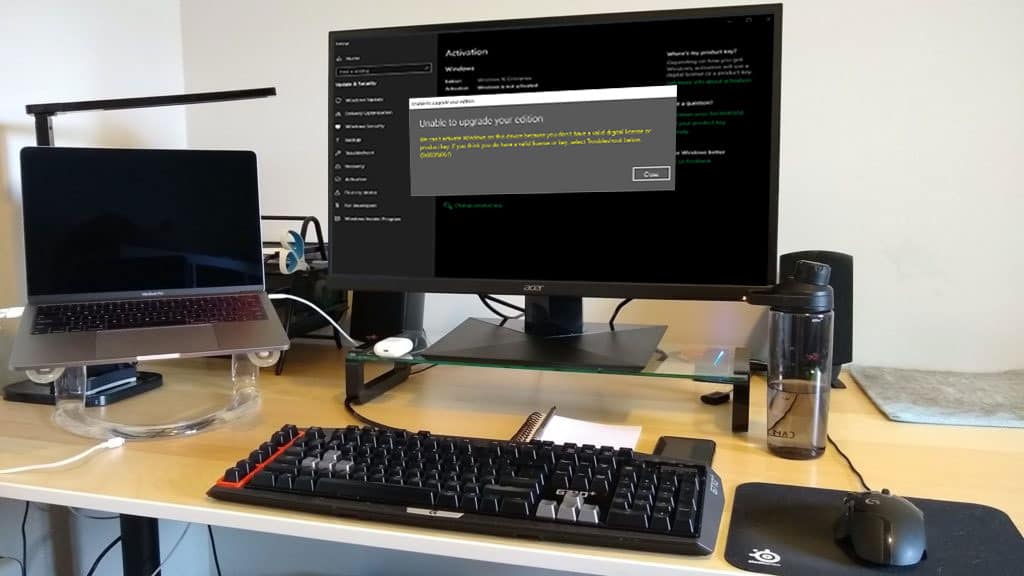 After Windows 7 got discontinued in January 2020, a lot of users started to shift to Windows 10. Quite a few of those users have been facing issues activating their Windows 10, they receive errors such as  0xc1900101-0x30018, 0x80070424, 0x803fa067 etc., and today we will help you solve one of the common errors that can occur when you are activating your Windows. Windows error 0x803fa067 is one of the most common errors that can occur when you are activating windows. So, let's dig into what it is and how to fix it.
What is Error 0x803fa067?
| | |
| --- | --- |
| Problem Event Name | 0x803fa067 |
| Error Message | Unable To Upgrade Your Edition |
| Error Cause | Wrong Product Key Or Corrupt Files |
| Common Solution | Use Default Product Key |

The Windows error 0x803fa067 occurs when you try to activate freshly installed Windows 10 on your system. The error is related to the failure of the activation process, or it occurs during the time of upgrade. So, what can be the potential reasons behind all this, and what causes this activation error.
Causes of Windows 10 Activation Error 0x803fa067
If you are facing the error at the time of activation, there are chances that you might be entering a wrong activation key or the installed Windows build has some corrupt files in it. This error can also occur when you are not using a genuine copy of Windows 10. A lot of users when upgrading from older versions do not have the genuine copy of Windows 10.
Most users also face this issue when they update their system before upgrading to Windows 10. In that case, it is possible that a recent update may have ruined some files on your system that are causing this issue while upgrading.  
How to fix windows 10 error 0x803fa067
This is quite a common error for most Windows users and has been there since Windows 10 was introduced in July 2015. Back then, there were no working solutions for the error code 0x803fa067. But, since a good amount of time has passed away now, there are various methods to tackle it. Thus, we have found some easy fixes that you can try on your system to resolve the error and use the latest Windows 10 version on your PC.
1. Disconnect Internet before Updating Windows
Disconnecting internet connection before upgrading the Windows 10 can help since the system will not be able to analyze data by itself and will no longer alter the files automatically. There is no such hard rule to complete this procedure; all you need to do is disable the Ethernet connection. But there's a catch as well. We will need to change the current license key with the one that is currently installed on your system.
Step 1. Go to settings by pressing the Windows key + I simultaneously.
Step 2. Here, click on the Update and Security settings.
Step 3. Click on the Activation option present in the left panel.
Step 4. Now, simply click on the Change Product Key option.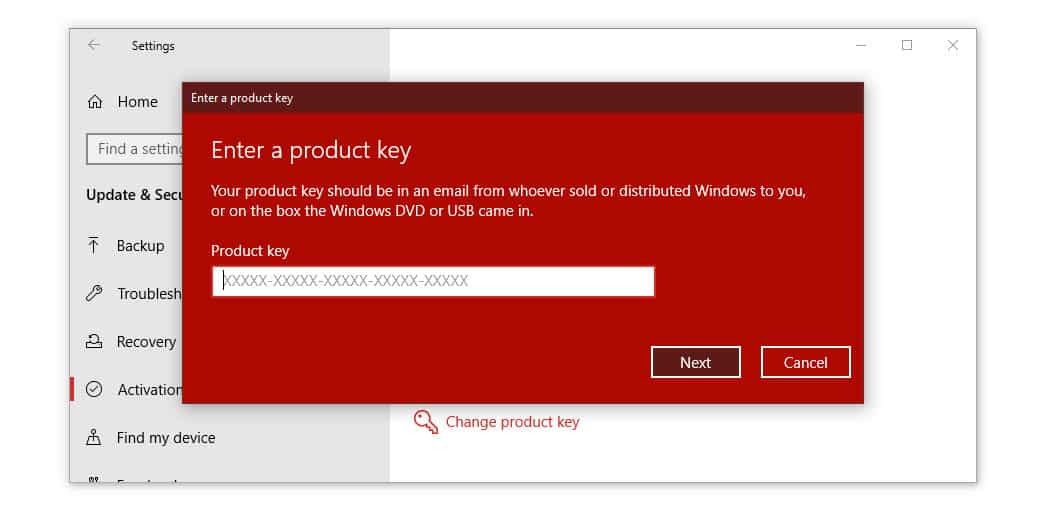 Step 5. We will be using the Windows 10 Pro default key here to ensure no error occurs during the time of upgrade. So, enter the following key carefully:
VK7JG-NPHTM-C97JM-9MPGT-3V66T
Step 6. After entering the key, click on Next and finish the process.
Afterwards, we will disable the internet connectivity so that the Microsoft servers can not find other errors.
Step 1. Once again, go to Settings.
Step 2. This time, click on Network and Internet settings.
Step 3. Here, you will find the setting to Change Adapter Options, click on it.
Step 4. Now, right-click on the Ethernet or Wi-Fi, whichever you are using, and select the Disable option.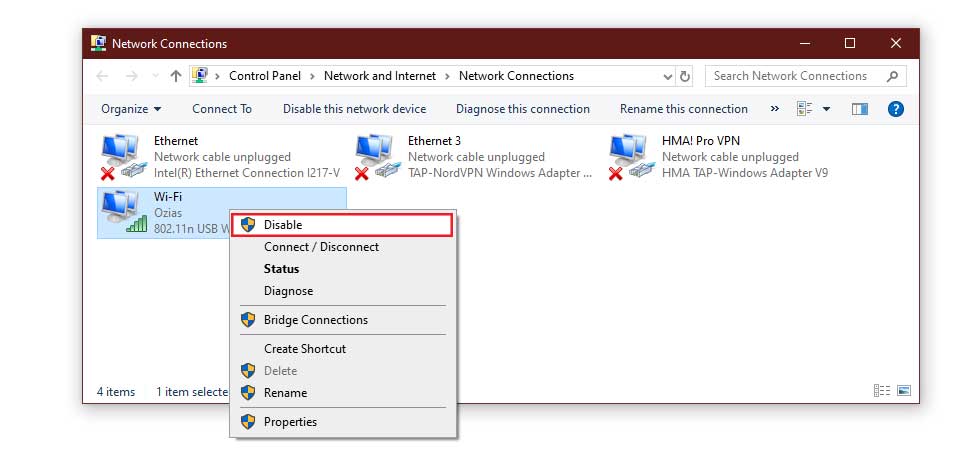 Now, as the internet connectivity is disabled, you can proceed with the upgrade process, and the error 0x803fa067 should not occur again.
2. Change Product Key
If you are trying to upgrade to the Windows 10 Pro version and face the error code 0x803fa067, you might be entering a wrong product key.
A. Use Another Product Key
Most people don't buy keys from trusted sources and end up facing such issues later on. So, it is always better to purchase a genuine key and use it at the time of upgrading.
B. Use Default Windows Key
As we discussed, if you are using a genuine copy of Windows and still your computer is showing you the "unable to activate windows 0x803fa067" error, you can try to upgrade after changing the current product key with the default Microsoft key. You can refer to method 1 and copy the default key from there. If that key doesn't work out, you can also choose any one of the following.
Win 10 Home: YTMG3-N6DKC-DKB77-7M9GH-8HVX7
Win 10 Pro: VK7JG-NPHTM-C97JM-9MPGT-3V66T
Win 10 Home N: 4CPRK-NM3K3-X6XXQ-RXX86-WXCHW
Win 10 Home Single Language: BT79Q-G7N6G-PGBYW-4YWX6-6F4BT
Win 10 Home Country Specific: 7B6NC-V3438-TRQG7-8TCCX-H6DDY
Win 10 Professional N: 2B87N-8KFHP-DKV6R-Y2C8J-PKCKT
Recommended: How to activate Windows 10 for free using cmd
3. Run Windows Store App Troubleshooter
Windows Store apps have been causing a lot of errors for a long time now, and Microsoft not fixing them feels quite irritating at times. Hence, if you are getting this Windows activation error, we can try to fix it using the Windows Store App Troubleshooter.
Step 1. Launch Settings on your PC by hitting the Windows Key + I at the same time.
Step 2. Here, go to the Update and Security section.
Step 3. On the left panel, open Troubleshoot settings.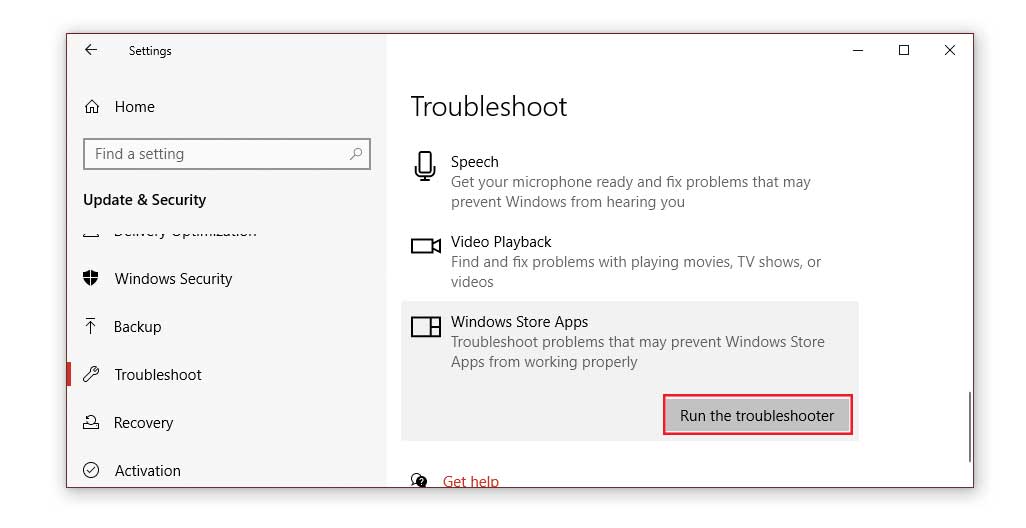 Step 4. From the list, select the Windows Store Apps option and Run the Troubleshooter.
Step 5. After the troubleshooting is done, reboot your PC, and check if the issue is resolved or not.
4. Use Command Prompt
We can use a simple command to override the currently occurring windows error 0x803fa067. The method is quite simple and straight-forward. All you need to do is Go to Settings>Update and Security>Windows Update>Check for Updates. Afterwards, install the Updates and Reboot your PC.
Step 1. After that, we will need to execute a simple command.
Step 2. Press Windows Key + X to access the Power Menu.
Step 3. Choose the option, Command Prompt (Admin).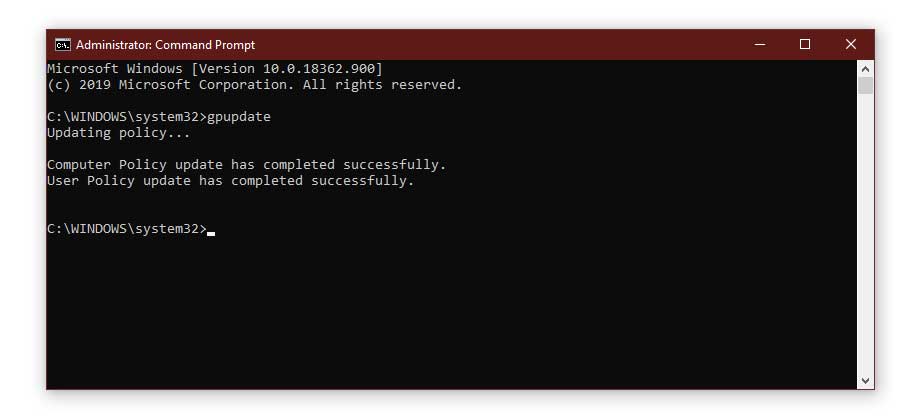 Step 4. In the command prompt, enter the following command: gpupdate and hit Enter. It will make things done for you without the need to face any error and help you to activate the Windows 10 on your system.
Conclusion
These were the only methods known to be working to fix issues related to the Windows error 0x803fa067. However, the problem is not that big and can be easily fixed using these simple methods. Hence, if you want to fix such issues with your computer as well, this guide will be much useful for you. In case of any further queries or if you want to share your suggestions or feedback, feel free to use the comments section and let us know.