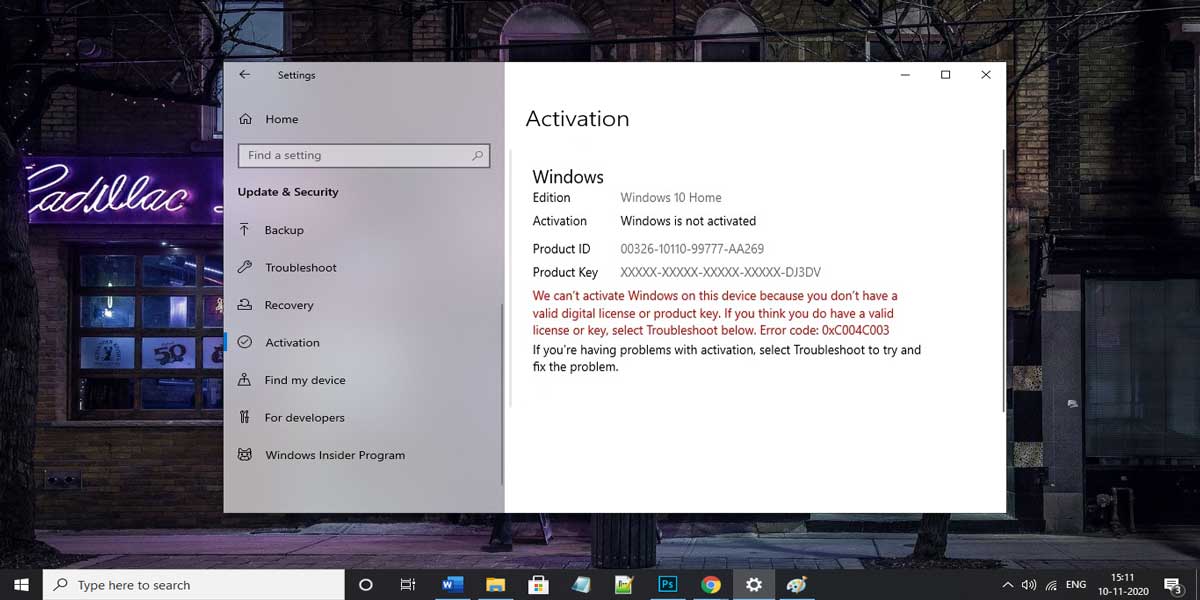 Did you finally decide to go ahead with the Windows 10 activation process as you were not able to use the full functionalities of this latest operating system previously? During this, if you encountered a windows 10 error code 0xc004c003, don't worry you're not the first one, and you won't be the last. Activation errors are known to occur when a user performs a Windows clean installation for the first time. However, if you already have Windows 10 activated on your PC, you won't face 0xc004c003 during a clean installation.
A lot of new users are coming across this error, and it stops them from employing all features and functionalities of Windows. It could be due to a variety of reasons demanding different ways to fix, and that is why we have for you, a complete guide to understand and effectively resolve the windows activation error 0xc004c003. Let us first start with discussing what exactly this error is and what it is trying to tell you about issues with your operating system.
What is Error Code 0xc004c003?
| | |
| --- | --- |
| Problem Event Name | 0xc004c003 |
| Error Message | product key blocked Windows 10, Windows 10 activation error |
| Error Cause | Mistakes in installation or key/server issues. |
| Common Solution | In-place upgrades |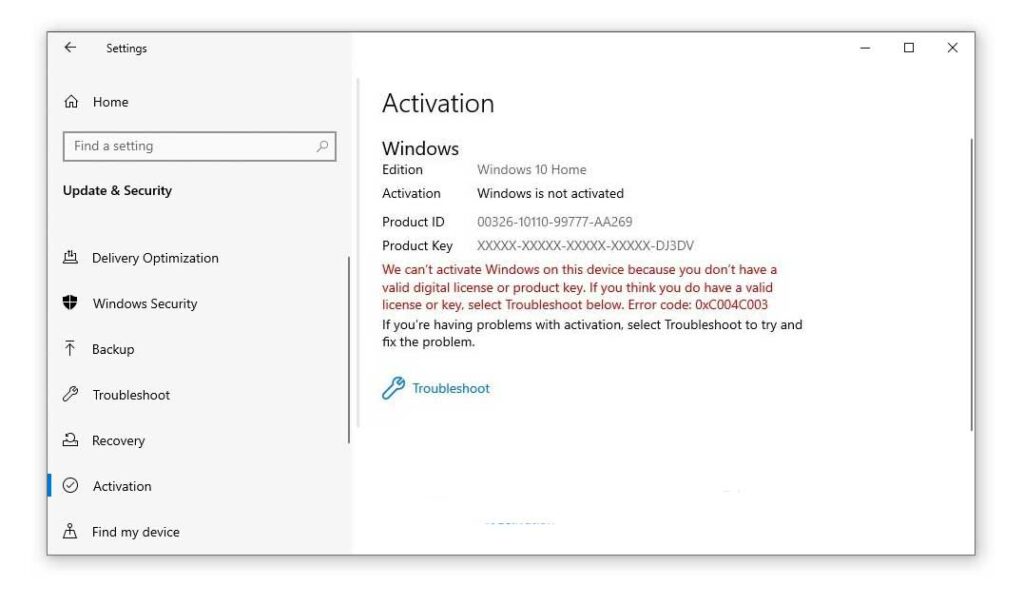 The error 0xc004c003 is associated with errors in activating the Windows 10 after a clean installation. It has been causing a lot of problems for users who followed an invite from Microsoft to upgrade their OS from 7 or 8.1 to the new Windows 10. While there may be a variety of reasons why you've encountered this issue, or maybe just the one. This particular activation error is coming up because of the reasons we cover below.
Causes of Error Code 0xc004c003
Based on different user reports, here are some of the common error message notifications and what they mean.
1. Microsoft error code 0xc004c003 – This error usually means that the servers are a bit busy at the moment. As more and more users are upgrading to Windows 10 every day, it's possible that the servers lag behind sometimes.
2. 0xc004c003 product key blocked Windows 10 – This means that the product key you used to upgrade the OS could be invalid. However, it could also show up if the servers at Microsoft are over-stressed with traffic. In such cases, don't get stressed out by some message telling you that your key is invalid, it just might be due to server lag.
3. 0xc004c003 Windows 10 activation error / Error 0xc004c003 the activation Server Determined – Both of these errors show up in cases where the update installation was not done accurately.
4. 0xc004c003 after a hardware change – If this error shows up, it is indicating some issues related to a recent change in your hardware and the Windows license.
5. 0xc004c003 clean Install – This message pops up after a user tries to execute a clean installation for Windows 10. It is highly unlikely that you would come across this error if you already have an activated copy of Windows 10 on your PC.
Now that we have a firm grasp of understanding on this subject matter, let us move on to the next part of the article where we show you some of the most effective techniques which you could use to resolve this issue.
How to fix Error code 0xc004c003?
This article will go through a few of the most effective methods to fix this issue, so please ensure that you go through the instructions carefully. So, without any further ado, let's get started.
1. Try to Reset your PC/laptop
In this method, the process will delete all files located in the drive where Windows 10 is installed, so we suggest you back up those important files before we begin. Done? Great. Follow the steps below to reset your PC/laptop.
Step 1: Go to the Start icon, right-click and open Settings.
Step 2: Scroll down and select Update & Security.
Step 3: Here, select the Recovery option, and then click on Reset this PC.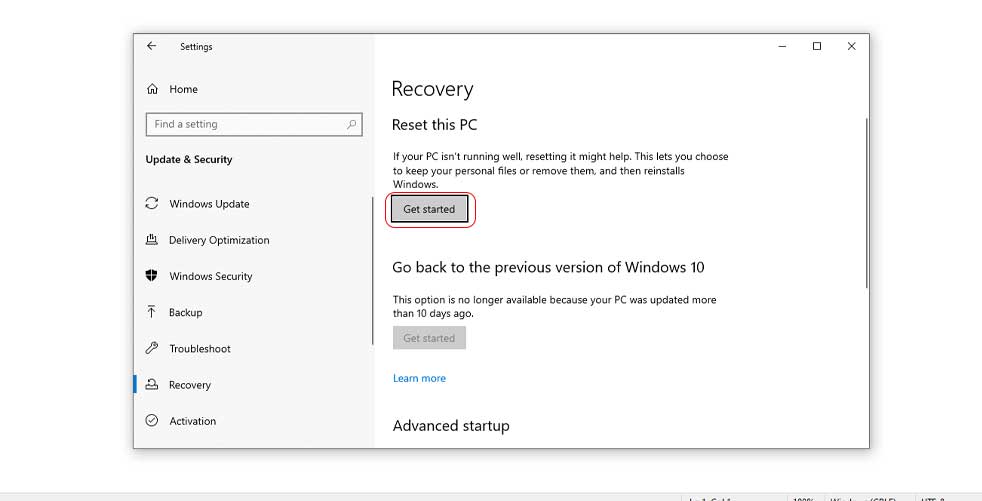 Step 4: Hit Get started and wait for the process to complete.
Step 5: Once done, restart your update process and test the issue.
2. Use slmgr.vbs command
As we discussed, sometimes the servers at Microsoft could be facing a lot of traffic; in such cases, you can either wait for a couple of hours and retry for the update. Or, you can also force your operating system to install the update. Follow these steps to do so:
Step 1: Ensure that you're logged in with the Administrator account, then go to the start icon, right-click and select Command Prompt (Admin).
Step 2: Here, type slmgr.vbs –rearm and hit Enter.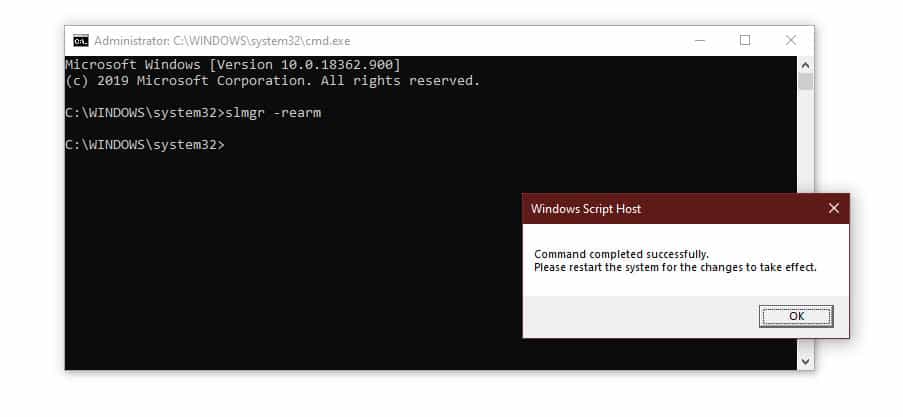 Step 3: Once the process is complete, wait for a minute and then reboot your PC.
3. Clean Booting
Performing a clean boot gives you the control over which services and applications are allowed to run at startup of the computer. This enables you to isolate the issue and successfully go ahead with the installation of the system update. Here's how it's done:
Step 1: Log in to your Administrator account, and in the search box on the taskbar, type msconfig and choose System Configuration.
Step 2: On the Services tab, select the checkbox next to Hide all Microsoft services and then click on Disable all.
Step 3: Move on to the Startup tab, and select Open Task Manager.
Step 4: Now, under the Startup column, select each item one by one and disable it.
Step 5: Close the task manager window, and hit OK in the Startup tab of the System Configuration window.
Now, your computer will startup in a clean boot environment when you restart. Simply launch the update process now and upon completion, follow the instructions below to restart your PC in normal mode:
Step 1: Open up the System Configuration window once again, and in the General tab, select Normal Startup.
Step 2: Move over to the Services tab, clear the checkbox next to Hide all Microsoft services, and then choose Enable all.
Step 3: Now, on to the Startup tab, open up the Task Manager and enable all of your startup programs in the Startup column, and hit OK.
Step 4: Reboot your computer.
4. SFC Scan
A System File Checker tool is designed to analyse and identify potentially corrupted files on your system and fix those issues. If any such corrupt system files are causing you trouble, running a full SFC scan could be useful. The SFC scan is used to solve many Windows error such as 0x80070424, 0xc0000225 Let's see how it's done:
Step 1: Ensure you're logged in with Admin rights. Now, right-click on the Start icon (Note: Shortcut is Windows + X) and select Command Prompt (Admin) from the pop-up menu. (Also known as Windows PowerShell)
Step 2: Here, type sfc/scannow and hit Enter.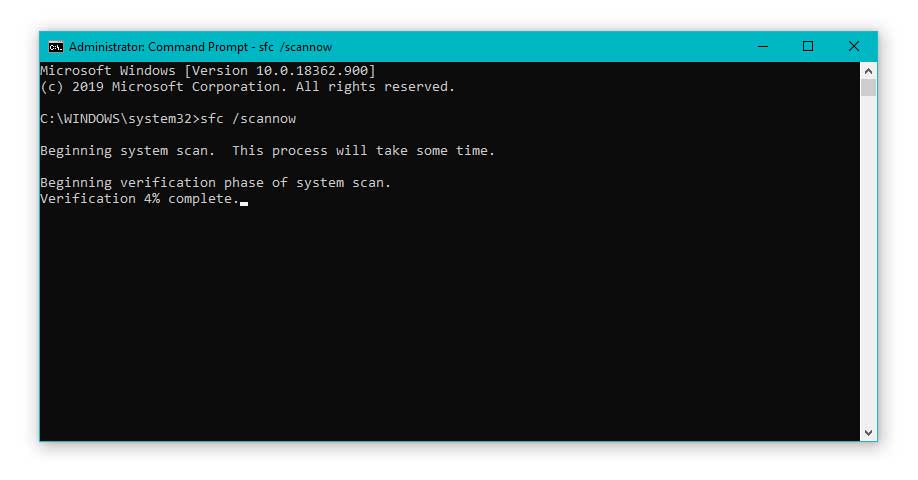 Step 3: Wait for the process to finish. (approx. 20-30 mins)
Step 4: If it finds any corrupt files, it will repair them and return you a message saying Windows Resource Protection repaired system files upon completion.
Step 5: Once done, reboot your computer and check if the issue persists.
5. In-Place Upgrade
If your computer is still showing you an error saying "we can't activate windows on this device 0xc004c003", performing an in-place upgrade to Windows 10 could help. In-place upgrades clean up the system files which could help in resolving this issue. For doing this, go to the Microsoft website and download the Media Creation Tool. With us so far? Good. Now follow the steps given below.
Step 1: Run the tool after logging in to your Administrator account.
Step 2: Accept the license terms, and then select Upgrade this PC now.
Step 3: The tool will now download and install all the necessary files for the upgrade and walk you through how to set up and use Windows 10 on your PC.
Step 4: When it is ready to install, you'll be shown a list of what files you have chosen to keep with the upgrade. If you want to make changes, select the Change what to keep option and do so.
Step 5: Save any open files, and once you're ready, hit Install.
Step 6: Wait for the process to complete; it will take some time and a few reboots to complete the update successfully.
6. BIOS Update
It's generally advised not to update your BIOS manually because it's highly risky as even a small mistake could potentially end up 'bricking' your laptop. However, if you're facing a hardware issue, then updating your BIOS is the last resort. Here, we strongly recommend checking the Motherboard manual for detailed instructions on how to update BIOS. While there are ways of flash updating BIOS on Windows 10, manufacturers like Dell, Lenovo, ASUS etc. include a built-in tool to make things easier. So, head over to your manufacturer's website, look up your computer model and navigate to its download page. You can find available BIOS updates there.
7. Use Command Prompt
If the error was hinting towards issues with the product key, you could easily look for it with a simple command. Follow the instructions below to locate your product key and make some changes after that.
Step 1: Log in to your Admin account, right-click on Start, and select Command Prompt (Admin).
Step 2: Here, type and hit Enter.
wmic path SoftwareLicensingService get OA3xOriginalProductKey 
Step 3: You should be seeing your product key now.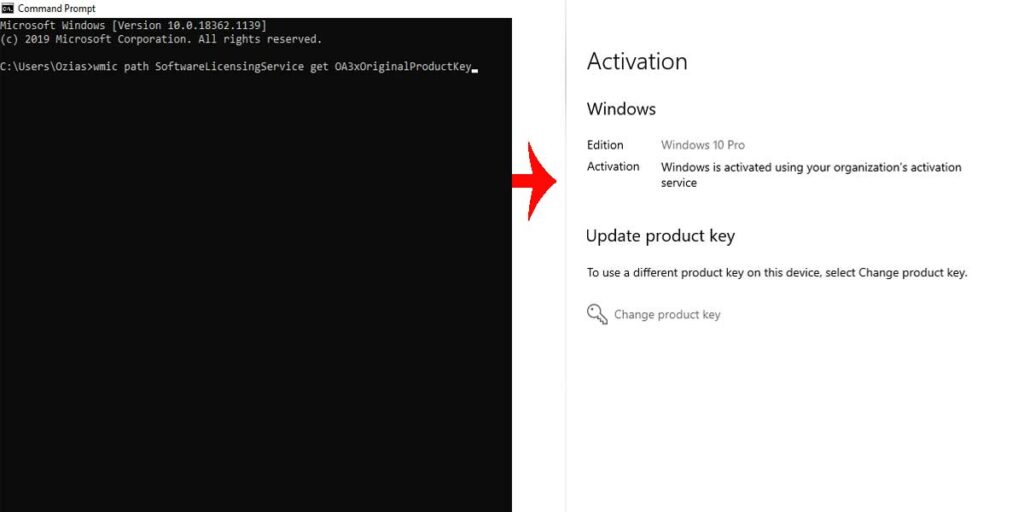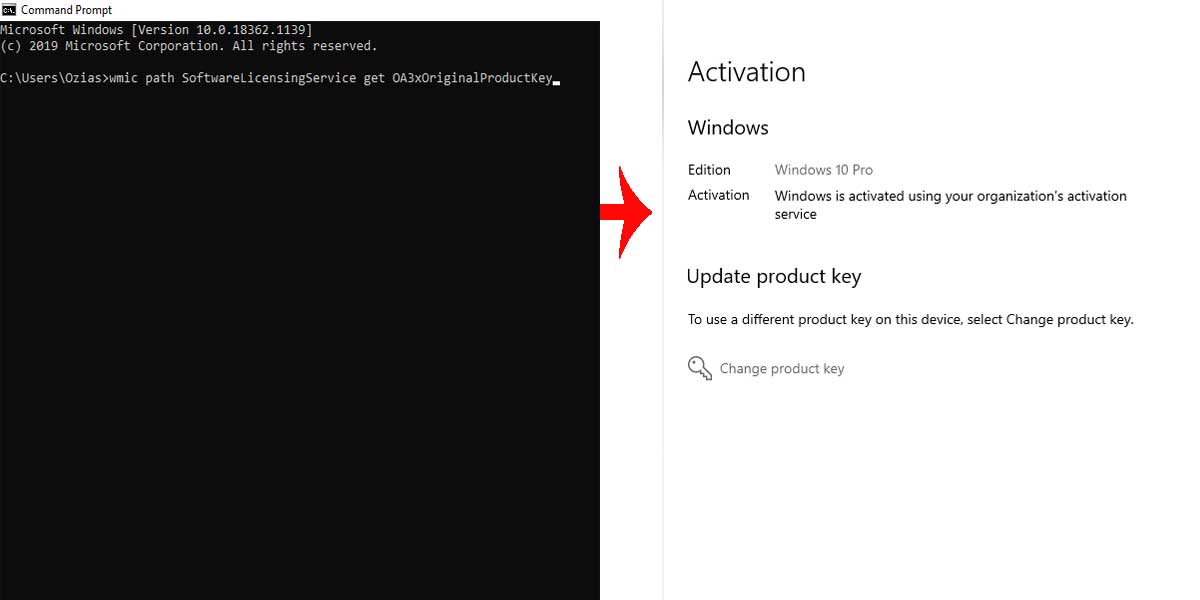 Step 4: Move over to Settings (Shortcut: Windows + I) and choose Update & Security.
Step 5: Select Activation from the sidebar menu, and hit Change product key.
Step 6: Enter the product key now and hit Next.
8. Contact Microsoft
If none of the other options seemed to do the trick, we suggest you contact the support team at Microsoft. Simply head over to the Microsoft Contact us page or drop a call at the help center. They should be able to help you in this matter by providing a conclusive way to get rid of the windows 10 0xc004c003 error.
Conclusion
There you have it, a simple and easy to follow guide on How to fix Windows error code 0xc004c003. If you still have any doubts or queries regarding this that need to be addressed, feel free to write to us or drop your comment down below. We would be happy to help you out and discuss further.