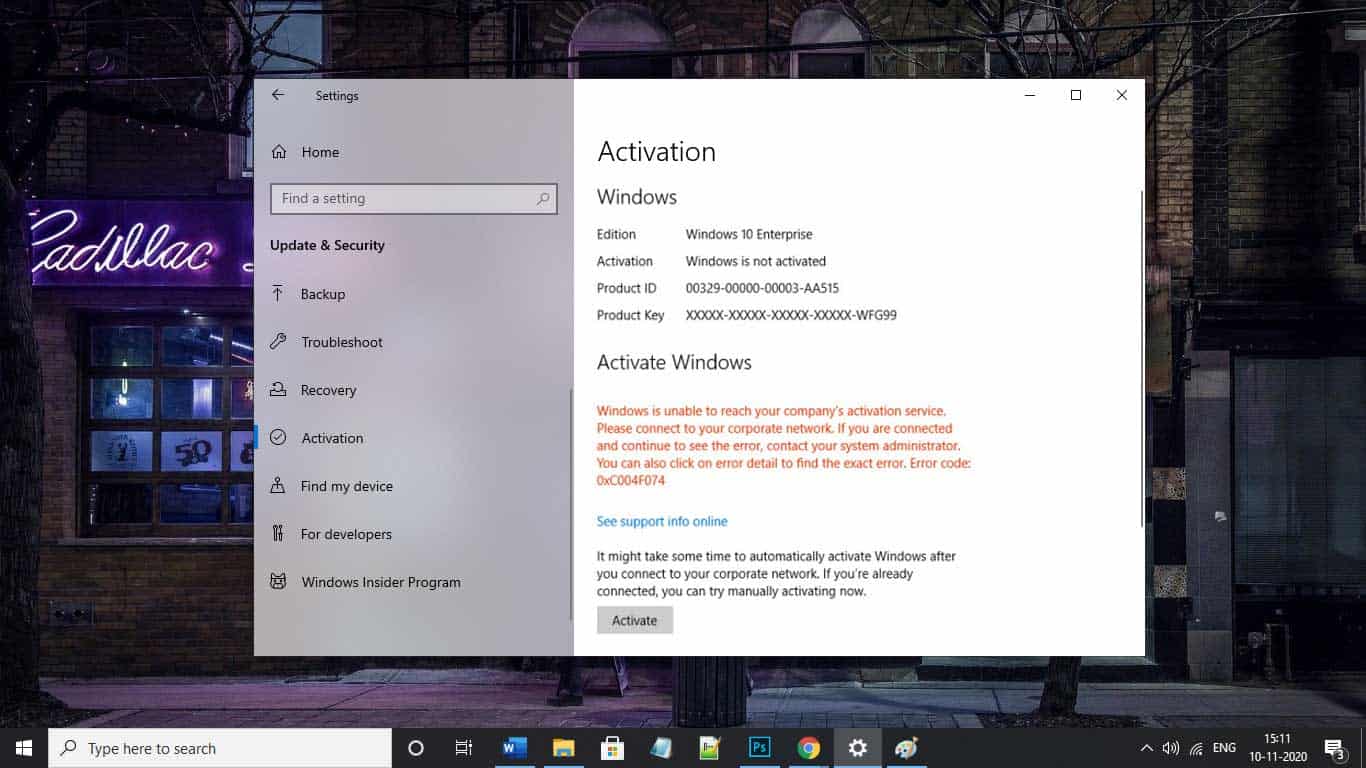 If you just upgraded your PC to Windows 10 and came across error code: 0xc004f074 during the activation process, you've come to the right place looking for answers. This error is also known to occur if the software update is downloaded from pirated websites. This is where KMS comes in. KMS or Key Management Service is one of the legal ways to activate Microsoft Windows and Office, which ensures that the software is obtained from and licensed by Microsoft. So, the windows error code 0xc004f074 is trying to tell you that the KMS was not contacted properly during the activation.
A lot of users have started reporting this error recently, so we decided to put together some of the techniques that could help in resolving it. This article will help you understand what the error is, what are some of the reasons why it's coming up on your screen, and how to fix it effectively. So, let us begin.
What is Error Code 0xc004f074
| | |
| --- | --- |
| Problem Event Name | 0xc004f074 |
| Error Message | The Key Management Server (KMS) is unavailable |
| Error Cause | Mismatch in KMS (client) and KMS (host) |
| Common Solution | Fixing KMS key |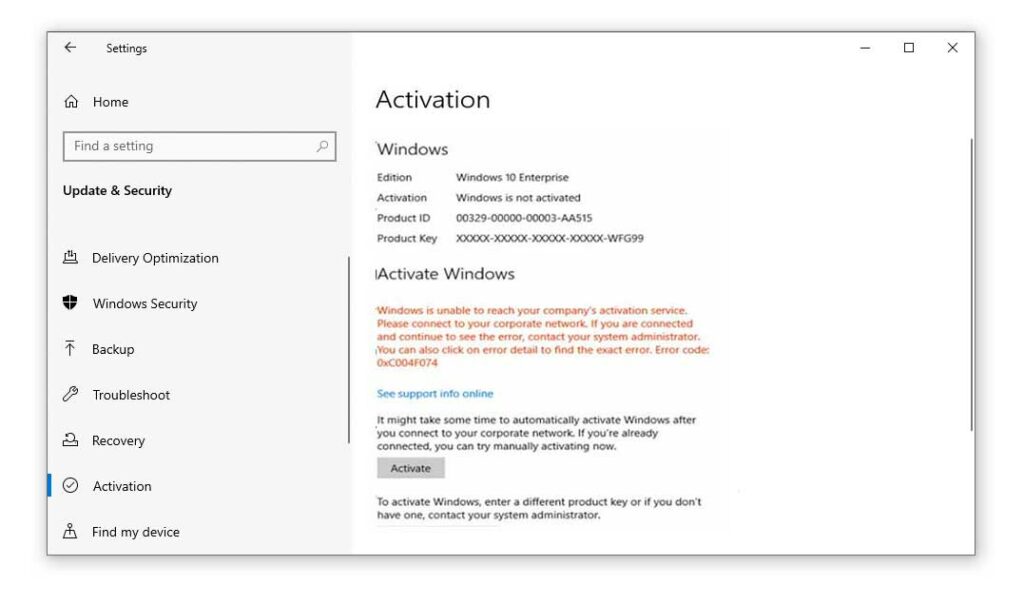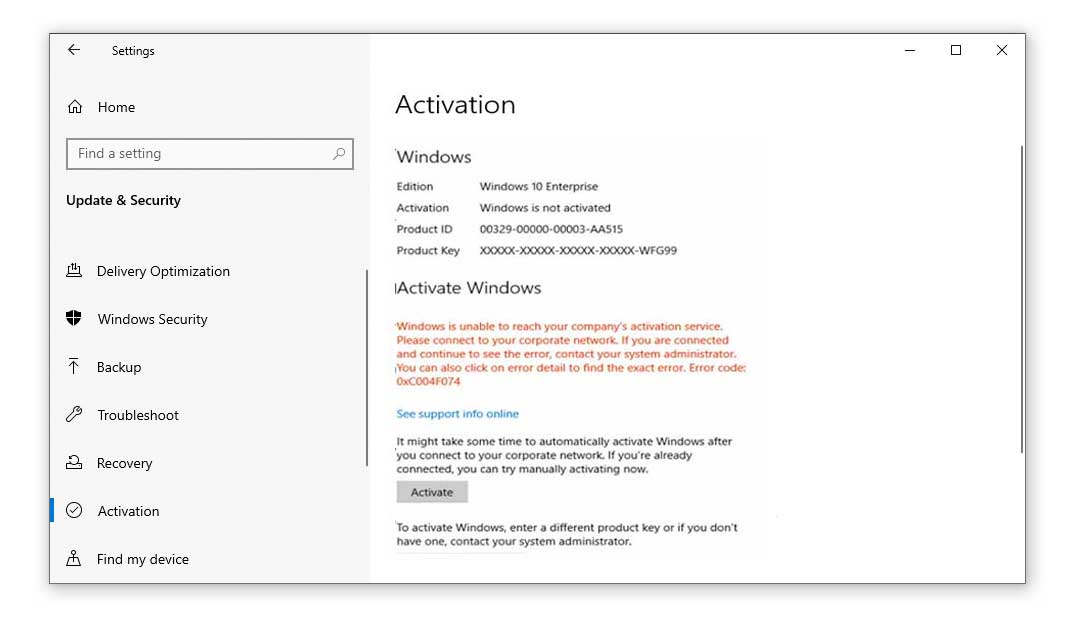 The 0xc004f074 shows up when the operating system fails to activate Windows directly after updating the system software. This usually happens if the previous version of your OS was KMS activated. Common error messages include Windows is unable to reach your company's activation service, or The Key Management Service is unavailable.
Causes of Error Code 0xc004f074
There are several reasons why this error might be coming up for you. We have listed some of them below.
1. Difference in KMS (host) and KMS (client) machines – For ex: host running on Windows server 2003 or 2008, and Client running on Windows Server 2008 R2.
2. User has downloaded a pirated (illegal) version of the Windows OS – in such cases; the system fails in contacting the Key Management Service for activation.
3. Differences in the time of client and host machines (usually host time exceeds 3-4 hours)
How to fix Error code 0xc004f074
Now that we have a proper understanding of what the error code is and what it intended to communicate, let us move on to the next part of the article where we will speak in detail about the ways in which you can deal with kms 0xc004f074. Please ensure that you follow the instructions carefully from now on. Let us get started.
1. Run SFC
First and foremost, let us begin by running a system file checking utility which identifies and fixes any corrupt or outdated system files lingering around on your computer. To run an SFC command, you need to follow these instructions below.
Step 1: Log in with Admin rights, and right-click on the Start (Shortcut: Windows + X) on your desktop and select Command Prompt (Admin) from the pop-up menu. (Also known as Windows PowerShell)
Step 2: Type sfc/scannow and hit Enter.
Step 3: Be patient as the process usually takes around 20-30 mins to complete.
Step 4: If it finds any corrupt files, it will repair them and return you a message saying Windows Resource Protection repaired system files upon completion.
Step 5: Once done, reboot your computer and test the issue.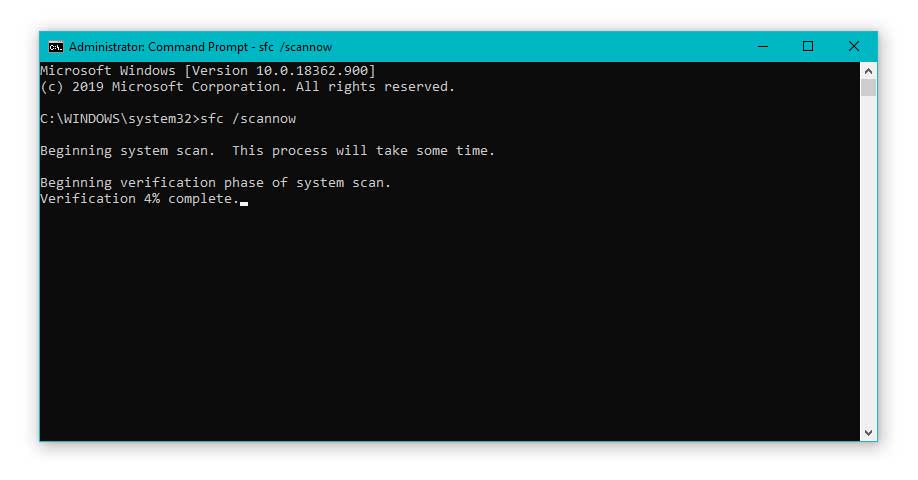 2. Reinstall KMS Key
If the previous version of your OS had the KMS activated, this method could work for you. Here, we will first uninstall the service and then reinstall it. Follow the steps below to do so.
Step 1: From your Administrator account, go to Start, right-click and select Command Prompt (Admin) from the menu.
Step 2: Type slmgr.vbs /dlv, hit Enter, and note down the details in the description window which comes up.
Step 3: Now, type slmgr.vbs /upk and execute to uninstall the existing KMS key on your computer.
Step 4: Once that's done, use this command with your new KMS key: slmgr.vbs /ipk <NewKMSProductKey>
Step 5: Now, Open Settings (Shortcut: Windows + I), scroll down to Update & Security.
Step 6: Select Activation and check if Windows is activated.
3. Disable And Renable DNS Host
When you try to activate the updated software, the wizard tool employs DNS to locate the corresponding machine that is running the KMS software. So, if the DNS is not reporting any entries to the activation wizard, it reports an error. Therefore, in this method, we will disable and then re-enable the DNS host.
Step 1: As Administrator, open up Command Prompt and enter regedit.
Step 2: In the registry, navigate to HKEY_LOCAL_MACHINE\SOFTWARE\Microsoft\Windows NT\CurrentVersion\SoftwareProtectionPlatform.
Step 3: Here, create a new DWORD value, namely DisableDnsPublishing and set the value to 1.
Step 4: This should disable the DNS publishing on your computer.
Step 5: Now, to re-enable the default behavior for publishing of KMS service records to DNS, set the value to 0.
Step 6: Upon completion, restart your computer and check if activation is facing any issues.
Recommended: Activate Windows Using CMD Key
4. Run The Update And Active Troubleshooter
The Windows Update Troubleshooter is known to resolve errors occurring during the update and activation processes of Windows 10. In this method, we will be employing the Troubleshoot utility. Here's how you do it.
Step 1: Go to Settings (Windows + I)
Step 2: Under Update & Security, select the Troubleshoot tool from the sidebar, and hit run the troubleshooter for Windows Update.
Step 3: If the error persists, scroll down to Activation on the sidebar menu of Update & Security, and select the Troubleshoot tool here.
5. Contact Microsoft Support
If none of the other methods worked for you, we suggest you contact the support team at Microsoft. Inform them about the error and request a change of key. Whatever Windows error occurs on your pc/laptop, they will help you reset the product key, and you can finally activate Windows then.
Conclusion
We hope at least one of these methods helped you get rid of the windows 10 error code 0xc004f074. Let us know which one worked, did you have to look for other alternatives in the end? Please share your thoughts in the comment section, and we would be happy to connect and discuss further.