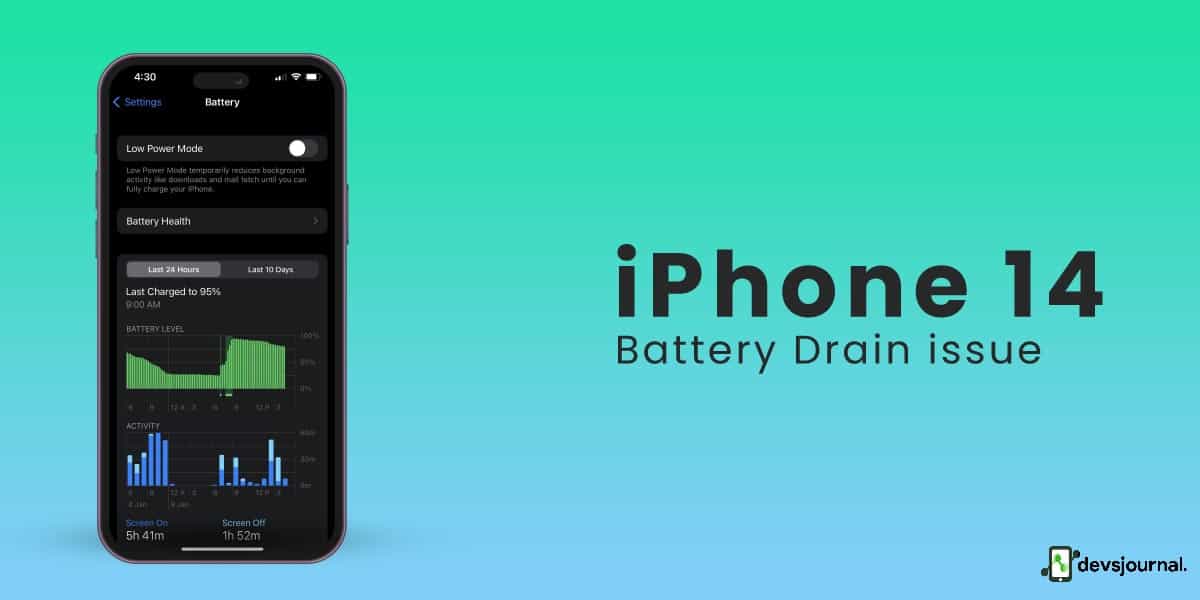 The iPhone 14, Plus, Pro, and Pro Max have all been lauded for their sleek designs and powerful capabilities. However, users of these models have recently reported that their batteries have been draining much faster than normal.
This issue has caused users to experience unexpected shutdowns and low battery warnings when they are in the middle of important tasks.
This article will explore and discuss potential solutions to iPhone 14 battery-draining issues. We will also look at how users can optimize their battery life and prevent further iPhone 14 battery-draining issues. Battery life has always been an issue with iPhones; however, the battery life in iPhones has increased and improved over time.
But even today, some customers are not happy with the battery life and face serious battery-draining issues on their iPhone 14. In this article, we are going to list out some ways which can help you fix your iPhone 14 battery-draining issues.
Fixes To iPhone 14 Battery Draining Issue
1. Turn Off 5G Connectivity
The latest iPhone has the 5g chip installed. The 5g is much faster than LTE. Using 5G can drain your battery. While using 5g, your iPhone 14 is connected to multiple networks simultaneously; thus, it drains your phone's battery. If you don't use 5g, switching to 4g or LTE from your settings is recommended to save battery. 
To turn off 5G connectivity on your iPhone 14 series, go to Settings > Cellular > Cellular Data Options. Select the "Enable 5G" option to turn off 5G. You can also turn off 5G in the Control Center by long-pressing the Wi-Fi icon and tapping the 5G icon to turn it off.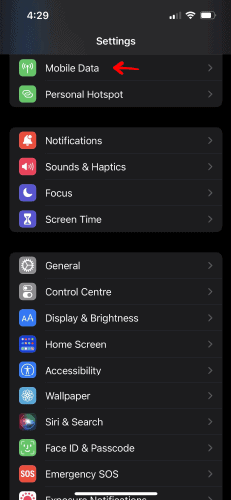 2. Turn Off Keyboard Haptics On iPhone 
In the new iPhone 14 series, Apple has launched a Haptic mode in the keyboard. When on, these feature makes your phone vibrate while typing on the keyboard.
If you are facing battery-draining issues, you must consider turning this off. Using the haptic mode means that haptic motors are now getting used more frequently, which – as a result, delivers lesser battery life.
To disable vibrations completely from your iPhone: Open Settings > Accessibility > Touch > and turn off Vibration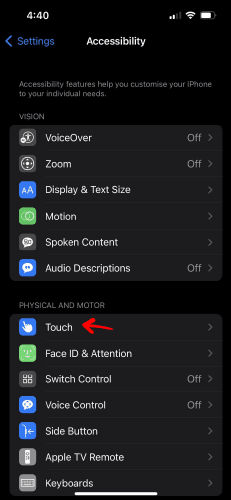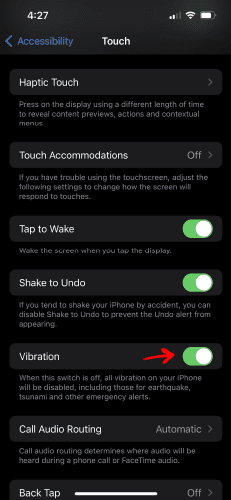 3. Enable Low Power Mode
Like every other electronic device, apple also provides the power saving mode or the low power mode, which helps the battery of your phone to last longer.
The low power mode automatically reduces your screen's brightness, triggers auto-lock in 30sec, affects the running of apps in the background, etc. when turned on, you will see a yellow bar on your battery symbol.
To turn Low Power Mode on or off on your iPhone 14, go to Settings > Battery.
Another way to turn Low Power Mode on and off is from Control Center.
Go to Settings > Control Center > Customize Controls, then select Low Power Mode to add it to Control Center.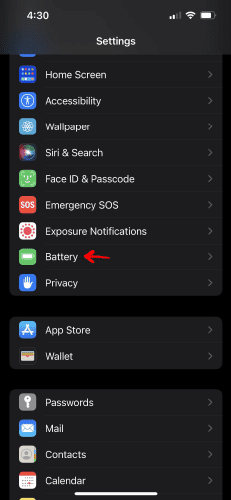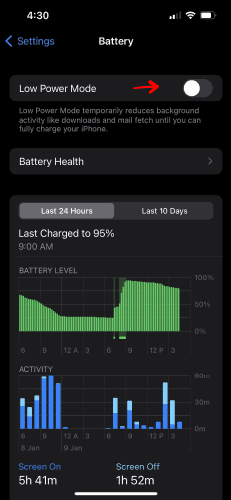 4. Reboot Or Restart iPhone 14
Restarting will help you to clear all background apps and refresh your phone's software. Most glitches like always on display glitch, Bluetooth glitch, QR code glitch, cellular data glitch in any of the iPhones can be solved simply by restarting the device. This works for the latest iPhone 14 series also.
To restart an iPhone 14, press and hold the Side button and either volume button until the slider appears. Drag the slider to turn your iPhone 14 completely off. After the iPhone turns off, press and hold the Side button again until you see the Apple logo appear.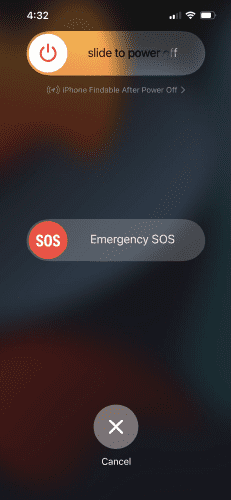 5. Check For High Battery Consumption App
High-battery consumption apps need a lot of power to function efficiently, and you can use the phone settings to check which app consumes the most battery in your phone. If that app is not required, you can uninstall it, or you can reduce the usage of this app.
Knowing which app causes the battery drain can help you manage your battery levels. Here is how you can check your device's High Battery Consumption Apps.
To see an overview of your battery activity for the last 24 hours and up to the last 10 days, go to Settings > Battery. When you tap one of the columns on your screen, you can see which apps have the maximum battery usage during that period and how much battery is used by the app.
6. Reset All iPhone 14 Settings 
To reset all iPhone 14 settings in order to fix battery-draining issues:
Go to the "Settings" app on your iPhone 14.
Scroll down and tap "General."
Tap "Reset."
Select "Reset All Settings."
When prompted, enter your device passcode.
Confirm that you want to reset all settings.
Wait for the reset process to complete.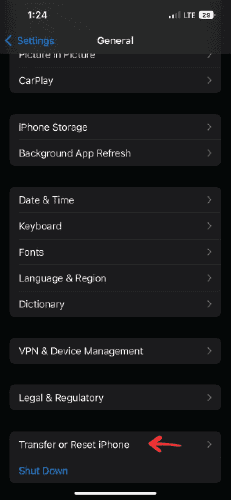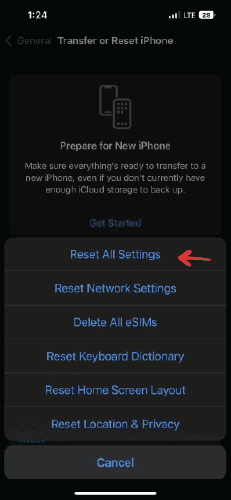 Once the reset process is done, all your settings will be restored to their default values. This includes all Wi-Fi, Bluetooth, and cell connections, as well as all other settings. Your data and files will remain intact, and you must re-enter any passwords or logins.
This should fix any battery-draining issues you may have been experiencing. You may need to contact Apple Support for further assistance if the issue persists.
7. Check For Updates for Apps and Ios
Check for App Updates:
Open the App Store.
Tap the Updates tab at the bottom of the screen.
Tap the "Update All" button in the upper right corner.
Check for iOS Updates:
Open the Settings app.
Tap General.
Tap Software Update.
If there is an update available, tap Download and Install.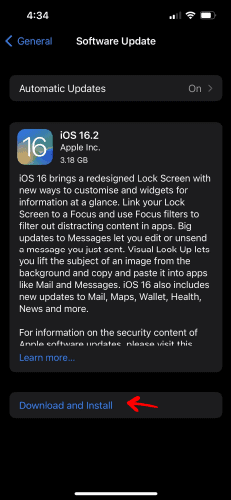 Updating apps and iOS can help fix iPhone 14 battery-draining issues by ensuring that the apps and iOS are running the most up-to-date version and that any bugs causing the battery-draining issue have been fixed. Additionally, updates can add new features or improvements to the app or iOS that may help to reduce battery consumption.
Conclusion
Although iPhone 14, Plus, Pro, and Pro Max are great devices, sometimes they can experience battery drainage problems. Fortunately, this guide has given you the steps necessary to quickly fix the iPhone 14 battery-draining issue.
With the steps outlined, you should now have the knowledge to troubleshoot and resolve the battery-draining issue. If the issue persists, it is recommended that you contact Apple Support for further assistance.
FAQs-