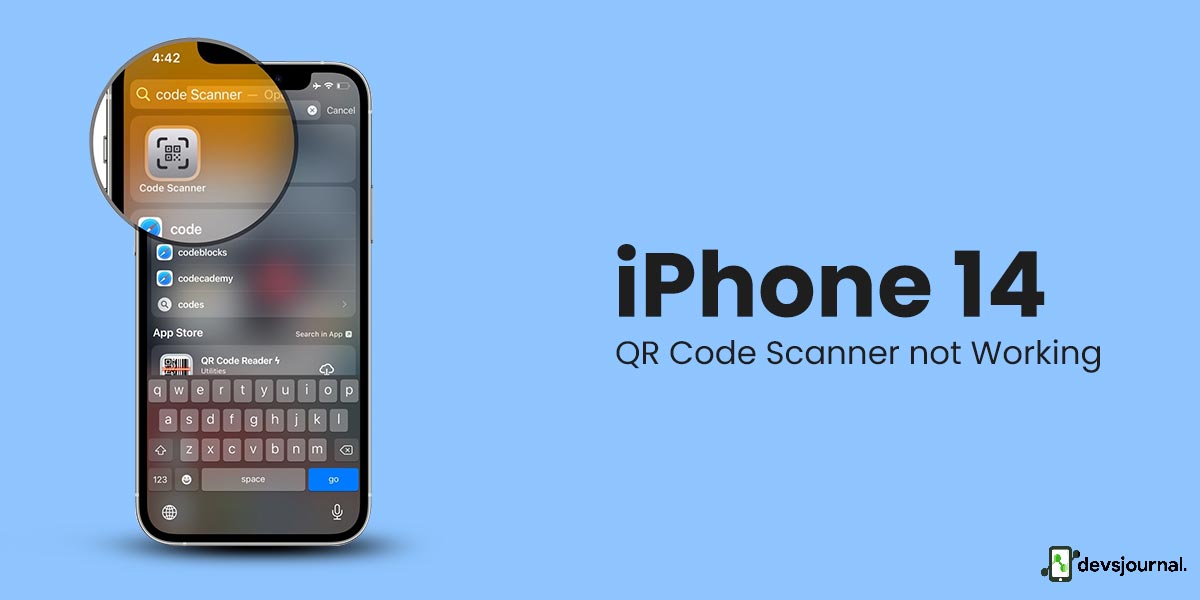 Our lives are now quite convenient thanks to QR codes. With a quick scan, you can obtain financial information, contact details, Wi-Fi passwords, and more. By integrating the scanner inside the Camera itself, Apple, as usual, ups the ante. This eliminates the requirement for any third-party applications and the corresponding loss of storage space.
However, following the most recent upgrade, the QR code scanner is having trouble operating as intended. It is more frequently a software-related problem than a hardware problem.
We've compiled all the different solutions to this common problem for you here, which is fortunate for you. Therefore, if you're having trouble getting the Camera on your iPhone 14 Pro to scan QR codes, just use the techniques described below to fix the issue.
Fixes to iPhone 14 QR Code Scanner Issue
1. Make Sure QR Code Scanner Is Enabled
If you have an iPhone 14 running on iOS 16 or later but your iPhone camera is still not reading QR codes, the Scan QR Code option on your device may be turned off and has to be enabled.
Before you get into further troubleshooting, make sure your Camera's QR code scanner is turned on. We sometimes forget to turn it on and then presume there's a problem with the functionality.
To make sure the QR code scanner is on, follow these steps:
Unlock your device, then open the Settings app to begin.
From there, press on Camera after scrolling down to it.
Afterward, confirm that the Scan QR Codes option is turned on. If not, tap the adjacent toggle to make it active.
Try scanning a QR code in the Camera app once more. If it still doesn't work, try the remedies listed below.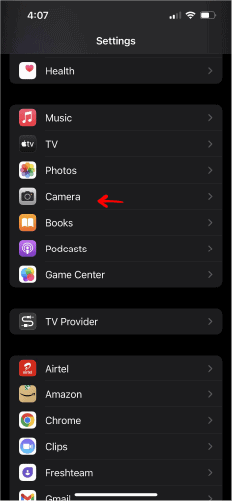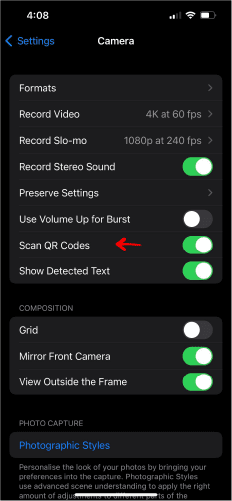 2. Clean The Camera Lens Of The iPhone 14
If your iPhone 14 Pro camera is still unable to read QR codes, you should inspect your camera lens for any dust or smudges. The lenses on our cameras are frequently neglected, which makes them prone to dirt and necessitates periodic cleaning. If you see that this is the case, clean the Camera with a soft cloth, ideally one made of microfiber.
Ensure there is adequate lighting in case the Camera is still having trouble reading the QR code. If not, bring the QR code somewhere well-lit or ask someone else to use their phone's flashlight to illuminate it. Additionally, increase the screen brightness on your iPhone 14 because that might also cause a scanning error.
3. Put QR Code In The Center
Use the Camera mode while attempting to scan a QR code with the iPhone's built-in scanner. The scanner won't function if you select a portrait, slow-motion, video, pano, etc.
In order for the QR code to be focused, please bring it to the center of your Camera's viewfinder. The linked link to open will eventually appear automatically on your iPhone 14 Pro. That implies that pressing any button won't be necessary to start the scanner.
4. Check If The QR Code Is Valid Or Not
Despite the scanner already being included in iPhone 14 cameras, not all QR codes can be read by them. For some, suitable third-party applications, such as those produced by a payment app, may be necessary.
Make sure all the applications you're using can read the QR code you're scanning, or test your iPhone's 14 ability to do so by using the app that was recommended.If you're having trouble getting the built-in scanner to function, you can also use a third-party QR code reader.
5. Reopen the Camera App
Suppose your iPhone camera still can't read the QR code after cleaning it, providing appropriate lighting, and carefully framing the image. In that case, we advise forcing the app to close and reopening it later. By doing this, you'll get rid of any potential problems in the program that might be keeping it from working properly.
What you must do is as follows:
First, open the App Launcher by swiping it up from the bottom of your screen.
The Camera app will then be forcibly closed if you move it up. We advise you to close all open programs to reduce background activity and improve device performance.
Hold off for a few minutes.
To open the Camera app once more, touch on it now.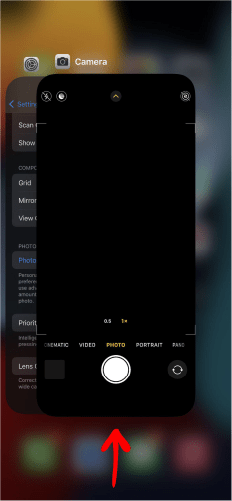 6. Use Control Center
If your iPhone camera still can't read the QR code despite being cleaned, having sufficient lighting, and being well-framed, we advise forcing the app to close and reopening it after a short while. The app's potential bugs that might be stopping it from working properly will be removed as a result.
In order to access the App Launcher, first slide up from the bottom of your screen.
After that, drag the Camera app up to close it instantly. While you're at it, we advise closing all open applications to reduce background activities and improve device performance.
Several minutes should pass.
The Camera app will now reopen after you tap on it.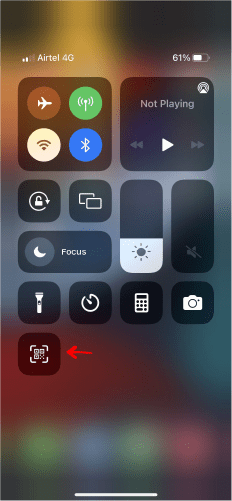 7. Reboot Or Restart iPhone 14

In the event that the default restart doesn't fix the issue, try a force restart. This is merely another technique to switch off your iPhone if you haven't already utilized the force restart feature.
It's also critical to remember that a forced restart differs considerably from a factory reset, which methodically deletes all of your data (so don't worry about losing any of your data), even though it can result in the loss of unsaved changes to files.
Follow these procedures to restart your iPhone:
Simply push the volume up button, hold it for a moment, and then release it.
Tap the volume down button briefly before letting go.
The side button should be depressed further.
To release the button, wait until you see the Apple logo.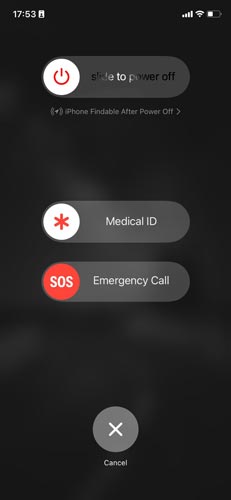 Force restarting the iPhone 14 generally solves iPhone 14 issue like wifi issue , this method should work for QR Code issue. Check if your iPhone 14 is scanning or not scanning QR code. If you can scan the QR code, you are good to go; if not, jump to the next step.
8. Update To The Latest iOS Version
As was previously mentioned, if none of the troubleshooting suggestions works, your phone settings may be at blame. The OS that is in use right now can be the cause of the issue. Examine for any updates.
If altering the settings does not assist in resolving the issue, the final step is to check for iOS upgrades. Updating the iOS always for any minor software and app related issue for iPhone 14. As already proven updating iOS worked for wireless charging and cellular data issue of iPhone 14
You can check for iOS updates on your phone and update to a newer version if necessary. These steps can assist you in accomplishing this:
Use iCloud or a computer to back up your smartphone.
To access the internet, connect your iPhone to a power source and a Wi-Fi network.
From the menu, go to Settings > General > Software Update.
Choose the software update you want to install. You can continue to receive essential security updates while using iOS 16.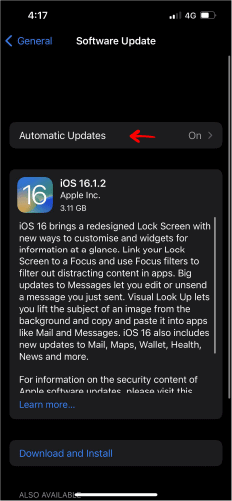 Conclusion

Scanning QR codes have become a common thing for convenience. If you are not able to able to scan QR codes, you can try all these troubleshooting tips, but if nothing works on this list, you can contact Apple Support or visit an authorized Apple Service Center to get it fixed.
This case will usually be fixed with a forced reboot or simply correcting the settings. Make sure to try all the possible solutions given here to solve the QR codes not working on iPhones. Hope that this article has helped you in understanding the problem and solving it.