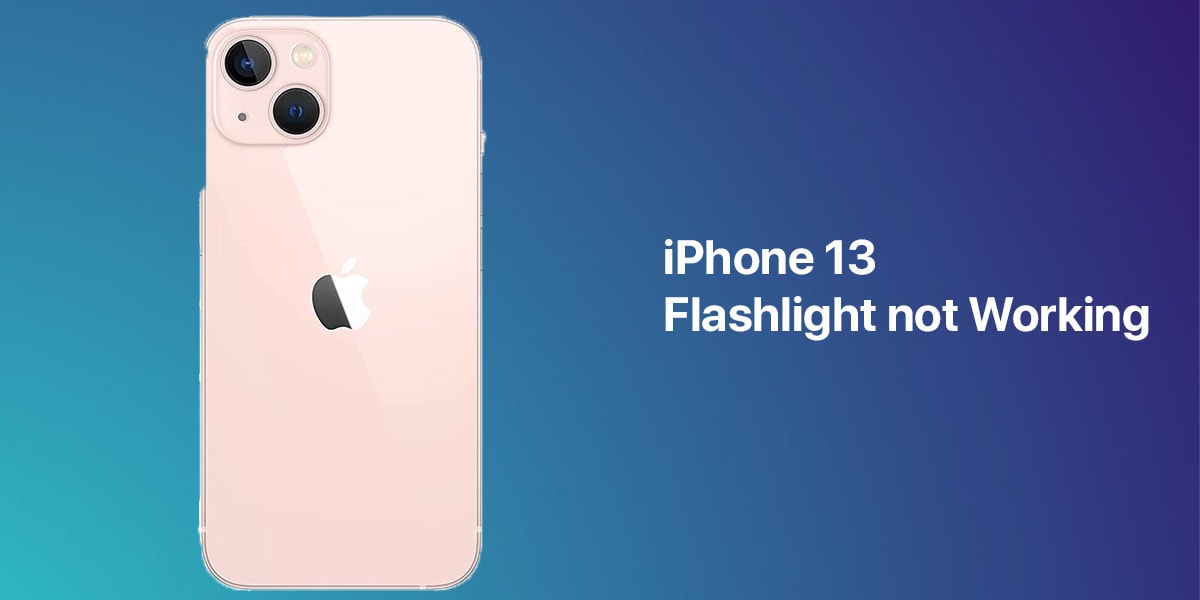 The brand new iPhone 13 came with tons of new features and an exquisite look to its name, so needless to say, expectations from the product have been sky-high since its introduction by Apple. But all is not well with Apple's new launch. Amidst all the praises, a few issues such as the swipe up error and face ID not working have been recurring on this latest release, which has been a matter of much contention, and rightly so!
Many iPhone 13 users have been raising complaints regarding the malfunctioning flashlight on their devices. While some are having trouble turning on the flashlight, others face a grayed-out or even missing flashlight toggle inside their phone's Control Center. Often, it is an LED that refuses to light up. Regardless, in this article, we will be talking about the issue of the iPhone 13 flashlight not working, including why it might be happening and the potential workarounds.
Why is the iPhone 13 Camera Flash Not Working?
You must know the potential causes behind the flash not working on iPhone 13 since even if you can fix it, there is no telling that it won't be happening again in the near future. Here are some of the common causes behind the flashlight not working on iPhone 13:
A few apps might be causing the problem, especially if they use the flashlight on your device and thus prevent it from turning on when needed. If this is the case, the workaround is simple. Simply closing the apps that use a flashlight will solve the problem.
A minor system glitch can lead to some features or services to stop working. For the most part, they can be fixed by simply rebooting your iPhone 13.
Battery might also be the culprit here. If your iPhone is low on battery, or your battery is draining fast, it will often prevent the flashlight or torch from turning on or staying on. The easiest way is to charge your device from time to time, even if it is not at the critical battery level yet.
If your iPhone is overheating, be it due to a 4K video recording or otherwise, your flashlight might malfunction without showing you the overheating prompt. So do check your device's temperature if your iPhone's flashlight is not working. 
If specific services have issues, your iPhone might not work properly. Moreover, core features like the flashlight or torch might be affected. 
Let's look at the potential fixes one by one.
6 Ways to Fix Flashlight on iPhone 13 Not Working
There are quite a few ways to fix the issue of the iPhone 13 flashlight not working, the first and foremost being restarting the phone and making sure everything is up to date. We have laid out the detailed steps for each method, so make sure you go through them carefully.
1. Exit or Force-Quit the Camera App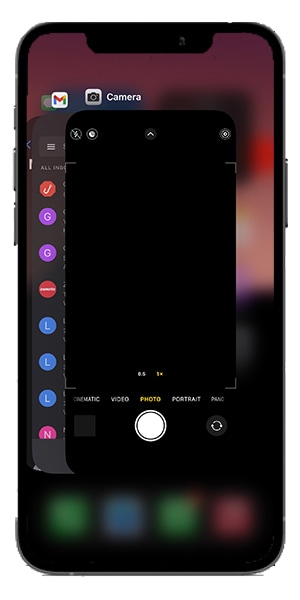 Often, the flashlight options appear grayed-out on your device Control Center if the Camera app is running in the background. The Camera app utilizes the flashlight feature, so it might collide with the phone's general torchlight. In this case, here's what you do:
Close the Camera app.
Alternatively, if you are still facing the issue, pull up the app switcher by swiping up from the bottom of the screen.
Swipe up the Camera card to shut it down manually.
Look for other active apps using the camera, and shut them down as well.
2. Add Flashlight to Control Center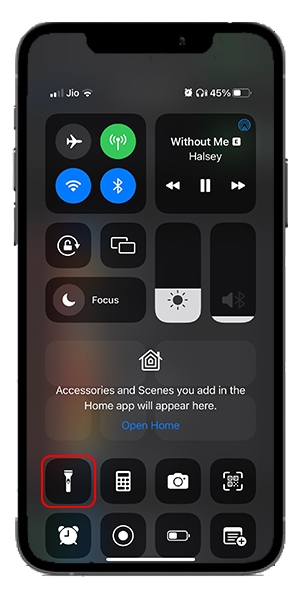 At times, your phone's flashlight works perfectly fine, but the lack of an icon on the Control Center gives the impression that it is missing entirely. If this is the case, and you cannot see the flashlight option on your Control Center, you are in luck. You might have removed it by accident or otherwise, but here is how to get it back:
Open the Settings app.
Select Control Center on the sidebar.
Scroll down to the More Controls section and click Add next to Flashlight.
Adjust the flashlight's position within the Control Center by gradually dragging the control up or down the list.
3. Adjust Flashlight Brightness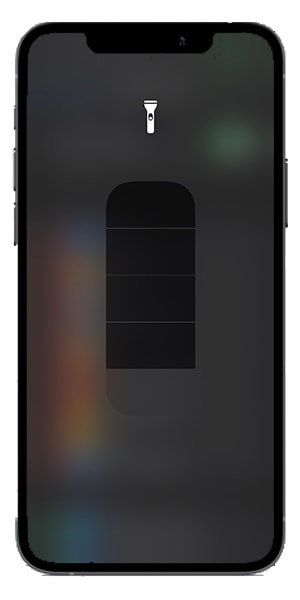 You might not be able to see the flashlight, or it might be so weak that it seems to be malfunctioning, whereas what is happening is that your flashlight's brightness is turned down to the minimum to somewhere close to it. In this case, adjusting the intensity of the flashlight might fix it for you.
Here's how to do that:
Swipe down from the top-right edge of the screen to open the Control Center.
Tap and hold the flashlight icon.
Hold and move your finger along the slider to increase your flashlight brightness.
4. Update Your iPhone 13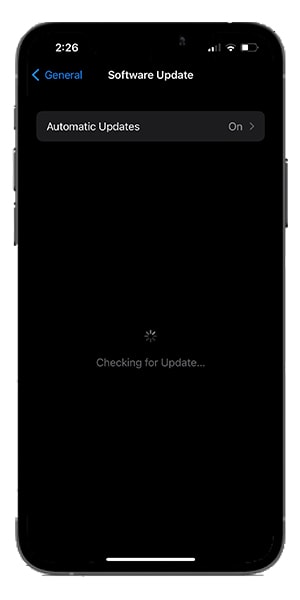 You might be seeing this step in more or less every such how-to guide, and that is simply because an outdated device causes the most number of such miscellaneous issues, which are harder to pinpoint. So, make sure you always have your device up to date. A buggy system software will inevitably have an update soon enough, and if you miss it, your device will continue nurturing the problems.
Here's how to go about it:
Go to Settings.
Click on General.
Select Software Update.
5. Reset all settings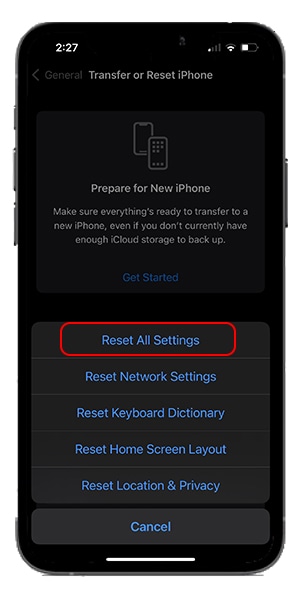 If you are a regular iPhone user, you might know that the iPhone 13 includes numerous under-the-hood settings, which have the potential to create conflicts and prevent various features such as the flashlight from functioning properly.
The company already knows that, which is especially why iOS comes with an option to reset all settings to their defaults. Note that this will erase your WiFi Password and reset all preferences on your iPhone to the factory default settings. However, it will not delete any data. 
Here's how to do it:
Go to Settings, and tap on General.
Click on Transfer or Reset iPhone, and choose Reset.
Lastly, select Reset All Settings.
Confirm your action by tapping on Reset once again.
6. Factory Reset Your iPhone 13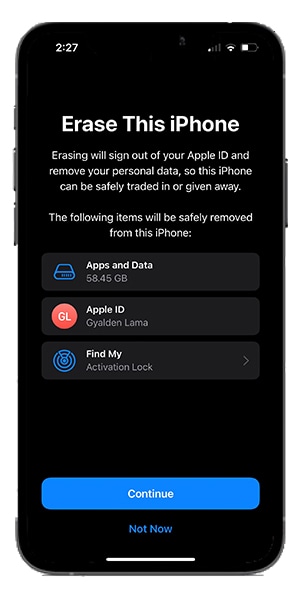 If your iPhone 13 flashlight is not working, the issue has been coming in the way of your productivity and general user experience; it might be a good idea to factory reset the device.
You will be losing all data here, so make sure everything is properly backed up on your iCloud or a PC. Here's how to factory reset your phone:
Open the Settings app and go to General.
Click on Transfer or Reset iPhone.
Choose Erase All Content and Settings to properly reset your iPhone.
Once the process is complete, restore all data.
Conclusion
That's all about fixing the iPhone 13 camera flash not working or the general torch malfunctioning. A good idea might be to install third-party flashlight apps and see if they work properly. If nothing helps, do not hesitate to contact Apple Support immediately, for it might as well be a hardware issue in need of a specialist to decode and fix.
Make your way to a licensed Apple Store with all necessary documents related to your device, and either with a small fee or if you are in luck, you might get your issue fixed without any cost at all. Good luck, and I hope this article is of help!