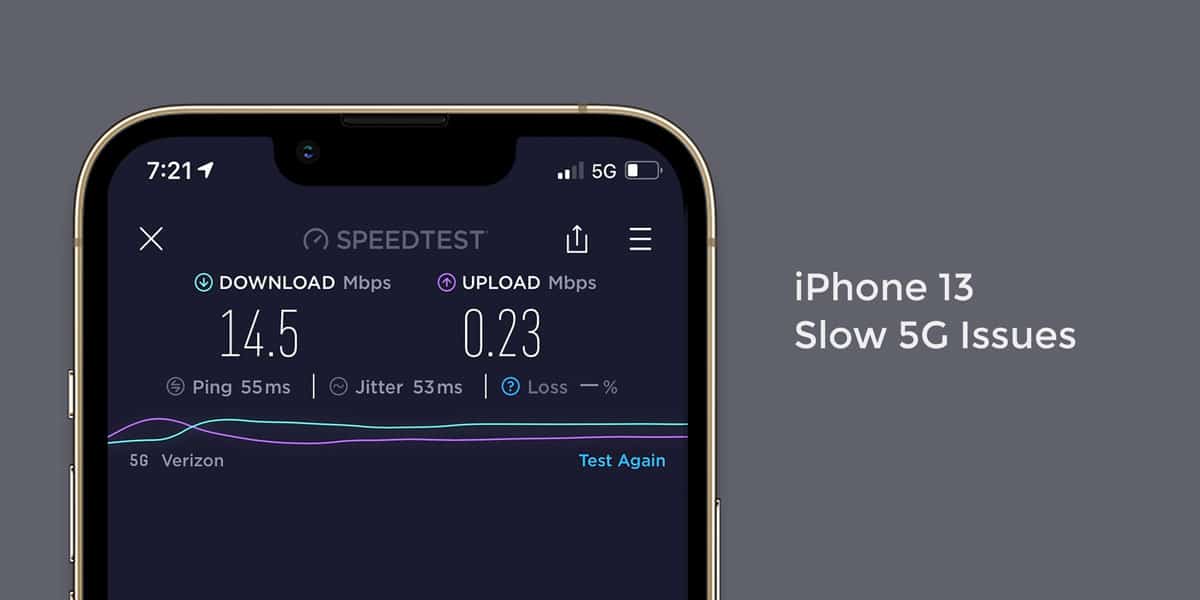 The only thing worst than having no Internet connectivity is suffering a slow Internet Connection. If you wish to experience real frustration, try going through a whole hour with a slow Internet connection. Such is the case with iPhone 13 users who have gone to great lengths to get their hands on the latest iOS device. As promised, the newest iPhone 13 models come equipped with dozens of features.
One such is the extended 5G and 5Ge support, courtesy of the smart data feature. However, it seems like this 5G connectivity isn't up to the best of starts. People have reportedly complained about 5G running slow on iPhone 13. Having a newly purchased device run into problems at the very start can be disappointing.
To help you solve this issue, we have listed out the possible causes explaining why you have slow 5G connection on iPhone 13. In addition, we have also laid out the possible fixes to fix slow 5G on iPhone 13, 13 Mini, 13 Pro, and 13 Pro Max.
Why is 5G Slower on iPhone 13, 13 Mini, 13 Pro & 13 Pro Max
As we mentioned above, having a newly purchased device run into issues can be infuriating. Similarly, it seems like people are already suffering from slow 5G on iPhone 13. There are a lot of reasons why this problem is arising. Some of the common issues for the same are:
Random Software Bugs
Errant Apps
Damaged Hardware Component
Unstable Internet Connectivity
Remote Locations
Minor Data Corruptions
Outdated Software
Too many Inactive Apps
How to Fix Slow 5G on iPhone 13, 13 Mini, 13 Pro & 13 Pro Max
From being stuck in a remote location to a random software bug, anything can cause slow 5G on iPhone 13. But what's more important than knowing the causes is knowing the fixes to troubleshoot these issues. Hence, we have laid down some of the best possible fixes for slow 5G on iPhone 13, 13 Mini, 13 Pro & 13 Pro Max.
1. Make sure you are in a 5G Network Coverage Area
At times, we fail to realize that we often overlook our surroundings when such problems occur. The surroundings we find ourselves in play a crucial role in the quality of reception we get on our phones. Since 5G is an up-and-developing network, it isn't available worldwide. Similarly, if your region or country has 5G coverage, your current location might be an issue in terms of coverage.
As we all know, the quality of our mobile network reception dips drastically when we move outside our carrier's network coverage area. For example, the cell reception drops when passing through closed spaces such as tunnels. Therefore, check your network coverage area before you get around to panicking about the issue.
You can navigate to https://www.speedtest.net/ookla-5g-map and drag the Map to check the availability of 5G in your area.
2. Check whether your Area has True 5G or 5Ge
As we all know, iPhones are all future-ready devices designed explicitly for the upcoming 5G technology. To promote this, Apple devices come with a Smart Data feature that only uses 5G connectivity when you access the Internet. But as we mentioned earlier, although 5G is an upcoming network, it still isn't available in most locations.
So, if you find your country has adapted 5G, it is likely that your region might not have the amenities required to support a 5G or 5Ge network connectivity. Some areas are fully compatible with 5G and 5Ge (LTE). Meanwhile, some areas support backward compatibility as well meaning that they support both 5G and 4G connections.
On the other hand, some areas are compatible strictly with 4G and 4G LTE. Most importantly, your 5G connectivity depends on the load on your nearest cell tower along with your current data plan. Both these factors are equally responsible if you are experiencing network congestion on your iPhone 13.
3. Change Data Mode
As we mentioned earlier, Apple's Smart Data feature automatically sets your device to 5G connectivity. However, this feature can be one reason why you have a slow 5G on iPhone 13. In such cases, switching between different data modes can prove to be an effective step to tackle this problem
Launch Settings
Go to Cellular
Select Cellular Data Options
Here, you can see three different Data modes present (Allow More Data on 5G, Standard & Low Data Mode)
Accordingly, switch between Standard and Allow More Data on 5G to fix the issue.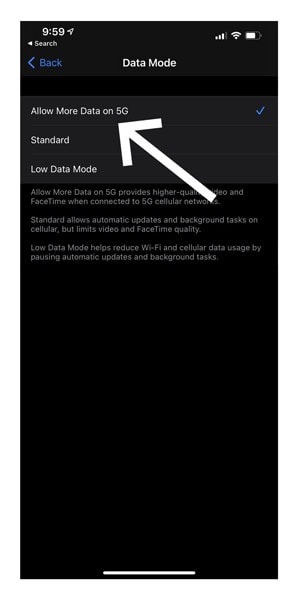 4. Switch to 5G On
Most of the time, smartphone users tend to switch their Network connectivity to regain access to the Internet. Similarly, iPhone users tend to switch from 5G to 4G to get back on the grid. This could very well be the reason why you have 5G running slow on iPhone 13.
When you keep shuffling network connections, Apple servers undergo a massive shift. However, this shift can sometimes be incomplete, which can cause 5G issues.
Therefore, if you switched to 4G from 5G, use the following steps switch back to 5G On
Launch Settings
Go to Cellular
Tap on Cellular Data Options
Select Voice And Data
Finally, select 5G On
Your phone will now revert back to 5G settings from the original 4G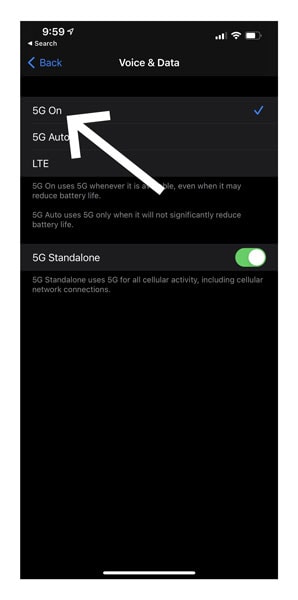 5. Refresh Airplane Mode
The airplane mode is present on both Android and iOS devices. Enabling this mode will zero down the service on your phone. When the airplane mode, you won't be able to make or receive calls and text messages.
Although, we can still use the Wifi and have access to the Internet when the Airplane mode is turned on. In such cases, you can turn on Airplane mode and then turn it back off to help regain connectivity
Go to control centre and toggle on/off Airplane mode or,
Go to Settings on your iPhone 13, iPhone 13 mini, iPhone 13 Pro, or iPhone 13 Pro Max
Check to see if Airplane mode is turned on
If it is not, toggle on Airplane Mode
Wait for a few minutes
Now, toggle off Airplane Mode
Check if you still have a slow 5G on iPhone 13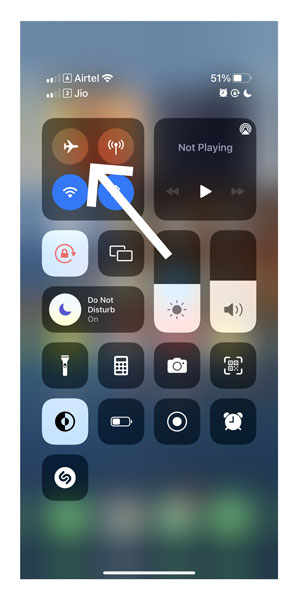 6. Restart your Device
As we mentioned at the start of the issue, having a slow 5G on iPhone 13 could result from minor data corruption or a random software bug present within the system. To ensure this isn't the case, you can quickly restart your iPhone 13 device to check if the issue is dealt with. Restarting your device is a great fix if you want to flush any bugs out of your system to ensure its smooth functioning.
7. Install a VPN
A Virtual Private Network (VPN) gives you added security every time you browse online. It helps cyber attackers at bay and prevents malicious websites from tracking your user information. With a VPN, you get all the benefits of a private network while simultaneously being protected against different kinds of online threats or phishing websites.
Installing a VPN on your 5G enabled iPhone gives you encrypted traffic and keeps any 5G or 5Ge issues at bay. Once you download a VPN from the above source, configure it on your iPhone 13 using the given steps
Go to Settings
Select General
Tap on VPN
Choose Add VPN Configuration
Select Type
Select your VPN Type from IKEv2, IPSec, or L2TP
8. Update your Carrier Settings
Just like the iPhone is subject to regular software updates, the carrier settings need to update from time to time. These carrier settings are vital for your cellular phone network allowing your iPhone 13 to operate and communicate. However, these carrier settings are hidden from the user and cannot be changed manually. But you can manually update carrier settings using the steps given
Launch Settings on your iPhone
Go to General
Scroll down and select About
If there is a carrier update available, it will be visible
If there is a carrier settings update notification available, select the notification
Alternatively, you can also prompt the carrier settings update by inserting a new SIM card into your iPhone.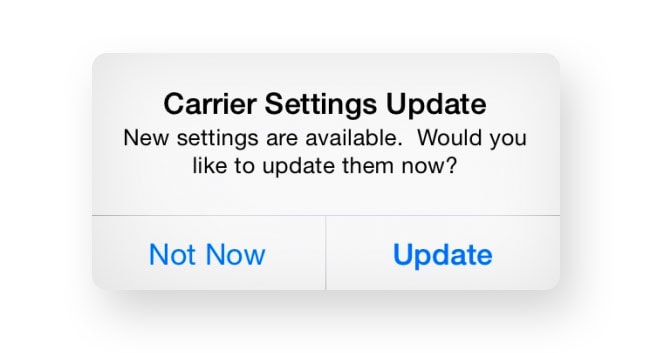 However, ensure that the new SIM card is connected to a different network than the previous one. Once you insert a new SIM card, you will be asked to download all the carrier-related settings and other phone network settings that will be connected with your new SIM card.
9. Update Your iPhone 13
If you haven't run a software update for quite some time, it is time you get around it. This is because running an outdated version can tamper with your system in one way or another. So, if you have 5G running slow on iPhone 13, use the steps given to update your iPhone
Launch Settings on your iPhone 13
Select General
Select Software Update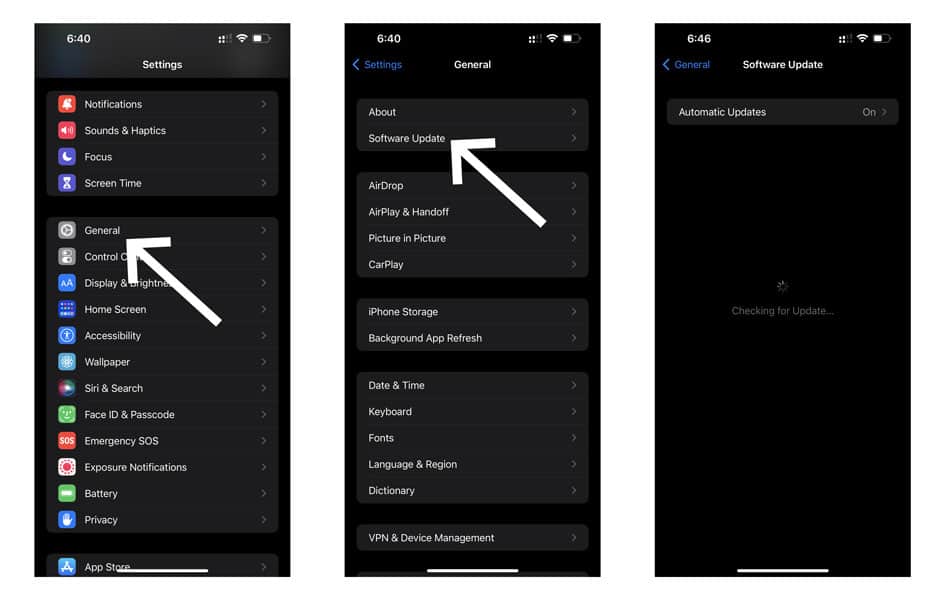 Your iPhone will now search for available updates
If an update is available, download it
10. Reset Network Settings on iPhone 13
This is one of the most effective steps people implement to take care of slow 5g on iPhone 13. Resetting the network settings on your iPhone 13 wipes out every last ounce of data that might tamper with your iPhone's normal functioning. To reset network settings on your iPhone 13,
Launch Settings on your respective iPhone device
Go to General
Scroll down and tap on Transfer or Reset iPhone
Next, select Reset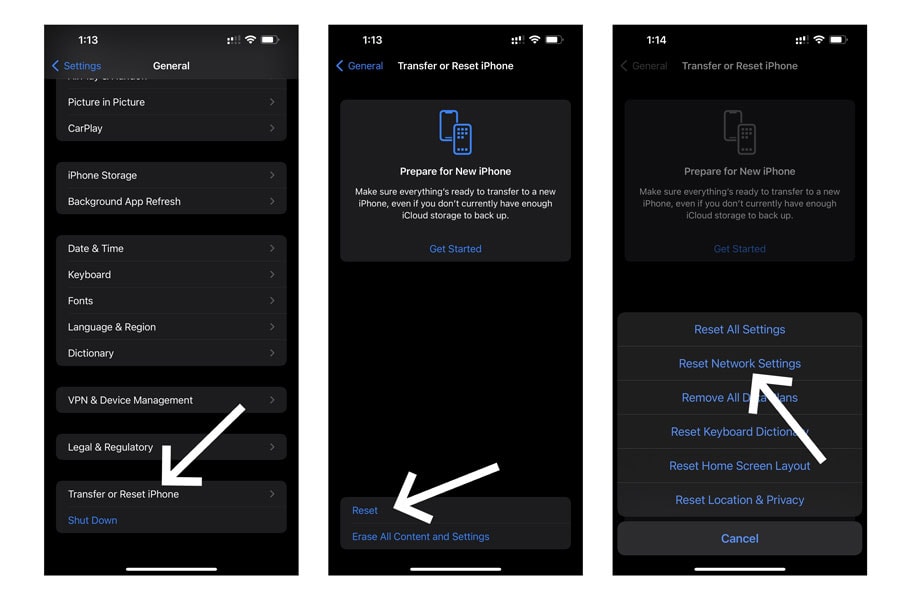 Click on Reset Network Settings
Enter your iPhone's password/passcode when prompted
Now, your iPhone 13 will restart automatically and load up the default network settings.
Note: This step will wipe out every network-related setting on your iPhone 13. Therefore, ensure that you remember your Wifi password before implying this fix.
Conclusion
Connectivity issues are common to both Android and iOS alike. However, Apple's Smart Data feature makes it utterly future-proof by adding an extended 5G Support. Although 5G is currently under development, it is yet to reach worldwide. Therefore, if you are facing a slow 5G on iPhone 13, you can start by checking if your respective region supports 5G connectivity altogether. If it does, you can implement either of the fixes mentioned above to tackle this problem.