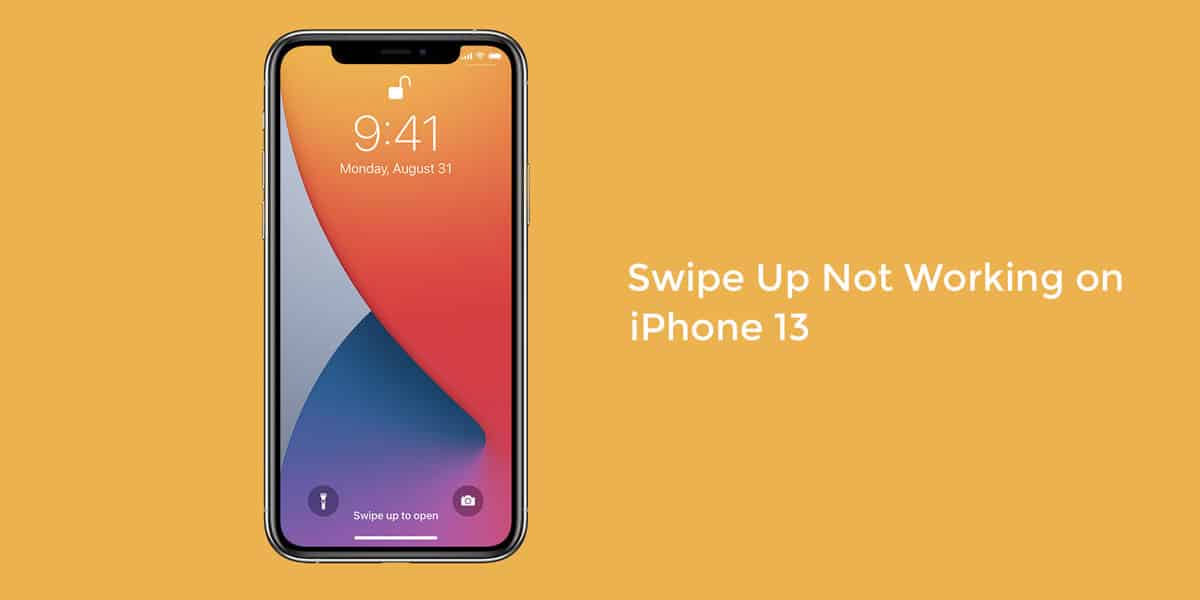 Everytime you purchase a new phone, you expect the device to work without any problem for atleast the next year. While we expect a new phone to deliver a flawless performance for the next year so, the reality is far from that. This is something people are experiencing with their latest iPhone 13.
Just months into its release, the latest iPhone 13 has run into issues. And one of the commonly reported problems is their iPhone 13 swipe up not working. Despite it's impeccable architecture, it seems that the latest iPhone 13 is also prone to problems such as this one. If you are someone who found their swipe up not working on iPhone 13, then this article is for you. 
We have compiled this troubleshooting guide for everyone who is annoyed by this problem. In this guide, you will find the best fixes to solve swipe up not working on iPhone 13, 13 Mini, 13 Pro, and 13 Pro Max. 
How to Fix Swipe Up to Unlock not Working on iPhone 13 (13/13 Mini/13 Pro/13 Pro Max)
If you ever had an iPhone X, you know that you can swipe up to access the control centre. However, Apple has changed the mechanism when it unveiled the latest iPhone 13. In the latest iPhone 13, you need to swipe up to unlock your phone.
Although, this is precisely where users are having a problem as they are unable to swipe up when unlocking their iPhone 13. Also, without a home button, the swipe up is used to close existing applications and return to the home screen. But it seems like nothing is possible because of the swipe up to unlock not working on iPhone 13. 
Here are some of the top fixes to help solve iPhone 13 swipe up not working
1. Disconnect any Lightning or USB-C Cable
Many of you may find this hard to believe but having your phone connected to any lighting or USB-C accessories or any other peripheral has the potential to tamper with your phone's functioning.
So, if you are facing a problem with your iPhone while your phone is connected to accessory, disconnect that connection and try using a different outlet, cable, or charger all together. 
2. Remove Screen Protector (If Any)
Irrespective of whether you are an iOS or an Android user, we all tend to have a screen protector on our phones at all times. Over time, these screen protectors can make your device irresponsive to touch because of which you are are unable to access the swipe up feature.
Hence, if you are using a screen protector, we recommend you take it off and then try using your phone to check if the touches are being recognized and registered. If no touch is getting registered then you can refer our other article to fix touch screen not working on iPhone 13.
3. Force Restart your Phone
Majority of the methods in this article point towards error occurring within the screen or your system settings. So, in case there is a software  glitch, you may want to opt for a force restart.
Force restarting your iPhone 13 means performing a hard reboot that has the potential to resolve the iPhone 13 swipe up issue
Quickly press and release the Volume Up button
Quickly press and release the Volume Down button
Press and hold the Side Button until the Apple Logo appears on your screen
Check if the swipe up on iPhone 13 is working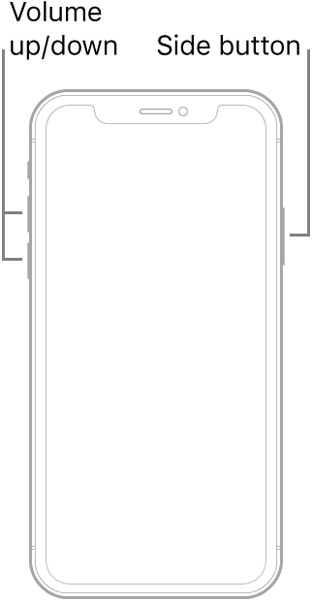 4. Disable Apple VoiceOver
The VoiceOver features tends to change the way your the swipe up feature functions by altering a few settings without you knowing about it. So, if you aren't using the VoiceOver feature much, we suggest you disable the feature using the steps below
Go to Settings 
Select General
Tap on Accessibility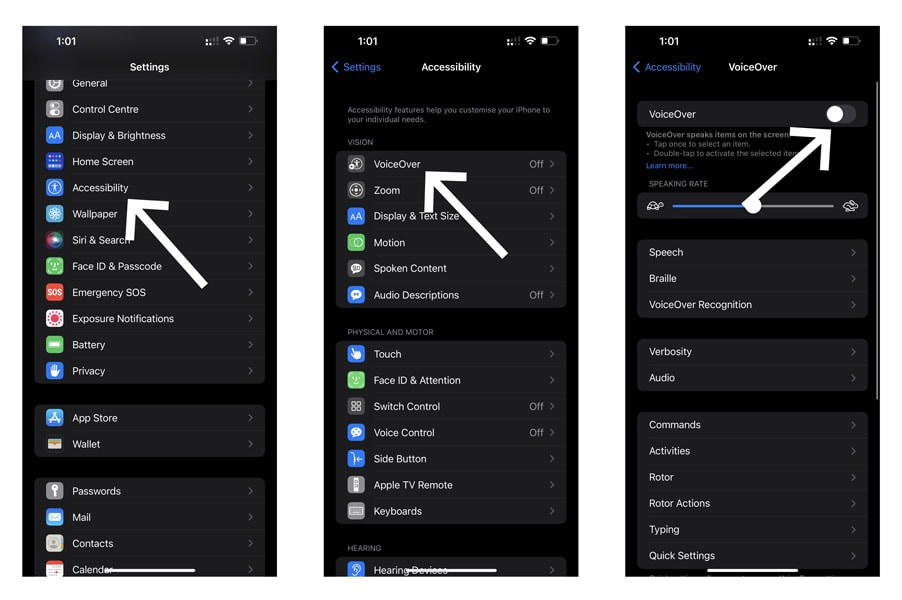 Tap on VoiceOver
Turn the toggle off for VoiceOver
Check if you can swipe up and unlock your iPhone 13.
5. Update your iOS 
It is never a good idea to not update your iPhone for long. This makes your vulnerable to bugs and glitches. And to get rid of these glitches, you have no option but to update your iPhone. Therefore, it is always a good idea to update your iPhone immediately after Apple releases and update. To do so,
Launch Settings on your iPhone 
Go to General 
Tap on Software Update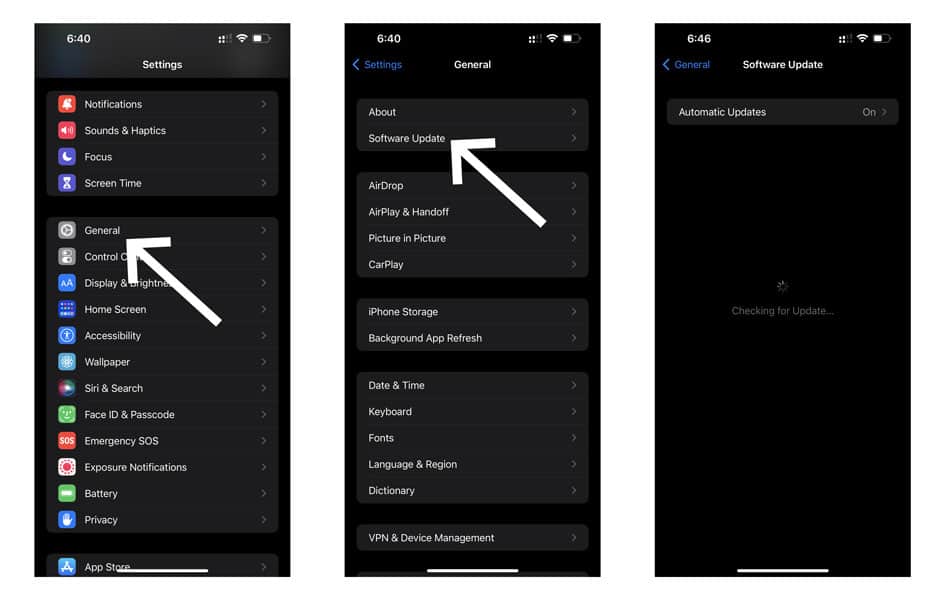 If you see two different Software Update Options available, select the one which you want to install
Press Install Now
Wait for the update to finish
Restart your device

6. Factory Reset iPhone 13

If nothing has worked out for you, then it means that you have a bug present within your hardware as well as your software. Here, your best bet is to factory reset your iPhone 13 to try and fix the iPhone 13 swipe up to unlock not working issue.

Note: Performing this step will wipe out everything present on your phone. Therefore, ensure that you backup all important files and folders before implementing. Also, this will restore all the settings to default.

Launch Settings > Go to General
Select Transfer or Reset iPhone

Finally, select Erase All Content and Settings
On the next screen, click on Continue
Enter your device's passcode when prompted

7. Contact Apple Support 

It is possible for you to continue encountering the problem despite factory resetting your iPhone 13. In such case, the problem is deeper than what it looks like. If such is the case, only an Apple tech expert will be able to walk you through the problem and also provide a solution for the same. So, we strongly recommend you visit your nearest Apple Service Centre at once.

Conclusion

This issue is annoying to begin with. But once you know how to fix it, it won't annoy you much. We hope our troubleshooting guide was actually able to help you diagnose and troubleshoot the problem. Note that if none of the fixes work out for you, we strongly recommend you visit your nearest Apple Service Centre at once.