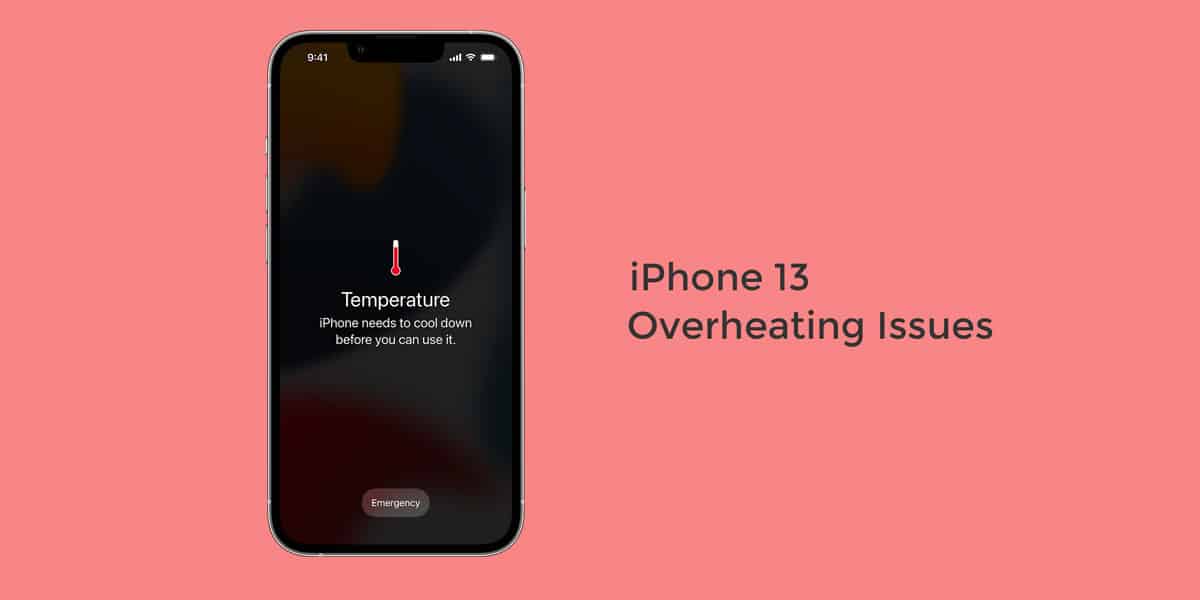 Overheating issues are something that you don't want to overlook. It doesn't matter whether you have an iOS or an Android, overheating issues are common on both sides. Given its impeccable architecture, you'd think that iOS won't be prone to such problems. However, you are wrong as the majority of the iPhone 13 users have already reported their iPhone 13 getting hot.
It is always a bummer when a newly purchased device starts heating up. Such is the case with the latest iPhone 13. Several users have complained about their iPhone 13 (13, 13 Mini, 13 Pro & 13 Pro Max) overheating. As we mentioned right at the start, one cannot overlook their phone's overheating ever. If you are an iPhone 13 user who feels their iPhone 13 getting hot even during mild usage, then this article is for you.
In this article, we have laid down the causes for your iPhone 13 overheating followed by fixes you can implement to tackle this issue.
Why is My iPhone 13 Overheating?
Before moving on to fixing the problem, it is equally vital that we understand what is causing the problem in the first place. Once we have fully understood the problem at hand, it makes it easier to tackle the problem the next time if it occurs. So, here are some possible causes why your iPhone 13 gets hot –
Using cheap or non-certified chargers
Using the phone while plugged in
Constant usage of location services
Constant usage of mobile data
iOS bugs or glitches
Faulty third-party applications
Overly bright display
Prolonged exposure to direct sunlight
Low-Quality phone covers/cases
Streaming HD videos
Playing graphics-intensive games
Users are reporting that the top half portion of their iPhone 13 gets extremely hot. Also, users are reporting overheating issues while –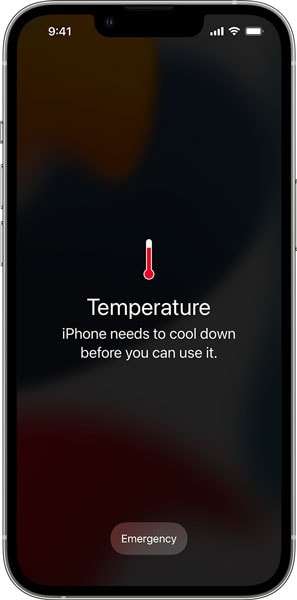 Charging their iPhone13
Transferring files from an old phone
Using FaceTime
Browsing Internet
Using Apps like Facebook, Amazon, Instagram, etc
Some users are reporting overheating issues even while there are no apps running
How to Fix iPhone 13 (13, 13 Mini, 13 Pro, 13 Pro Max) Overheating Issues
Now that you are aware of the probable causes for your iPhone 13 overheating, it is time to move on to the fixes. Here, we have laid down some of the best fixes to tackle overheating issues on iPhone 13, iPhone 13 Mini, iPhone 13 Pro, and iPhone 13 Pro Max.
1. Restart your iPhone 13
Although this seems like a pretty obvious fix for the majority of problems, it also happens to be one of the most effective ones. Every time your phone starts acting up, it means there is a bug present within the system or a minor error that is ceasing your phone's ability to function normally.
In such cases, your best bet is to flush the bug out of the system and one of the ways of doing so is by restarting your device. Therefore, if you feel your iPhone 13 getting hot, go ahead and restart your device.
2. Make Sure You are Using the Right Case
As we all know, the market is flooded with phone cases and iPhones are no exceptions. While the majority of these cases provide a certain aesthetic appeal to your phone, their main purpose is to provide your phone with added protection against any external damage.
However, the primary purpose of these phone cases is to allow for heat dissipation. So, if you are using a bulky, cheap, and poorly designed phone case, it won't allow heat to pass through it ultimately leading to your iPhone 13 getting hot.
Note that our processor heats up every time we play games or browse the internet or make video calls. So, if you have a case with an ineffective heat dissipation design, your phone will continue to trap the heat generated. Hence, not having the right case prevents your phone from cooling down because of which your iPhone 13 overheats.
3. Use Apple or MFi Certified Charger & Cable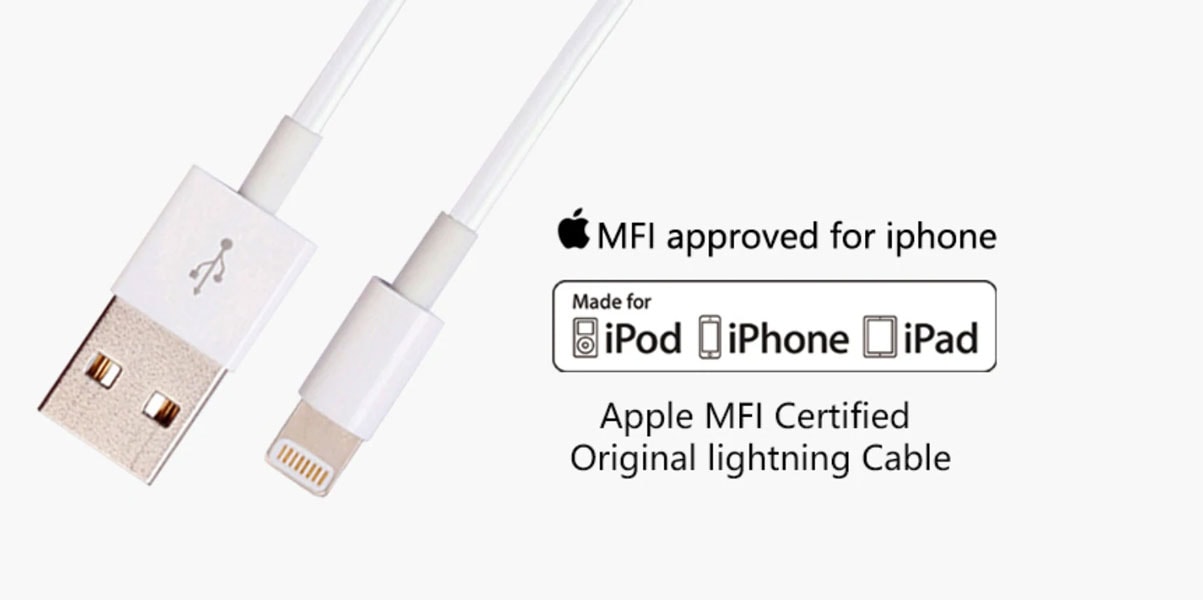 Have you noticed your iPhone 13 overheating while charging? It is highly likely for your iPhone 13 to overheat when plugged in. If this is the case, then it means that there are problems with your charger. So, it is equally vital for you to choose your device's charger wisely.
And in this case, ensure that you are ONLY using an Apple or MFi certified charger and cable to charge your iPhone 13. All these chargers are fully compatible with iOS devices and give you optimized charging speeds. Moreover, these chargers protect your device against the perils of overvoltage, short-circuit, and other overheating problems.
4. Check the Environment & Physical Conditions
Believe it or not, our environment and physical conditions are also responsible for keeping your phone cool. Note that your iPhone 13 works best without any overheating issues between 32 to 95 degrees Fahrenheit. Any temperature lower or higher than the above-mentioned temperature might interfere with the normal performance of your iPhone 13.
Your iPhone 13 tends to overheat when exposed to direct sunlight for a longer duration. Also, if you leave your phone in a car on a hot can also cause your iPhone 13 to get hot. In addition, if you use apps such as GPS tracking, AR Apps, or play graphics-intensive games during hot conditions can also cause iPhone 13 overheating issues.
5. Use WiFi over Cellular Data
As we mentioned multiple times till, some of the apps and services in your phone causes your phone to generate heat. One such is your iPhone's cellular data. If you are experiencing overheating issues on your iPhone 13, iPhone 13 mini, iPhone 13 Pro, or iPhone 13 Pro Max, try switching over to Wifi over your cellular data.
This is because if you use FaceTime or any other video calling apps using your mobile data, your phone generates a lot of heat. Therefore, it is a good idea to use WiFi whenever possible.
Recommended: FaceTime not Working on iPhone 13, 13 Mini, 13 Pro & 13 Pro Max
6. Use Low Power Mode
If your iPhone 13 is experiencing overheating issues while suffering from battery drainage at the same time, you can switch to low power mode. This is a good idea as the low power mode disables or limits some of the features on your device.
This ultimately leads to reduced power and battery consumption. Therefore, switching over to low power mode can easily give you 2-3 hours of additional battery life while also keeping your iPhone 13 overheating issues at bay
To switch to low power mode,
Launch Settings on your device
Select Battery
Here, toggle On Low Power Mode
Note: The mode will be automatically DISABLE after your phone reaches a charge over 80%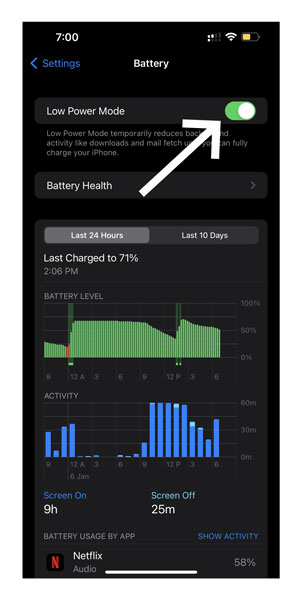 7. Disable Background App Refresh
Every modern-day smartphone comes with a background app refresh feature that allows for the smooth functioning of the device. Unfortunately, keeping the background refresh enabled at all times will make your device run out of battery in no time. In addition, it can make your iPhone 13 prone to overheating. Right from excessive battery consumption to your iPhone 13 overheating, there are numerous reasons why it is better to disable the background app refresh. To do so
Launch Settings on your iPhone 13
Go to General
Select Background App Refresh
Toggle Off The Feature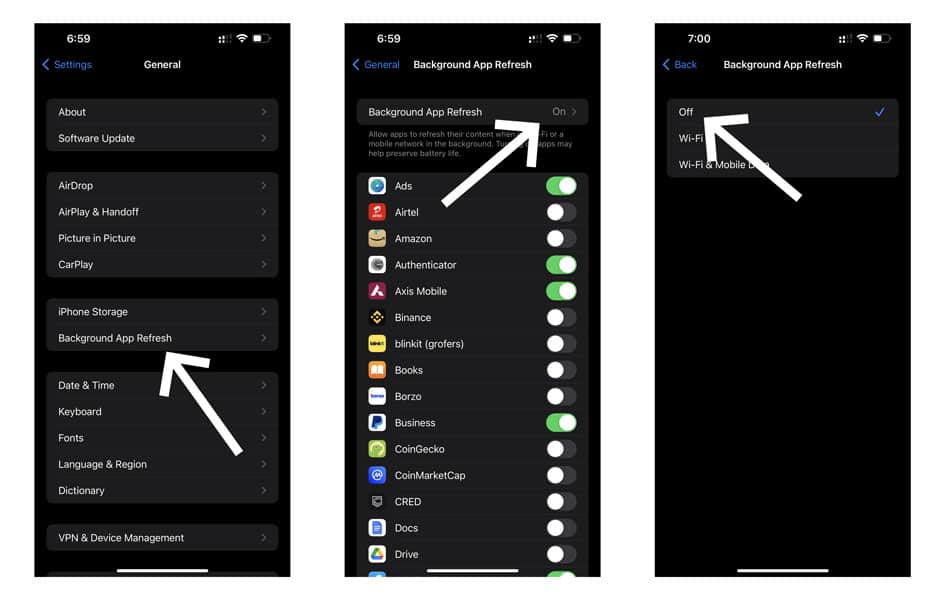 8. Turn Off Location Services
Just like the background app refresh feature, location services run quietly in the background. However, these services tend to automatically refresh from time to time. This can cause your phone to run out of battery while heating up your iPhone 13. To turn off location services
Go to Settings
Select Privacy
Tap on Location Services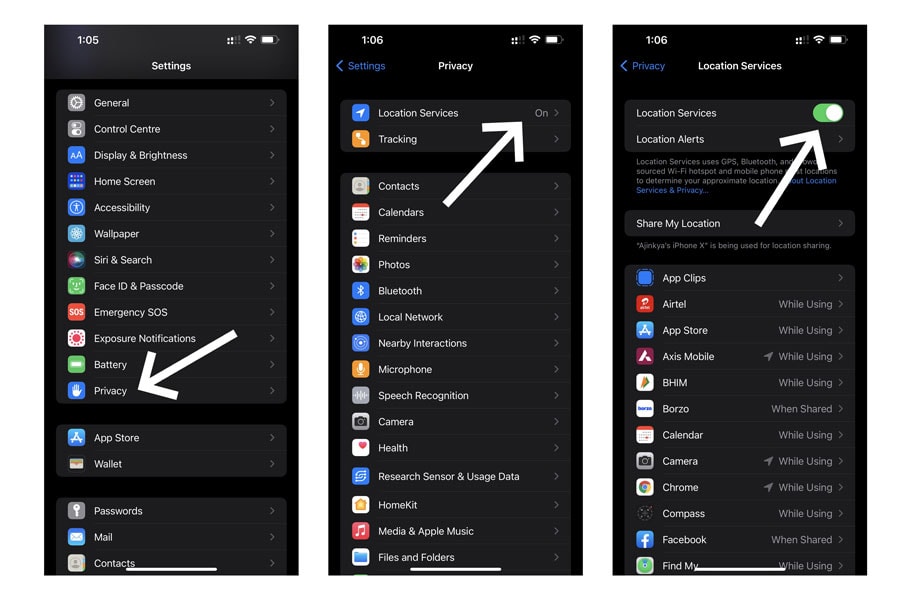 Here, you can choose to either disable location services altogether or allow only specific applications to access your location.
9. Check for Battery Draining Apps
While some apps run when you launch them, some apps are always running in the background. However, having a few battery-draining apps could be the underlying reason for your iPhone 13 overheating. If you don't close an app after you're done using it, the app continues to run in the background eventually leading to iPhone 13 overheating issues. Here are two different ways using which you can force quit an app while updating a certain app.
– Force Quit an App
To force close an app on iPhone 13,
Swipe up from the bottom of your iPhone 13 home screen
Now, Pause in the middle of the screen while swiping up
Next, swipe right or left until you find the app you wish to close
Finally, swipe up on the app's preview to force close the application
– Update Apps
Similar to other Apple Device, we also need to keep a track of the applications present on our iPhone 13. Outdated applications are very much capable of tampering with your device's functioning and could also be the reason for your iPhone 13 overheating.
Launch the App Store
Tap on the Today tab located at the bottom of your screen
Click on the User Profile icon on the top-right corner
Scroll down to locate the section where you can see all the available updates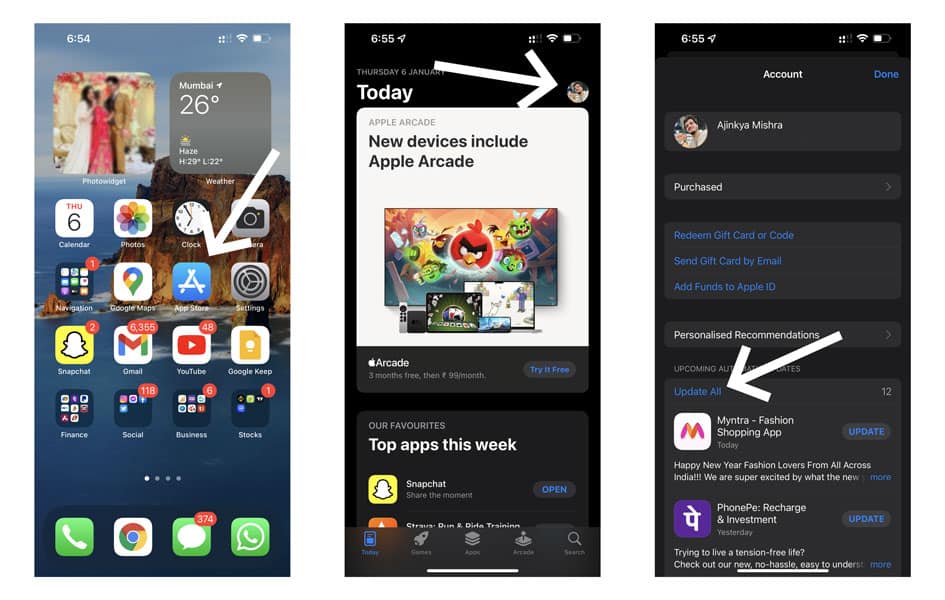 To update a particular app, simply tap on that app
To update all apps at once, select the Update All option
10. Update your iOS
Updates are designed specifically by developers to enhance your phone's features and take care of bugs if any. In simple words, running an older version is likely to give you bug in the system. Note that running an outdated software can have a few repercussions as far as the device's functioning is concerned. The best solution will be to update your iOS at the earliest using the given steps
Launch Settings on your iPhone 13
Select General
Click on Software Update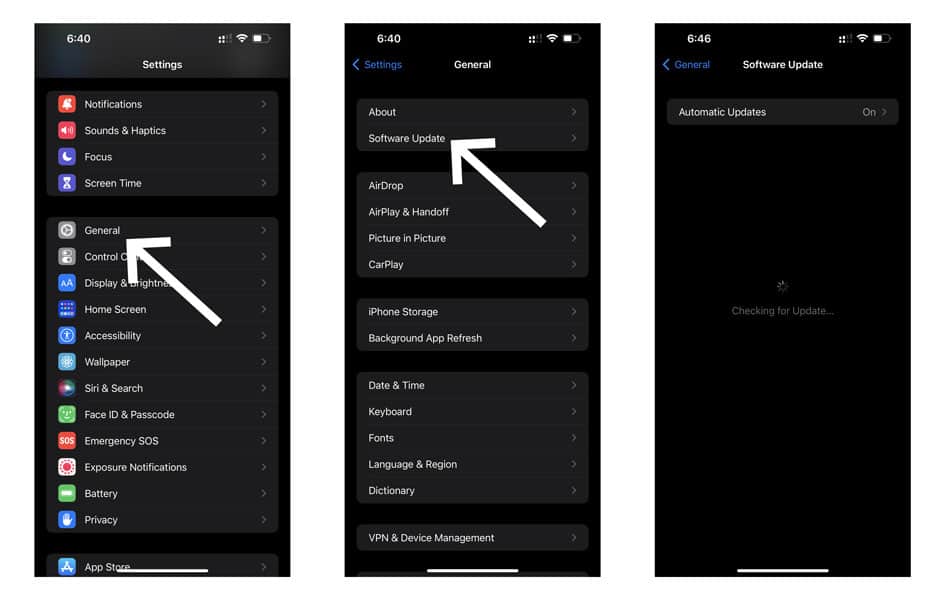 Your iPhone will now search for available updates
If an update is available, download it
11. Reset All Settings
Note that this step is only to be implemented if no other step mentioned in the article has worked out for you. If your iphone 13 keeps overheating despite several attempts to fix it, you will need to do the hard thing and reset your iPhone 13, iPhone 13 Pro, iPhone 13 mini, or iPhone 13 Pro Max.
Note: Implementing this step will completely restore all the settings back to their default version. Therefore, ensure that you remember your Wifi password before proceeding with this step.
Launch Settings & Go to General
Scroll to the bottom and select Transfer or Reset iPhone
Select Reset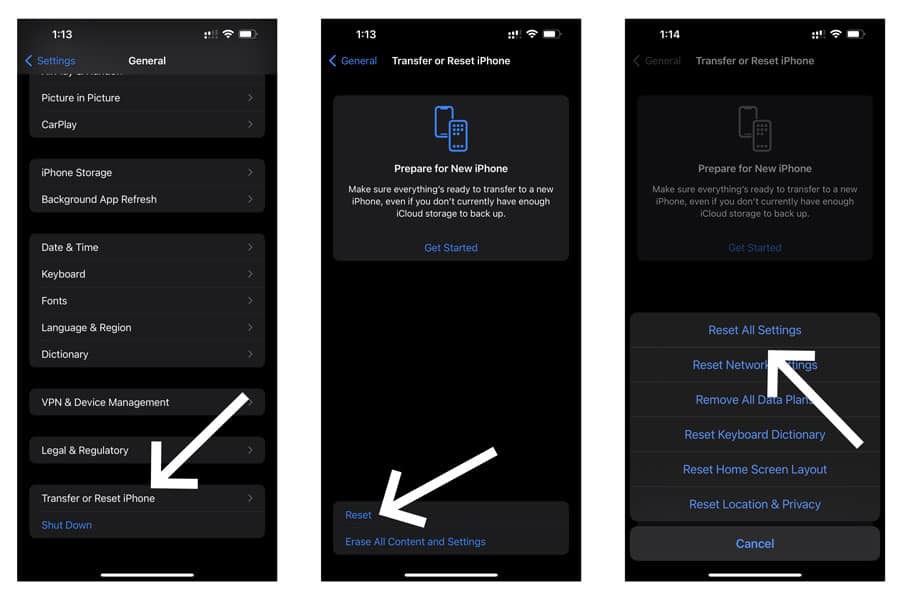 Now, select Reset All Settings
Wait for the reset to finish
Restart your iPhone
Check if the issue is taken care of
12. Restore iPhone 13 using the DFU Mode
For those who don't know, DFU stands for Device Firmware Update, a mode that is prebuilt into iOS devices (iPhone, iPad) using which you can get your device back up and running. At times, restoring your iPhone using iTunes may not working out for you. In such cases, you can restore iPhone 13 using DFU mode.
Connect your iPhone 13, iPhone 13 mini, iPhone 13 Pro, or iPhone 13 Pro Max to your computer using the Apple-supplied USB cable
Launch iTunes
Press and quickly release the Volume Up button
Repeat the same drill with the Volume Down button
Now, press and hold the SIDE button for 10 seconds.
While holding the SIDE button, press and hold the Volume down button for 5 seconds. Release the SIDE button after 5 seconds while holding only the Volume Down button.
Release the Volume down button after 10 seconds. The screen should stay black.
You're now in DFU mode & there'll be a popup on the iTunes.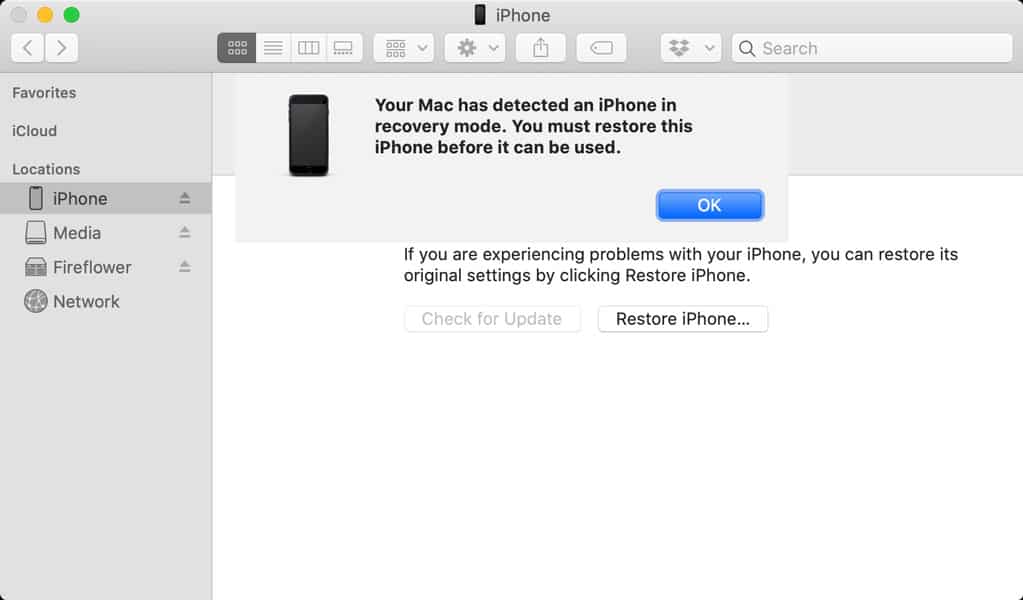 Tap OK
Now, follow the instructions to restore your iPhone 13
13. Contact Apple Support
This is probably your last resort if nothing else has worked out for you. It is very much likely that neither of the fixes mentioned in the article will work out for you. In such cases, your best bet is to contact your nearest Apple Support Centre. Only a tech expert will be able to diagnose and let you know what's wrong with your phone.
Conclusion
Overheating issues are common to both Android and iOS. Although they are known for their impeccable architecture, iOS devices to suffer from overheating issues. These iPhone 13 overheating issues are likely the result of too much load on your processor. But iPhone 13 overheating issues are something that shouldn't be taken lightly. So, if you feel your iPhone 13 overheating from time to time, you can go ahead and try out either of these fixes.