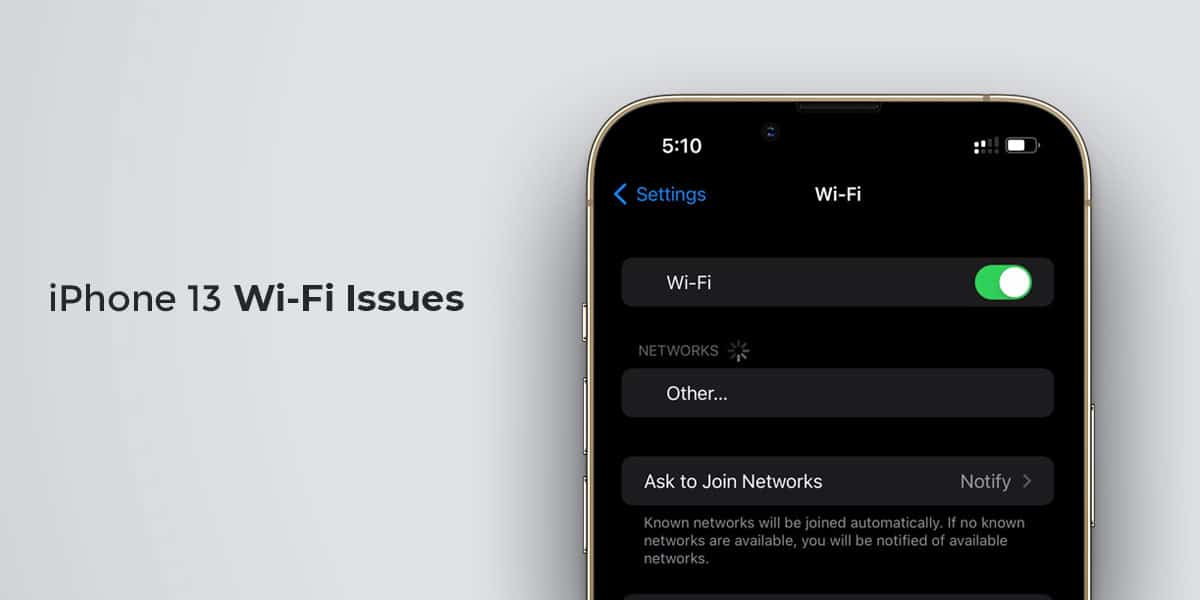 Imagine you are booking tickets for the new Spider-Man movie on your phone. You finally select your favorite seats and proceed to the payments page. Once you finally select your mode of payment, you proceed towards the final step of completing the payment. You get in the details right and pay the money.
However, you notice that your WiFi suddenly drops and stops working altogether. Although the money is now debited from your account, the payment getaway couldn't recognize the payment, and now you have lost both the money and tickets. Thanks to your WiFi, you are a few bucks short and need to go through the whole process once again.
Internet issues are frustrating, especially if they arise when we are in the middle of something important. Such is the case with iPhone 13 users. The majority of the users have reported the WiFi not working on iPhone 13, 13 Pro, and Pro max. If you own either of these models and have been facing such a problem, we are here for you.
In this article, we have laid down the complete troubleshooting guide to fix the WiFi not working on iPhone 13 issue.
Other known issues of iPhone 13:
12 Ways to Fix WiFi not Working on iPhone 13
There are numerous reasons why the WiFi not working on iPhone 13 issues can arise. From a poorly configured WiFi router to extreme weather conditions, anything can cause the WiFi to drop or stop working altogether.
However, if you see your WiFi dropping at regular intervals, the problem could be more significant than it looks. As a result, we have laid down a few possible fixes as a part of our troubleshooting guide to iPhone 13 WiFi problems.
Note: Since all fixes mentioned below are aligned as per the severity of the problem, we request you to follow the chronological order of the same.
1. Toggle WiFi On/Off
The first thing you, me, and everyone does is panic and toggle our WiFi off and then back on. And this is something which you need to do here as well since you are cut off from the Internet. This is a lucky fix that is known for delivering on most occasions.
Note that the WiFi drops only if your phone's WiFi can't detect a WiFi network or detects a network with a weak signal. Now, to keep your WiFi from disconnecting now and then, trace the given steps to toggle WiFi on/off.
Go to Settings on your iPhone 13
Tap WiFi
Toggle the WiFi Switch to Off
Wait for a few minutes and then toggle the switch back on
This fix is likely to cover the WiFi not connected on iPhone 13 issue. If it doesn't, keep reading.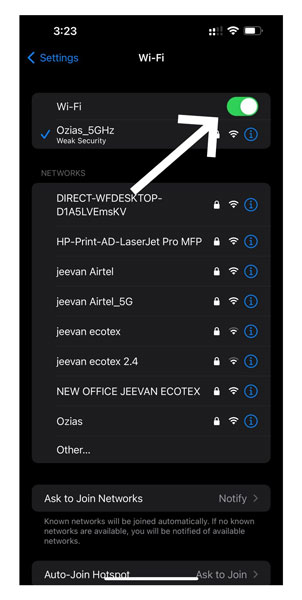 2. Forget and Reconnect to the WiFi Network
As we rightly mentioned above, your iPhone 13 WiFi drops or disappears only when it cannot detect a WiFi network or when it discovers a network with a weak signal. However, at times, something might cause your iPhone's WiFi from establishing a connection with your WiFi network altogether.
Here, you can forget the network altogether and reconnect it to solve this issue. Doing so will completely remove the saved information on your iPhone 13 and take care of the bug that might tamper with the system's connection.
Note: When you forget a particular WiFi network, you delete all the information about that WiFi network on your system. Therefore, ensure that you thoroughly know the network's password before forgetting it.
Go to Settings on your iPhone
Tap WiFi
Locate & click on the WiFi network to which you think is causing trouble
Select Forget This Network
Click Yes on the prompt box that appears
Now, toggle your WiFi Off and then back on
Reconnect to the same WiFi network
Now, check to see if the iPhone 13 connectivity issue is dealt with. If not, continue reading.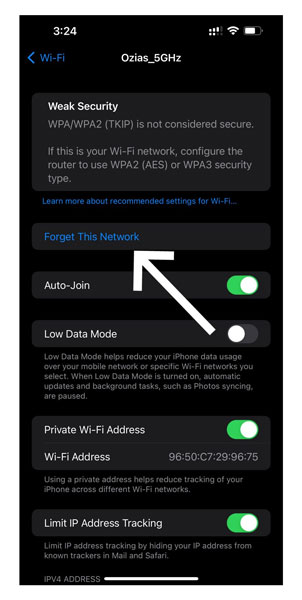 3. Check your Internet Connection
Call us dumb for suggesting this, but you cannot ignore this fix. The first thing to do if your device is connected, but you might not access anything on the network is to check your Internet Connection.
Check for your WiFi signal on your iPhone 13. If you think the WiFi connection is intact, but you can't access the Internet, the possible case here is that your Internet connection is down.
4. Turn On Auto Join
As the name suggests, the Auto-Join is a feature on your iOS device that automatically detects and connects to any previously used WiFi network. However, you first need to ensure that Auto-Join is enabled to enjoy this feature.
Turning on this feature is helpful as every time your iPhone comes into the vicinity of WiFi networks it has previously connected, the Auto-Join feature automatically reconnects your iPhone to the WiFi network. To turn on the Auto-Join feature on iPhone 13, trace the steps given below
Launch Settings
Go to WiFi
Locate the name of the WiFi Network where the Auto-Join feature is not working
Check to see if you have enabled the Auto Join feature
If it is disabled, toggle the switch to enable it
However, if you face iPhone 13 connectivity issues despite the Auto-Join already being enabled, continue to implement the other fixes below.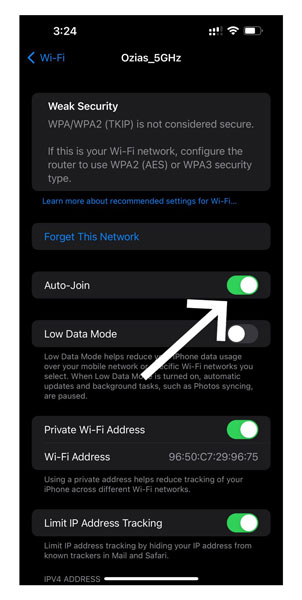 5. Restart your iPhone 13
One of the simplest and easiest fixes in the book is restarting your phone altogether. At times, there could be a bug present in the system that isn't a severe bug but can tamper with your device's functioning.
The best way to flush this bug is by restarting your iPhone. Hence, we suggest your restart your iPhone 13 and check to see if your iPhone 13 connectivity issues are solved.
6. Restart the WiFi Router
If your iPhone 13 doesn't connect to WiFi despite restarting your iPhone 13, then it is time you took a look at your router. At times, a faulty router or Internet Modem could very well be the reason why your iPhone 13 isn't able to establish a firm connection with the WiFi network. In such cases, restarting your WiFi router is one way to go.
To restart your WiFi router/modem, locate a small button labeled "Reset" to the back of your WiFi router. Using a pen, long press the button. Wait for the lights on your router/modem to flash. When the flashing occurs, you have now restarted your router.
7. Disable VPN
Majority of the iPhone users tend to use a VPN when using the Internet. Similarly, if you have enabled VPN on your iPhone using any third-party applications, it is likely to cause iPhone 13 connectivity issues on your phone.
VPN apps' network is likely to give corrupted data on your iPhone. In such cases, you will need to disable VPN to avoid any complications whatsoever. You can toggle off the VPN option from the Settings on your iPhone 13.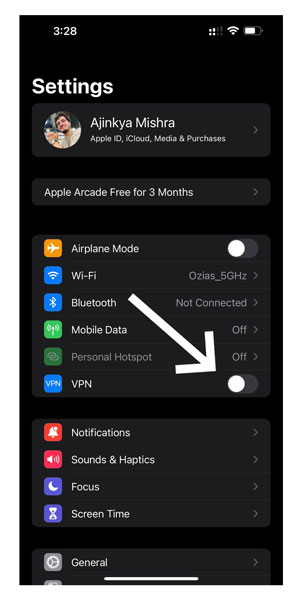 8. Update iOS
If you haven't updated your iPhone 13 in a long time, then it is likely to be the reason why you are experiencing iPhone 13 connectivity issues. Every smartphone manufacturer tends to roll out periodic updates. Developers explicitly design these updates to enhance your phone's features and take care of bugs, if any. In simple words, running an older version is likely to interfere with the phone's functioning.
Since you can't update your iPhone 13 using OTA, you need to update it through iTunes. Note that you will need either a Windows or Mac OS device with the latest version of the iTunes app installed. Once you have all this ready, trace the given steps
Connect your iPhone to your Windows/macOS device using the certified USB cable
Open iTunes
Locate your iPhone 13
Select Check for Update

If there's any update, it will start automatically
Enter your passcode when prompted
Follow the instructions on-screen to update your iPhone 13 device.
9. Reset Network Settings on iPhone 13
A possible fix to solve the WiFi not working on iPhone 13 is resetting all the iPhone's network settings. Make sure that this method will reset all the WiFi and VPN connections. To reset network settings on iPhone 13, follow the steps below.
Launch Settings & Go to General
Scroll down and click on Transfer or Reset iPhone
Now, select Reset and then choose Reset Network Settings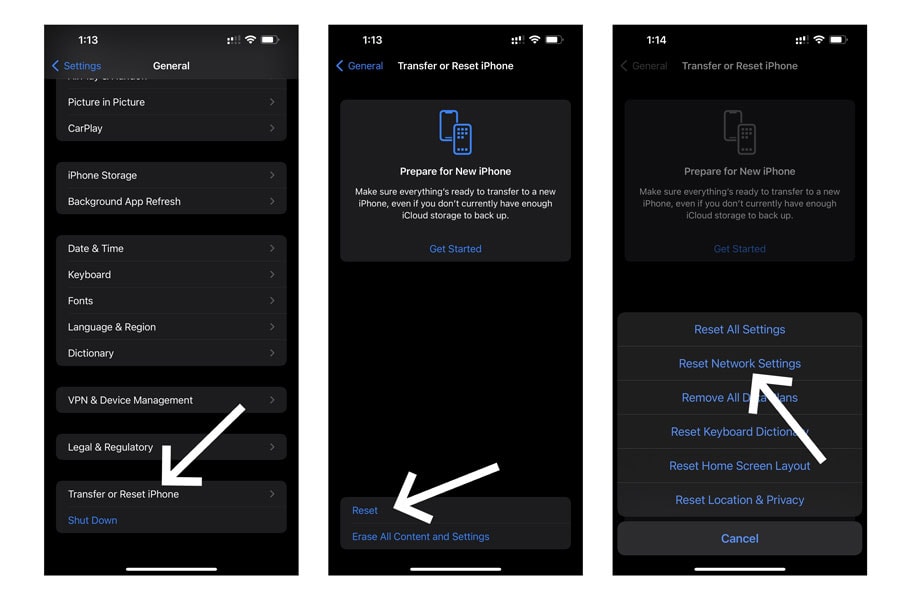 Enter your Password (if there's any) and click on Reset Network Settings
This will reset all the network settings on your iPhone 13. Reconnect to your preferred WiFi network and see if the iPhone 13 WiFi problems persist.
10. Update your Router's Firmware
At times, you cannot use your WiFi network on either of your devices. If this is the case with you, you will need to update your router's firmware. To do so, trace the given steps
Go to the Start Menu of your Windows PC
Type Command Prompt & click on Run as administrator
Type ipconfig in the prompt window and hit Enter
You will now see your router's IP address next to the Default Gateway
Copy the router's IP address
Launch your Internet browser & Paste the IP address in the search box
Login to your WiFi network using your username and password
Locate Firmware/Update section
Move to the router's manufacturer's website & Download the firmware's update file for your router
Now, Go to the Update section on the webpage
Select Choose File and then hit Browse
Select the file you have downloaded & Proceed with the Upgrade process
Wait for the upgrade to finish
Once done, reboot your router
11. Contact Your Internet Service Provider (ISP)
When applying these fixes, we fail to realize that none of the fixes you have applied for will work if there is no Internet connectivity. This probably means your Internet connection is down altogether. Here, we advise you to reach out to your Internet Service Provider at once to get this issue solved.
12. Reset iPhone 13
If other devices connect to your WiFi network and only your iPhone 13 or iPhone 13 Pro/Max doesn't connect to WiFi, you should reset your device. To reset iPhone 13, follow the steps below.
Launch Settings & Go to General
Scroll down and click on Transfer or Reset iPhone
Now, select Erase All Content and Settings
An Erase This iPhone pop-up will appear to confirm the reset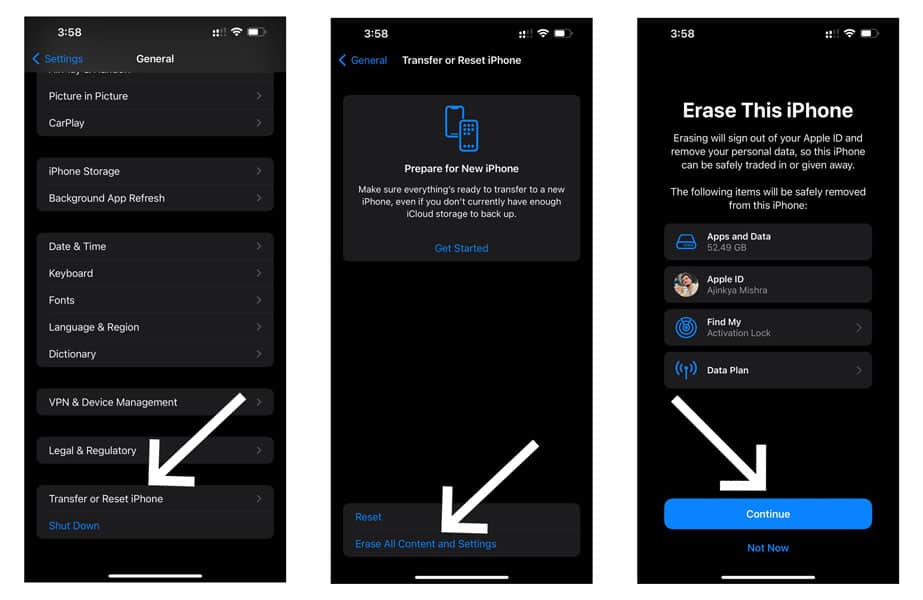 Click on Continue to reset your iPhone 13
Conclusion
Internet issues are frustrating, and these issues tend to be more frustrating when they come regularly. Such issues can really put you in a sticky situation at times. Hence, you must know how to deal with it beforehand.
As a result, we have laid down some of the best fixes to resolve your iPhone 13 connectivity issues. Let us know in the comment section below which fix worked out for you.