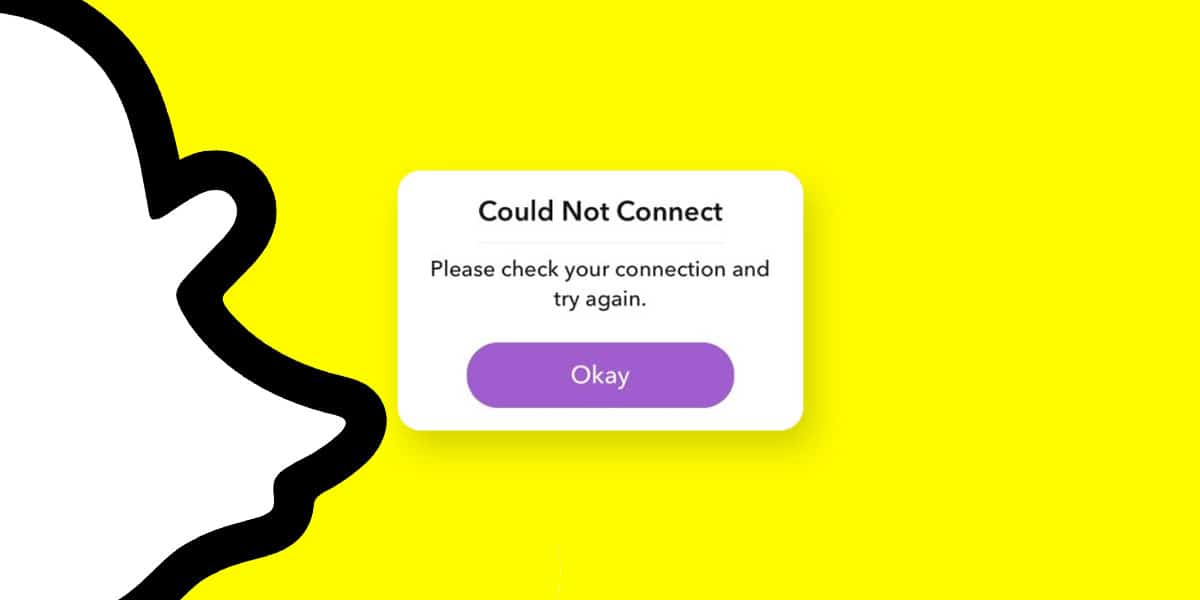 Snapchat is one of the most popularly used messaging platforms worldwide. You can send text as well as pictures and videos called snaps to your friends or family. There are various filters and games that you can use in the app. In addition to all this, Snapchat offers its users news, entertainment, and various amazing photo and video editing tools.
You can also create Snap streaks with your friends and family by sending them snaps daily. You need a proper connection to the internet and you can enjoy using this app. Many Snapchat users face a connection error with an error message "Snapchat could not connect. Please check your connection and try again". If you are among those users, then this article is for you.
Why am I Getting Snapchat Connection Error?
There could be various reasons why Snapchat is not connecting or giving a popup of "Check your connection and try again". Often, this problem occurs because of the connectivity issue or because of multiple applications running in the background of your device.
But solving such problems is very easy and you can solve them by clearing out the background applications or restarting your network. However, even after doing this, some users failed to connect to Snapchat. Do not worry, in this article you will get to know how to fix this connection error on Snapchat.
Also read: Real meaning of Snapchat Emojis | Snapchat Emoji List
10 Ways to Fix Snapchat Connection Error
Here are 10 ways you can solve the Snapchat connection error. All these methods are simple and won't require much time to do.
1. Restart your Device
The first and the easiest way to fix this problem is to restart your phone. Everything in RAM is cleared when you restart your phone. All fragments of prior applications that were used will be removed and all open applications will force close. The RAM is basically "cleansed" when your phone boots again so that you begin with a new slate. Therefore, by doing this your connection error can be solved. For this,
Press and hold the power button for a second.
You will get different options, select "Restart/Reboot".
In few minutes your device will restart.
2. Update Snapchat
Sometimes connection errors occur when you are not using the latest version of the application. The application get updates from its developer frequently and not everyone keeps checking for updates. Therefore, if you cannot connect to Snapchat, try to check for new updates and update the application.
For Android:
Open PlayStore then type Snapchat in the search bar.
If there is any update available, then an "Update" button will appear.
Click on the update button to update Snapchat.
For iOS:
Tap the App Store to access it on your iPhone.
Now to check for updates, select the Updates tab.
Finally, to update Snapchat, select the Update button next to Snapchat.
After updating the app, try connecting again.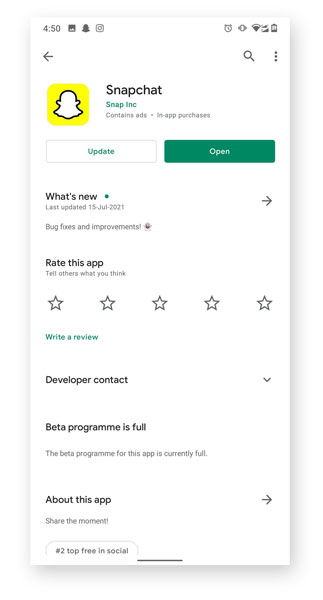 3. Switch to Mobile Data if on Wi-Fi or Vice Versa
One of the main reasons for this connection error is the internet connectivity. Check your internet speed before trying to connect to Snapchat. If the speed is not good try switching to mobile data if on Wi-Fi or Vice Versa. Doing this may solve your connection error.
4. Clear App Cache
The more an app is used, the more cache-based data are stored. The greater the cache, the lower your device memory. This can produce flaws that can lead to a connection error in the Snapchat application. Thus, these cache files should better be deleted. You may erase the Snapchat app cache in the following way.
Open the Settings app.
Go to Apps & Notifications.
Next, choose Snapchat from the app list.
After that, tap Storage & cache.
At last, click on Clear Cache.
After clearing the app cache your app should work properly and the connection error should be solved.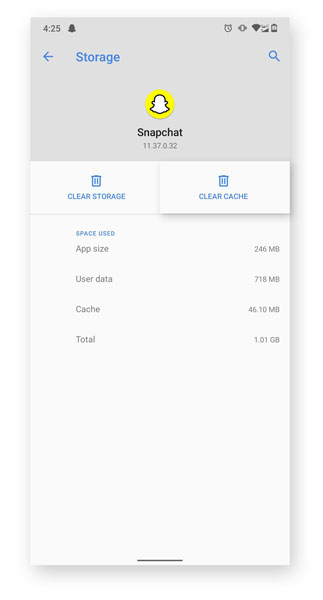 5. Avoid Using VPN
A VPN stands for Virtual Private Network. Using this ensures the safety of your data. You can send or receive data across public networks by staying on the private network. Many Snapchat users use VPN to ensure privacy while using the application.
If you use a VPN to use Snapchat, Then this might be the reason why Snapchat can't connect to the server. Therefore, you should avoid using a VPN, and try logging in again into your Snapchat.
6. Disable Battery Saver
Snapchat runs using the internet. And data consumes a lot of your battery power. And most users use the battery saver function to ensure long-lasting battery life. If you enable your battery saver then the use of background data is restricted.
This means apps that are not active cannot use data. This may be the reason for the connection error you are facing in Snapchat. Therefore, you should disable the battery saver. Follow the steps to disable the battery saver in your device:
Open the "Settings" application on your device.
In the search bar of setting search for "Battery Saver".
Click on the result which appears.
You will enter the battery saver setting and then disable it.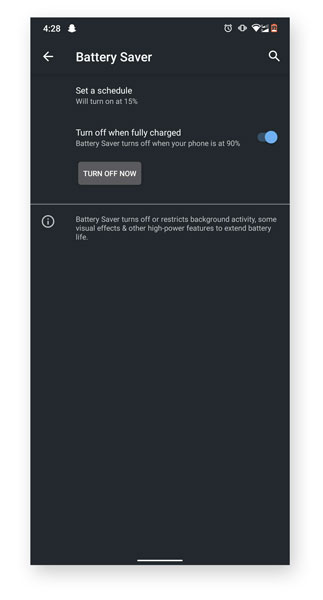 Many users download various applications and plugins from various sources other than the PlayStore. These unauthorized apps and plugging may interfere with other processes. This may be the reason why you can't log in to Snapchat. To solve this problem, you should uninstall unauthorized apps and plugins. This may solve the connection error.
8. Reinstall your Snapchat app
If the connection problem still continues even after following the solutions given above, then there is a potential that the installation files of the Snapchat app are corrupted. If they are corrupted beyond repair, then you should consider reinstalling the Snapchat application. By doing this, the app cache will also be cleared. Now you can use a fresh application now. The process of reinstalling Snapchat is:
For Android:
Open the Settings app.
Go to Apps & Notifications.
Next, choose Snapchat from the app list.
Click on Uninstall.
Now, go to Play Store and Install Snapchat again.
For iOS:
Find Snapchat on your device on your home display.
Tap and hold the icon of the app until the pop-up menu is displayed.
To uninstall Snapchat, tap Remove App.
Now from the App Store, install Snapchat again.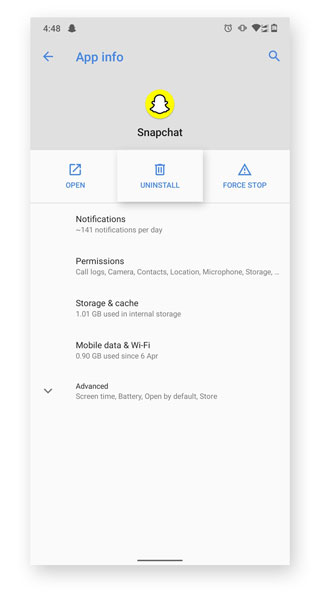 9. Un-Root Your Android Device
Many Android device users root their devices for various reasons. Rooting the device gives them additional options to modify or change anything on their device. But there are instance when you cant login to Snapchat using a rooted Android device. Whether you try to login into your Snapchat account or want to create a new one, you will always get a notification "Connection Error".
You can unroot your Android device using this guide.
10. Your Snapchat Account may be Locked
For a few reasons, a Snapchat account could be locked. If your Snapchat account is locked, you cannot log in. This is done to keep Snapchat safe and exciting for every user and protect their account. Find out what to do if you lock your Snapchat account here.
Conclusion
There could be various reasons why you can't connect to your Snapchat. The first thing you need to do is restart your device. If this doesn't solve the problem, then you can follow the other solutions given above. If nothing works, then there is a chance that your account is locked.