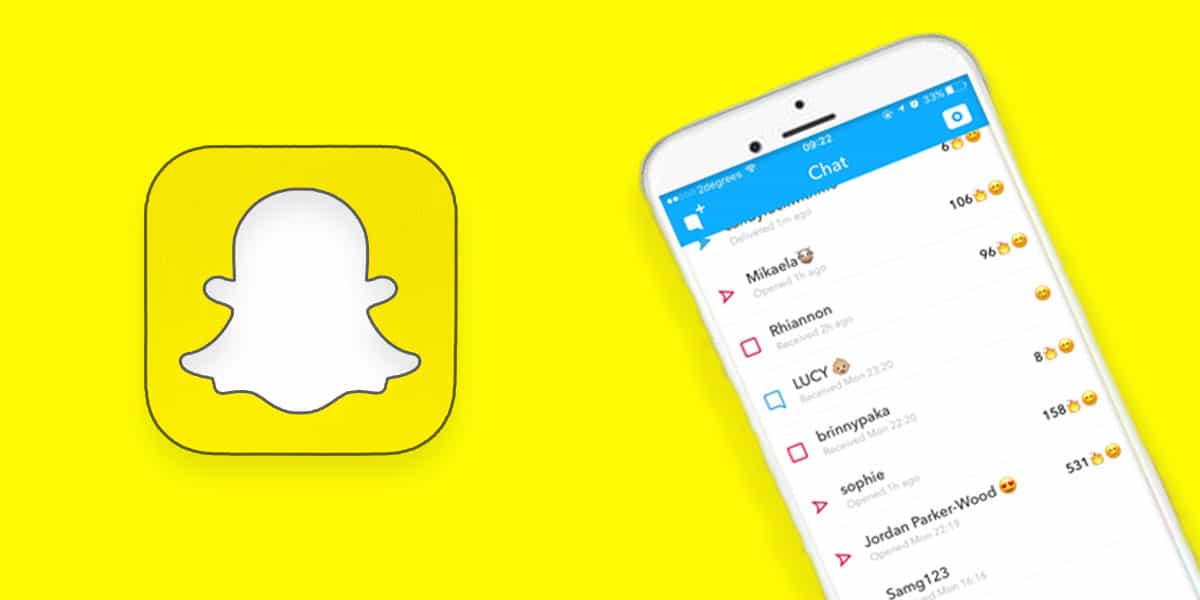 Snapchat is a very fun social media platform that allows you to share your life's best moments, whether they are with your friends, family or just you travelling around the world. But, using Snapchat and getting to know the basics is quite challenging for new users as Snapchat has quite different from other social media apps such as Instagram. Even if you are a veteran Snapchat user, you still might be missing out to know some of its hidden features and easter eggs. It is not so hard to figure out that the Snapchat emoji next to score is basically your Zodiac Sign. But, one certain feature that most people wonder about is why the emojis besides a friends name keeps changing? Do you know those emojis have a significant meaning or you believe it is just a normal emoji that Snapchat is randomly showing? Well, if you believe that, you still have a lot to figure out.
Hence if you also wonder about those Snapchat emblems and wonder what their actual meanings are, stick to this article and read it till the end as we are aiming to make you a Snapchat master. Give it a read and clear out all your Snapchat doubts about emojis.
What Are Snapchat Emojis?
Snapchat is unique when compared to any other social media platform. While other platforms might be tracking your details and activity as well, Snapchat does not hide it from you. As you send a snap to your friends on Snapchat, it takes a proper track of your messaging habits and filters out a list of your best friends. Snapchat starts to figure out the people you share your snaps with and the people who send you snaps. As a result, following up on the Snapchat emoji chart, it assigns one and places it beside your friend's name.
These Snapchat emojis represent your level of interaction with them, and there are different emojis available that go with different conditions. That's why not everyone on your friend's list has the same emoji along with their name. It's not just because of you, but the interaction and response that you are getting from the other party that also affects the emoji shown.
Even there are certain emojis that are associated with celebs or verified people on Snapchat. For instance, if you ever think about What does the crown mean on Snapchat? It represents Kylie Jenner, and you can call it her signature emoji on Snapchat as well.
While most people do wonder What does the Unicorn emoji mean on Snapchat? The simple answer is that it signifies a bisexual woman who loves to get intimate with an already existing couple of a heterosexual male and a bisexual female.
What does the Emojis besides your friend's name mean?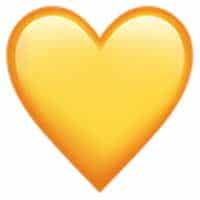 1. Yellow Heart
If you see a Yellow Heart emoji appearing beside any of your friend's names, it signifies that you send most of your snaps to that particular friend and you have a great friendship.
---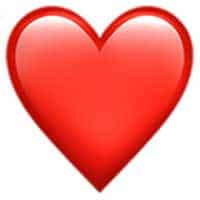 2. Red Heart
If you can maintain the streaks with your friend that already has a Yellow heart emoji beside the name. After a couple of weeks, the Yellow Heart Emoji will eventually turn into a Red Heart emoji that signifies two of you are BFFs.
---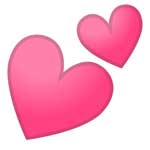 3. Two Pink Hearts
Another level of friendship is when the two pink hearts emoji starts to appear. It all works in a cycle, as the Yellow Heart comes first, then a Red Heart, and when you maintain to keep that friend on top of your best friend's list, he/she becomes your Super BFF, and the emoji turns into a Two Pink Hearts emoji. You can't achieve the Two Pink Hearts emoji with someone in one go; it takes time to build a strong relationship, at least two months, according to Snapchat.
---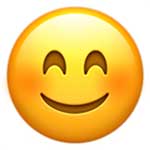 4. Smile Face
Since Snapchat personalizes a list of your top 10 friends, a Smile Face Emoji appears besides those friends who are a part of that list, but not beside the number one friends. Obviously, that's someone special, and Snapchat has something better to showcase for that one friend of yours.
---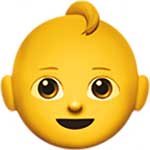 5. Baby Face
Most people wonder What does the babyface mean on Snapchat? Because it's unique and we don't see it that often. Whenever you add a new friend on Snapchat begins chatting, Snapchat shows a Baby Face Emoji considering he/she like the new member of your Snapchat family. Although the emoji won't last for long there, knowing why it's, there is just a good piece of knowledge.
---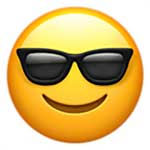 6. Sunglass Face
As everyone on Snapchat gets their own personalized lists of Best Friends. There are chances that someone is in your Best Friends list and someone else's Best Friend list as well. In that case, if two people have mutual Best Friend(s), a Sunglass Face will show up beside their name.
---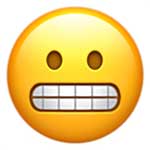 7. Grimacing Face
If you see a Grimacing Face beside any of your friend's names on Snapchat, it is a clear indication that two of you have the same number one Best Friend. Don't be over-possessive; it's just Snapchat.
---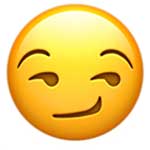 8. Smirking Face
The Smirking Face emoji on Snapchat signifies that you are in another person's top friends, while they are not in your list on top 10 friends. In other words, your top 10 friend's list on Snapchat does not include that person. But, on their list of top friends, you are there.
---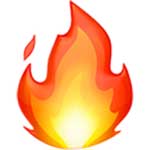 9. Fire
Meaning to this emoji is super-simple and clear that you are on fire! Not literally, but in terms of sharing snaps with your friends. If you are aware of making streaks on Snapchat, Fire Emoji is used for that purpose.
---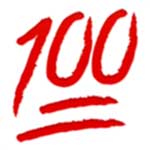 10. 100
As we just discussed the Fire Emoji, it indicates your current Snapstreak with your friends. If the streak count reaches 100, the corresponding emoji will start to appear beside the Fire Emoji. However, the emoji will be there for 24 hours only since it will change to 101 the next day, only if you don't forget to send a snap. That will be sad if you lose it after 100 as you will have to begin from the starting once again.
---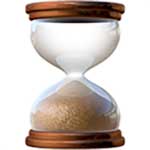 11. Hourglass
You shouldn't be seeing this emoji at all if you love your streaks on Snapchat. As you might already know that you get 24 hours to send a snap for maintaining a streak. If you forget to send the streak and the 24-hour window is about to end, the Fire emoji will turn into Hourglass emoji which indicates that only a few hours are left before you can try to save your streaks. Generally, it lasts for about 4 hours, so you can either save the streak, or you will lose it forever.
---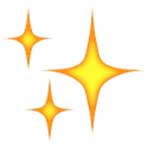 12. Sparkles
If you are chatting with a group of friends on Snapchat, Sparkles emoji will be appearing, which makes it easier to identify the group members on the chat list. Don't confuse this one with other emojis as Snapchat Star emoji meanings are different.
---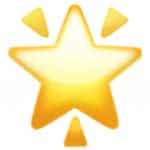 13. Gold Star
The Golden star emoji on Snapchat meaning is quite clear and straight-forward. If you and any of your other friends on Snapchat replays a mutual friend's snap in the last 24 hours, the Golden Star Emoji will let you know about that.
---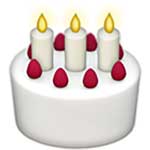 14. Birthday Cake
This emoji is a no-brainer as Snapchat has records of everyone that consists of their personal data like the Birthdate. So, as a gesture of goodwill, Snapchat also sends you birthday wishes and also tells your other friends about your birthday by showing the Birthday Cake emoji. Thus, if you see it beside someone's name on your list, don't forget to wish them a Happy Birthday!
Also read: How to get Snap Streak back within 24 hours
Relationship Emojis on Snapchat
Most Snapchat users who have been using the app for a long time, still don't know that you can set your relationship status. Yes, this option is also there, and with a slight twist, all thanks to the Snapchat emblems and other Fruit emoji Snapchat icons. Thus, if you don't actually know the meaning of these emojis, it might be hard for you to figure out someone else's relations status.
1. Red Circle ????
A red circle on someone's Relationship status states that they are not ready for a long-term relationship, but is open to all the propositions.
2. Blue Circle ????
The Blue Circle is a clear indication that the person is single, so that might be a good chance for you to talk and tell them if you like. But, a blue circle does not mean they are looking out for a relationship.
3. Cherry ????
People on Snapchat who set Cherry emoji as their Relationship Status, it means they are in a healthy relationship with someone, and everything's going well.
4. Pineapple ????
Out of all the Fruit emoji Snapchat emojis, the Pineapple on Snapchat is as same as "It's complicated!" on Facebook. Even we can't explain this complicated thing to you.
5. Lemon ????
A person who is currently in a relationship with someone, but things are not working out and wants to be out of it; a Lemon emoji will appear for such Relationship status.
6. Strawberry ????
What does Strawberry mean on Snapchat? Here's your answer. You will be seeing this one a lot as it appears when someone is looking for the right person but is not able to find them for a long time. Maybe you can talk to them and make this Strawberry Snapchat emoji turn into a Cherry emoji for them.
7. Apple ????
If a person is engaged and is going to marry soon, the Apple emoji will let you know that.
8. Banana ????
The Banana emoji on Snapchat signifies that the person is married.
9. Avocado ????
Most people wonder What does avocado mean on Snapchat? Well, an Avocado Snapchat emoji appears when someone thinks they are the better-half in a relationship.
10. Chestnut ????
If a person is in a long-term relationship and wants to marry them as well happily, but is not even engaged yet, the chestnut emoji is the perfect one to showcase that.
These were some of the most popular fruit emoji on Snapchat that are being used to symbolize various relationship statuses. If you wonder, why there is no Peach fruit on the list and then what does the peach emoji mean on Snapchat? As of now, it has no significant meaning rather than people use it to symbolize buttocks, bum, or any other word you can use to describe the area, as the peach emoji looks like it.
Snapchat Status Icons
1. Red Arrow Icon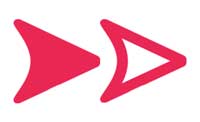 The Red arrow icons on Snapchat are used to show that you have sent a snap to your friend that does not contain audio. Or basically, it's just an image. Until your friend sees your snap, it will appear to be as a solid Red-coloured arrow. And, if the snap has been seen, it will turn into a hollow arrow with Red boundary.
2. Purple Arrow Icon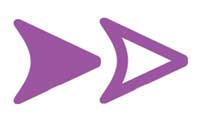 Similar to the Red Arrow, the Purple arrow appears when you successfully send a snap with audio (basically a video) to your friends on Snapchat. If your friend has not seen the snap, it will appear as a solid purple arrow and will turn into a hollow purple arrow after your friend has seen the snap.
3. Blue Arrow Icon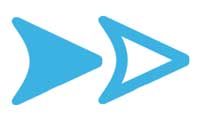 The Blue color arrow icon appears when you send a chat message to your Snapchat friends. Once your friend sees the message, it will appear as a hollow arrow with a blue-colored boundary.
4. Red Square Icon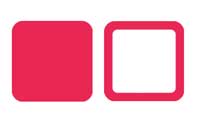 If a friend sends a snap to you, and the icon appears to be a Red square. It means that the snap does not contain any audio. It can either be a video or image, excluding audio.
5. Purple Square Icon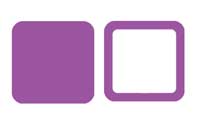 Contrary to the Red Square, if a Purple Square appears when you receive a snap from your friends, it means that the snap includes audio. In other words, it's simply going to be video.
6. Blue Square Icon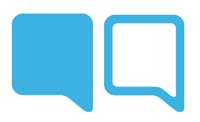 Unlike the Red square or Purple Square, the Blue Square icon looks more like a message icon. And, you can easily figure out that your friend has sent you a normal text message or shared some media file in the personal message window.
7. Interlaced Arrow Icon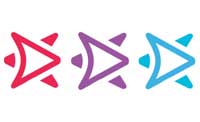 Interlaced Arrow icons of all the three colors mean that your friend has seen whatever you have sent, either an image, a chat message, or a video. Your friend has taken a screenshot of that.
How to Customize Your Friend Emojis?
Although the currently Snapchat-implemented Friend emojis are quite perfect and are quite easy to understand. There might be some people who don't like them that much and want to change the emojis shown beside their friend's name. You'll be glad to know that you can completely customize the Friend's emoji and set whatever you want to see on your Snapchat. However, it is not going to change anything on your friend's side. This change of emojis will only appear on your Snapchat. So, let's learn how to customize your Friend Emojis on Snapchat.
Step 1. First of all, launch the Snapchat app.
Step 2. On the top-left corner, there will be your Bitmoji icon, tap on it.
Step 3. Once you tap on your Bitmoji icon, it will open the Profile Menu.
Step 4, Here, tap on the Settings icon which is present at the top-right corner.
Step 5. Inside the Settings Window, scroll down till you find the Additional Services tab, then tap on the Customise Emojis button.
Step 6. The Snapchat Emoji chart will appear here; you can tap on any emoji and change it to whatever you like.
After you make these changes, the Snapchat Friend emoji changes will appear only on your Snapchat. It will remain to be set as default for other people.
Conclusion
As you can see by reading this article, Snapchat is a unique social media platform. Not because it has some complications, but the way it has used the common emojis to make your user-experience better is what we believe every other social media platform should do. Not only does it look good, but the emojis on Snapchat has various meanings that make it quite interesting to use. We assume we have covered most people's doubts regarding the Snapchat emojis. In case you think we have left out something to mention, or you have some queries regarding Snapchat. Feel free to ask us in the comments section and don't forget to share this article with your friends who are new to Snapchat, it'll be a great help for them as well.