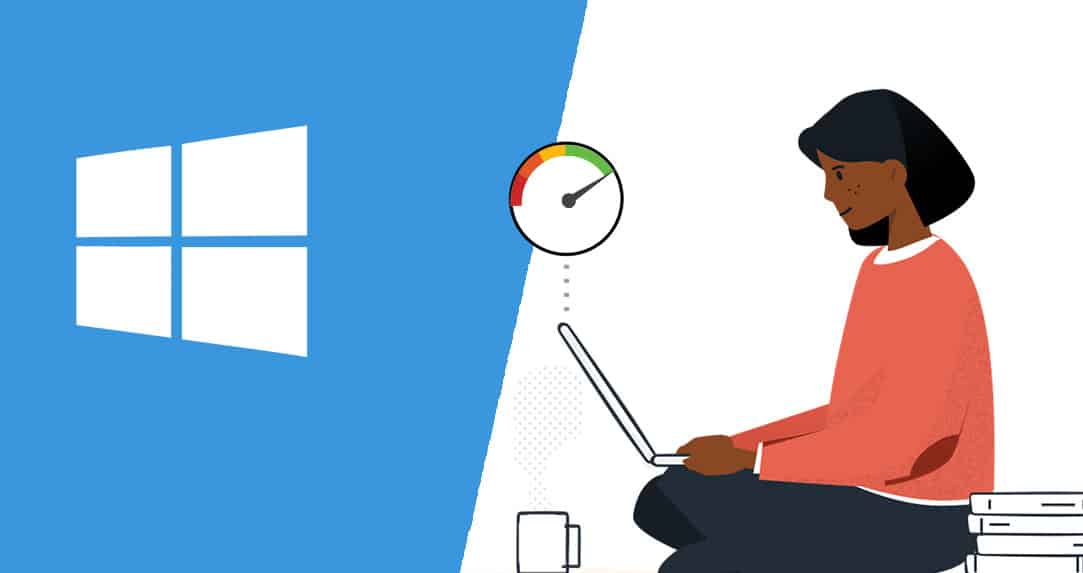 Even though Windows 10 is one of the best-operating systems for computers, users can sometimes face performance issues in it. This can either happen due to low-end hardware or your computer merely getting slower over time. Such a performance issue can be caused due to several possible reasons on your computer.
Thankfully, there are a few Windows 10 performance tweaks that you can try out to speed up Windows 10 on your computer. These Windows 10 performance settings can be quite handy to optimize Windows 10 and restore your computer's performance. Hence, if you also want to know How to Improve Computer Performance in Windows 10, make sure to go through this article until the end.
How to Improve Windows Performance?
As you know, your laptop can get slower over time. A slow running laptop or PC can be annoying when you are working or playing games. Thus, we are here with multiple Windows 10 optimization techniques that you can follow one by one to improve Windows 10 performance:
1. Disable Startup Programs
If you want to know how to increase computer speed in Windows 10, then you can start by disabling any unnecessary startup programs. Just per the name, these are the programs that get automatically launched every time you boot your computer. While some of these applications are important, others consume system resources and increase the bootup time. In such a case, you can simply disable any unnecessary startup programs on your Windows 10 computer as shown here:
Step 1. Press Windows Key + I on your keyboard to open up system Settings.
Step 2. In here, go to the Apps menu where you can find all of the apps installed on your computer.
Step 3. Then, go to the Startup tab present on the left-hand side menu.
Step 4. After that, sort the apps by "Startup Impact" and simply turn off any apps that you do not want to be launched right on system startup.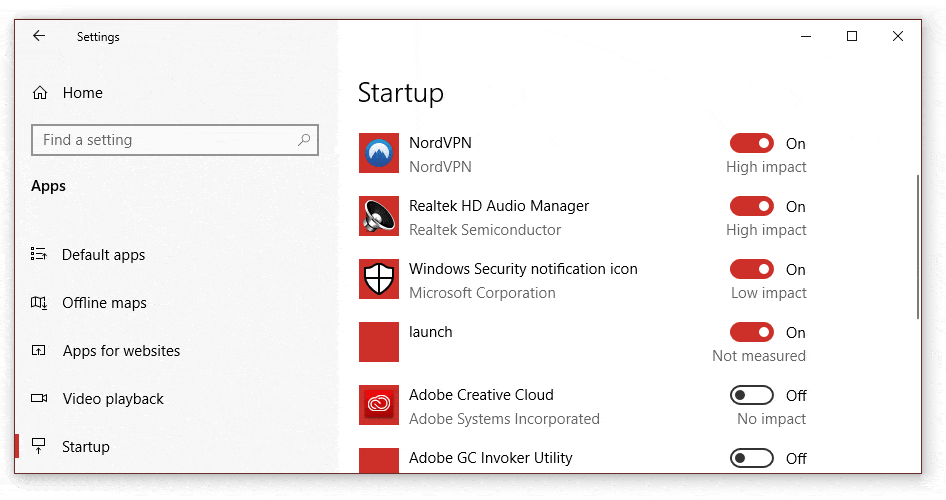 Step 5. At last, reboot your computer so that these settings are saved, and these programs are not launched on system startup.
2. Disable Unused Background Apps
Apart from the startup programs on your computer, there are other programs as well, which might be taking up a lot of your system resources and affecting Windows 10 performance. This mainly includes background apps that keep running in the background of your computer at all times whether you are using them or not.
Although some of these applications are important for offering basic functionality to the user, but that is not the case with all the applications as some of them are third party programs that might not be useful for you at all. Therefore, disabling such background apps for performance gains is highly recommended and can be done by following these steps:
Step 1. Go to the Start menu on your computer and open Settings using the gear cog icon.
Step 2. After opening System Settings in Windows 10, head over to the Privacy menu where you can find a wide range of privacy settings and options of your computer.
Step 3. In here, go to the Background Apps option present on the left-hand side menu by scrolling down a little.
Step 4. Once you have done this, you can see a list of all the apps that can be possibly running in the background of your computer.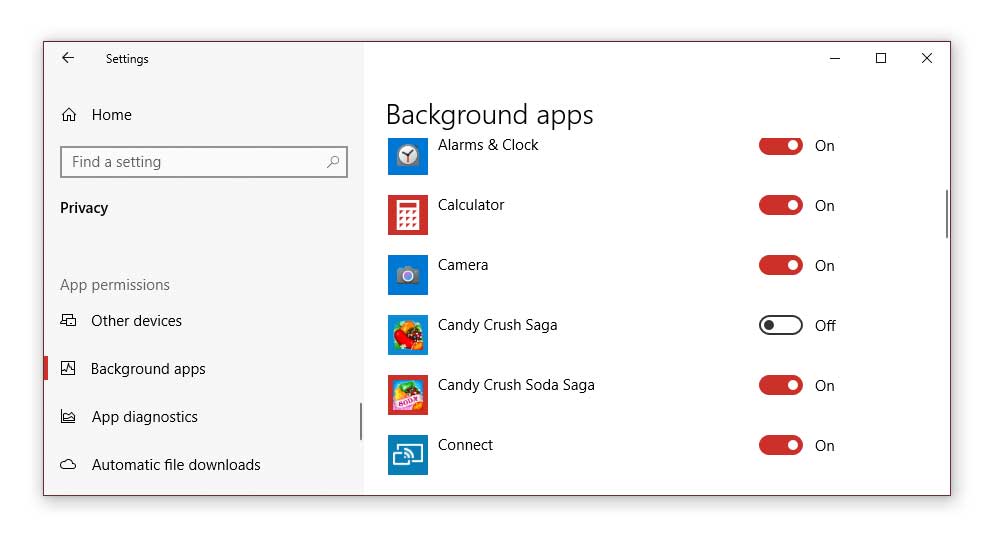 Step 5. Here, disable all of the apps that you do not need on your computer to free up system resources and improve performance of your computer.
3.
Use Antivirus
There are a lot of cases where a computer can get infected by viruses, malware, bloatware, adware, and various other files that are not good for your computer. Such infected files can take up your system resources like memory, CPU, storage, and various other things. In some cases, they might even corrupt system files or your application programs resulting in different errors. In other words, your computer's performance can be degraded quite a lot due to these viruses.
If you also feel like your computer is also infected by these files or want to take precautions by protecting it from such files, installing an antivirus makes a lot of sense. While Windows Defender removes a lot of infected files, it might not be enough for trojan horses and other lesser-known viruses. Therefore, installing a third-party antivirus like MalwareBytes, Avast, Norton, or any other can be quite useful for protecting your computer and making sure that it is performing well. Generally, a paid antivirus performs better than a free once since it gets more updates and offers better performance when it comes to removing infected files.
We have listed some of the best antivirus softwares that are available. If you currently do not have an antivirus installed on your Windows PC, you might want to check the article out.
4. Use PC Repair Apps
Apart from using an antivirus on your computer to get rid of infected files, you can also use PC repair apps. As per the name, these apps are meant to repair your PC and can be an excellent pick for users who are looking at how to optimize Windows 10. Since most of these apps are highly effective in improving Windows 10 performance, there is a wide range of such PC Repair apps out there. One such repairing app is the Outbyte PC Repair that works perfectly with Windows 10 and various other versions.
You can head over to the Outbyte's website to download Outbyte PC Repair on your computer and install it right away. After opening this program, it will look for any possible issues in your computer by diagnosing it. Once that is done, it will fix those issues, clean any junk and temporary files, restore system stability, and carry out various other steps that can improve your computer speed. It can even help you protect your online privacy by protecting your computer from ID theft and other related security issues.
5. Manage Page File
Windows 10 has a convenient and useful performance feature called paging that simply stores program data on your SSD or HDD drive. This is usually done when the RAM gets filled up, and there is no memory left for programs. In such a case, the page file gets used to store memory data temporarily.
While it works perfectly in most cases, it might not work if the page file itself has a small size and even it gets filled up. Therefore, you have to manage the page file and increase virtual memory in Windows 10 by following the given instructions one by one:
Step 1. Open up Settings on your Windows 10 computer and head over to the System menu.
Step 2. Then, go to the About section where you can see all of the details regarding your computer.
Step 3. After that, click on System info from the options present in the right-hand side menu which will open up a new window on your screen.
Step 4. Here, select Advanced system settings from the left-hand side menu that will open up System Properties.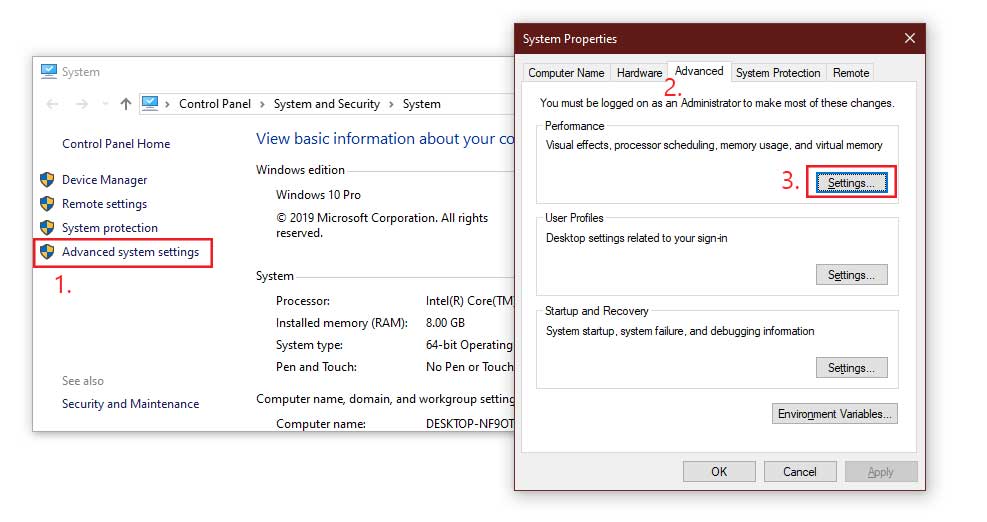 Step 5. Now, go to the Advanced tab and click on Settings under the Performance section that will open up the Performance Options window.
Step 6. Once that is done, go to the Advanced tab and select Change under the Virtual Memory section which will open up Virtual Memory settings.
Step 7. Then, uncheck the "Automatically manage paging file size for all drives" option and select the Custom size option.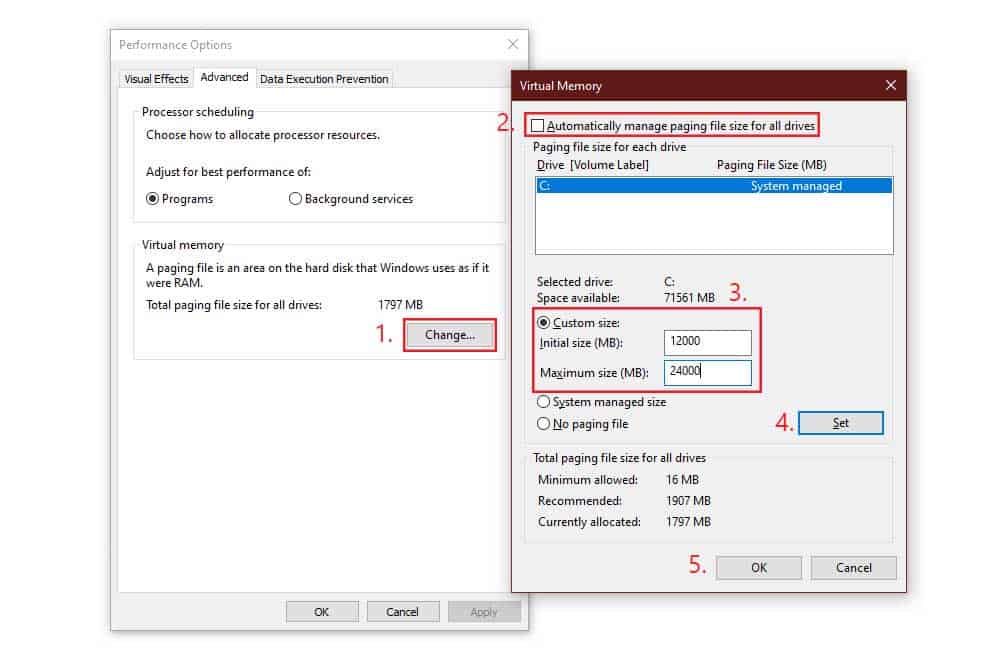 Step 8. After this, put 1.5 times of your memory capacity in the Initial Size option and 3 times of your memory capacity in the Maximum size option.
Step 9. Finally, click on Set and click on OK to save your settings. Once you restart your computer after saving these settings, the page file size will be increased for improved performance.
6. Run Defragmentation Tool
If you are using an HDD as the primary boot drive for your computer, running the defragmentation tool for it is highly essential. This process picks up any small data blocks that are spread across your hard drive and put them in a single place for faster access speeds and improved computer performance. It is recommended to run the defragmentation tool on your computer every now and then as shown here:
Step 1. Go to the Start menu in Windows 10 and search for "Defragment and Optimize Drives" to open up the Defragmentation Tool.
Step 2. Then, select the primary boot drive of your computer where all of your programs are currently installed.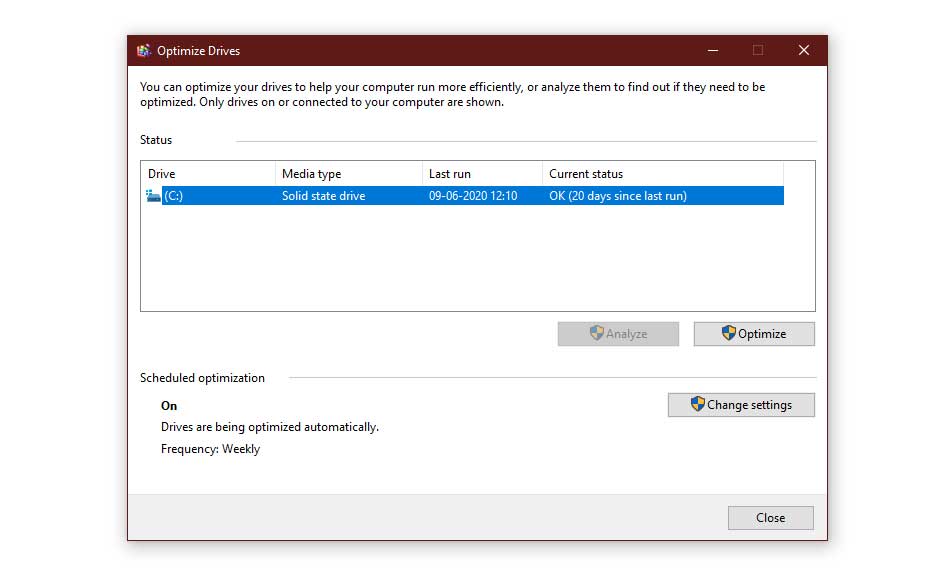 Step 3. After that, click on the Optimize button to start the Defragmentation Tool, which will take some time to finish its processing.
Step 4. Once this is done, carry out the same procedure for the rest of your computer drives.
7. Install Latest Updates
A great thing about Windows 10 is that it keeps getting new updates every now and then. While the primary purpose of these updates is to add extra features in Windows 10, they can also help improve the performance of your computer. Hence, if you are facing any performance issues, it is recommended to follow the given steps to install the latest Windows updates on your computer:
Step 1. Open up the Start menu on your computer, search for Check for Updates, and open the Settings suggestions.
Step 2. Here, click on the Check Now option which will make Windows look for any available updates.
Step 3. If there is any available update, Windows will download it right away. This update will be installed after you restart your computer once the download is finished.
While updating windows, you might get errors such as 0xc1900101-0x30018, 0x80070424, 0x803fa067 etc. If you do receive any of these errors, you could check out our articles on Windows errors for solutions.
8. Restore PC using System Restore Point
One of the handiest features offered by Windows 10 that can help in fixing any issues related to your computer is the System Restore Point. It allows you to take your computer, its settings, and data to an older working state where you were not facing any issues. While it only works when there is an available system restore point, it can successfully revert any incorrect system changes and fix all performance issues. You can restore your PC using System Restore by following these instructions:
Step 1. Use the Start Menu on your computer to open "Create a Restore Point" and click on System Restore in the System Properties window.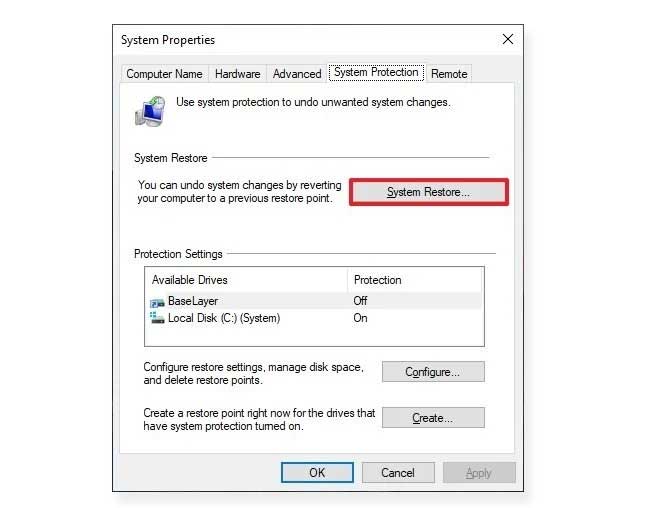 Step 2. Then, follow the on-screen instructions and find any available restore points.
Step 3. You can then either click on "Scan for affected programs" to check the changes that will be made after the system restore or simply click on Next to run the System Restore process.
Step 4. Finally, click on Finish after which your computer will be restored to a previous point where you were not facing any performance issues.
9. Upgrade to an SSD
If your computer has a hard disk drive or an HDD as its main boot drive that has Windows and other applications programs installed on it, then it might be causing performance issues. This is simply due to the reason that an HDD is a mechanical storage device that can wear out over time with degraded performance output.
Hence, upgrading your computer's boot drive to an SSD can make a lot of difference. These drives offer much higher random access speeds that make them ideal for installing Windows 10 and all of your user programs for optimum performance. You don't have to worry about putting Windows on the SSD drive, you could either do it by using tools such as AOMEI, EaseUS etc. or go to a professional.
10. Upgrade RAM Capacity
You can also consider upgrading the RAM or memory of your computer as a viable hardware upgrade that can improve Windows 10 performance. If you are familiar with the functioning of an operating system like Windows, then you must know that all of the running programs are stored in the RAM for fast access.
But, if this RAM gets filled up, you might start facing performance issues while using your computer as the programs will not have enough memory to perform their functions. In such a case, you can add more RAM in your computer for improved multitasking functionality and get rid of any possible lag.
Conclusion
After going through this article as well as the various Windows 10 optimization techniques mentioned in this article, you must be able to improve Windows 10 performance for a better computing experience. Since there are multiple reasons that might slow down a Windows 10 computer, we have mentioned numerous Windows 10 performance tweaks. If you have any doubts or suggestions regarding these Windows 10 performance settings, make sure to leave all of your questions and uncertainties in the comments section down below.