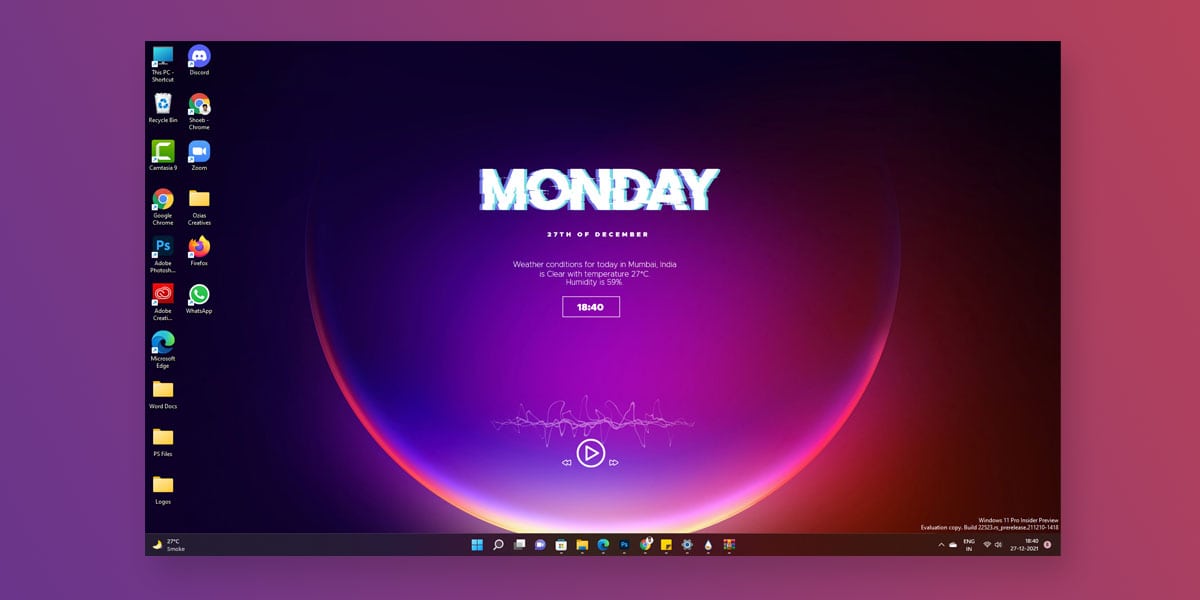 Being part of a community that has 7 billion people in it, you always want to stand out in some way, be different from the others, be better, feel better. And that is why you search for ways that make you unique and better, that let you take control of your surroundings. But do we find them easily? In this article we'll cover over best Rainmeter skins that you must try to give a makeover to your Windows 11 device.
Today, here, we will give you one of those ways on a silver platter. The RAINMETER is a computer program that lets you transform the way your Windows desktop looks, to a whole different and unique appearance all together. It gives you control over your desktop to make it look like it's yours, to make it define who you really are. Are you a tech head that loves futuristic tech? Or are you a car enthusiast who loves cars and race tracks and gauges? Or are you a simple man who believes in elegance over pretentiousness?
You can choose from a whole spectrum of different skins that display different themes and a truck load of useful information like CPU usage, network strengths, disk usages and much more! But choosing from so many can be a hard task. So we have compiled a list of our most favorite Rainmeter Skins for you to choose from:
Best Rainmeter Skins For Windows 11 and 10
| No. | Skin Name | Developer | Download Link |
| --- | --- | --- | --- |
| 1. | Mond | ApexXx-SenSei | Download |
| 2. | ValliStart | JaxOriginals | Download |
| 3. | Cleaner Desktop Skin 1.4 | DocBerlin77 | Download |
| 4. | Sonder Rainmeter Skin | Michaelpurses | Download |
| 5. | Devandro | ApexXx-SenSei | Download |
| 6. | My Current Desktop 21 | ApexXx-SenSei | Download |
| 7. | Ahmed-90's SystemInformation reloaded | Spiritreader | Download |
| 8. | Super Blood Moon | KeithStoodley | Download |
| 9. | Moderate Rainmeter 1.1 | HarryAwanda | Download |
| 10. | Astro | ApexXx-SenSei | Download |
| 11. | Lyndo | ApexXx-SenSei | Download |
| 12. | Eker Lina | Hpluslabels | Download |
| 13. | Paper Thin | craftAA | Download |
| 14. | Modular Clocks v2.1 | JaxOriginals | Download |
| 15. | Robik | ApexXx-SenSei | Download |
| 16. | JARVIS + Shield Interface | Daelnz | Download |
| 17. | Ironman Jarvis | scrollsofaryavart | Download |
| 18. | Artech: Clocks 1.2 | JaxOriginals | Download |
1. Mond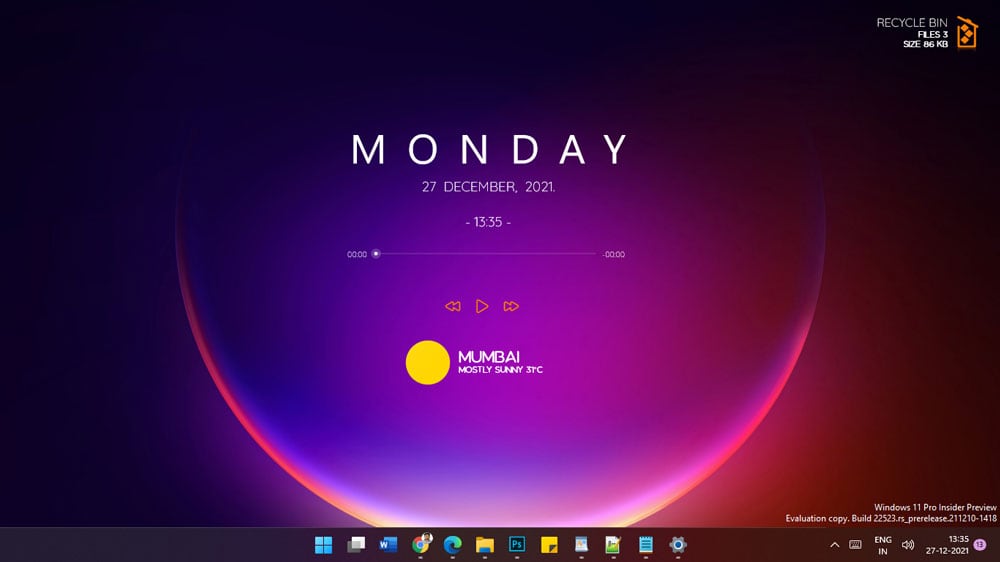 If you want an amazing rainmeter skin to go with your wallpaper, then Mond provides some of the best rainmeter skins for Windows 11 and 10. Mond provides you with a large library of skins to choose from. Here, you can go and match your wallpaper with some of the best skins available. Apart from the skins, Mond gives you a lot of customisation options that lets you add multiple widgets on your desktop. What makes Mond worth downloading is that this application is extremely light and doesn't hog all your resources in the background
2. ValliStart: Start Menu Replacement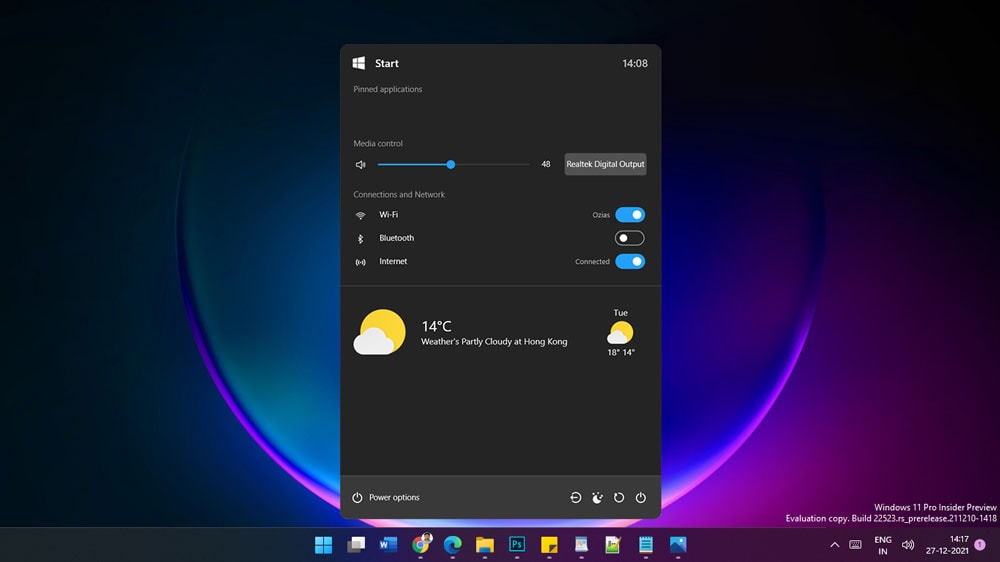 As the name suggests, the ValliSmart is a replacement to the traditional start menu present on your system. Created by Jax Media, this rainmeter skin replaces your start menu for real. If you install the Vallistart rain meter skin on your desktop, you will get a completely customised Windows search menu, smooth animations, a well-effecient and fully fcuntional control centre, music player,, and so on. In simple words, this skin replaces your existing Windows 11/10 start menu to give it a more animated and fancy look.
3. Cleanr Desktop Skin 1.4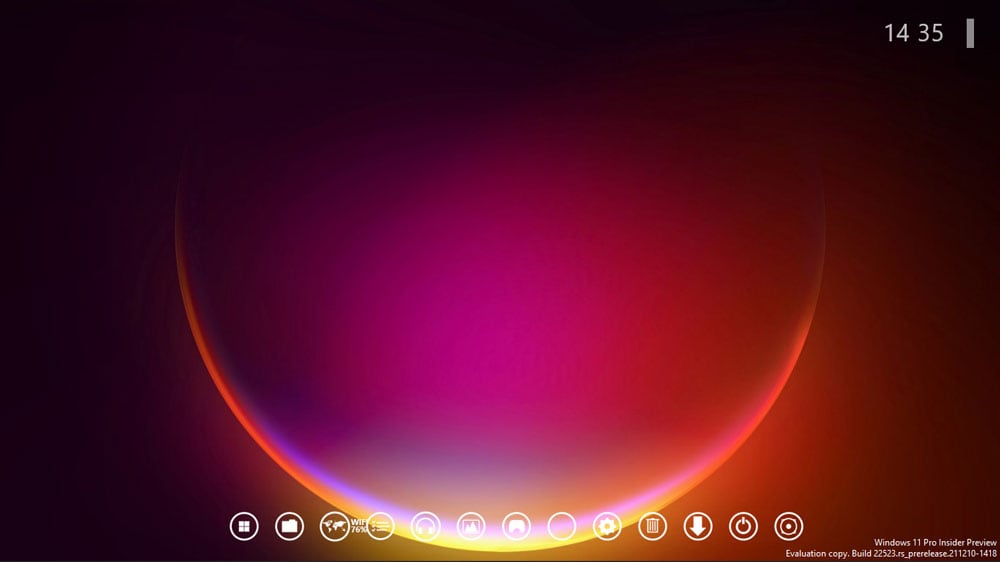 If you are someone who enjoys having minimum to no icons on your desktop, then we suggest your go for the Cleanr Desktop Skin 1.4. This is a big shift from the other fancy animated rainmeter skins present out there. Given its smooth and simple UI, it is without doubt one of the best rainmeter skins for Windows 11 and 10. It gives you all your programs and links under one column followed by an extended menu under bracket. You can easily customise each column as per your choosing. It also have a vertical sidebar that allows for easy navigation and also displays vital information the user needs.
4. Sonder Rainmeter Skin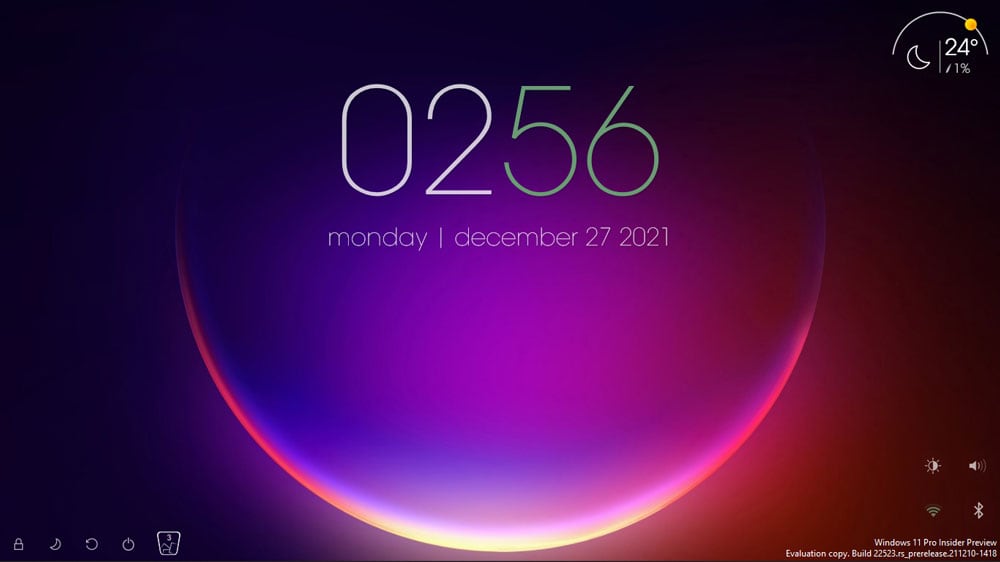 If you look carefully, majority of the Windows wallpapers are inspired by nature. While some feature nature as a whole, some wallpapers tend to display various aspects that nature brings along with. To match with this nature-filled scheme, the Sonder provides you a minimalistic yet nature-inspired aesthetic skin. As expected, this rainmeter skin uses green accents on your clock, calender, and other widgets present on your desktop. This skin works great if you have a transparent Taskbar by giving it a more aesthetic look.
5. Devandro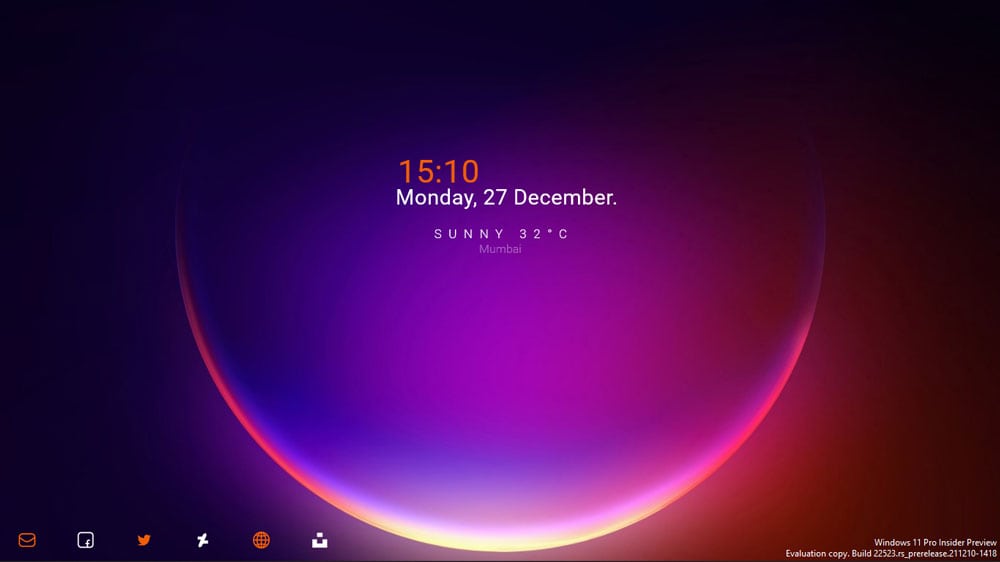 Just like the Sonder is based on nature-based aesthetics, this rainmeter skin for Windows 10 and 11 is weather-based. This is one of the most in-demand rainmeter skins since it automatically obtains and updates the weather information. It features an extremely simple user interface that lets you change and adjust settings on your screen. Right from rearraning widgets on your desktop to changing an inaccurate location, Devandro provides you with the right tools to make this all possible. Being weather-based, this skin provides you with an weather-based aesthetic theme fir your screen
6. My Current Desktop 21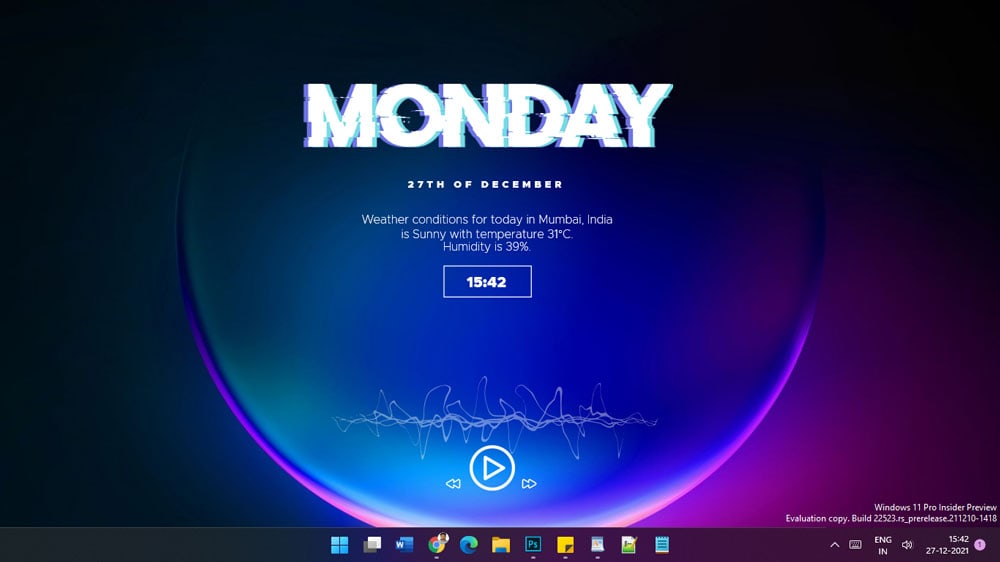 If you like your workspace to be cozy and without any fancy unnecessary items, then you definitely need to go for the My Current Desktop 21. As mentioned above, this brings out the coziness of every home setup. Every widget and desktop icon present will automatically pair with the skin you have on. It also has its own set of widgets and allow for other customisation options. Here, you can customise the date and time, music player, app launcher, and so on.
Steps to download 'My Current Desktop 21' Rainmeter Skin in Windows 11
Download the below Beta 7.RAR file from below download option
Open the file and click on Beta 7 folder
Now click on 'Extract To' menu to open the 'Extraction Path and Options' window.
Now click on Documents>Rainmeter>Skins and click on OK
Now go to Rainmeter element on your PC and click on Refresh All option below. Now click on Beta 7 Folder in the Skin Option. Here you will find 'My Current Desktop 21' Rainmeter Skin for Windows 11
7. Rainmeter: Ahmed-90's System Information Skin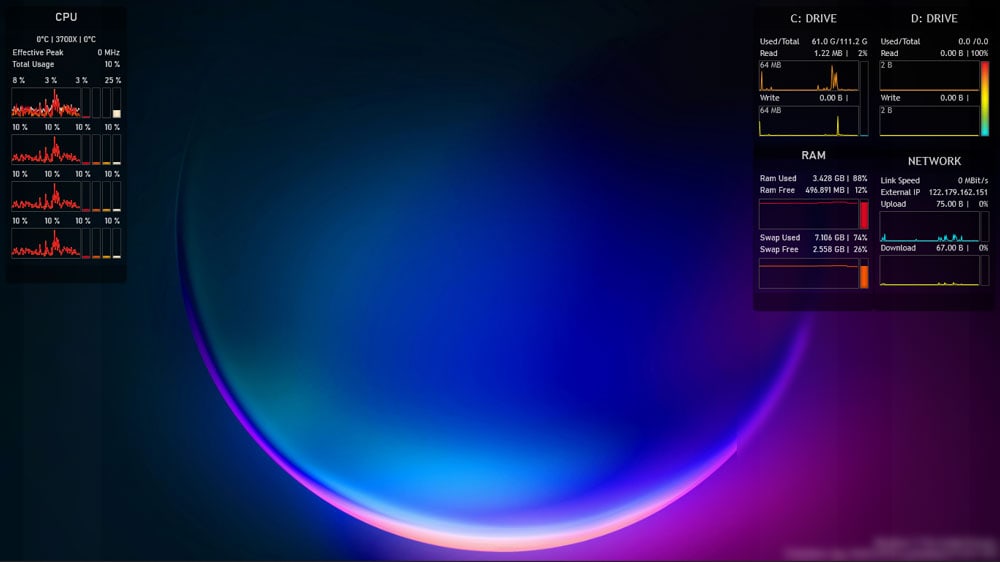 This is a completley no non-sense kind of rainmeter you can go for. As the name suggests, this Rainmeter skin features a simple look that gives you the full set of panels right on your desktop. This allows you to control every aspect of your system right from the homescreen. The skin further breaks down the amount of disk space, CPU usage, memory usage, followed by free RAM and also keeps track of your system's downloads and uploads. This is perhaps one of the best rainmeter skins if you prefer utility over aesthetics.
8. Super Blood Moon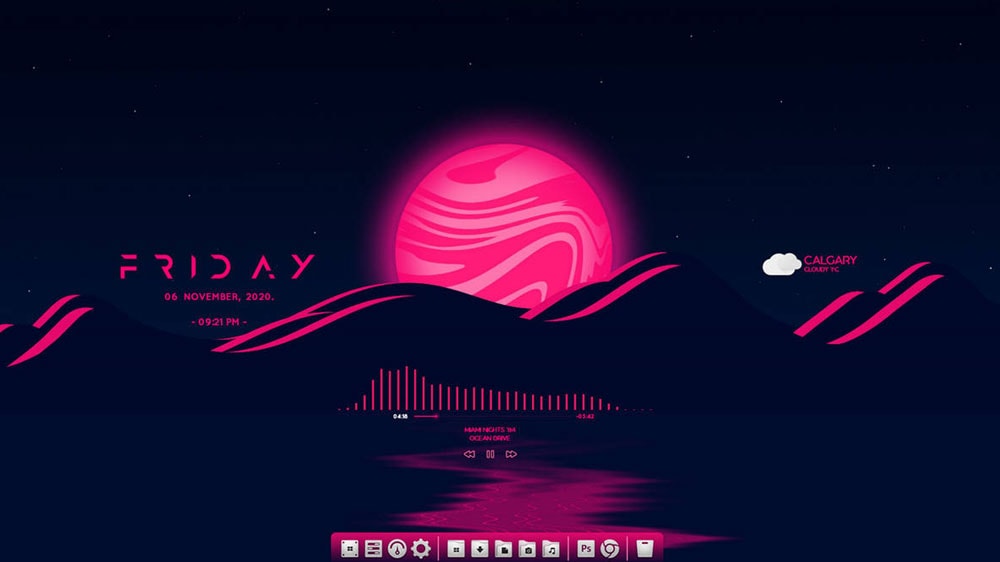 Thanks to the visually stunning aeshetics it delivers, the Super Blood Moon is one of the most popular rainmeter skins designed for Windows 10 and 11. This skin comes with a bottom bar module that comes in extremely handy at times. In addition, you also get a visualiser, music player, and an app launcher to go along with the already present date and time, weather, calendar, and other default widgets present on your screen. In simple words, this rainmeter skin combines a neat overall look with the correct background to give you a highlighted display.
9. Moderate Rainmeter 1.1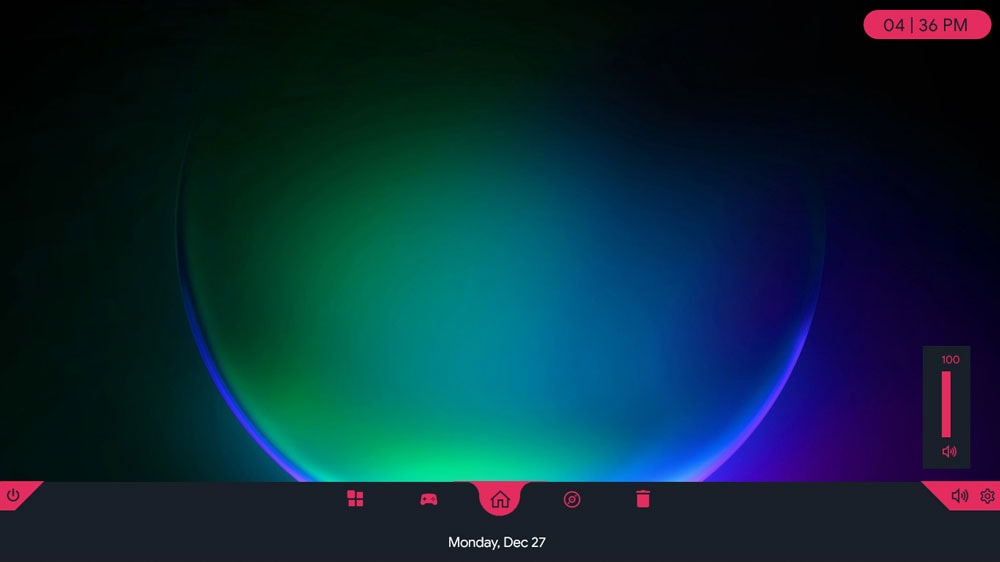 If you want something simple yet captivating, then the Moderate Rainmeter is precisely for you. The Moderate Rainmeter quickly adapts to every desktop background utlimately enhancing its look to a great extent. This rainmeter skin comes with a customisable launcher that lets you personalise the music player, calendar, weather, date and time, and other different widgets on your screen. What makes the Moderate Rainmeter stand out is that it pairs perfectly with every background and theme present
10. Astro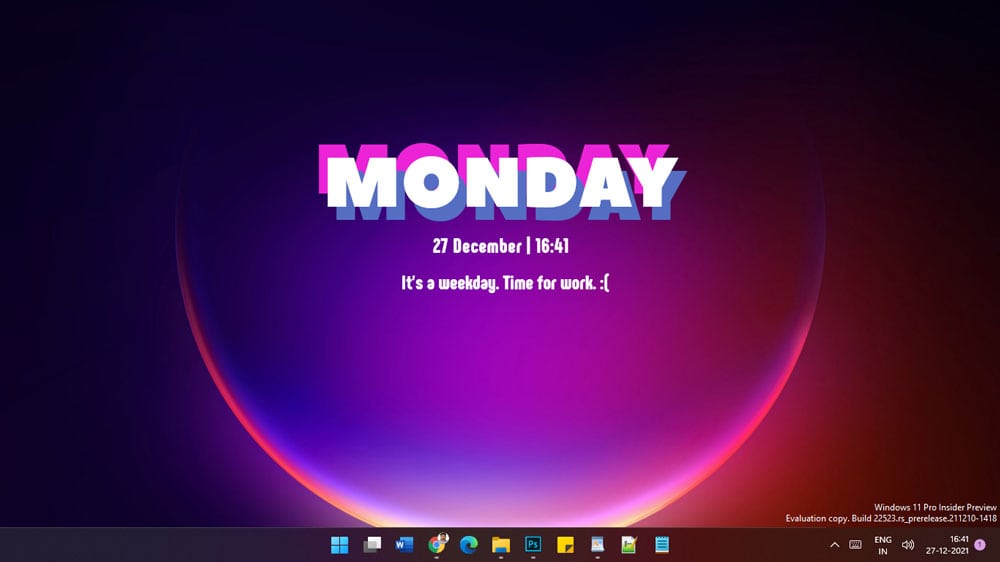 If you havent already guessed what this rainmeter skin has to offer, we are here for you. The Astro rainmeter skin is a weather skin that automatically updates the weather and keeps you in the loop regarding the same. As expected, this rainmeter skin banks heavily on weather forecast. This skin displays 5 days and 5 hours of weather on your screen which can seen with just a simple tap on the weather icon. Having the Astro rainmeter skin gives you a calm and soothing background.
11. Lyndo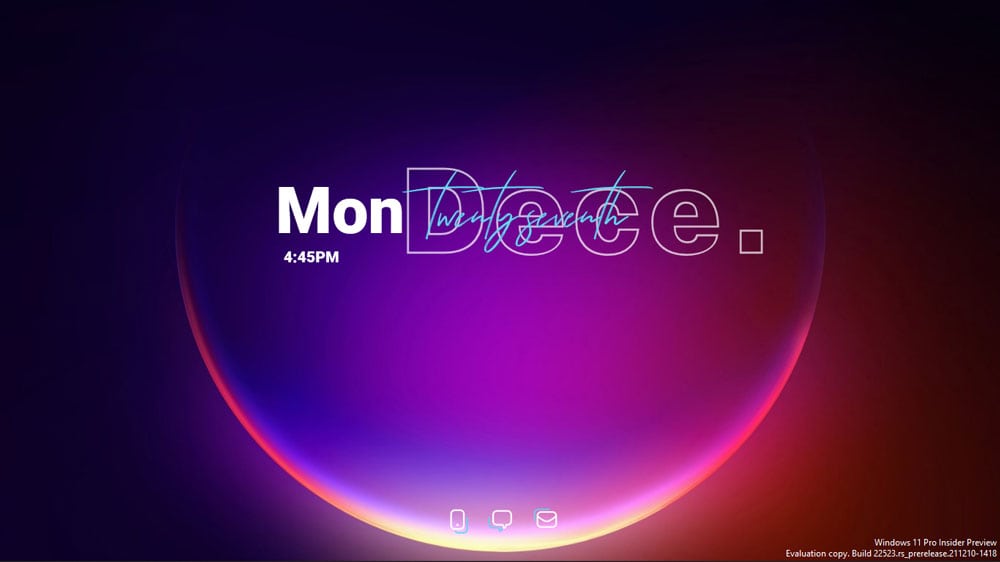 This is one of the most functional rainmeter skins amongst all the ones that we have discussed so far. One of the key features of Lyndo is its ability to display a variety of information on your screen at the same time. Here, you can stay updated about how the weather is going to be for the next 2 days and plan accordingly. This interactive user interface is constantly being updated in the background. Although it comes with a fixed color scheme, you can always edit it provided you have the knowledge of editing skins
12. Eker Lina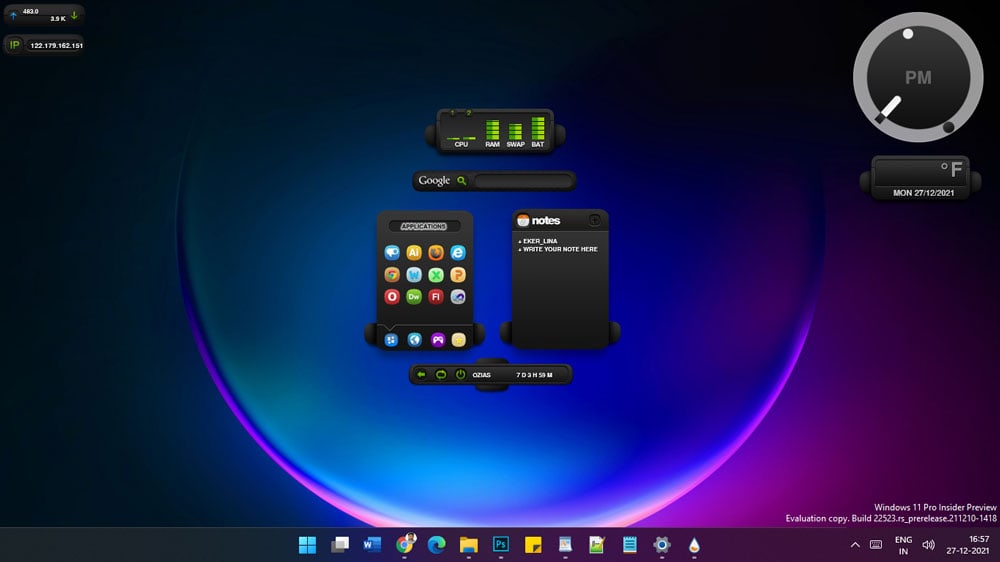 The Eker Line is perhaps one of the most widely used rainmeter skins for Windows 10 and Windows 11. What makes it so unique is extremely simple user interface and the various sub-modules that come along with it. Meanwhile, you can also opt to customise and rearrange these modules to better match your data. Also, you have the option to rearrange or adjust the sub-elements of this rainmeter skin to get the usual information through widgets such as date and time, weather forecast, calendar, location, and so on
13. Paper Thin: A Flat Rainmeter Suite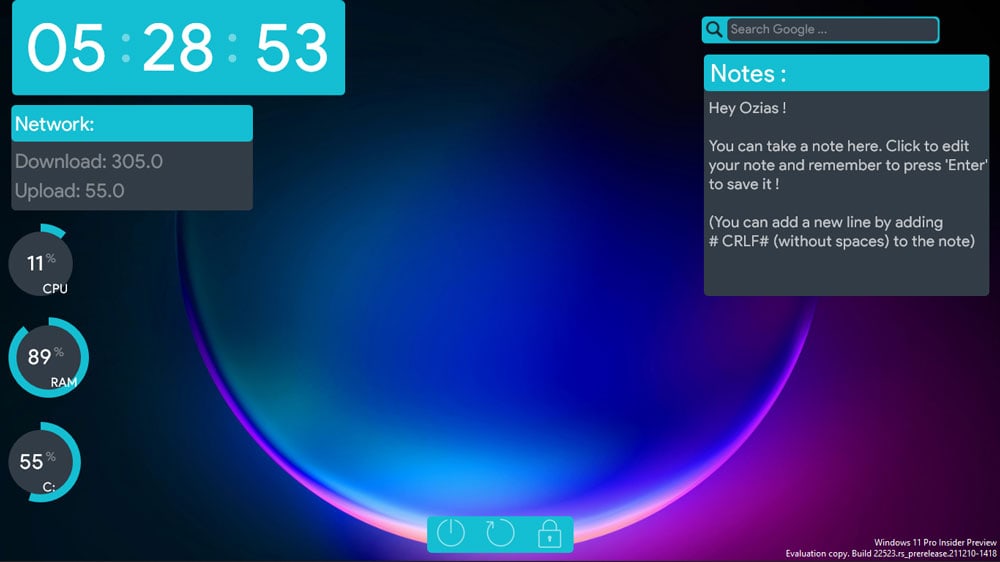 If you are looking to give your desktop a retro makeover, you can always go with the Paper Thin, a flat rainmeter suite. Getting this skin on your screen is bound to subject you to praise from all ends. As the name suggests, this rainmeter skin will transform your desktop to make it as a thin newspaper or bits of paper scattered throughout the screen. Also, this skin offers extremely intuitive information statistics such as date, time, weather, location, and so on.
14. Modular Clocks v2.1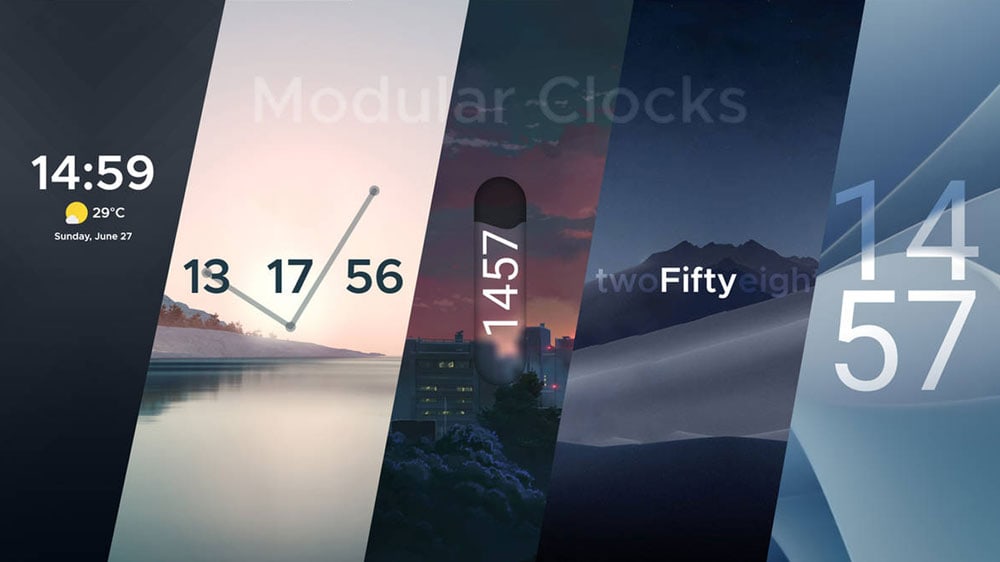 This rainmeter skin is perfect if you like to have all the system information on your desktop. Apart from system information, this skin is perfect for every purpose. Apart from the system information, you can also see the current weather, weather forecast for upto 5 days, date and time, CPU usage, memory storage, and various other widgets on your screen. Also, it offers tons of customisation options followed by an extremely easy configuration and skin versatility.
15. Robik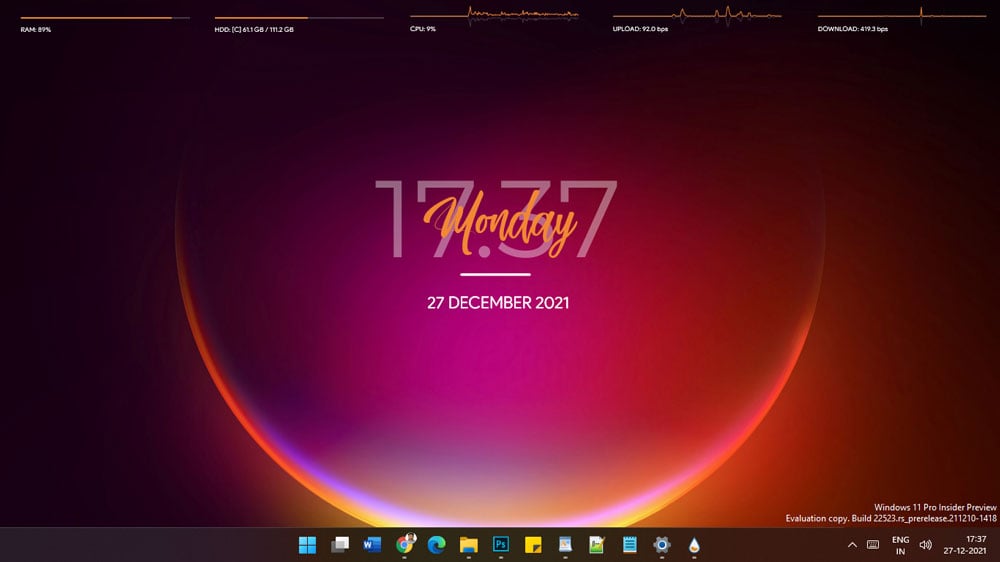 This is one of the rainmeter skins that gives your system an extremely chic look. It comes loaded with dozens of widgets that give you a greater degree of control over your PC. Right from the wake up time, this rainmeter skin shows you the date and time, system statistics, free RAM, CPU usage, memory allocation, weather, calendar, and many other useful widgets on your screen. Also, it gives you tools that let you customise the widgets to match your desktop background. It comes with various color combinations and fonts required to give your system an aesthetically pleasing appearance
Also Read: How to Fix High CPU Usage in Windows 11
16. JARVIS + Shield Interface: Rainmeter Theme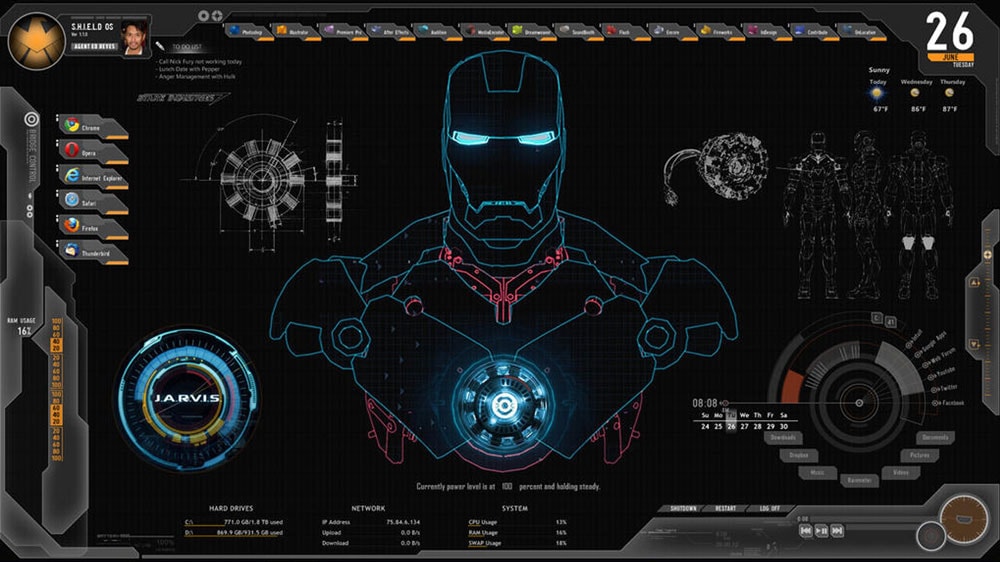 This is a skin that is tailor made for every marvel fan out there. The thrill of being in a secret organization that deals with aliens, gods and other super beings, keeping the earth safe, will always remain unmatched. And getting to work in SHIELD, is as close as it gets. It lets you feel like you are working right on the mainframe of their computers and playing with advanced hardware like Nick Fury himself!
17. Ironman: Jarvis Theme Desktop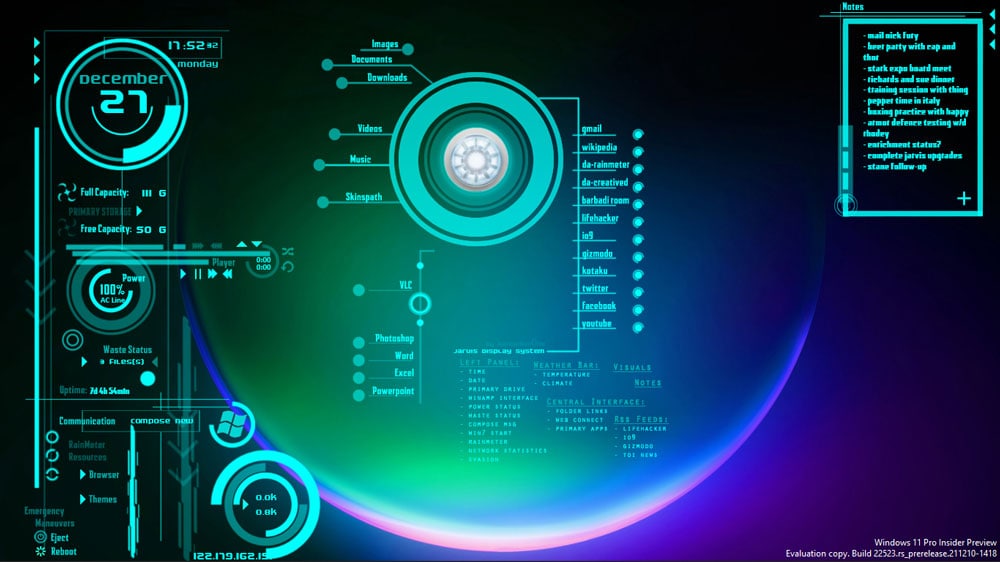 If you have ever seen Iron Man or any Avengers movie, you definitely have imagined yourself in an Iron Man suit with your AI mammoth, Jarvis, telling you everything you need to know, whether it is about a mission or a person or a news report from 1969 pulled out of Google!
This will surely give you the genius, billionaire and philanthropist, Tony Stark vibe you need. It will immediately make you feel like a computer mastermind as soon as you log onto your computer! Its modules appear to be incredibly futuristic as they emerge from an arc reactor core are displayed in a 3D interface. They show you your hard disk capacity, temperature details, your RSS feeds, various shortcuts to system folders and the time and date.
18. ArcTech – Clocks 1.2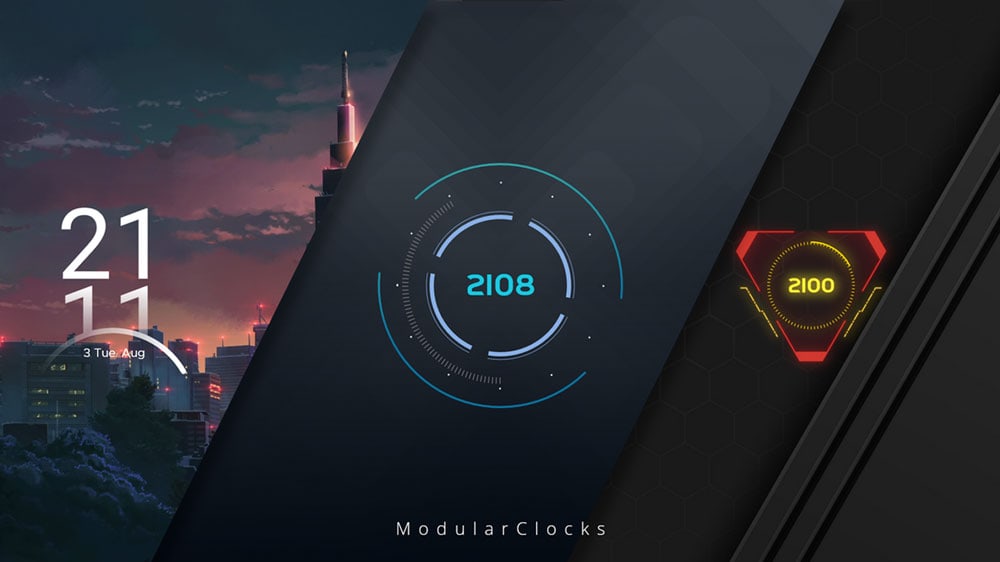 If you are a fan of modular clocks, then you definitely need to have this rainmeter skin. ArcTech has a whole variety of rainmeter clocks to choose from. There are over 5 different styles to choose from. Meanwhile, you also get the customisation feature that lets you customize the animation any way you want. Also, you can customize this to match with your desktop wallpaper and is fully resizable.
The Bottom Line
That's our best list of Rainmeter skins that look really unique and cool on top of Windows OS. Do remember, using skins uses some extra hardware resources and is not recommended if you're using an old Computer or laptop. You might experience some random freezing in Windows 11 as they already require too much resources. It's recommended to have good processor, RAM & a graphic card to really enjoy this customizations.