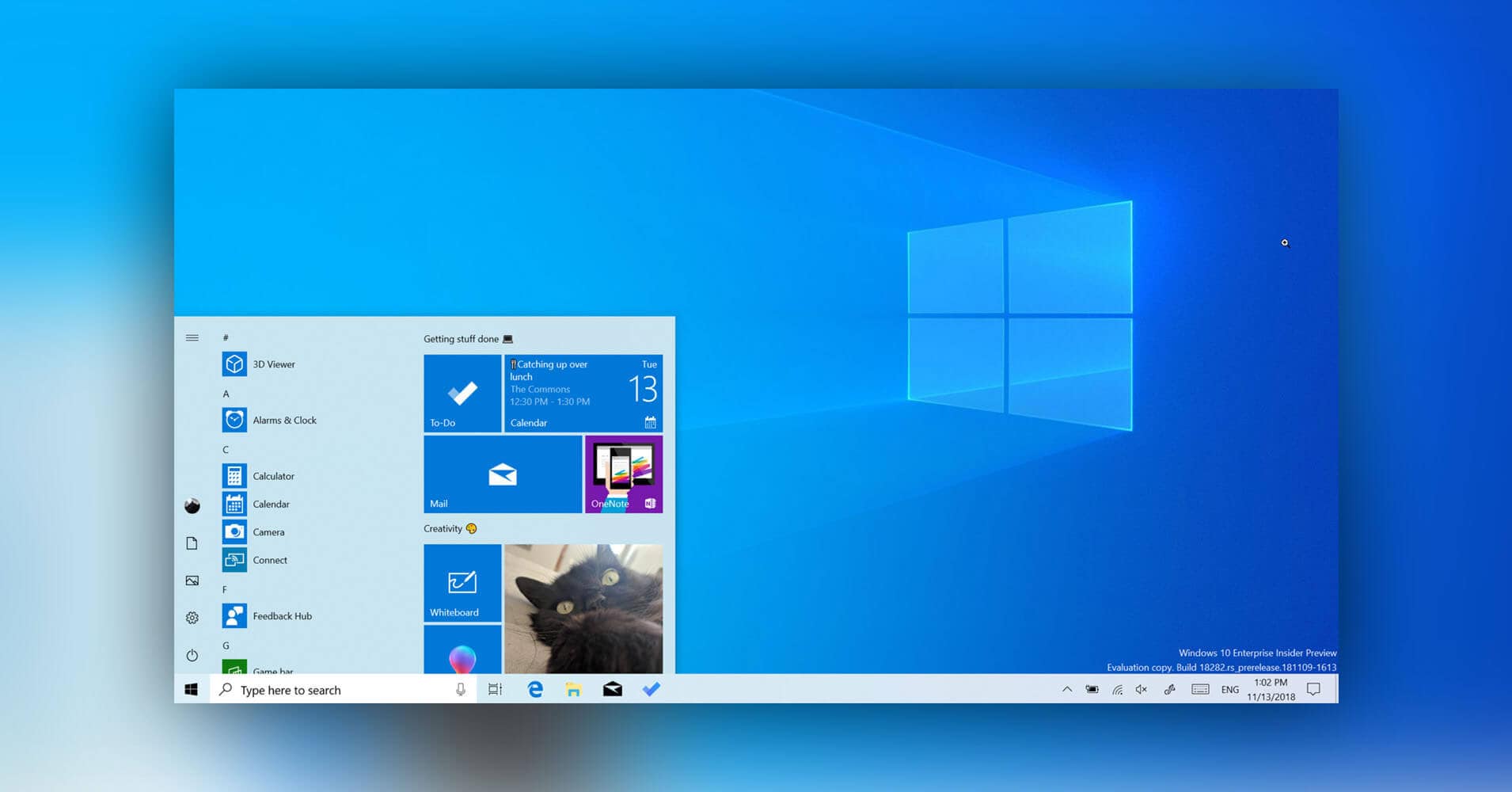 I'll start with asking, have you properly tried activating your Windows 10? If you haven't yet then probably you aren't able to do so. Or worse, sometimes, even though you have already activated it, but the "Activate Windows 10" watermark is still displaying on your screen corner making you anxious.
I've been there and can relate to how bothering it is for one to encounter it time and again. But you know what, fortunately, I have got the ways to get rid of it entirely that too with no hassle.
So, if you have been fed up with the watermark getting along your way working, follow the methods laid down below and make yourself free from the very annoying "Activate Windows 10."
Why are you seeing "Activate Windows" Watermark?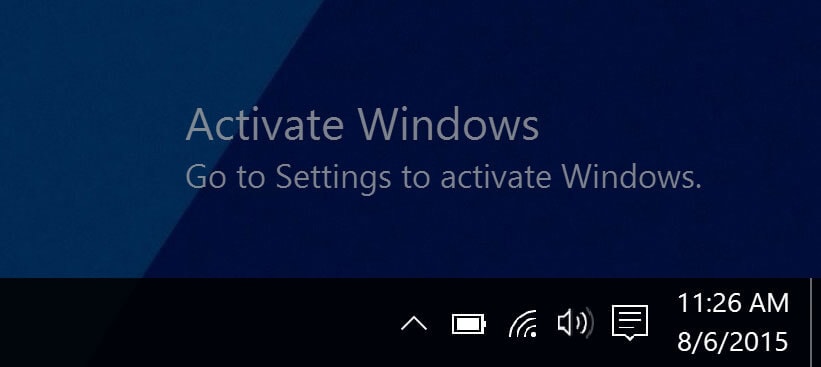 There must be some sort of Windows update that you might have processed with, and that got you the watermark on your screen. Or maybe you have made some significant hardware changes on your device.
If you are still in dilemma that why on earth only your computer's screen is getting a watermark "activate Windows 10" slapped on its corner, then don't worry because here I've got the correct answer. But firstly it's not only you; every user who has an unactivated Windows likely to get that.
I hope, now you know why you got the watermark appeared on your monitor.
Microsoft Windows Activation – Overview
Technically, the watermark is just a straightforward reminder for you to activate it that requires no further explanation. So, how you activate Windows? By simply, typing in the license or product key. However, the method of activation depends on how you have acquired your copy of Windows 10 in the first place.
If you are using a genuine Windows 10 that you have bought from Microsoft or any authorized retailer, then you must have its product key – this all needs to be provided when activating Windows.
Also Read: 5 Different Methods to create Windows 10 Bootable USB
Another case would be if you have upgraded from an activated copy of Windows 7 or Windows 8.1 to Windows 10 for free, then the digital license would be created and linked with Microsoft account for the Windows activation. It doesn't require the product key, and the activation happens automatically, but make sure that you have a stable internet connection.
Can you use Unactivated Windows?
For the users, whom the watermark doesn't bother much, besides it, they are probably in a conundrum of using unactivated Windows and thinking whether or not it has any downsides. To answer this, I'd say:
There are no significant differences between an activated or unactivated Windows (displaying the watermark) other than a few cosmetic limitations. Prior to Windows 10, Microsoft used Windows Genuine Advantage (WGA) to disable access to your computer. But if you use an unactivated Windows 10, you would only miss some personalization features. We have also published a method to permanently activate Windows 10 using Command prompt. It doesn't involve any cracking or installing any software; so you can trust it!
As far as the restriction of using the Personalization Settings that prevents you from changing the wallpaper, color, Taskbar, and similar settings won't annoy you, the limitations of unactivated Windows go quite negligible without saying. Luckily, you will still be receiving the system updates without any issues.
Check your Windows Activation Status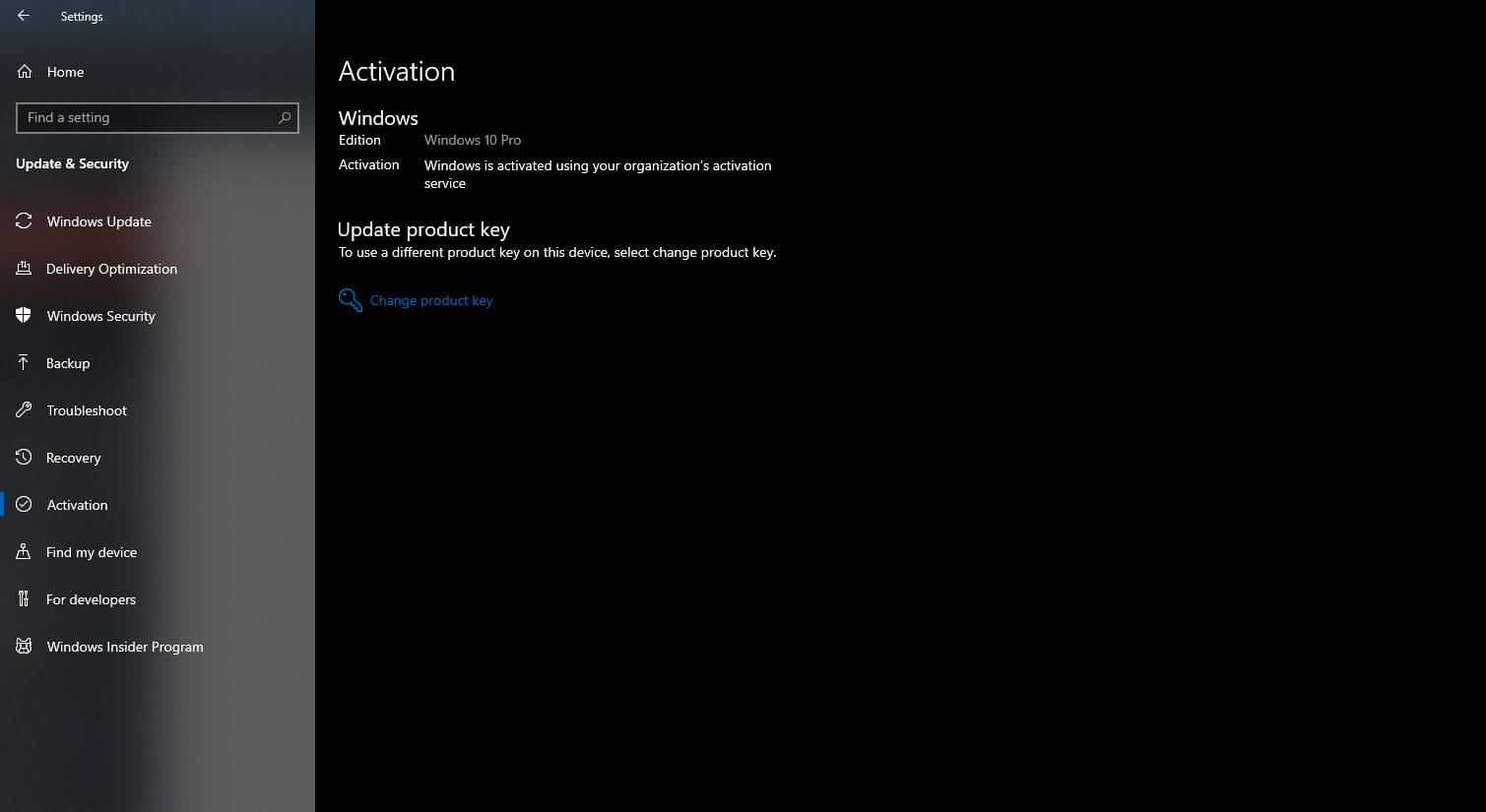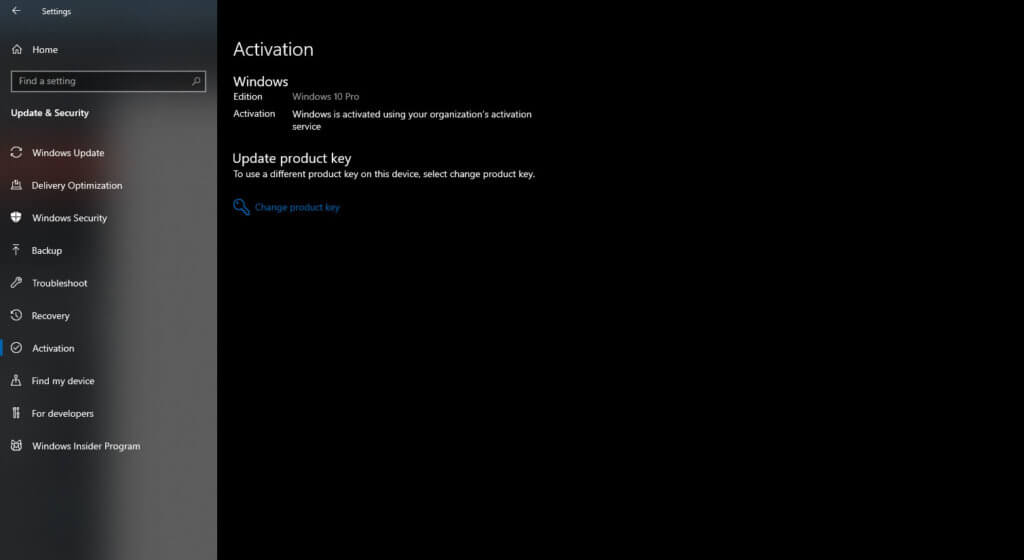 To find out the specific reason for the watermark showing up on your screen, you need to navigate to the Settings >> Update & Security and on the left pane, click on Activation. Here you can review the status of your Windows and accordingly comply with the methods given below for removing the watermark.
Troubleshooting Windows Activation Watermark
All you've got the two choices to make the watermark disappear, either go the ethical way and buy a legitimate Windows 10 license copy or simply tape it (and I mean it 😀 ) from the corner.
Aforementioned are the only two recommendation from my end. However, I have got a few more workarounds that don't require you to pay the extortionate prices but aren't ethical, either.
1. Enter a Valid Product Key
On the "Activation" Settings page, carefully read the lines displayed in red, as shown in the above screenshot. This is one of the most common reason – as previously stated if you are upgrading either of Windows 7 or Windows 8.1 to Windows 10, the previous one should be activated prior to the upgradation.
Since you have tired upgrading the unlicensed copy to Win-10 for free, the watermark is appearing on the screen. So, to fix this, you need to enter a genuine product key. Even you can make use of any unused retail product key of Windows 7, Windows 8.1, or Windows 10.
All you have to do is, click on Change Product Key and type in your 25-digit product key and tap on Next to activate Windows.
2. Activation Troubleshooting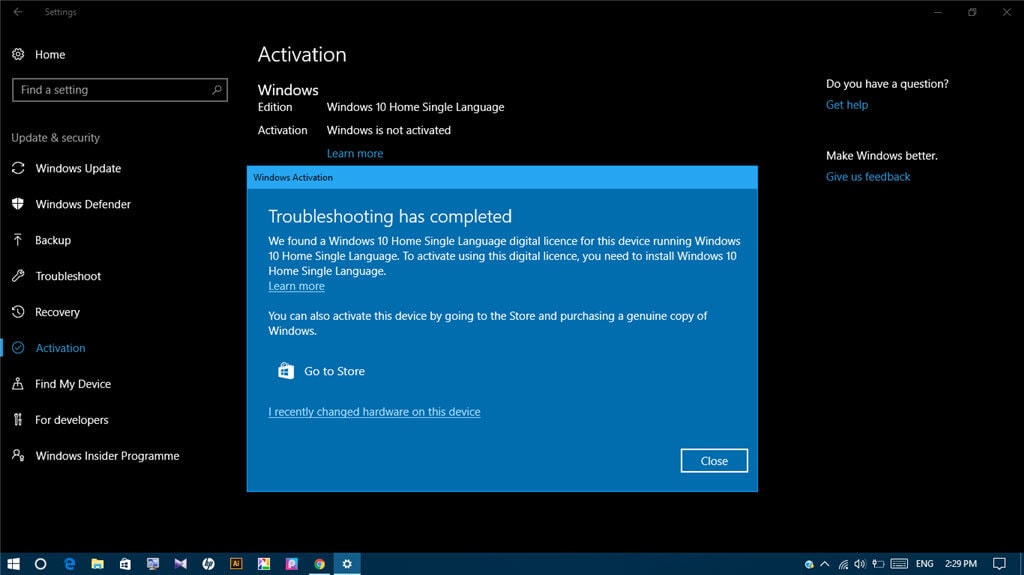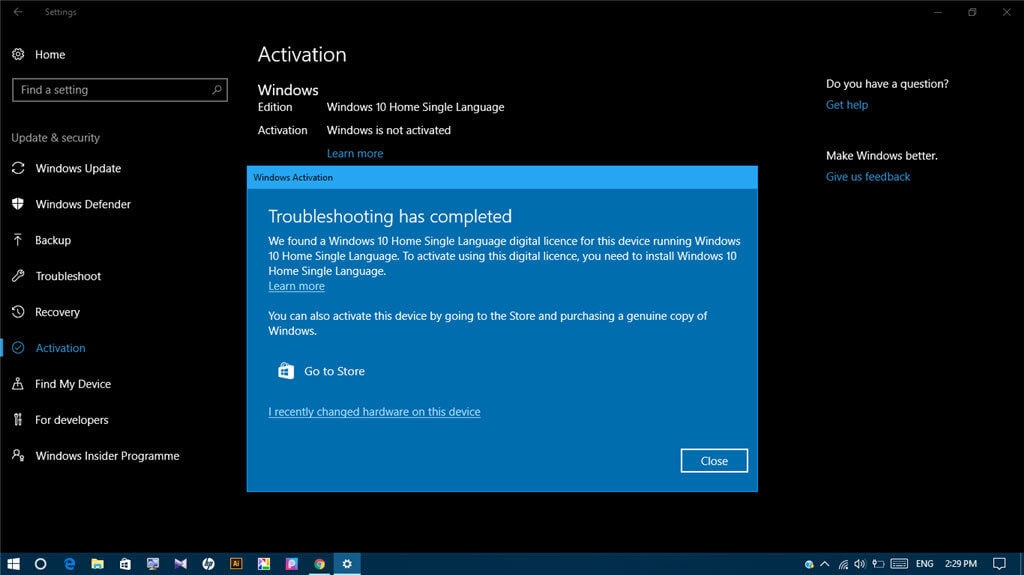 Sometimes, Microsoft failed to recognize the digital license it was tied up to earlier, specifically when you have made any significant hardware changes, so as a result, the operating system denies activating.
To fix this, you have to re-link your Microsoft account to your computer and re-activate the Windows by running Windows activation troubleshooter. What it would do is, it will scan and fetch your PC for the new hardware and update the details in the linked Microsoft account.
Below is how-to-do:
Press Windows + I keys, and it will navigate you to the Settings page.
Click on Update & security >> Activation and tap on Troubleshoot to proceed with. Also, make sure your account has the administrator privileges.
Next, tap on "I changed hardware on this device recently" option and click on Next.
Enter your Microsoft account credentials, and click Sign in.
You may also be asked to provide your local account password (the password you use to log in to your computer) to process. So type it and hit on Next button.
A list of devices associated with your Microsoft account will appear on your screen. You have to select the device which you want to re-activate and then tick the box given underneath.
Now, click the Activate button.
Note:
If the issue still seems to be there, firstly make sure that you had the digital license linked to your Microsoft account before the hardware changes. And lastly, if you keep getting Windows activation error, you can read our guide on
error 0xc004f025
3. Enterprise Activation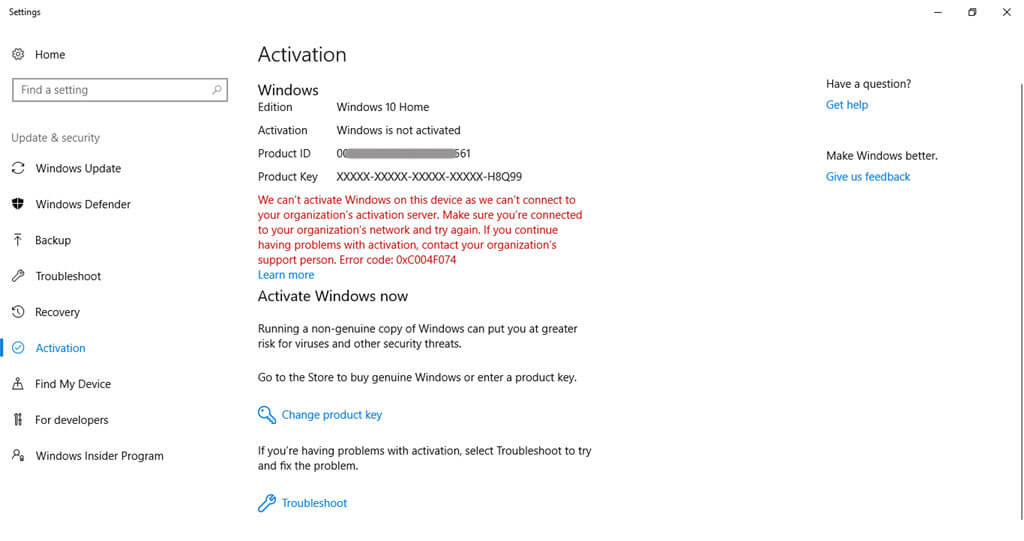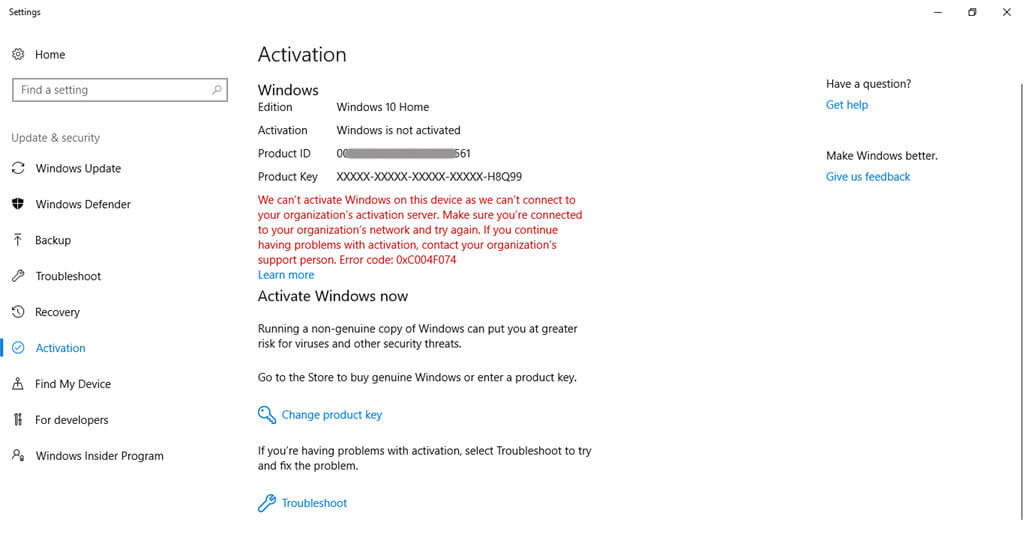 Not a commonly occurred reason, but might be useful, be it a rare case whatsoever. If on reviewing the Activation status you see a message stating "We can't activate Windows on this device because we can't connect to your organization's activation" that means the Windows was activated from an enterprise server, and now it has been disconnected with that server.
You can resolve this issue by reconnecting your device to the company's server you were connected before and activate the Windows again. Make use of a VPN if you are unable to link with the server physically.
How to Remove "Activate Windows 10" Watermark?
These methods may not be the permanent solutions for getting rid of the watermark since it will just trick the system and nothing else. Although I've endeavored to filter the best workarounds only, there's always a possibility of the watermark coming back in the near future.
Most of the times, if you update your Windows, it will result in reverting the "Activate Windows 10" to the screen's corner. But anyway, if you don't want to shell out money over buying a product key, this is all that you have got left eventually.
1. Universal Watermark Disabler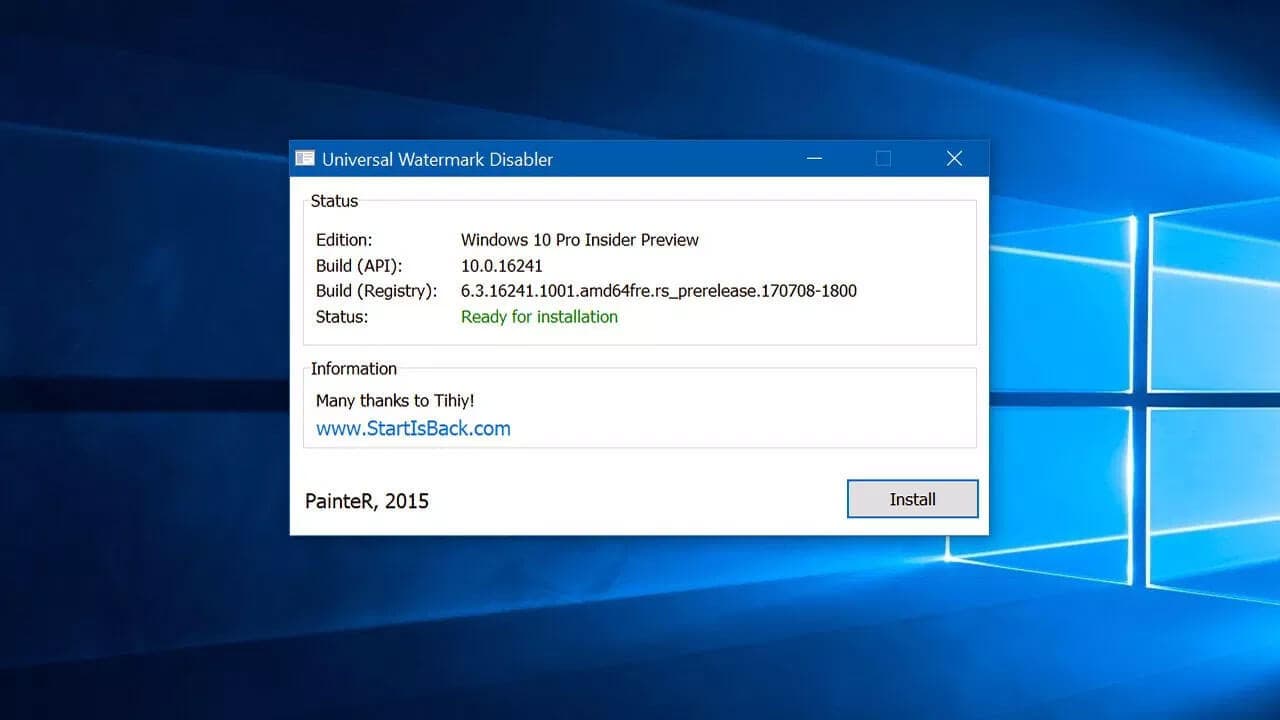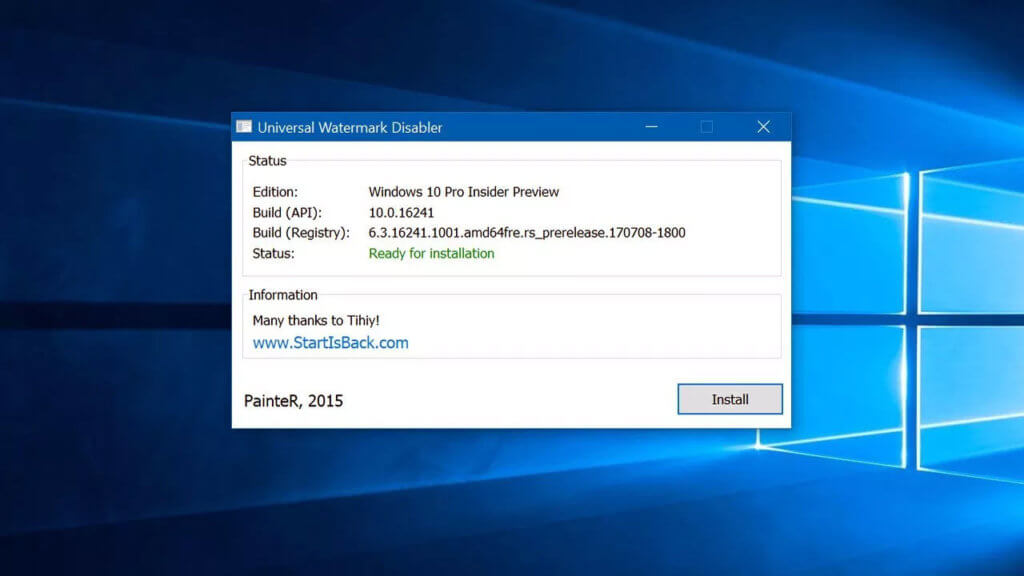 Download the tool from here and see if it's working for you or not. Making use of the application is pretty straightforward; all you have to do install it, and follow the on-screen instructions to make the changes. Upon completion, you will be logged out of your computer, and hopefully, signing in back will get you a clear screen with no watermark left.
2. Disable Windows 10 Tips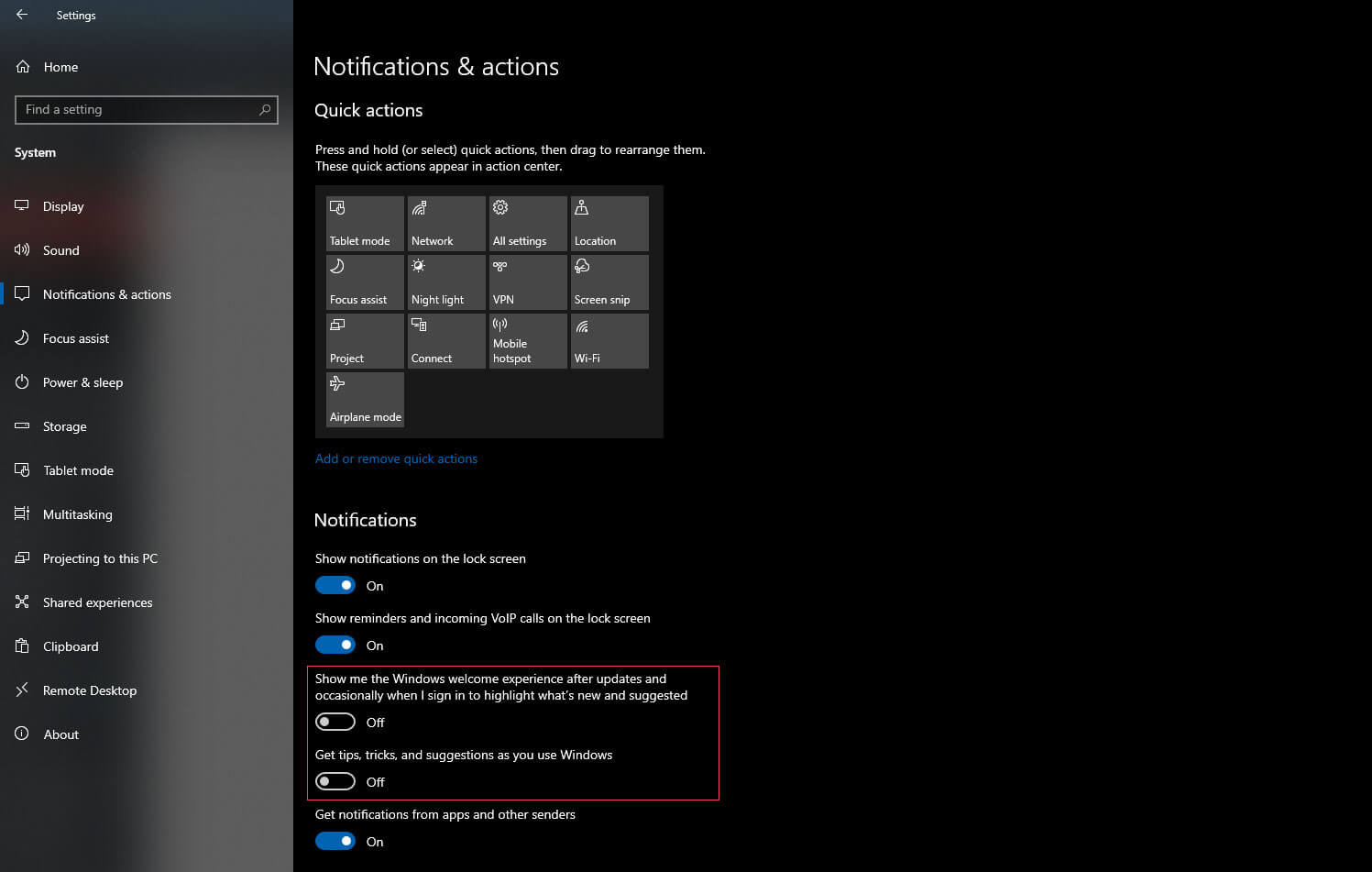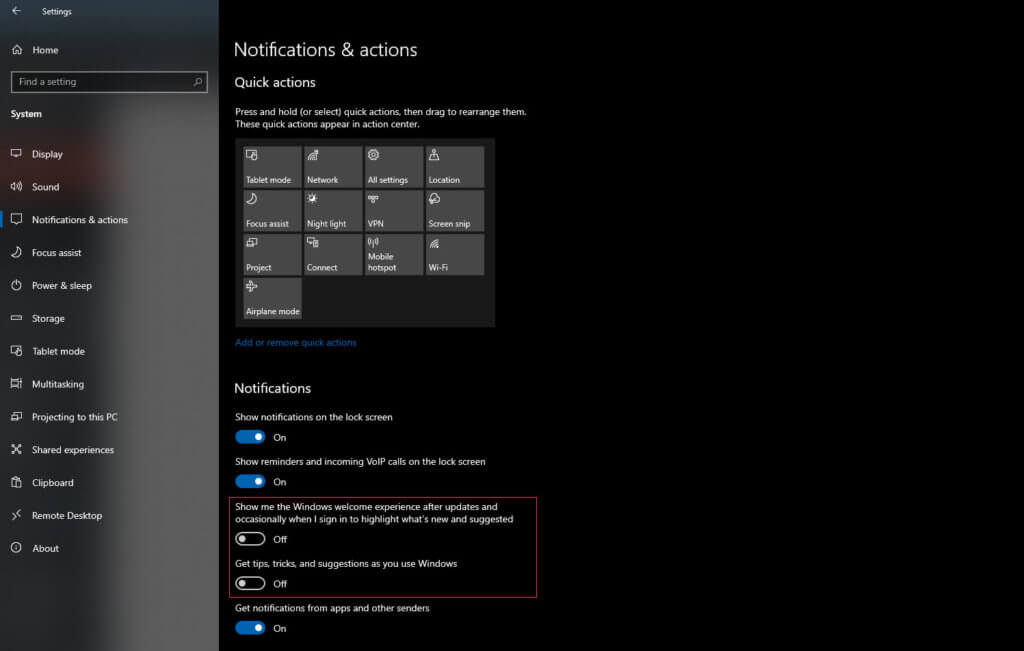 It's a quick hack that doesn't guarantee the removal of the watermark, but certainly worth a try. Go to Settings >> System >> Notifications & actions and toggle OFF the both Show me the Windows welcome… and Get tips, tricks and suggestions…
Also Read: How to fix Windows 10 Privacy problem and data sync
3. Changing Ease of Access Settings
The method would help you remove the watermark by disabling the background images to display.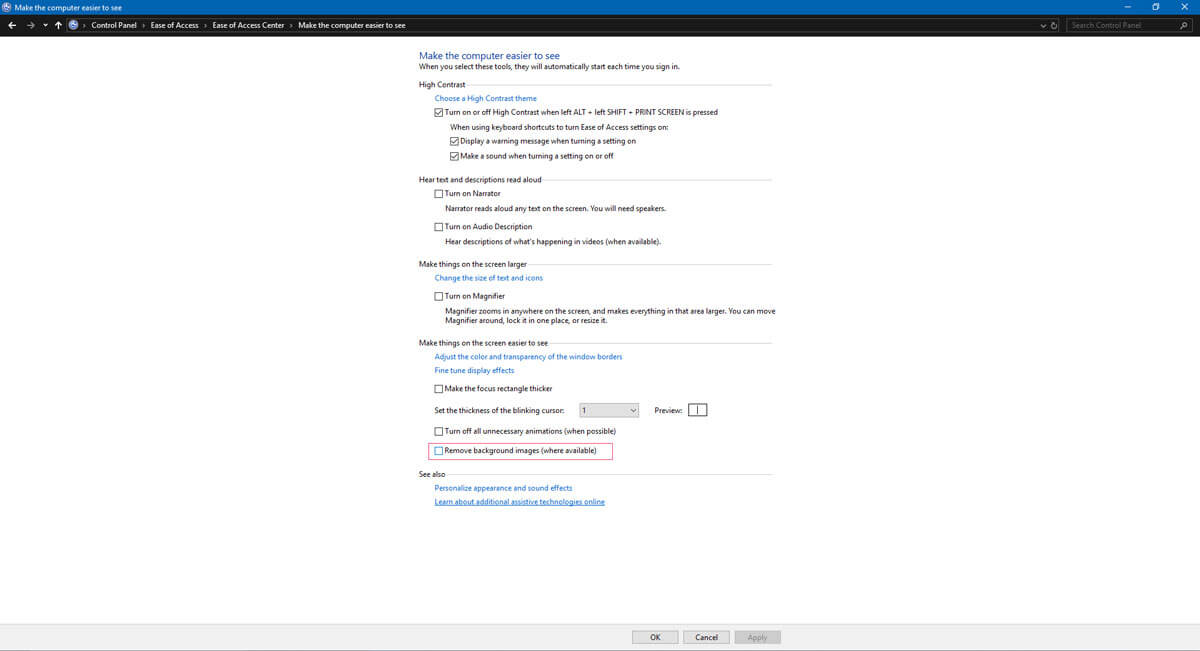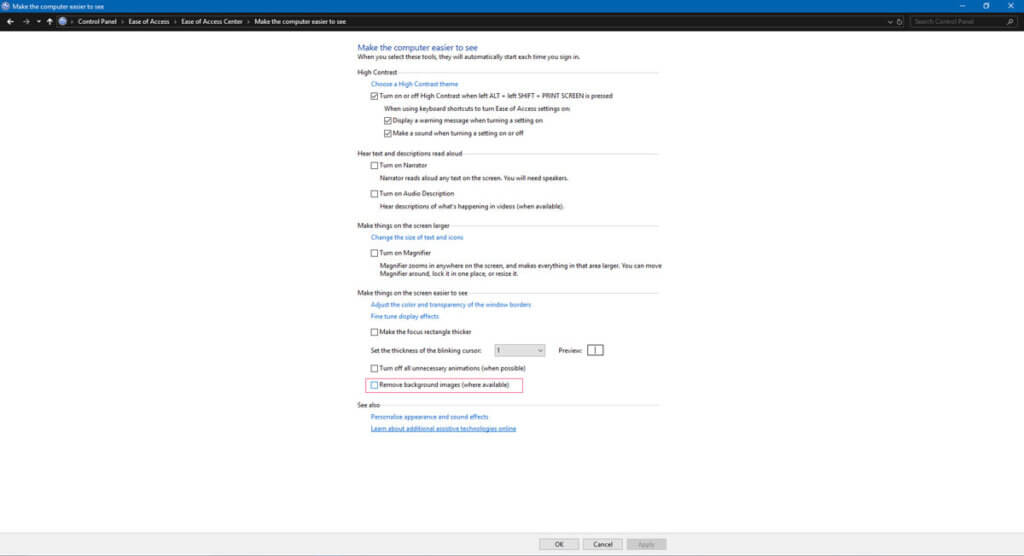 Go to Control Panel and click on Ease of Access
Select Ease of Access Centre, tap on Make the computer easier to see and scroll down to uncheck the box saying Remove background images.
Hit Ok and Apply changes
Crap over the Internet – The Outdated Methods
If you make a Google search for the exact watermark issue, you will see tons of results populating the search engine pages. While the guides seem to be promising with comprising lengthy tricks to remove "activate Windows 10," but practically most of the methods aren't into work anymore, and have gotten outdated.
So it's just an advice to save your time from the crap floating around the internet. Out of many, I've sorted out the two most common of all that you will see every article covering it.
The first method is running off a batch command "taskkill /F /IM explorer.exe" that even if temporarily fix the issue, the watermark is most likely to bother you again.
Registry edit is another one that isn't working any longer.
Also Read: Different Windows Background Services & their purpose.
Furthermore, cautiously use the alternative methods that require you to modify or delete system files, since it could possibly be an invitation for further problems.
Wrapping up
Now, when you know the ins and outs of the watermark "activate Windows 10," you can make the best choice for the removal of it. I'd advise that don't randomly install any software claiming to do the job, because you may end up collecting malware and adware for your device.
Moreover, you can't deny that the only best way to remove "Activate Windows 10" watermark is by actually activating the Windows.