So, you are bored of the Stock Moto G 3rd Gen & want to make some customizations or uninstall pre-installed Apps. Rooting basically grants you to handle core permissions of your device which lets you customize it as per your wish. Some of the benefits of rooting your Smartphone are:
Boost your Phone speed & Battery Life.
Remove Preinstalled crapware like System Apps.
Remove Bloatwares, Apps like Facebook, Chrome Keep sucking your Ram & battery by running in background So, Among the smartphone geek crowd, applications like these are referred to as "bloatware:" they do nothing but bloat the software by existing as unnecessary applications.
Tweak your phone like : Increase Video streaming speed, Increase Wifi Speed, Increase SIM detecting Speed, Increase SD read/write speed.
Most Important & Best part, Install Custom Kernel & Custom ROMS ( I will explain about it in Installing Custom ROM section Custom ROM section )
Finally, Truly Own your Device, Make it appear in the way you want.
Today, we'll learn the most simplest and safest method to Install TWRP & Root Motorola Moto G 3rd Gen 2015.
Requirements :
Minimal fastboot and install it on desktop.
Latest SuperSUv2.46.zip.
Installing TWRP in Moto G 3rd Gen:
Step 1. Download the recovery.img file from below link :
[button color="" size="1″ type="round" target="" link="https://userscloud.com/0zafx1f2gn22″]Direct Download[/button] / [button color="" size="1″ type="round" target="" link="http://forum.xda-developers.com/2015-moto-g/orig-development/twrp-twrp-moto-g-2015-t3170537″]Source[/button]
Step 2. After unlocking Bootloader of Moto G 3rd gen ,Copy SuperSu.zip in you Device memory that you downloaded from the above link.
Step 3. Now, turn off your device. Again turn on your device by holding (Volume down button and power button) at the same time for 6 sec and release it you will again see the  bootloader.
Step 4. Now connect your device to your PC. Then copy twrp-osprey-2.8.7-test1.img that you Downloaded above and paste it in the mfastboot folder.
Step 5. Now navigate to mfastboot folder where you installed earlier. Hold the shift key and right click on the mouse the in any blank area in that folder you will see "Open command window here" click on that.
Step 6. Now type the below code in command prompt and hit enter. (Rename the recovery file you have downloaded to twrp.img)
fastboot flash recovery twrp.img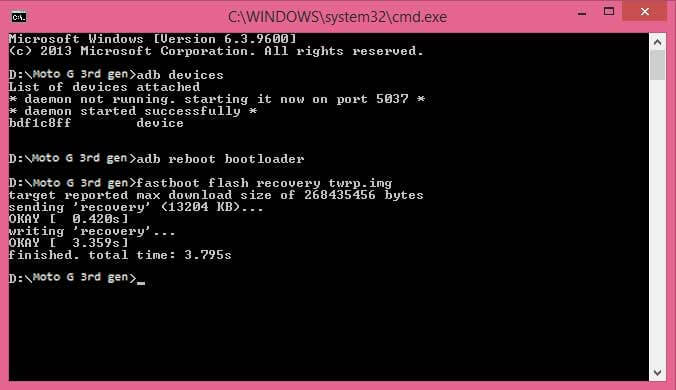 Step 7. You have successfully flashed TWRP Recovery in your Moto G 3rd Gen 2015.
How to Root Motorola Moto G 3rd Gen:
1. Open TWRP Recovery, Select Install from sdcard  Option using volume down button to navigate and power button to select it.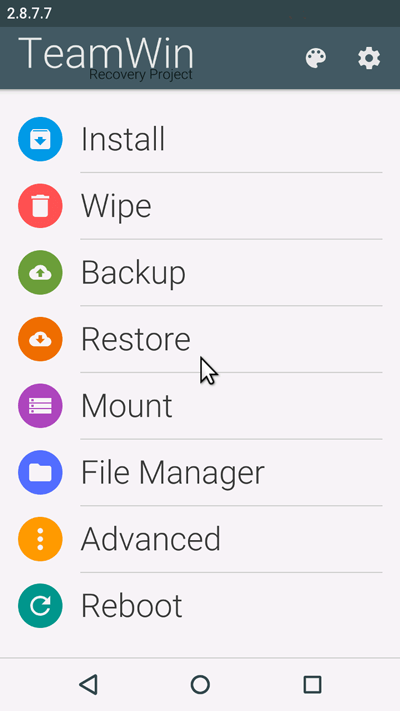 2. Select install zip from SDcard  then select 0 (0 is the location of internal storage )  and now select supersu.zip and flash it by pressing Yes option using power button.
Now wait for few seconds until installation in progress.
3.Now Select advanced > reboot to bootloader. (Select NO if asked to fixed the SuperSu issue)
4. Select reboot device.
5. Congratulations You have successfully rooted you Moto G 3rd gen (2015).