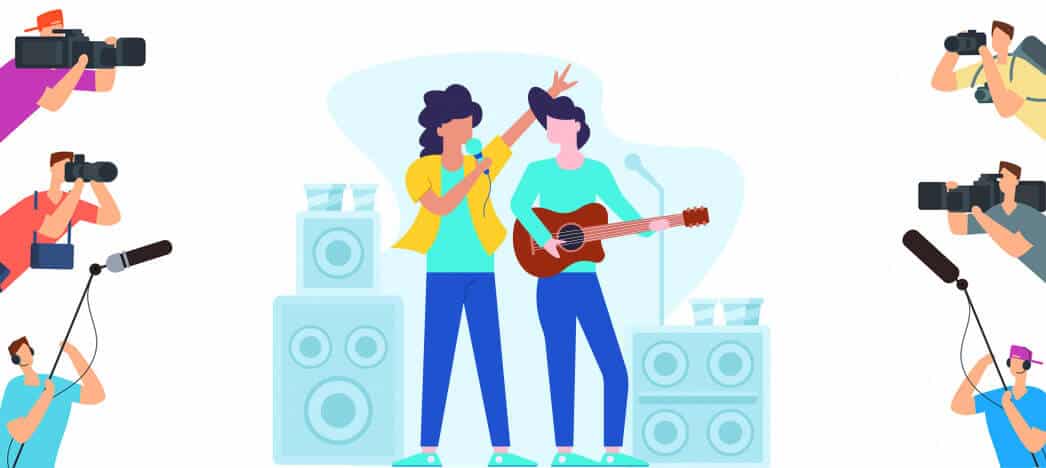 Voice changer apps are like a "cheat code" that will make anyone go nuts listening to you. These apps aid you to mask your voice in real-time and make you sound like whatever you want to.
For instance, imagine the hilarious outcome, when you camouflage your identity by changing your voice over Discord. There is a plethora of software and apps that will help you in trolling your buddies with a scary voice, or anything you prefer.
With the privilege of playing with tons of various sounds and effects, you can make the funniest of voice calls, or establish communication, albeit in an unusual way when playing online games, or using voice chat apps.
Most of the best voice changers for Discord are available for free. Though Discord does not include any voice changer plugins or commands, and it should not take too long finding the best voice modifier.
Your friends will be taken aback, as these voice changers work on real-time inputs as you speak on the microphone. The setup and installation procedure of these voice changer apps is a breeze.
When you are ready, connect the voice changer's audio output with Discord, you are loaded with the ammunition to surprise your buddies, strangers, or if you want to remain anonymous in sensitive situations.
With voice effects like deep tones, celebrities, military radio, and much more, you are always ready with an ace up your sleeves to surprise your friends.
As already mentioned, you will find many decent voice changers for Discord, for downloading. That's all it takes to become a pro prankster.
[toc depth="2″]
How to choose the best Voice Changer Software?
Before we dig more in-depth and explore the best voice changers for Discord, here are a couple of essential points to remember. You ought to have a premium-quality microphone connected to your PC.
Your efforts of installing the best software or app designated to alter your voice will go in vain if your sound is unclear. Also, none of the discords bots have any feature of changing user's voice.
The other thing to bear in mind is the software or app you prefer should have a fast response time. Additionally, it should not use up too much system resources; this will help in transferring your voice instantaneously without hampering the performance on the main program.
You will be mainly using the app when you are into multiplayer games, OBS, and the Discord. It may be possible, you were unable to upgrade the hardware and yet using the voice changer.
In such situations close all the programs, you are not using at that moment. By following these steps, your app should work flawlessly.
The Best Real-time Voice changers for Discord
We are now going to introduce you to the best real-time voice changers for Discord. Without the slightest of doubts, when you sound different, apart from using it as a prank, it can also help in specific situations.
That being said, you should use them responsibly, as using it in inappropriate ways can inevitably cause harm.
1. Clownfish Voice Changer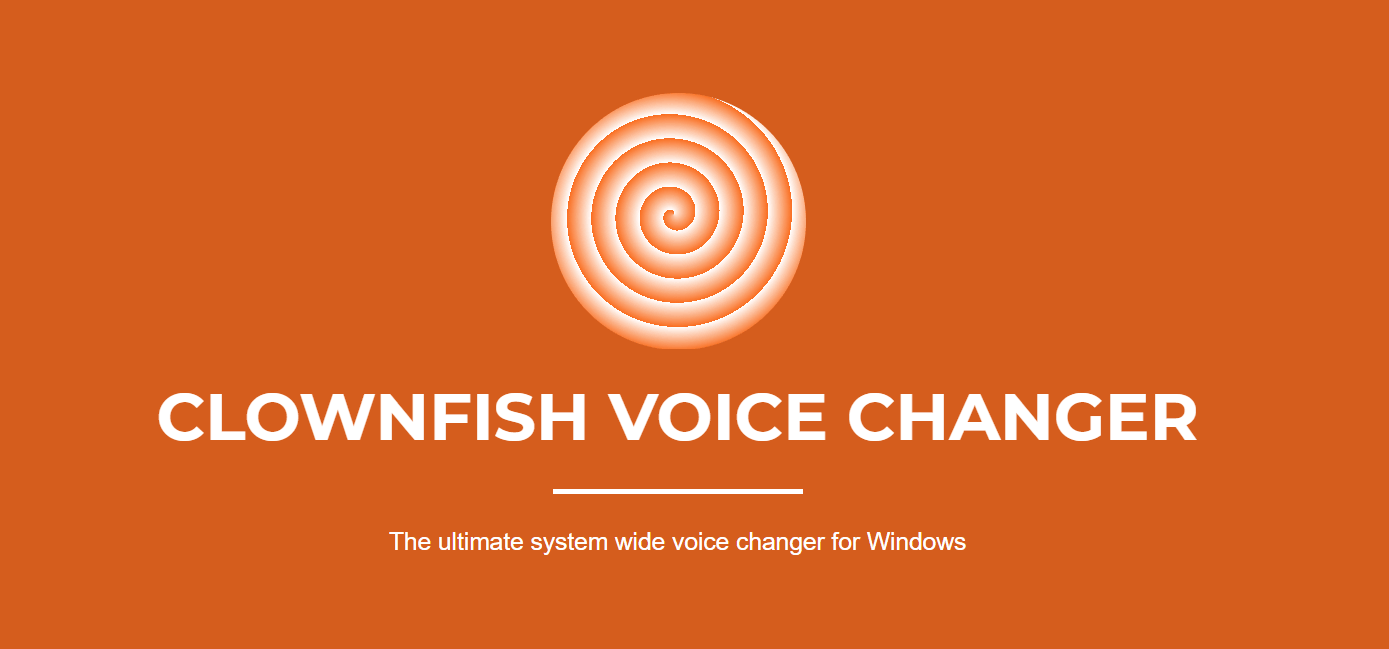 The Clownfish voice changer is a trusted name in this arena, for all the right reasons. It offers a diverse range of voice to choose from. So, whenever you wish, you can sound like an alien, or like a female speaker.
You must have a Windows PC for maximizing the benefits of this software. The program is easy to install and is tailor-made for anyone who desires the voice quickly.
Notable Features:
If you thought, the software is capable of changing the voice only then you are in for a surprise. It has the provision for you to play your favorite music when used over a microphone, you can also send text-to-speech audio when participating in a voice chat, and it can even play various sound effects with the aid of a soundboard.
Although it is not the ideal software, if you are looking for one that can make you completely anonymous, but it is fast enough to make you more than happy.
The inbuilt translator feature offers you the convenience of translating your local language into any other global language.
Apart from modifying in Discord, you can also use it Skype, Steam, Viber, Hangouts, Ventrilo, and a host of other places. It also includes the Virtual Studio Technology (VST) plugin.
With this system, you can integrate the conventional studio recording hardware systems with the more advanced recording features. Currently, it supports many VST effect files; for this, you need to install the Clownfish plugin.
The present voice effects include Alien, Atari, Clone, Fast Mutation, Slow Mutation, Male pitch, Silence, Female pitch, Helium pitch, Baby pitch, Radio, and Robot.
Supported Platforms:
As already mentioned, Clownfish supports the Windows operating system; you can use it on various versions of Windows operating system like Windows Vista, 7, 8, 8.1, and 10. It is available in two versions, 32bit and 64bit.
It also works on mobile devices so you can easily install and run it on the Android and iOS platforms.
You can use Clownfish for a plethora of applications. Whenever required, you can update the software from the official website to enhance its performance further.
Pricing:
The software is free to download.
2. Voicemod
Voicemod happens to be the most widely used voice changer programs for Discord. The ease and simplicity of using it make it the unanimous choice for users.
As mentioned, in the official website of Voicemod, with the help of this software you can troll like a boss. You can freely use it while making a call, or in any chat rooms.
Notable Features:
The soundboard support for Discord is one of its prime features. For this, you got to download the Meme Sound Machine, which offers you the convenience of loading various sounds in MP3 and WAV formats.
You only need to choose the hotkeys to operate them at will. Alternatively, you can freely design a unique custom soundboard packing different sounds.
Voicemod effects are the most natural compared to all the other voice changer apps and software. You will love the various impacts viz; celebrity, deep tones, military radio, space marine, chipmunk, male, female, Genji, Asian girl or Kermit.
The software is compatible with most of the communication and streaming programs. Apart from Discord, you can also use it in Skype, Twitch, TeamSpeak, Steam. Hangouts, OBS, Bebo, and much more. Voicemod will change your voice in real-time in all these platforms.
Supported Platforms:
Voicemod works in Windows platforms 7/8/ and 10.
Pricing:
The license model is free to try, and you get six voices out of the lot in the free version. The pro version costs $4.99; if using the free version makes you interested, you can always get the paid version and add more flexibility.
Also Read: How to add bots to Discord Server and use bot commands
3. AV Voice Changer Software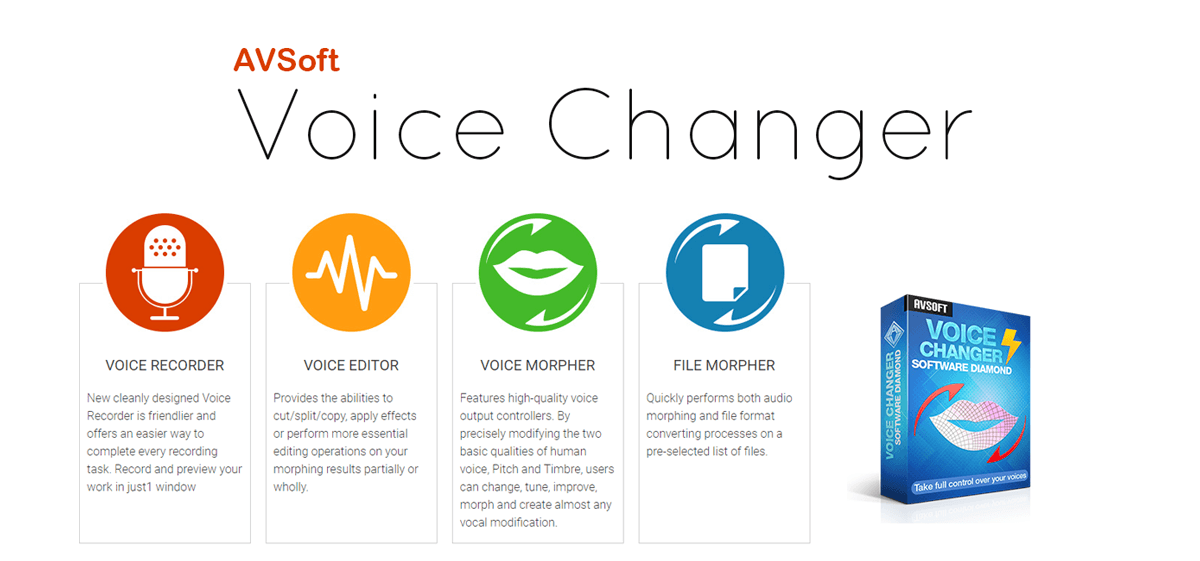 The AV voice changer is not designated for trolling and playing pranks. It is meant for the professionals who want to cut back on the costs of outsourcing for creating new ads of their products and services.
The professionals can tweak or alter their voices to sound like different persons both male and female and manage to create an impact.
Notable Features:
The functionality of the software is far beyond the ability to change your voice in real-time. It successfully creates a home audio type workstation offering all the necessary tools you need to make prolific recordings.
The advanced virtual driver technology feature makes it compatible with the critical VOIP programs, role-playing games, and chat apps.
The inclusion of a batch file Morpher can process all the audio files at the same time. Ideally, it uses the two main qualities of the human voice, the pitch, and timbre for creating that natural voice in real-time.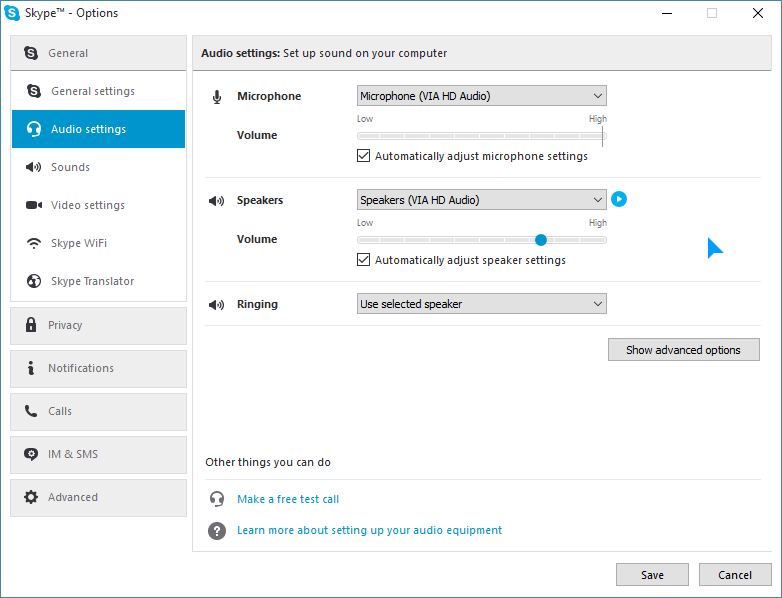 Furthermore, it also includes a compact audio editor which enhances your voice even more. It goes without saying; this software meant for the professionals features an exhaustive sound effects library.
The voice recorder feature has been further improvised. Now, you can record your voice more conveniently, and all your recording jobs will be over in a jiffy. You also get the liberty of recording and previewing them in a single window.
The voice editor offers the ability to cut/copy/split effects and high-end editing jobs on the morphing results, and the choice is practically limitless.
And that is not all; AV changer also includes a file morpher that can perform both audio morphing and convert the file format on the files that you intend to work with.
Supported Platforms:
AV Voice changers work on Windows Vista/7/8/8.1/10 (32-bit & 64-bit).
Pricing:
The software is presently available in three versions, the Basic, Gold, and Diamond. The Gold and Diamond version costs $99.95, while the basic version is free for limited usage.
4. Voxal
If you want to play with a plethora of voice changing features, Voxal is the voice changer software for you. Apart from the ability to record your voice in real-time, it offers you the added privilege of applying various effects to the recorded sounds.
It works perfectly with Discord and never gets out of sync. It boasts of an exhaustive resource library from where you can choose different voice effects. It works with most of the online games, and chat software like most of the premium voice changers.
Notable Features:
No other voice changing software works as well as this one. Without taking the trouble of changing any configurations, settings or programs, you only need to install it and start playing with the different sounds right away. It will give you the impression; the software is plug_and_play.
As already mentioned, you can apply any effects on the pre-recorded files, and do the same in real-time. Furthermore, Voxal offers a load and save effect chains for enhancing voice modifications.
Among the voice effects, you get to choose from hundreds of voice modulations, which you can also use for creating voices for specific characters in audiobooks.
It barely uses any system resources. Thus it never interferes with the other running programs and apps. You need not close any applications when you decide using Voxal.
You can stun your friends by using a male and female voice while playing your favorite online games.
Supported Platforms:
The software is designed for a lot of platforms. Primarily, it works on Windows 7,8, XP, Vista, 8.1, and 10. It is also usable for the 64bit Windows platforms. It also supports the mobile platform and is usable for Mac OS X 10.5 or above
Pricing:
Voxal is available in two versions. The names of both are Voxal Voice Changer Plus, but one of them is for commercial use and the other for home use only. The former is priced at $19.99 and the latter at $16.97.
5. MorphVox Jr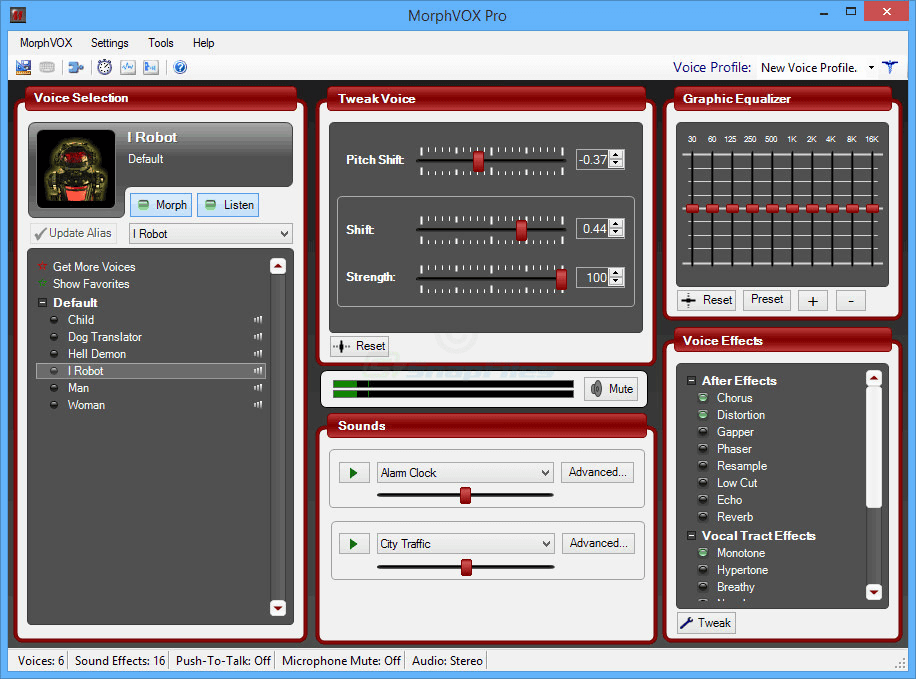 We guess, not everyone is ready to bang the buck for trying out voice changer software if primarily their intent is only to do some fun or pull pranks. For the enthusiasts, the MorphVox Jr can be an ideal option.
Yes, it accompanies certain drawbacks, but you have to compromise with them as you are using it without paying a penny.
Notable Features:
The software has many inbuilt voices and sound effects that should make using it attractive to many of you. Specifically, it is designated for use while playing online games, but it is also usable for making prank calls via VOIP and instant messenger.
Your friends can be in for a surprise when they suddenly hear the sounds of a car screeching or drum rolls in the middle of a game, while you enjoy their reactions.
The software uses a premium-quality voice changer technology. It gradually adapts your voice and accordingly offers optimum sound quality. You will find it pretty easy to connect it with all the major chat platforms and online games.
It does not take up a lot of system resources; you can continue using other applications with this voice changer app. MorphVox Jr includes customized mouse and joystick shortcuts which makes it easy for you to access some standard functions.
Now, for the drawbacks, it comes with ads, which is annoying but as we mentioned, it is free software, so you have to bear with it anyway.
Unlike other voice changer software to which you have become familiar with, the setup and installation are not simple. Mainly, when you want it to use with Discord, be prepared to scratch your head before you figure out how to do it. Nevertheless, it has a decent sound quality, which is quite apparent.
Supported Platforms:
The software is compatible with the Windows platform. It works on both the 32 and 64-bit versions and will work in Windows Vista, 7, 8, and 10.
Pricing:
MorphVox Jr is free to download and use.
How does a Voice Changer work?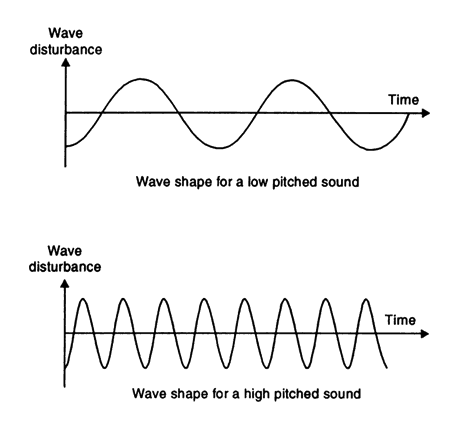 Don't you feel the urge to understand the mechanism of these voice changers? How do they manage to transform your voice to someone else's?
Almost all these voice changers alter the pitch-sensitive basic waves of the user with the help of a microprocessor and offer the liberty to change the pitch of the voice.
The low-end voice changers do not include a suitable quality microprocessor. Thus the pitch options are limited whereas the high-end ones use capable microprocessors and offer a plethora of pitching options.
As you can understand, the pitch is the fundamental factor, and the voice changers do have certain limitations on the degree of changes to make. Else, the sound will appear unnatural.
When you speak on the microphone, the voice changers analyze it in real-time and alters the pitch immediately. You hardly require getting involved in the intricacies mentioned above.
Download an app or a program, run the setup wizard, and group your voice changers audio output with Discord. Initially, perform a test run to ensure, Discord is playing your altered voice correctly. That's it; you are all set to unleash the pranks on your friends.
Conclusion
By now, you must have figured out, introducing these voice changer software when you go online on Discord promises a lot of spice. How you interact with your friends on various platforms will ultimately going to change.
Even professionals can make use of it to boost their business. These apps are also an excellent choice for streamers. They will relish the experience of adding different funny items on their streams.
So, what are you waiting for? Get the one which appeals to you, and makes a move. You surely do not want to miss out on the opportunity to see your friends startled with these cool voice effects.
Frequently Asked Questions
1. What is the cheat code?
A cheat code is generally a code, method or device used by gamers to advance levels, or to get other special powers and benefits in a video game. It could be a series of alphanumeric codes or keyboard combinations which can give the gamers an added advantage over other gamers who do not use a cheat code.
2. How to install Clownfish voice changer?
1. Open your web browser and visit their official site
2. Click on the Download 64-bit.
3. Go to the download location and double click on it.
4. Click on Run.
Now, click the install button and follow the next screen steps to complete the installation.
3. What are voxal free version features?
1. Its Effects can be applied to existing files
2. Apply effects in real-time using a microphone or other audio input device
3. Load and save effect chains for voice modification
4. Vocal effect library includes robot, girl, boy, alien, atmospheric, echo and many more
5. Create unlimited, custom voice effects
6. Works with all existing applications and games
4. What is AV voice changer software?
The functionality of the software is far beyond the ability to change your voice in real-time. It successfully creates a home audio type workstation offering all the necessary tools you need to make prolific recordings.
5. What is virtual studio technology?
Virtual studio technology (VST) is a digital interface standard that is used to connect and integrate software audio effects, synthesizers and effect plugins with recording systems and audio editors. VST is a software emulation of hardware synthesizers, instruments and samplers, and often provides a custom user interface that mimics the original hardware down to knobs and switches.
6. How much does voicemod pro cost?
The license model of voicemod is free to try, and you get six voices out of the lot in the free version. The pro version costs $4.99; if using the free version makes you interested, you can always get the paid version and add more flexibility.
7. Does morphvox jr work?
The Morphvox software uses a premium-quality voice changer technology. It gradually adapts your voice and accordingly offers optimum sound quality. You will find it pretty easy to connect it with all the major chat platforms and online games.