If you are a regular Discord user, you must have noticed the HypeSquad badge beside certain people's username. While understanding HypeSquad and its workarounds can seem a little daunting at first, it is actually quite simple once you read up a little on it. So, what is HypeSquad, how to join HypeSquad, and how to get HypeSquad badges of your choice?
In this article, we will be exploring these questions and some more. Discord HypeSquad badges are fun to have, and they say something about you. But, before we discuss how to get all HypeSquad badges, let's start from the basics.
What is Discord HypeSquad?
HypeSquad on Discord consists of a special set of members who are allowed exclusive perks, benefits, and mentions. The members of Hypesquad serve as representatives for Discord and help in its promotion. Upon being a part of HypeSquad, you will be rewarded by a badge right next to your username to make it official to the rest of Discord.
There are 2 tiers and 3 houses in Discord's HypeSquad. Both the 2 tiers- online tier and event tier– come equipped with their own set of perks. The badges for both tiers differ. However, the main motivation remains spreading the word. Before getting to how to join HypeSquad, let's first understand the benefits it grants.
Benefits of Discord HypeSquad
While HypeSquad on Discord is the development team's way of keeping users engaged and advertise their product worldwide through some dedicated members, what's in it for you? Let's say you do figure out how to get all HypeSquad badges, what then?
Here's how you'll be rewarded:
The first and foremost perk is the badge assigned right next to your Profile username. It will be visible to all, and you'll automatically draw some clout without even trying to. The badge will serve as a constant reminder that you are one of the 'it' guys and that you are privy to perks that rest aren't. 
If you are an event-related member, you get access to their super secret HypeSquad events server. Afterall what's better than a secret server that only a select few can access? That's how Discord adds the extra premium touch to their HypeSquad feature.
Get access to an exclusive HypeSquad t-shirt to go with your enthusiasm. If you are coordinating with Discord on some event, you'll be gifted an official HypeSquad t-shirt to flaunt to your friends. This is a mark of exclusivity, just like the badge.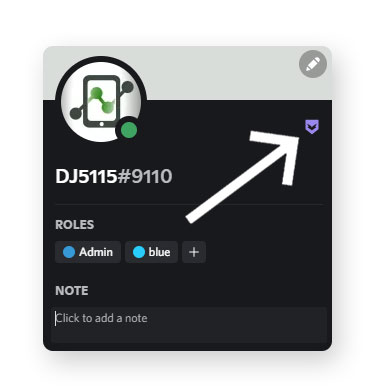 You'll be sent a "big ol' box of goodies" by Discord's team as support and encouragement, if you are conducting an event of your own. This is Discord's way of hyping you up for the event and backing you up for your efforts. 
Now that you know what HypeSquad offers, it's time to get into the different houses.
Discord HypeSquad Houses
Discord offers 3 separate houses for HypeSquad members. You will have to take the HypeSquad test for your house to be decided. You can say, the Discord HypeSquad quiz is a kind of sorting hat. As for the different houses they are, take a look:
House of Bravery


The best way to describe the House of Bravery is through Discord's own quote:
"The universe needs people to lead the charge with confident optimism and tenacity. Without the brave, the HypeSquad would descend into chaos."
Before trying to find out how to get HypeSquad bravery badge, you must first be worthy of it. The House of Bravery stands for the pillars of leadership, tenacity, and utmost confidence in oneself. It's only when you mix all these 3 attributes together that you can term yourself as 'brave.'
House of Brilliance


To quote Discord's own definition yet again, this is what the House of Brilliance entails:
"It takes patience and discipline to become a vital member of the universe. Without brilliance, the HypeSquad would descend into chaos."
If you want to be a House of Brilliance member and get HypeSquad Brilliance badge, you ought to harbor virtues of patience, calmness, and most of all, discipline. Without self-control and peace, no worthwhile decision is ever taken and no resolve is ever settled.
House of Balance


As for the last one of the lot, here's what Discord has to comment on the House of Balance:
"Harmony and poise are necessary to create equilibrium in the universe. Without balance, the HypeSquad would descend into chaos."
It's when you pour equal amounts of brilliance, bravery, and calmness into the cauldron, that you are rewarded with the penultimate virtue of balance. The House of Balance seeks members who can showcase a controlled and all-rounded approach.
How to Get Discord HypeSquad Badge
Now to answer how to join HypeSquad, you will essentially have to take a HypeSquad test. But, more on that later. For now, let's see how to join HypeSquad:
Step 1: Join HypeSquad
If you are trying to find where HypeSquad is, follow the steps laid down below:
Open 'Discord' and tap on the 'Settings' button next to the profile picture.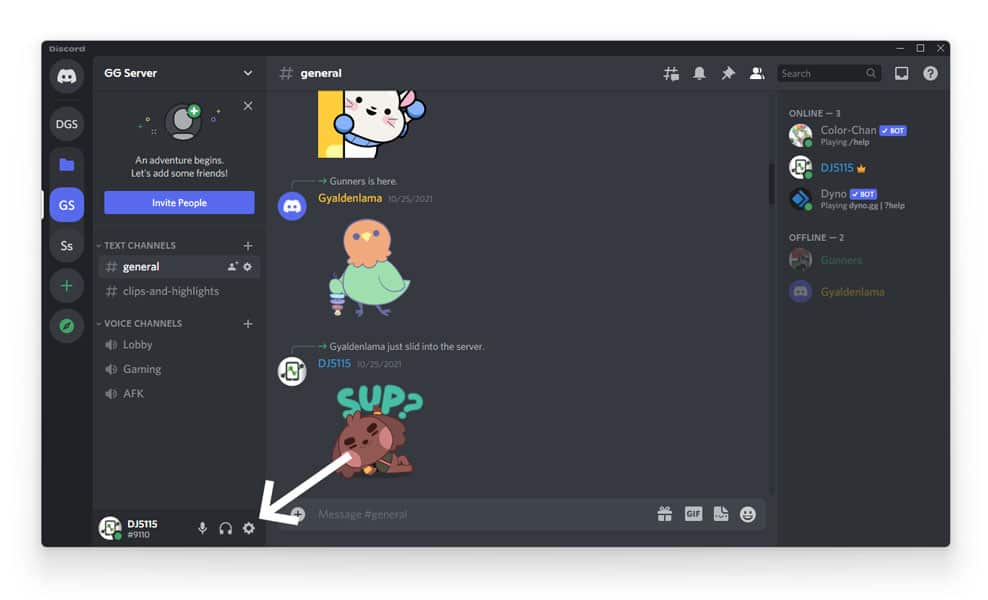 Scroll down and Tap on 'HypeSquad' from the left side of the screen.
Now, click on 'Join HypeSquad'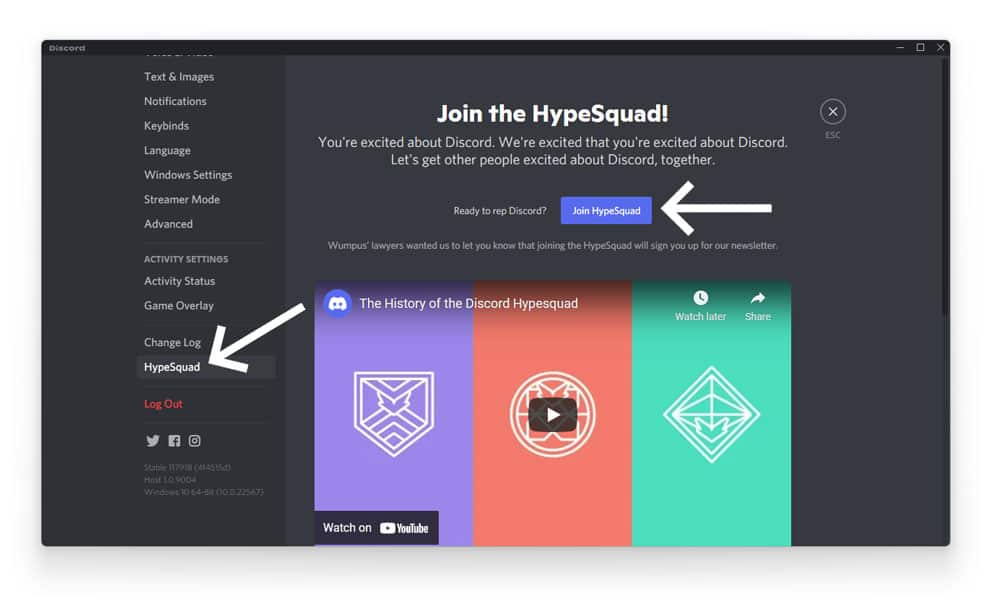 That's where you'll see the Take a Test option to become a HypeSquad member. Note that you must be at least 13 years old to be a HypeSquad member, and if you want to be a part of event tiers, you must fulfill 2 criteria: be at least 16 years old, and have experience in organizing gaming events and tournaments.
Step 2: Take Discord HypeSquad Quiz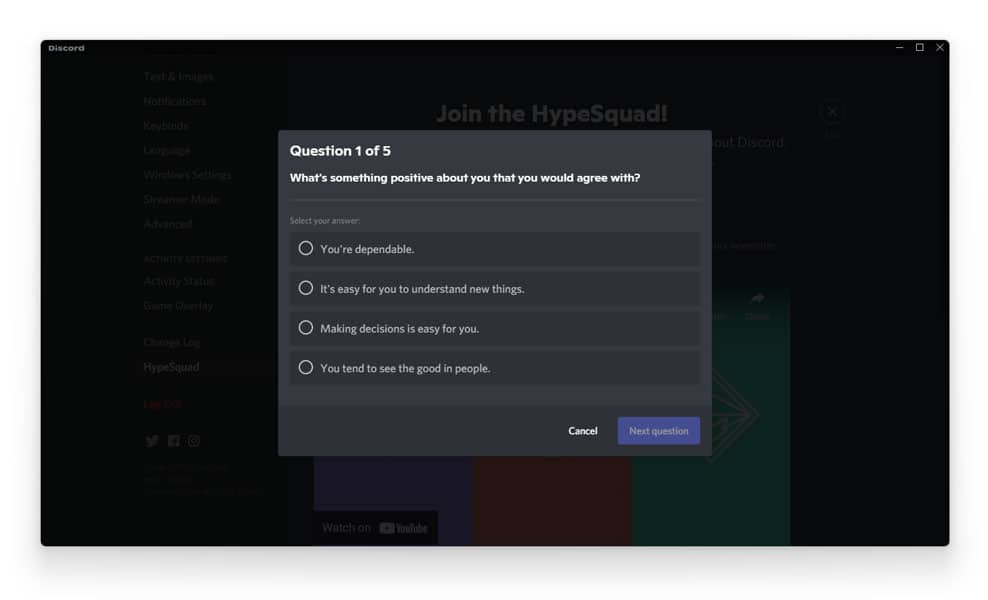 Now, as for the test, you will be asked 5 questions with 4 options below each. Answer them honestly, and voila, you will be befittingly assigned to a house.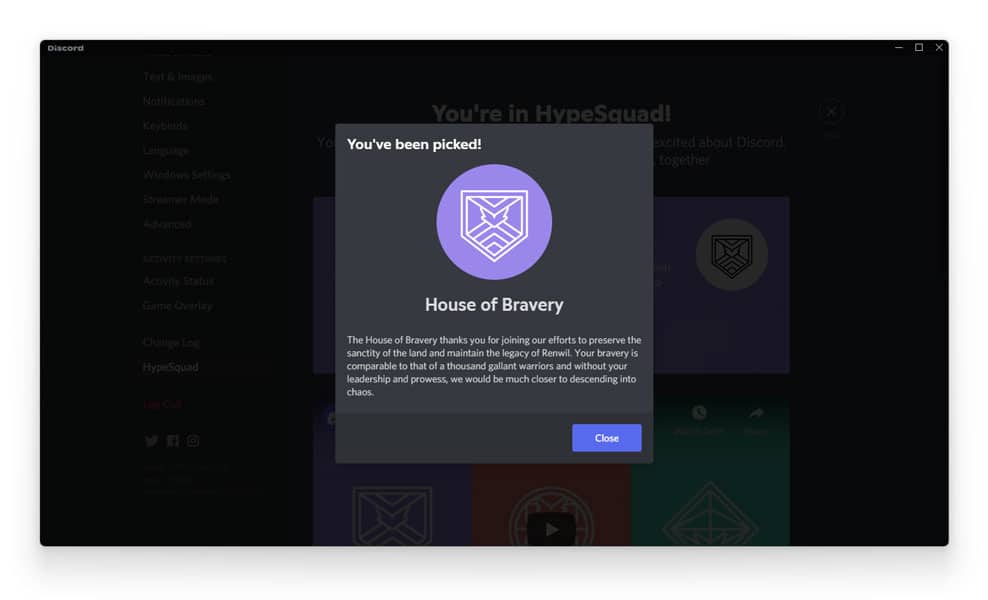 What happens if the house you have been assigned does not seem to ring true for you? In such cases, you can simply take another HypeSquad test and alter the results by tweaking the answers to test. Click on the 'Take the test again' link besides 'Wanna switch houses?'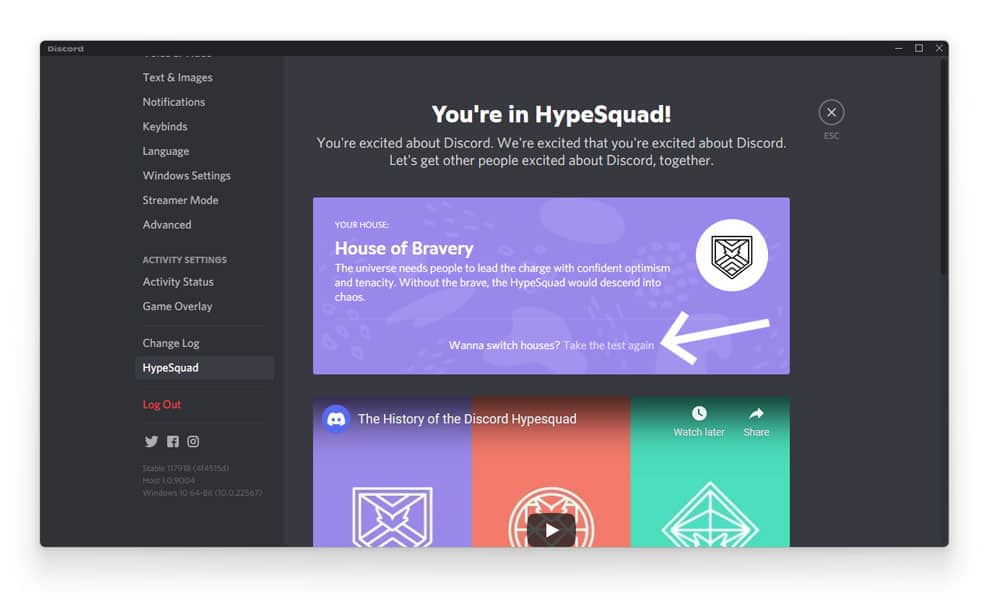 However, for best results, it is recommended to be honest and transparent with your responses from the get go. Afterall, you would not want to experiment with something that promises countless perks and bestows upon you the responsibility to hype Discord up.
How to Get HypeSquad of your Choice
It can be the case that the house assigned to you is not what you wanted to be a part of, to begin with. While it is always advisable to be honest with the responses to the HypeSquad quiz, we understand if somehow the results are disappointing you, and you want to re-do it. You can simply re-take the Discord HypeSquad quiz to see if the odds are in your favor this time.
If you have already taken the quiz a couple of times but to no avail, here's a little help coming your way. It's always better to know which answers point towards which house. That is essentially the key to your dilemma. To provide a quick summary, here's what you should look for in the answers:
Balanced: Sharing/Compromising answers
Bravery: Bold/ Being brave answers
Brilliance: Learning/ Self-Betterment answers
If that is not clear enough, here's a list of all the possible questions you can be asked. A prior knowledge of the Discord HypeSquad quiz questions will direct you towards the answers of your choice, and in turn the house of your preference.
Note that from the below answers, option As pertains to bravery, Bs to brilliance, Cs to balanced, and lastly, Ds are randomized selections. Your house will be chosen on the basis of the number of times you have marked the responses pertaining to the 3 virtues. 
Here are all the questions, out of which 5 will be asked on your HypeSquad test:
| | | | | | |
| --- | --- | --- | --- | --- | --- |
| Serial Number | Question | Option A (For Bravery Batch) | Option B (For Brilliance Batch) | Option C (For Balanced Batch) | Option D ( For Random Selection) |
| 1 | Which insult would hurt you the most? | You overreact a lot. | You don't listen enough. | You only care about yourself. | You're ordinary. |
| 2 | What sounds like a perfect day to you? | Sleeping in, having a giant, homemade lunch, and heading out to meet up with close friends late at night. | Waking up early, finishing something you've been putting off for a while, and working on a new hobby in the late afternoon. | Waking up on time, walking to the garden store and buying a new plant, and sinking deep into a bath to end the day. | Waking up with no plans, taking the day as it comes. |
| 3 | What's something positive about you that you would agree with? | Making decisions is easy for you. | It's easy for you to understand new things. | You're dependable. | You tend to see the good in people. |
| 4 | Which of these smells makes you happiest? | Air that's deep and smokey from a campfire, and sweet from toasted marshmallows. | Crisp, cool air revitalized after a thunderstorm. | Fresh flowers in bloom mixed with the clean smell of laundry drying on a line. | Walking into a kitchen after something flavorful has been slow cooking for 8 hours as fresh bread cools on the counter. |
| 5 | Your favorite out of these genres is: | Fiction | Biographies and memoirs | Poetry | Romance |
| 6 | You and your best friend get into a fight. No one is clearly in the wrong. You: | Wait to see if they apologize first, but eventually give in and reach out. | Apologize first but secretly be upset you had to say something first. | Apologize first and truly mean it. | Never apologize. Whatever happens, happens. |
| 7 | Your dream exotic animal companion would be: | Something intimidating and protective like a bear. | Something small and nimble like a fox. | Something large and helpful like an elephant. | Something different and eye catching like a komodo dragon. |
| 8 | Your dream house would definitely have a: | Perfectly sized bedroom with an extravagantly comfy bed. | Giant, roaring fireplace with a cat sleeping calmly in front. | Some seriously beautiful outdoor space. | An expansive living room meant for hanging out with tons of natural light. |
| 9 | You would want a job that: | Challenges you in a way that makes you grow. You don't feel bored in your day to day. | You're really good at and are looked to for advice. | Lets you feel like you're making a difference in something. | You do what needs to be done, but you're not really too invested in it. |
| 10 | How do you react to learning new things? | You tend to stay away from learning new things and focus on becoming better at things you're already good at. | Get really frustrated you aren't good at the start and become obsessive. | Take things slowly and learn step-by-step to make sure you get things right. | Give up early and often. |
| 11 | You can only listen to one type of music for the rest of your life. Do you pick: | Something catchy that gets you excited. | Something unintrusive that helps you concentrate. | Something relaxing that puts you at ease. | Something nostalgic that you know well. |
| 12 | Vacation time. Where are you going? | Somewhere new and extremely different from where you live. | Somewhere quiet. It's not a vacation unless you get to relax and reset. | A place you've been before that you have grown to see as a second home. | Stay at home. You're not one for traveling. |
| 13 | Your computer desk looks like: | A mess to anyone who isn't you. But you know where everything is… | A mess. And you're not sure where everything is… | Kinda simple but you really like it. | Something out of a magazine. It's clean and decorative. |
| 14 | The nightmare situation finally happens to you. You order food at a restaurant and what comes out is not what you ordered. You: | Don't complain. Just send it back because you were really craving that one thing. | Complain to the table that this isn't what you ordered but don't send it back. | Eat it without saying anything to anyone. | Complain to the waiter that this isn't what you ordered and send it back. |
| 15 | You're on your way out the door to something important, but your neighbor says that they need help with something. You: | Help them and don't worry about the other thing you were on your way to. | Apologize to your neighbor but insist you have something you must get to. | Knock on your other neighbor's door and ask them if they can help out in your place. | Pretend you didn't hear them. |
Conclusion
That's all there is to know about HypeSquad Discord badges, the perks they offer, ways to join, as well as how to change your allotted house. All you need to ensure is that you are a dedicated member of Discord, and that you have it in you to engage regularly and push Discord's prerogative further.
Good luck on your house selection. We hope you land on the one you always wanted. If not, you know what to do!