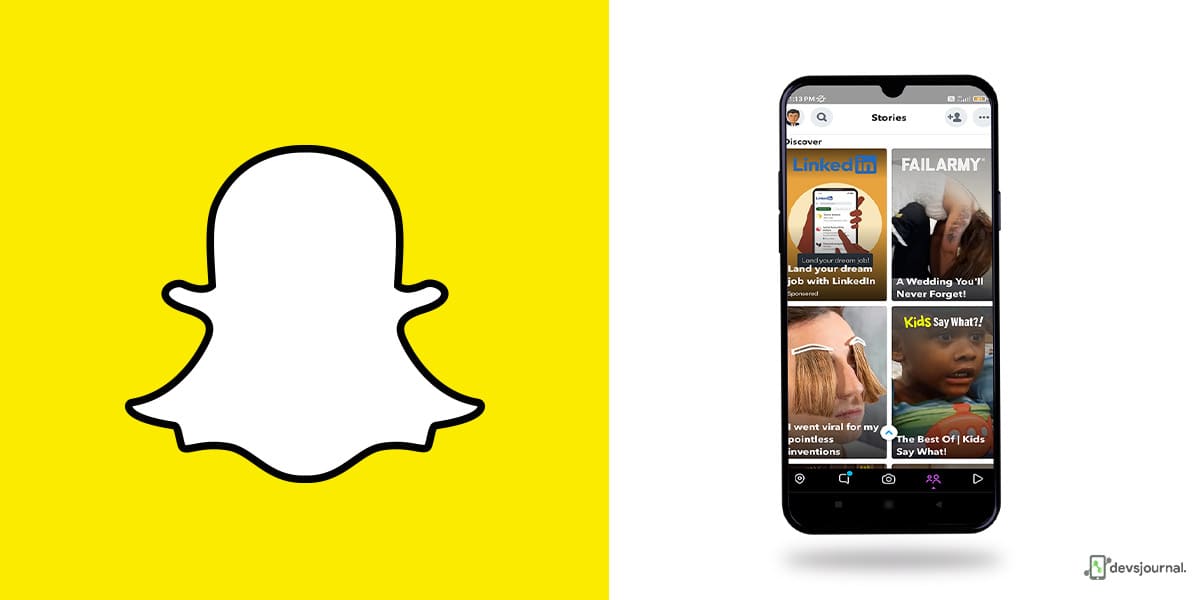 Snapchat is always trying to add new features like saving pictures, clearing recent chats and improve your app experience. This leads to frequent updates, including the latest one that lets you add a photo to your Snapchat profile. With so many few features being constantly added, it is only natural for some of them not to be favorites among Snapchat users.
One such feature is Discover, where Snapchat adds stories from different companies like Cosmopolitan, Daily Mail, MTC Fusion, Bleacher Report, CNN, National Geographic, Vice, Food Network, People, Yahoo, and more.
When this feature was first introduced, Snapchat added a dedicated page only for such stories. You had to swipe two times to the right on the camera interface, once to see your friends' stories and twice to navigate to the Discover page.
But the latest update has brought Discover to the main page and your friends' stories. So, now you have your stories, Discover, live stories, and your friends' stories. 
The problem is, this way, you are obligated to view all the icons anytime you wish to see any story. Moreover, with the huge amount of data in Discover, you stand a chance of losing your mobile data much sooner.
The good news is, if you happen to be an Android user, there is a way to turn it into a manageable state with a few tweaks. Read on to know how to disable Discover on Snapchat.
What is a Discover Tab on Snapchat?
Snapchat introduced its Discover feature a while back to help users locate content outside their limited friends' posts. With the Discover feature, you can discover all kinds of easy content from worldwide, including influencers and new media.
The problem with the Discover tab is that the content might be irrelevant to your personal tastes. So, if you are wondering how to turn off Discover on Snapchat, we understand why.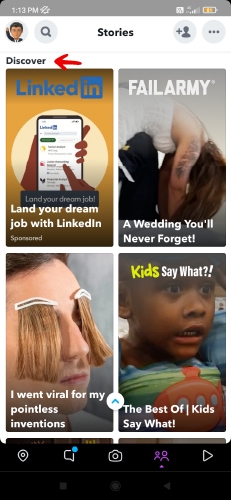 Why Should You Disable Discover Tab on Snapchat?
You might be wondering what the big deal is for those new to the Discover feature. If Snapchat has ceremoniously introduced a feature, it cannot be all that bad, right? Well, it depends. If the content peddled to you is related to your niche interests, you might be benefiting from the feature. But there are reasons to be agitated with this feature as well.
Here's why you might want to disable the Discover option on Snapchat:
Unrelated Content: Snapchat Discover can sometimes show content unrelated to your interests and preferences. Having the option to disable the content from coming up on your Snapchat feed would be greatly beneficial to you.
Shift Focus on Content That Matters: By selecting and sifting through Snapchat Discover, the feed would likely take into account your preference and then show you content that is more to your liking. This would let you get a newsfeed that matters to you.
Can You Turn Off Discover on Snapchat?
So, can you turn off Discover on Snapchat? The short answer is no, and it is not possible. As mentioned, the Discover tab is crucial to the Snapchat mobile app. But here is the good news- while you might not be able to disable the feature entirely, there are ways to tweak it to your liking.
By hiding, reporting, blocking, or liking specific content on Discover, you would be signaling to the Snapchat algorithm that you like certain things to be shown to you, and as for the rest, those can be scraped off or replaced by things more in line with your interests.
How to Get Rid of Discover on Snapchat?
There are ways to bypass Snapchat's unwillingness to let you disable the Discover feature. That mostly includes selecting and dissecting your interests and preferences until the app gets it right.
Below are three ways to go about this:
How to Hide Discover on Snapchat?
If you are wondering how to Discover on Snapchat, you can hide specific content to indicate to the Snapchat algorithm that you are not willing to see a particular kind of content on your feed. Here's how to go about it:
On your Snapchat camera interface, swipe to the left to view Discover.
Press and hold on a Discover content you do not like for a little over 2 seconds.
A pop-up menu will come up. Click on "Hide from Discover."
The kind of content and that specific Snapchatter will not be shown on your Snapchat Discover feed anymore.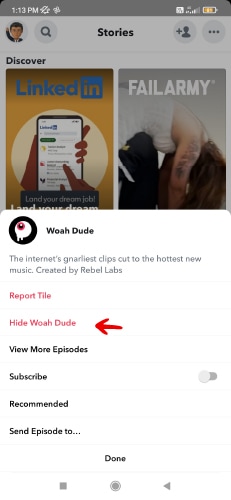 How to Unsubscribe Creators/Brands on Snapchat Discover?
If you are wondering how to turn on Discover on Snapchat, a viable way is to simply unsubscribe from certain creators and brands you do not wish to follow anymore. To do that, simply navigate to the Discover tab and find out content from that channel.
Tap and hold on to the title till you see a pop-up menu asking if you want to unsubscribe from the channel. Toggle off the 'Subscribe' button, and you are now unsubscribed from that particular creator or brand's content. Reconfirm once, and you are good to go!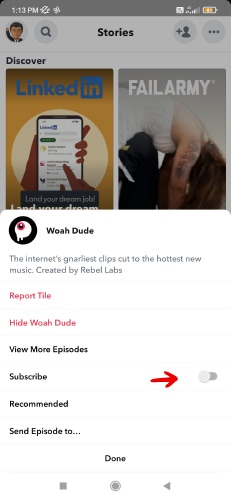 How to Block and Report Creators/Brands on Snapchat Discover?
Seeing something offensive on your Discover feed? You can indefinitely report or block that specific kind of content from your feed. To do that, tap and hold on to the specific tile in your feed and select 'Report Tile.' On the next page, choose the reason for reporting it. If you would rather not have it, click on "I just don't want to see it."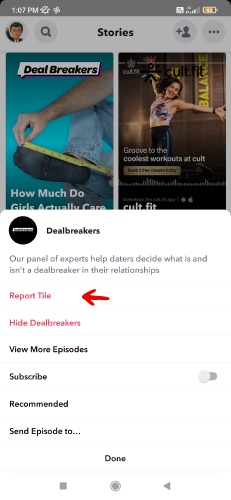 Conclusion
That is all about how to turn off Discover on Snapchat. Make sure you know what you like and dislike to make the process easier. Encourage content you prefer seeing on Discover by liking or sharing them. Similarly, report, block, or choose to subscribe or not see specific content to let the algorithm know your preferences. Happy browsing!
FAQs