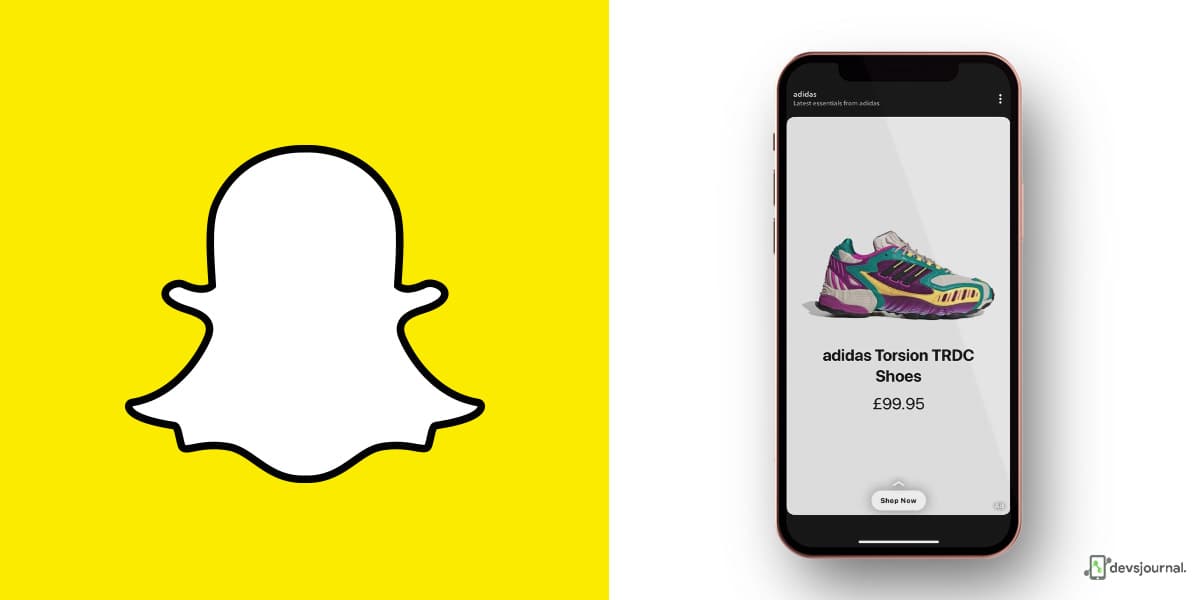 For any business, it is important to go where the audience is. Snapchat is a social media platform that doesn't come to mind when marketing is concerned. But, few companies have tried it and done well, while many others do not think of Snapchat as an ideal place for marketing. What if I tell you can effectively use Snapchat for eCommerce business? Snapchat has 220 million users, and the number is going year-on-year.
Is Snapchat For Ecommerce Is a Good Idea?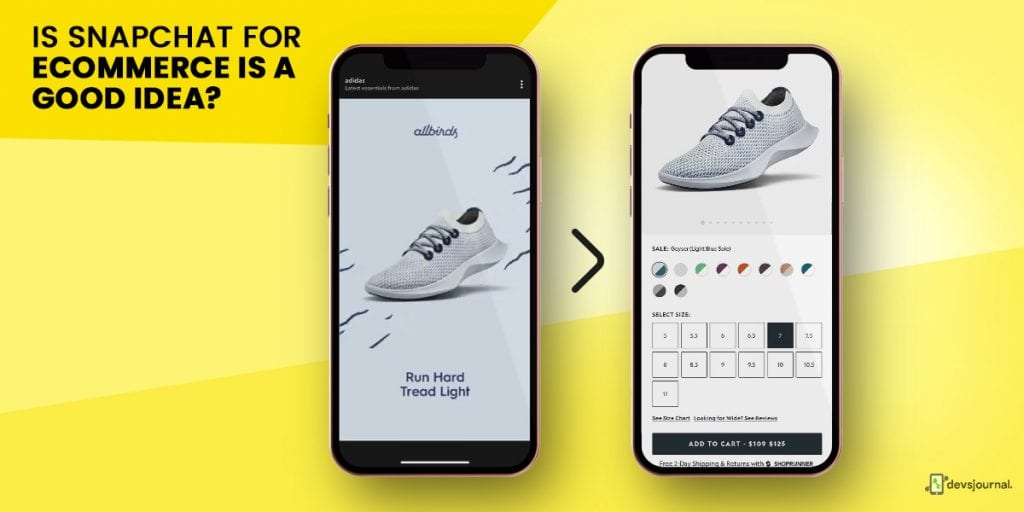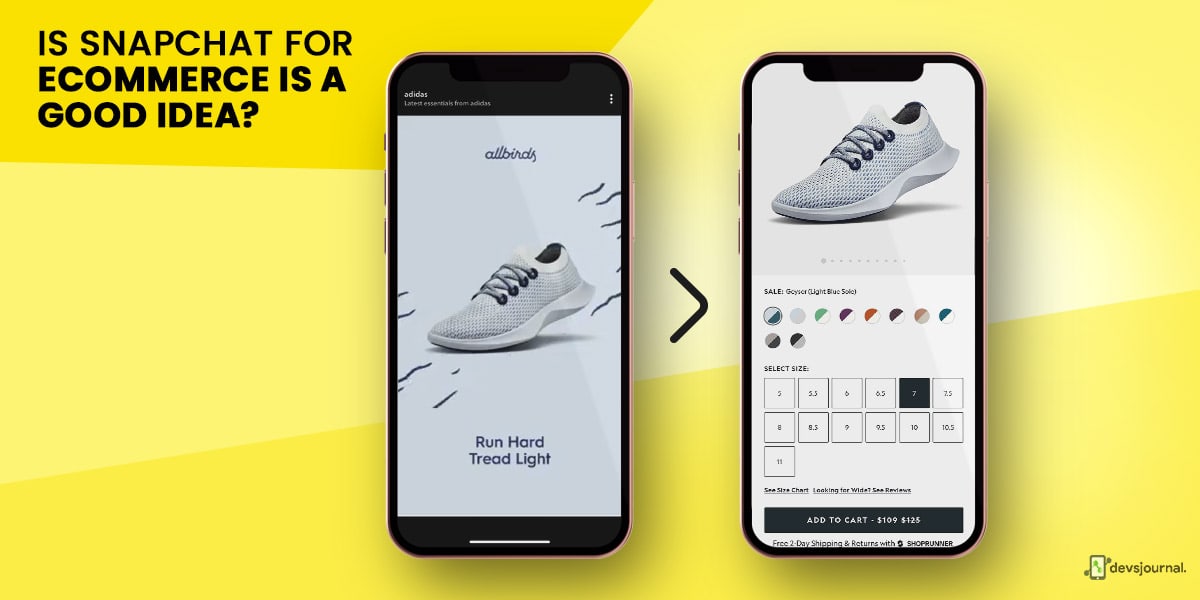 You can market anywhere if you have the right plan and product to serve that particular community or platform. For eCommerce, it is important that the platform on which you are marketing has an audience that is interested in buying your products or at least would show some potential interest in buying them.
Additionally, Snapchat just launched an in-app product retail platform. This implies that companies may sell their items from within the app, making it quick and straightforward for customers to buy while browsing. 
Suppose you can establish your brand's presence and reputation on Snapchat. In that case, the capabilities that the platform gives will make purchasing easier and more accessible for potential customers than ever before, increasing your chances for conversions.
Tips To Use Snapchat for Ecommerce Business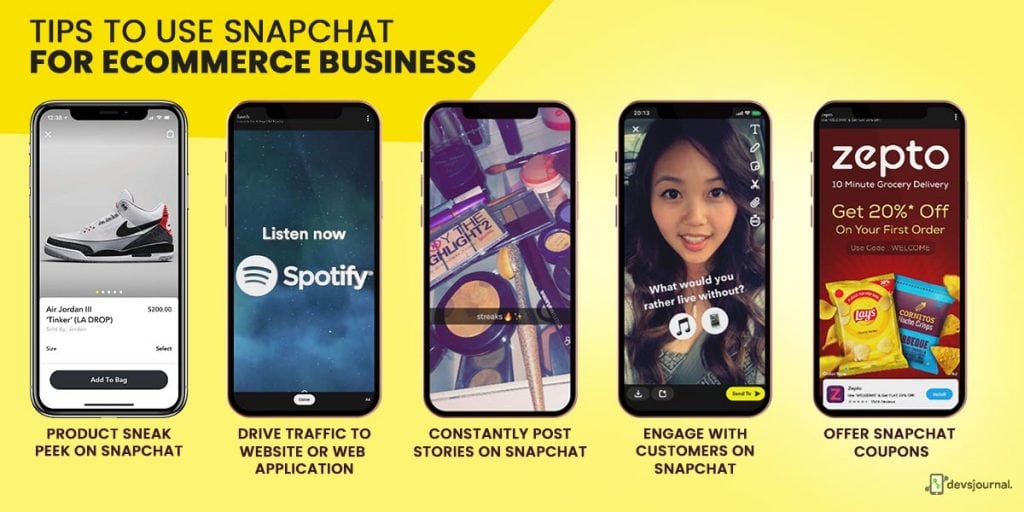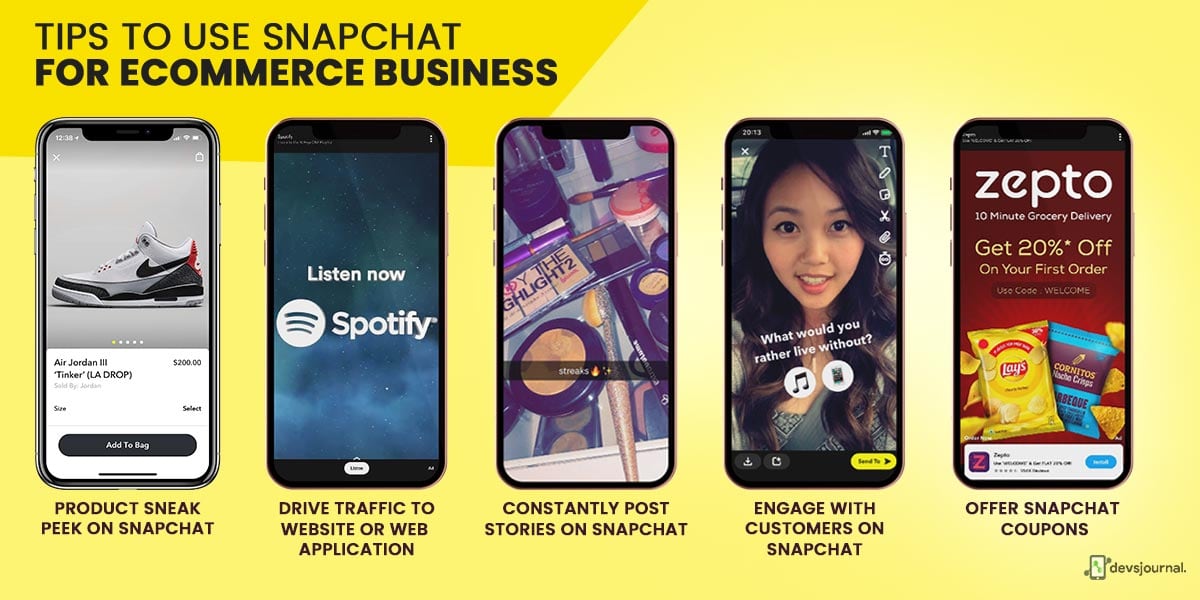 1. Product Sneak Peek On Snapchat
Everyone wants to know what Apple has in store for them, and the same is true for many retail brands. Provided that your brand or store has an audience who is looking around for new products from you, this works great. New fashions and trends emerge and change regularly, and your consumers want your company to do the same.
You can utilize Snapchat to inform your audience base about the latest trends and your upcoming products. Always inform your customers of what you're selling, whether it's a new ring collection or a new beauty cream. This creates hype around your product prior to it being available to sell.
2. Drive Traffic To Website Or Web Application
If you have an omnichannel presence, it is important to market cross-channel, which means that you can use a popular platform's help to market on your other platform.
You can use Snapchat effectively to redirect your audience from Snapchat to a Website or a mobile Web application; for that, you will require the help of mobile app development for business service providers, who excel in creating and deploying web applications on ios and android platforms. If you have your own website, you know that running ads on the website or Google can become quite expensive.
This is where Snapchat comes in. If you have a well-established audience base on Snapchat, you can direct them to your website or web application, where they can complete the purchase or look at some products or understand more information about your product.
3. Constantly Post Stories On Snapchat
Stories feature has become a staple in every social media, and Snapchat has them too. The point of posting stories is simple. To be on the top of the mind of your audience or potential customers.
When you are regularly updating your stories, people take notice, and your product or eCommerce brand shows up again and again on their feed. This is great to imprint your brand in people's minds. Stories are also effective for humanizing your brand. You can use stories to show behind-the-scenes, show the "human" side of your eCommerce business, and announce campaigns and brand information.
4. Engage With Customers On Snapchat
Every business has a backstory. Why not share it with your audience on Snapchat? Individuals want to know more about the individuals behind the brand. This is ideal for small eCommerce businesses where the owner may give lifestyle highlights such as vacation destinations, restaurant meals, or family time.
The entire point of using Snapchat for marketing is to assist you in establishing and reinforcing your brand's story. Connect with clients on social media and share information with a personality to make your brand recognizable to them. Engaging with consumers and expressing your personality increases your company's attraction and develops loyalty.
5. Offer Snapchat Coupons
Campaigns and coupon codes are very effective in selling products. Who doesn't love deep discounts on their favorite products?
You can offer Snapchat-exclusive coupons to your audience so that conversion increases. Coupons can be the key to turning potential consumers into new customers and motivating your existing customers to keep buying from your product range if the price of your product holds them back.
Also, your audience may wind up purchasing more than they expected since the price is lower. With coupons, it is important to have a sense of urgency. Make it clear that these coupons are exclusive to Snapchat followers only and that the special offer or coupon will expire within hours or by midnight. This will assist in persuading them to act right away.
6. Promote Products With a Social Influencer
If you have not gained a huge following on the platform, you can dramatically increase your audience base and sales with the help of a social influencer. Influencers are people on the platform with a well-established presence and a huge following and engagement.
You can let them take over your Snapchat to increase engagement or bring in more audience. This can dramatically improve your brand visibility and increase your brand and product awareness. You can also take a simpler approach to let the influencer advertise your product or talk about your brand. This usually costs money but can be effective in boosting your sales.
What Products Sell Well on Snapchat Ecommerce?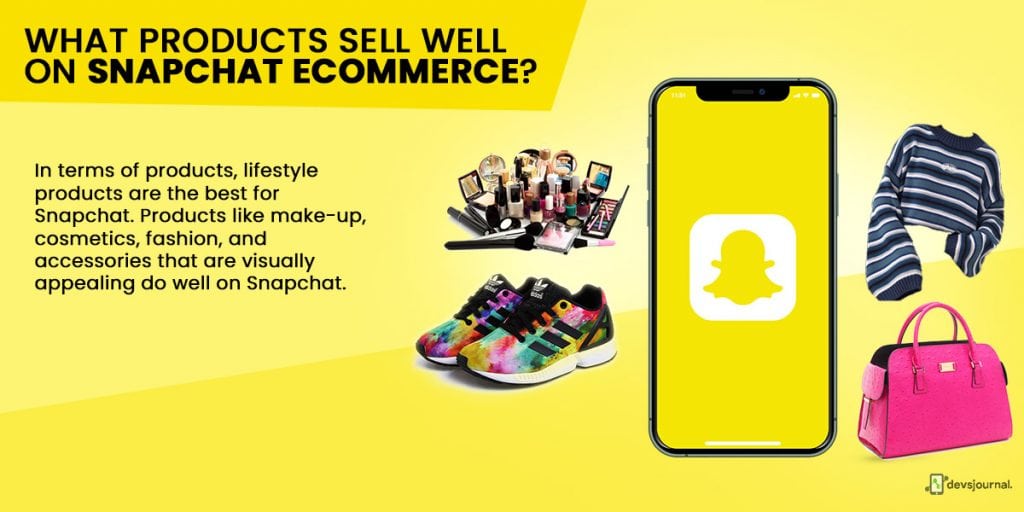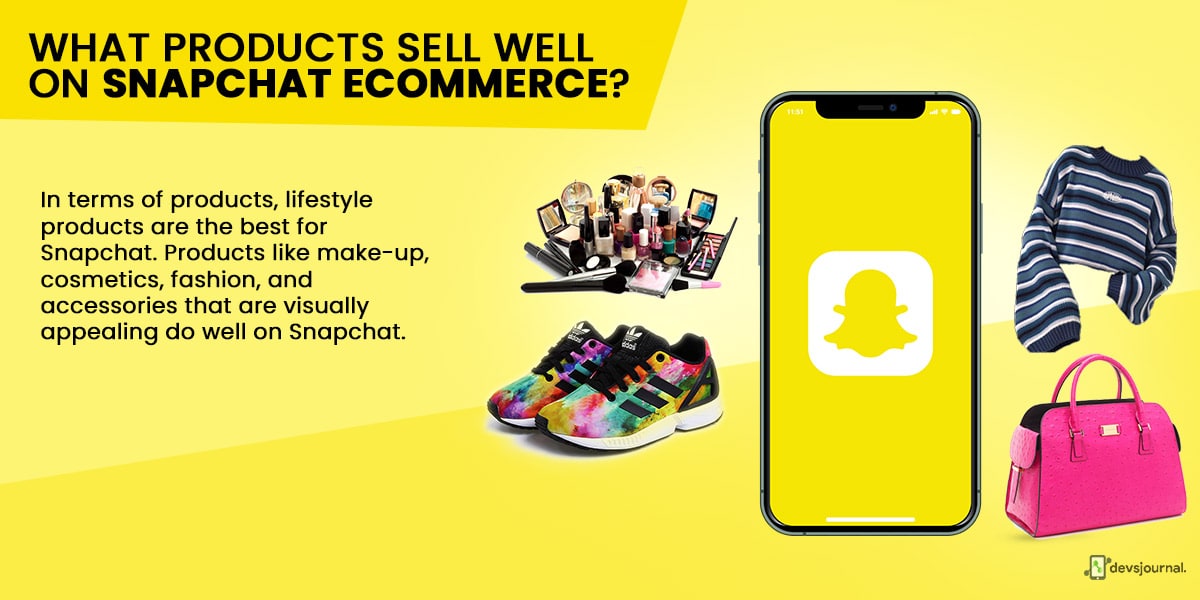 Any product can sell well on Snapchat, but it is a majorly visual platform, so some products would sell better. Audience-wise, any products that cater to Millenials or Gen Z will sell much better since they are the majority of users on the platform. If you choose to sell your millennial-targeted items on Snapchat, your brand will reach your target demographic in an environment where they really spend time.
In terms of products, lifestyle products are the best for Snapchat. Products like make-up, cosmetics, fashion, and visually appealing accessories do well on Snapchat. It is not that you can't sell other products; you just need to more creative and put in extra effort to sell your product on a platform like Snapchat. As long as your product is aimed toward a younger audience, your product will sell well on Snapchat.
Other related articles:
Conclusion
Snapchat is ideal for eCommerce brands that want to reach customers aged 15 to 35. It may not have as many users as Instagram, Facebook, TikTok, or YouTube, but it has a very engaged following. It also has certain augmented reality elements that may be especially beneficial to lifestyle businesses.
Overall, you want to ensure that your Snapchat marketing plan benefits your company. You must focus on increasing revenue and raising brand recognition and awareness. Whether you're new to Snapchat or looking for a new perspective to spice up your existing Snapchat marketing strategy, the strategies I've mentioned above are a terrific place to start. Use this guide as a resource for enhancing Snapchat engagement.