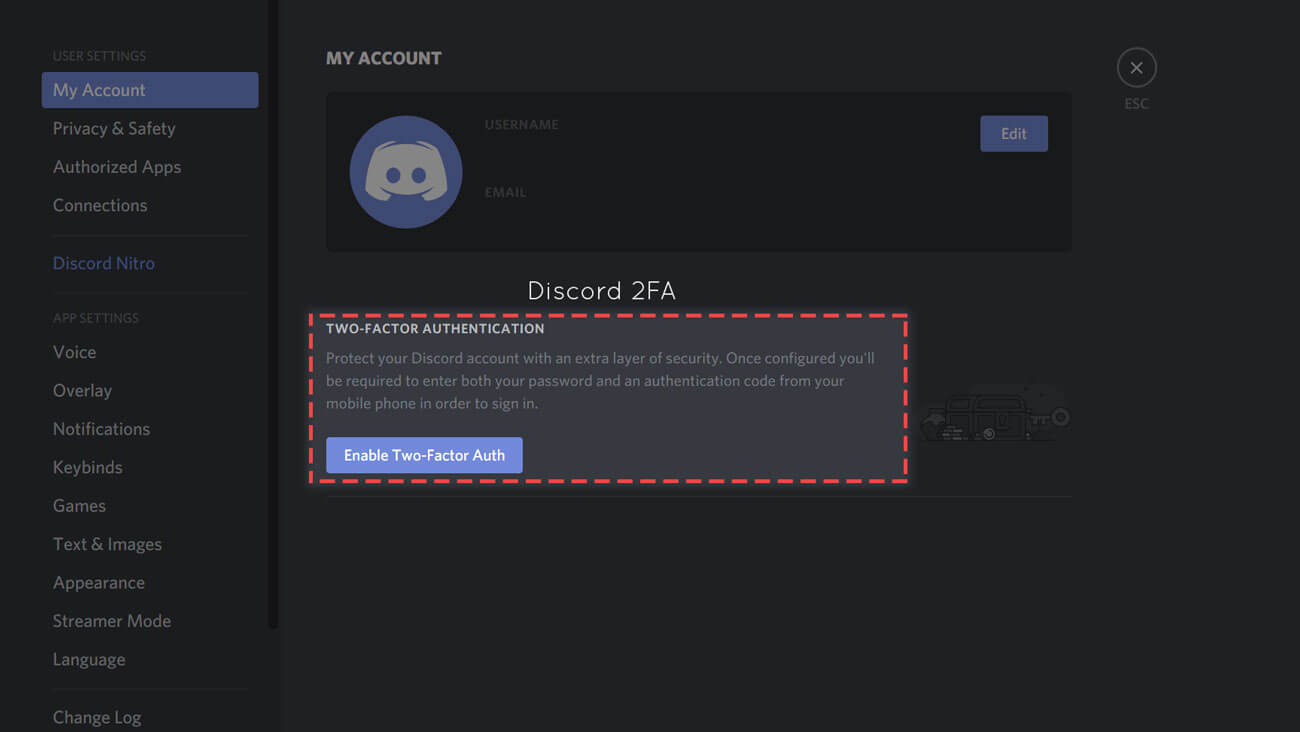 As an ardent Discord user, you relish it when you communicate with others playing your favourite games. But, you must also be aware of different security breaches on the internet that have been wreaking havoc on some of the popular platforms.
Discord, by the way, is not limited to the usability of the gamers, it can be so much more like maximizing the productivity of a server, collecting essential data and lots more.
Being a Discord user, you are already holding an account and have verified it with your email. You also know, the account is automatically protected with the IP location lock.
You can go a step further and make your Discord account impassable, by enabling Two-Factor Authorization (2FA).
Unquestionably, you must have come across this term, but wondering how to bypass the intricacies of implementing this system.
This article will guide you on the various aspects related to 2FA. Once you follow and implement all the steps covered in this guide, you should never have to worry about your Discord account for security threats.
[toc]
How to enable 2FA on your Discord Account
The two-factor authentication is not a new concept. Internet giants like Google, Facebook, Apple, and a lot many of them, have introduced this system earlier.
So, when you have the feature, you should make full use of it. What more? You have the option to take this security feature to the next level by facilitating the server-wide-two-factor authentication for your Discord server.
But, first things first, you need to secure your Discord account primarily, and here is how you do it.
Step 1. Log in to your Discord account with your credentials. You should find a gear icon at the bottom-left of the client; click it for navigating to the account settings.
Step 2. It should not be difficult for you to locate the "Enable Two-Factor Auth" option appearing in the "My Account" section.
Step 3. After enabling this, you will be immediately prompted to download the Google Authenticator app for your smartphone (the app is available for both Android and iOS versions) for generating the authentication code. Again, the entire procedure should be over in a jiffy.
Step 4. After the successful installation of the Google Authenticator app, launch it and click on the "+" icon which you will find at the top-right corner of your phone's screen.
Step 5. Your next destination will be the "Scan Barcode" option and direct your phone's camera at the QR code that appears on the Discord client. You can now view the authentication codes of your account. Type the 6-digit code on your client and tap on "Activate."
That's it; you have now successfully implemented the two-factor authentication to your Discord account.
Also Read: How to transfer Google Authenticator codes to another phone
How to enable Server-wide 2FA on Discord Server
Now, you can move forward to enable the server-wide-two-factor authentication for the Discord server. Again, the steps are simple, and you can do it in a whisker.
Navigate to your Discord server, click on the name of the server, and go to the "Server Settings."
In the "Moderation" section, you need to scroll to the last option "Enable 2FA Requirement".
For confirming, you will need to re-enter the 6-digit authentication code which you received in the Google Authenticator app. Follow this up by clicking on the option "Enable Server-wide 2FA requirement".
Your two-factor authentication is now active in both your account and the server. Till now, Discord imposes this feature only for those users who have administrative privileges.
It would be better if as the owner of the server, you can levy this 2FA on everyone using Discord. Still, we must admit, this is a welcome step from the developers, which can safeguard the servers of users.
For your convenience, you can also link your phone number to your Discord account. By doing this, you are enabling a backup method to obtain the 2FA codes. By any chance, if you happen to lose access to the authenticator app, there will be no reason for concern.
Securing your server with 2FA
There isn't any further need to elaborate on the significance of the 2FA system for your Discord account and server alike.
Some users may find it time-consuming or to be precise they feel it is irritating to check the 6-digit code each time they try to log in.
The hassle is a trifle in comparison to the agonies you can encounter if hackers compromise your account. So, always keep the two-factor authentication on, and you never have to worry about security threats.
Note: Earlier, we mentioned about getting Discord backup codes. In the unfortunate event, the phone encounters an issue, and the data in it gets lost, your 2FA codes will no longer exist too. And you will be left stranded, as without the 2FA Discord would not let you in. Strange but true, you won't find any contact us page, direct chat or email option to get in touch with Discord. You must have the 2FA else your account and server are both gone. Always remember, to get the backup codes from "Settings" if you do not want to land yourself in such a messy situation.
Getting the Backup Codes
Discord offers the backup codes for you. When you log in to your Discord account, go to the "View Backup Codes" option under the "My Account" tab in user settings.
Store these codes securely, and in case you get locked out of your authentication app, these codes will come handy.
Do we need to remind you, not to share these backup codes with anyone? Lastly, do remember, every backup system will not work more than once.
If you lost the device with which you set up the 2FA
Without doubt, after enabling the 2FA, worries related to your account and server will become alien. However, you should also be mindful of the unforeseen or better to say the unfortunate events.
For instance, you can get logged out of your desktop app, and your phone also becomes inaccessible for reasons unknown. You will no longer have access to the 2FA app for generating new codes. Instead of being in a state of despair, here are a couple of things for you to try.
Check if you are already logged in to Discord's desktop/browser client or the mobile app. Fortunately, you will have access to the backup codes with your existing password.
Alternatively, you can also perform a search on your computer for locating "discord_backup_codes.txt" file.
If you are lucky enough to retrieve the backup codes, you can navigate to "User Settings" and click "Remove 2FA" for disabling the two-factor authentication.
You will be asked to provide the 6-digit code, which you do not have at the moment, you can utilize the 8-digit backup codes, and they will not disappoint you. An important tip, never supply the backup codes with spaces or dashes. Else, you will keep getting the "Invalid code error" message.
By disabling 2FA, you can generate it later on with a new device. The procedure of setting up the 2FA for your account and server is already stated above, so repeat those steps.
Troubleshooting
The setting up of 2FA may not be a walk in the park for all. If you encounter problems regularly and are clueless on how to overcome it, you can refer to this troubleshooting guide.
1. Problem with 2 Factor Authentication
If you continuously get an error when trying to initiate the 2FA for your account, you should check if the time is correctly synced with your phone.
Even if there is a minor difference in time, you will encounter the message "Login with your code (invalid two-factor code).
2. Factor Authentication- Locked out
If you are unable to retrieve your backup codes or the authenticator codes, then try disabling 2FA, the steps of which are already detailed earlier.
You can always enable 2FA later on when your mobile app is working correctly. It should not be a problem to restore normalcy.
3. How to get the authentication code?
The backup codes can again come to your rescue in such situations. Again, we mentioned this earlier, you can bypass entering the 6-digit code with the 8-digit code that you get from the backup codes, and this will work.
Afterward, you can disable the 2FA and enable it from scratch.
Frequently Asked Questions (FAQs)
What is the Discord auth code?
You can use Google Authenticator or another app, Authy for this. These apps will have a QR scanner on the QR code available in Discord. You should instantly get the 6-digit code for initiating the 2FA in Discord. As soon as you enter the code, your 2FA is ready.
How to get the 2FA without the help of a phone for iOS users?
Do not want to use a phone, or do not have one? No issues, we are here to help.
Navigate to "Settings" and select "iCloud." Supply your Apple ID username.
Now tap on the "Get Verification Code" option, if your device is not connected to the internet.
If you are connected to the internet, go to "Password and Security" and "Get Verification Code." You are all ready to go.
How to login into Discord?
You will find the "Login" option at the upper-right side of the Discord client.
Supply your credentials, and click on Login.
If already enabled, you will need to supply the two-factor authentication code.
How to recover your Discord account?
First of all, you must ensure you are genuinely logged out of your Discord account. Go to https://discordapp.com/login, here; you should find the "forgot password" option.
By clicking on the option, you will receive an email. You can follow the steps as mentioned in the mail to reset your password.
What if you use Authy, how can you scan the QR codes?
There isn't much of a difference in approach when you prefer the Authy app over Google Authenticator. Open Authy and navigate to "Add Account" and then "Scan QR Code."
Your phone will generate a security code, generally for your Facebook account. Remember, not to close the app on the phone, and you are done.
How to log out from Discord?
Open the "Settings" window, near the place where you enter the username.
From the User Settings window scroll down up to the left column, here you will find the "Logout" option. A confirmation window should appear instantly, click Log out, and you are disconnected from Discord.
Why use Authy over Google Authenticator
The Google Authenticator app has some limitations. For instance, it does not offer the cloud sync option.
Whereas after installing the Authy app, and verifying your details, you will gain easy access to all the tokens that Authy has in a jiffy.
Is Discord safe?
Yes, Discord is safe, as you have complete control over the proceedings. You decide who can send you a message, not secure for work image safety levels, and a host of other options.
Is Discord free to use?
Yes, of course, Discord is a free voice and text chat app. Although only the serious gamers have been using Discord thus far, it is free to use from your computer or smartphone.
Is Discord safe for children?
It is better to restrict the activities of the kids for accessing Discord accounts and servers. It should only be used by mature teens or those who are under close observation.
Will deleting a Discord account wipe out all the messages?
Though you can delete the direct messages, it can get to your nerves. By closing the chat panel, you can merely hide the messages.
If you intend to delete these messages, you will require to put in some serious efforts. Even then, you will be unable to delete the messages in totality, Discord will only remove them to a different location, or will hide those messages from your view.
Can you restore a deleted Discord account?
Yes, you can, there is a "Restore Account" option present in the Discord client. You can retrieve your old account for using it again.
Conclusion
We have pretty much covered all the relevant details associated with the two-factor authentication in Discord.
Regardless, if you are a new entrant to Discord or a person who is familiar to it, should enable the 2FA for doubling the security on their accounts and servers respectively.