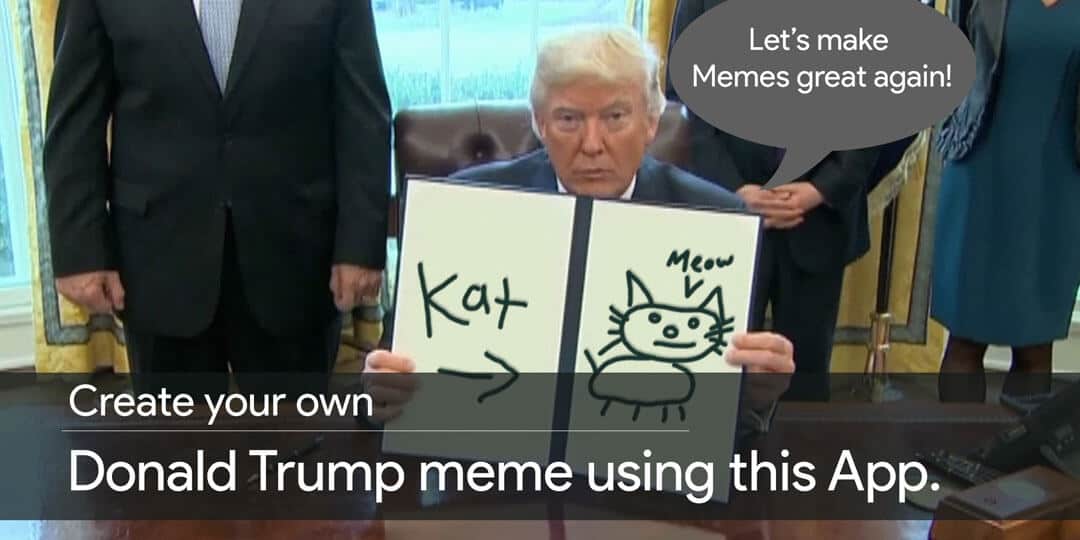 Memers around the internet are going crazy circulating the memes of President Trump showing the Executive Orders to cameras. Since the act of Donald Trump drafting and proudly showing signed copies went viral, the creative peoples haven't missed a chance trolling him by replacing his orders with hilarious drawings and photos.
Let me know in the comment section below, how many of memes you have seen so far that has made you fall out of the couch laughing your ass off.
You might have better creative or funny ideas floating on your mind, so why not join the Executive Order fun and impress your crush.
So if you want to get started but stuck around where and how-to, follow this article, and I will tell you how you can make your own Donald Trump executive order with ease.
How to Create Donald Trump Meme?
You don't have to be a Photoshop expert for this since the apps and resources I have filtered out are designed to spoon-feed you with creating the memes or GIFs. Basically, these apps consist of pre-made templates where you just have to use your brain for making the best out of them.
Donald Draws Executive Doodle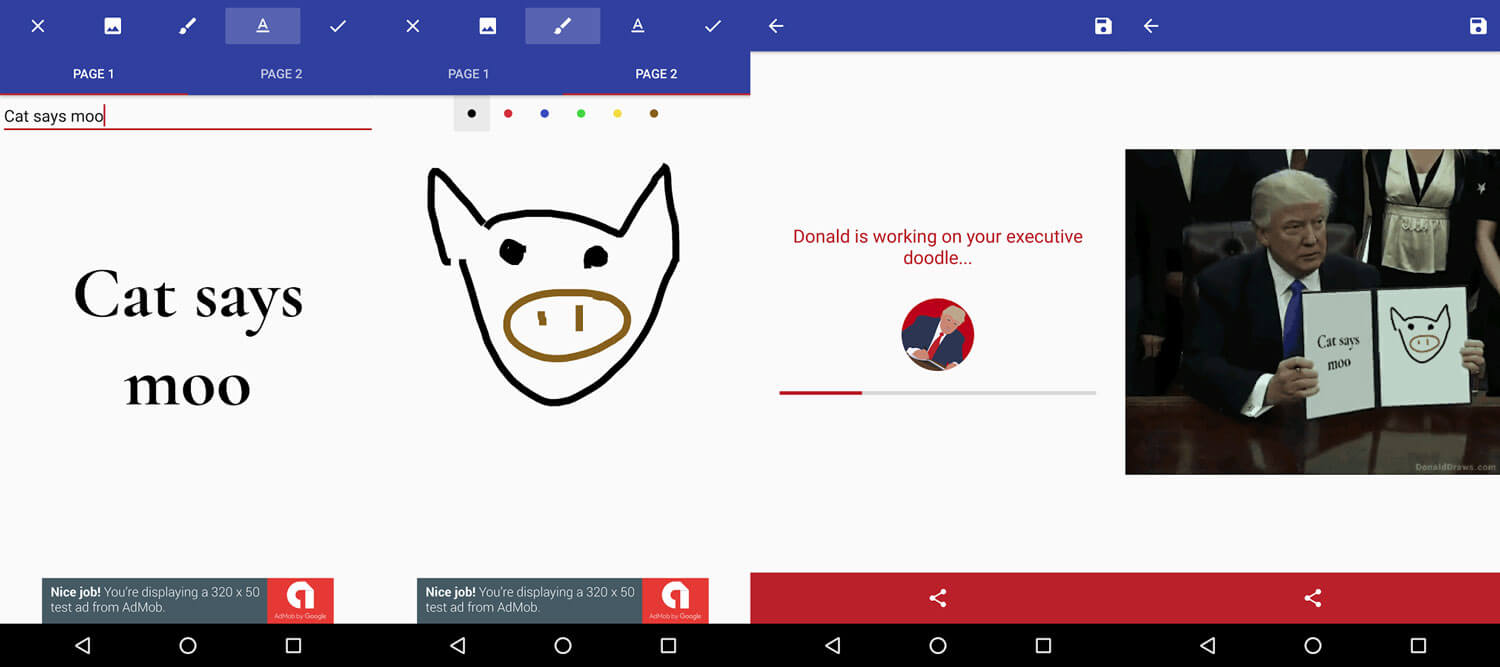 On top of the list, we have a popular app that is developed by 321 Fetch for the fun purpose we are talking about. Currently, Donald Draws has 500,000+ installs let alone on Google Play store. You will be amazed by knowing the inception of this application. On Twitter, there's a parody account named as @TrumpDraws which at present is having 412k followers and has the best collection of Trump's GIFs and memes.
While the instant popularity of the Twitter account was making a hype all around the internet, an opportunist took the things to the next level by launching a dedicated app which lets you create your own realistic executive orders GIFs. Donald Draws Executive Doodle is available for both Android and iOS users that can be downloadable from their respective app stores.
The app is incredibly easy to use and require no additional editing skills whatsoever. It allows you to upload images from the phone's gallery, drawing funny things using different color brushes, and writing text. All you have to do is create content for two pages (Page 1 & Page 2) using either of the desired options mentioned above and select one GIF out of only two to proceed with – and that's it, you are done creating yourself a masterpiece.
You can try various designs a numerous time, and once you got a perfect hit, you can export it locally on your device by granting the access permission or share it on various social platforms viz., Facebook, Instagram, Twitter, Reddit, Gmail and more.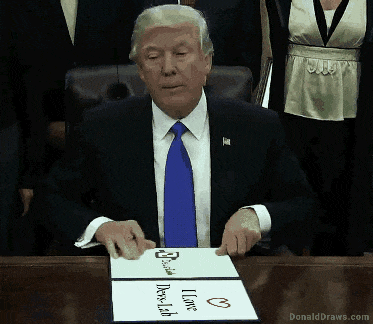 Sadly, the app comes with minimal options or features to play with, but its simple and sober user interface makes the app worth trying. However, the only downside of this app is the annoying ads popping every while that get quite frustrating sometimes.
Interestingly the app description is also written and fashioned how Trump makes his speeches, what are his unfamous favorite words and the speaking style. But nobody knows the intention behind all the typos it has which goes as:
"You don't have this app? Sad. You don't need this app? Wrong. You're wrong. This app is gonna be uge. It's gonna be big. It'll be the biggest app. It'll be the best app. It is the best app. This app is gonna make the United States of America great again. It's gonna be everything."
Executive Order Generator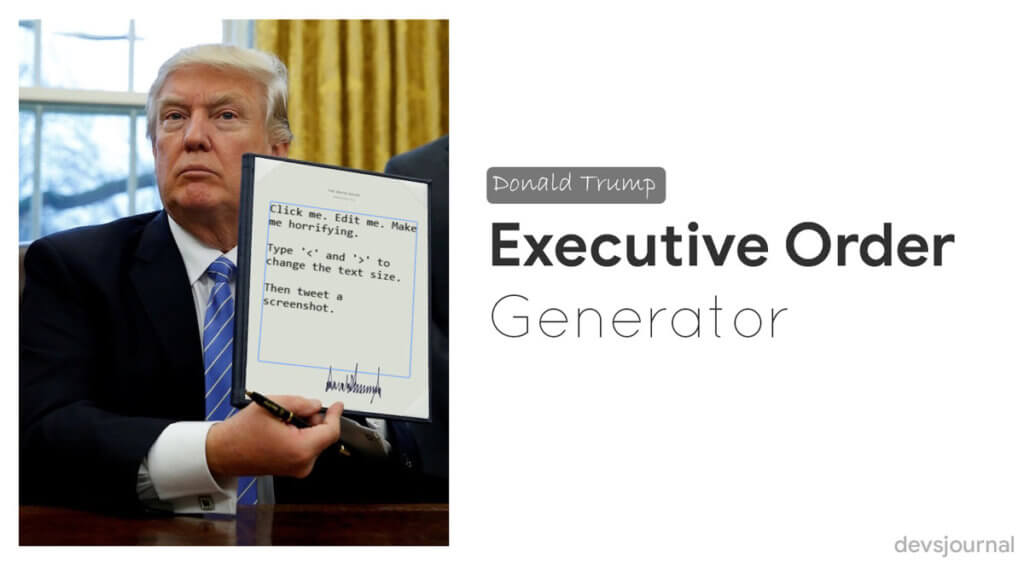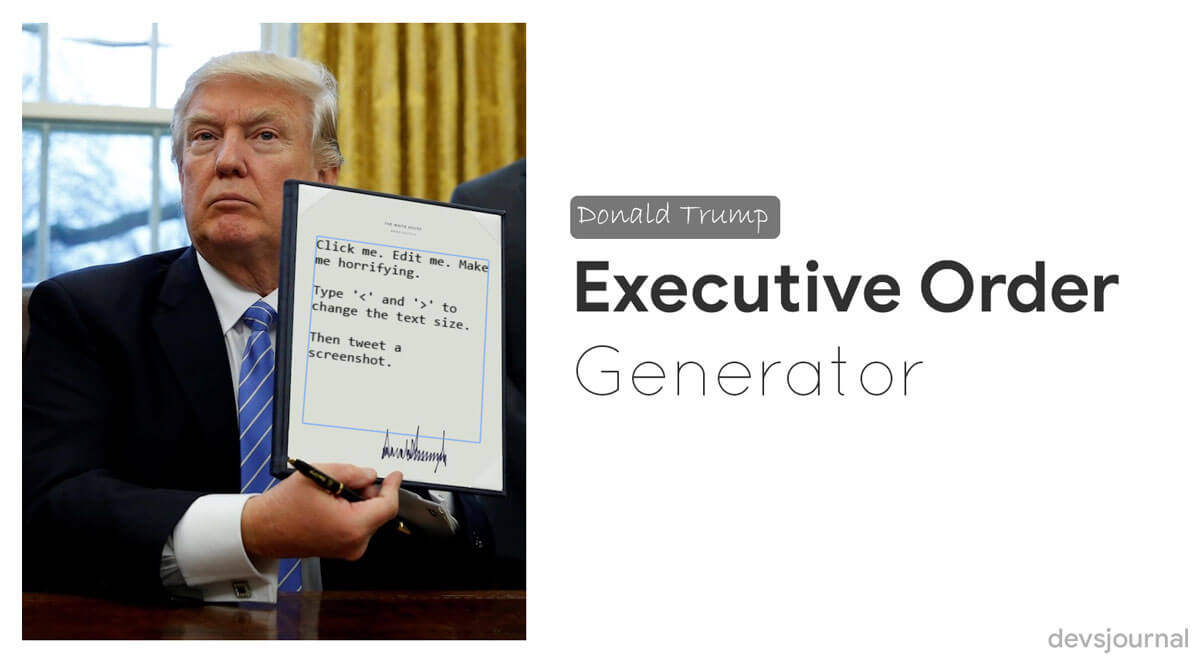 Not an app, but a meme generator template for Trump's executive order that's signed by President Trump himself. It's coded on GitHub by a user named "HepWori" and is quite easy to use.
Click here for opening the resource, and you would see Trump displaying a singed copy of executive order in great fashion. You can simply edit the existing text by typing-in the content within and then take a screenshot to share it socially wherever you want. To change the text size, write in the format of '<' and '>' and make the changes accordingly.
Currently, it has no option available for downloading the meme created and no other function either.
Imgflip Meme Generator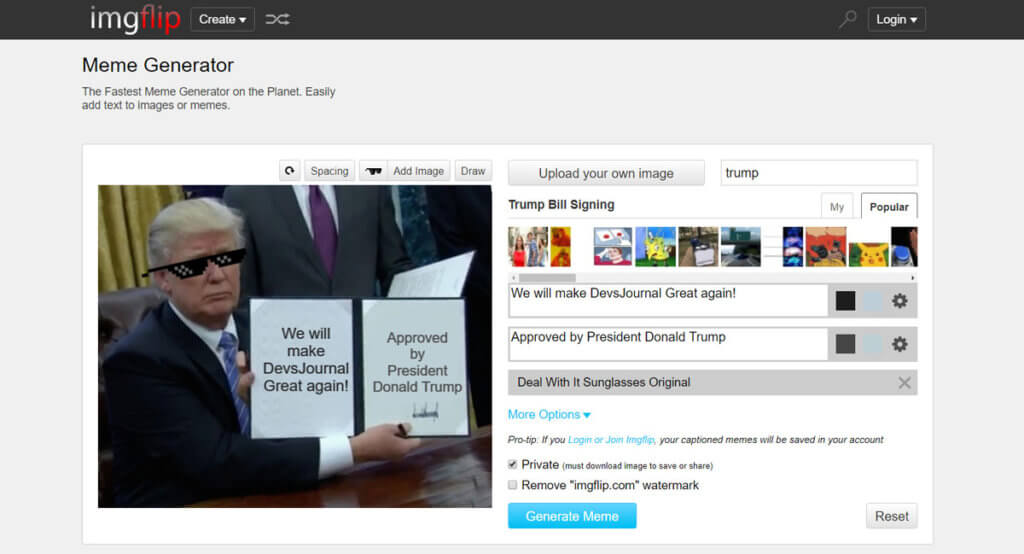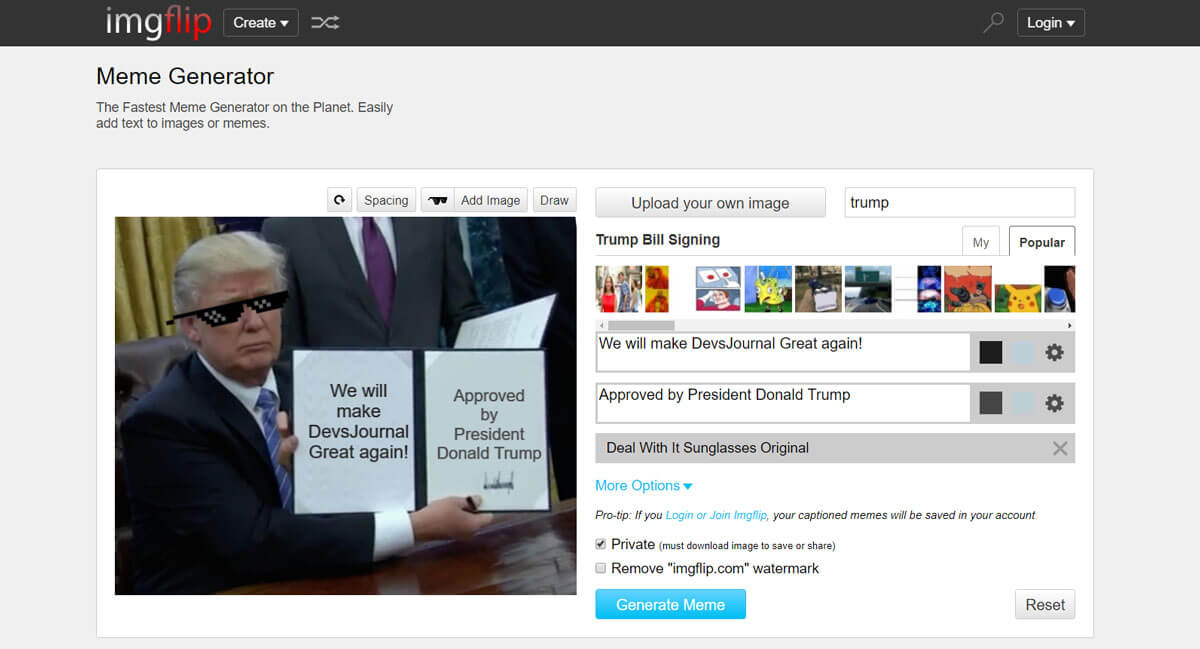 This tool has claimed itself to be the fastest meme generator on the planet. It's a free online image maker that not only allows you to create Trump bill signing memes but also consist of other popular memes templates. You can add text captions, custom resizable text to images, and even upload your own photos.
Using Imgflip, you can caption a meme or image, make a GIF, a chart and demotivationals. Go to the "Create" button given top-right of the screen and choose the appropriate option from the drop-down menu. You can do a lot of editing and tweaks with this easy-to-use image generator such as adding popular user-uploaded transparent images (scumbag hats, thug-life shades, etc.), giving spacing, image rotation and much more.
Additionally, it has a search bar where you can look for the different memes. Simply choose the one you want to proceed with, make changes to the image or add colorful text to it, and upon completion, click on the Generate Meme to export it.
It's a free-to-use tool, but it has a premium version also available, which let users remove the watermark from the image edited or meme created using the website along with other benefits.
NOTE: If you want to save your work online, register an account, and then use it.
Meme Rewards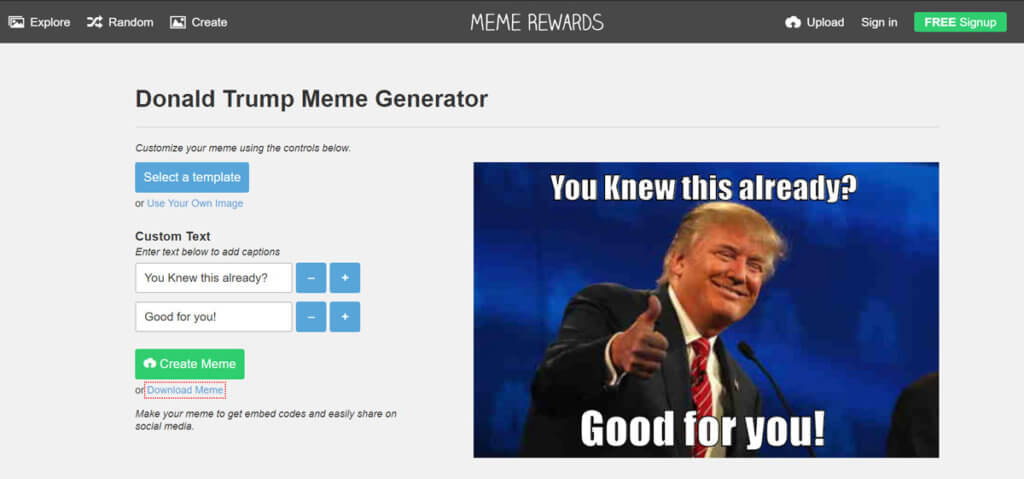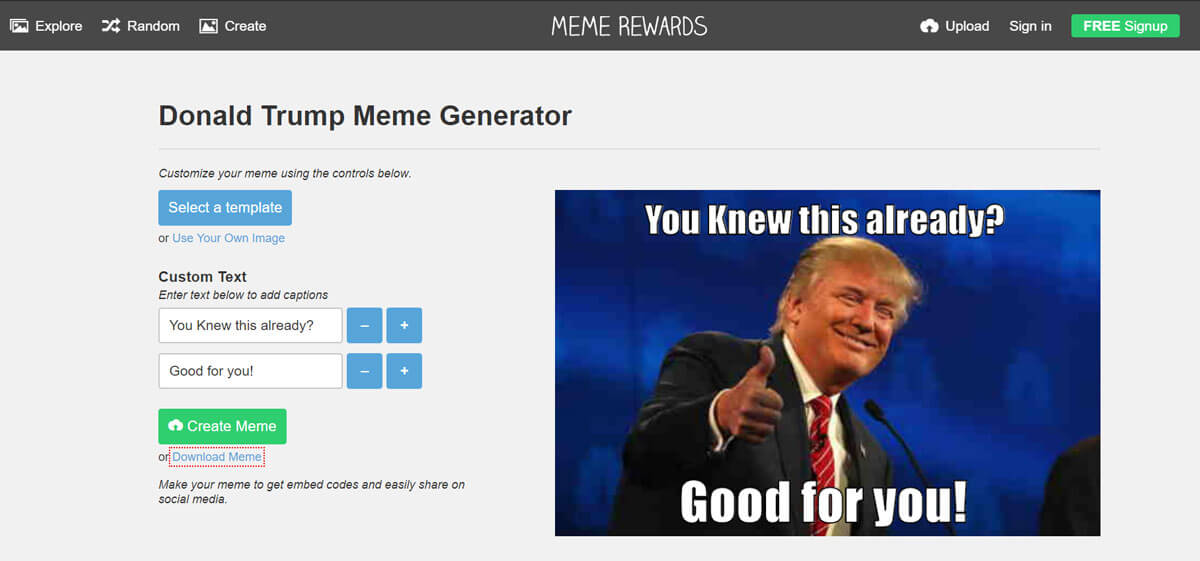 Yet another online meme generator that lets you create your own custom memes with so many of options available. With the user-friendly interface, it becomes laughably easy to make use of this tool. All you have to do is, select a template or upload your own image, next enter text to add captions and tap on Download Meme.
You can also upload memes to the website by simply pasting or dragging it to the Create Meme option. This would help you get embed codes for easily sharing your memes on social platforms without any watermark. Furthermore, if you are running out of crazy ideas at any time, you should better explore the memes created by other users on the tool.
Wrapping up
While sharing Donald Trump's executive orders memes on Facebook, use caution since it can be a reason for an unwanted political debate.