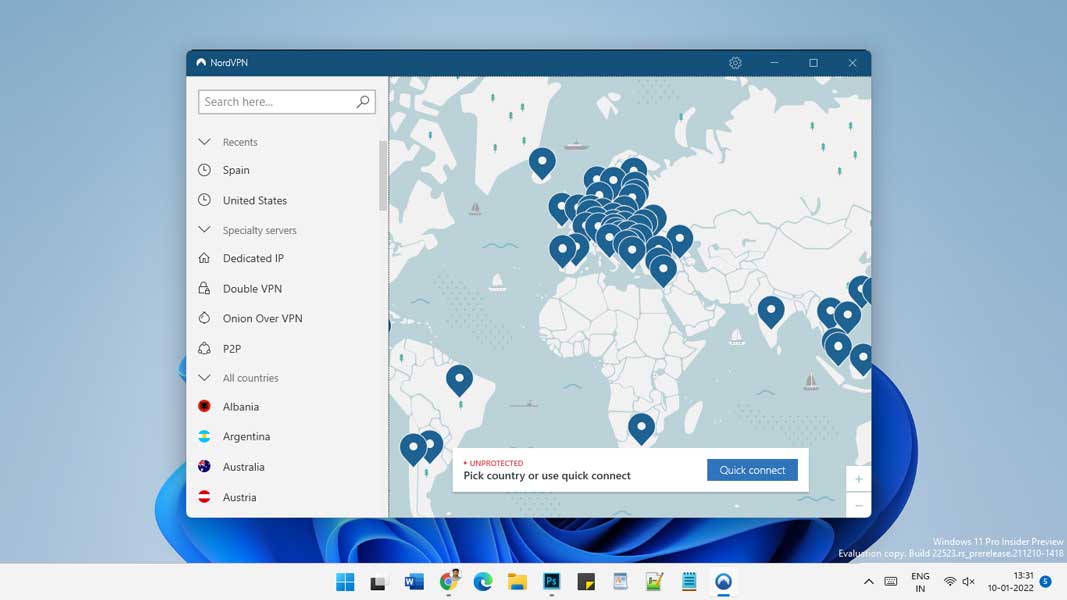 When we look back at all those years, it is only then that we truly realize how far we have come in terms of science and technology. What was once a dream is now a reality.
Thanks to the rapidly evolving technology paradigm, we can now access the world via the Internet. All it takes is an internet connection for you to connect with anyone on the globe. However, all this has raised concerns regarding privacy and privacy-issues.
As a result, people are slowly realizing the importance of a VPN and moving towards the same. A Virtual Private Network (VPN) allows you to add an extra layer of security to your Windows OS. With the world slowly moving towards Windows 11, people are becoming extra cautious about putting some extra security features in place.
If you, too, are looking for added security and anonymity, we have you covered. Here, we will walk you through the best VPN for Windows 11.
Best Windows 11 VPNs for PCs and Laptops In 2023
As we mentioned above, VPNs are the best way to provide yourself with an added level of security and anonymity. While Windows 11 is way more secure than Windows 10, there is still the need for a VPN here as well. Although the majority of the VPNs are slow and costly, we will only brief about the best VPN for windows 11.
NOTE: Although VPNs are free and legal in most countries, they can still be used to carry out illegal activities such as torrenting copyrighted material.
1. NordVPN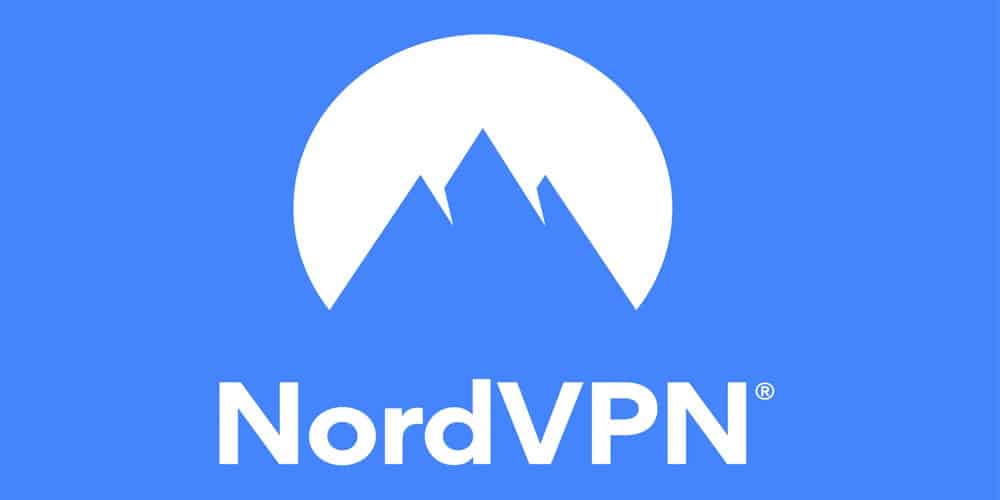 NordVPN also implements the no-logs policy, making it an ideal VPN for Windows 11 users. This VPN is based out of Panama, a country without any laws that require NordVPN to collect a user's personal information.
This VPN tool uses the AES-265 encryption followed by the WireGuard Protocol, making it one of the server's fastest and most modern tunneling protocols. In terms of security, NordVPN has the Cybersec feature in place that protects your system against all cyber security threats.
It also has a kill switch feature that instantly kills your internet in case there is a drop in VPN, thus keeping your data safe and protected. This VPN for PC also comes with a free SOCKS5 proxy, spilt tunneling, and double encryption for added support. This VPN is considered as one of the best vpn to play pubg mobile and also for other android applications.
Servers: Over 5000 Servers In 60 Different Countries.
Platforms: Windows, macOS, Android, iOS, Android TV, Amazon Fire TV Stick.
PROS —
Faster Connectivity
No-Log Policy
Free SOCKS5 Feature
CONS —
Only Paid Version Available
2. Surfshark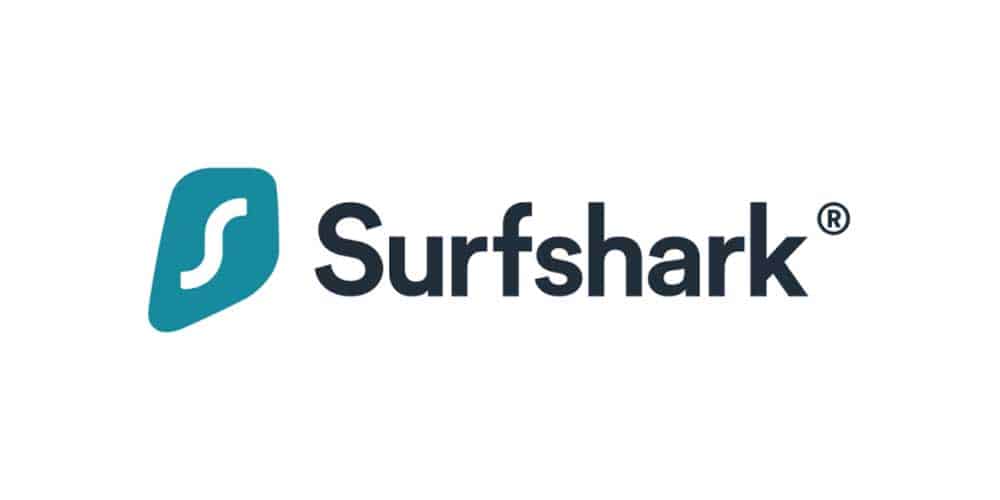 This is perhaps one of the best VPN software for Windows 11. Based out of the British Virgin Islands, Surfshark is known for its famous security policy and comes with an audited no-logs policy. Similar to the majority of the top VPNs out there, SurfShark uses AES-256 as its primary encryption to provide a solid layer of security to its users.
It also comes with a kill switch that allows for better data connection and even has a camouflage mode in place that restricts users from knowing that you are using a VPN. To top that off, the company has also added the Wireguard Protocol. Meanwhile, with the Split Tunneling feature in place, you can exclude apps from using the VPN.
In addition to all this, there is a 24/7 live chat and email support available to address user issues, followed by a knowledge base that has all the crucial information about using a VPN.
Servers: Over 3200 Servers Spread Throughout 65 Countries.
Platforms: Windows, macOS, Android-iOS, Linux, Amazon Fire TV.
PROS —
Fast Service
7-Day Free Trial
WireGuard Protocol
24/7 Live Chat Support
CONS —
Only Paid Version Available
Split Tunneling No
3. Express VPN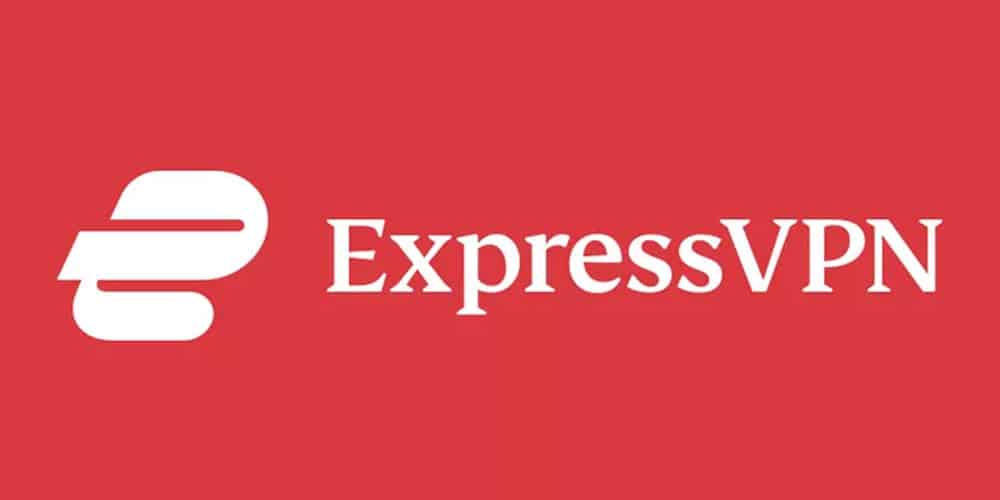 If you find yourself living or traveling to a place with heavy censorship, the Express is perhaps the best VPN for Windows 11 as well as for Android users.
Right from social media privacy to a total ban on content, this VPN provides you with maximum security at all times. As the company offers various server locations, you needn't worry about speed loss as the VPN automatically reaches out to a server outside your region.
It implements the AES-256 bit encryption. Here, you can direct all your Internet traffic through an encrypted tunnel. Also, the Express VPN never limits your bandwidth that you have unlimited bandwidth to stream HD videos and share it with your friends and families.
In case you have any issues with the VPN on your andriod or iOS devices, the Express VPN has an award-winning support team.
It also has a 30-day free trial period and comes with a money-back guarantee that gives you a full refund in case you aren't fully satisfied with the service. A single subscription can be used on 5 multiple devices. Meanwhile, you can install this software on as many devices as you want.
Servers: Over 3000 Servers In 94 Different Locations.
Platforms: Windows, macOS, Android, iOS, Android TV, Amazon Fire TV Stick, Apple TV, Linux.
PROS —
Vast Server Network
Military Grade Encryption
24/7 Live Chat Support
Fast Speed
CONS —
No Free Version Available
4. CyberGhost VPN
CyberGhost VPN is one of the fastes VPN for Windows 11. With more than 7500+ servers spread across 91 different countries, they ensure seamless connectivity. The servers are of high quality and provide unlimited bandwidth with lower latency, better performance and more stable connections.
It supports protection of seven devices simultaneously. The best part of CyberGhost VPN is that it comes with a strcit No Logs Policy which means that they never track or store any user information or location while using their service.
This no logs feature is best for people who doesn't like to be tracked by government and want to keep their activities private. There are also dedicated tabs with specialist servers for Netflix, Amazon Prime, Hotstar, Hulu, BBC iPlayer, HBO Max and more.
They have a free trial period of 24 hours for desktop and 7 days for mobile devices which is less compared to the competitors but they do have premium packages starting from $12.99 a month with money-back guarantee of uptil 45-days.
Servers: Over 7500+ servers in 91 different countries.
Platforms: Windows, macOS, Android, iOS, Android TV, Amazon Fire TV Stick, Apple TV, Smart TV, Chrome, Firefox, Console & Linux.
PROS —
Strict No Logs Policy
Unlimited bandwidth and traffic
AES 256-bit encryption
DNS and IP leak protection
CONS —
Expensive
Average Support site
5. Proton VPN
The best probable feature of this VPN is that it does not cap your bandwidth, meaning you can now watch and stream videos online without worrying about your Internet connection running out.
It comes with an AES 256-bit AES encryption that allows for maximum security. Also, the Proton VPN is perhaps one of the fastest VPN offering speeds up to 66 Mbps in over three different countries.
Like most VPNs, it comes with a kill-switch that automatically kills your Internet connection, thus protecting your data if there is a VPN connection drop.
Also, it has a strictly no-logs policy, meaning that you can browse as much as your want without worrying about your privacy. Since the Proton VPN is based in Switzerland, you are ultimately protected by Swiss Privacy Laws.
Servers: Over 1500 Servers in 60 Different Countries
Platforms: Windows, macOS, Android, iOS, Android TV, Amazon Fire TV Stick, Apple TV, Linux
PROS —
No Bandwidth Limit
Free Plans Available
Faster Speeds
Comes with all Necessary Security Features
CONS —
Only One Connection Per Account
6. IPVanish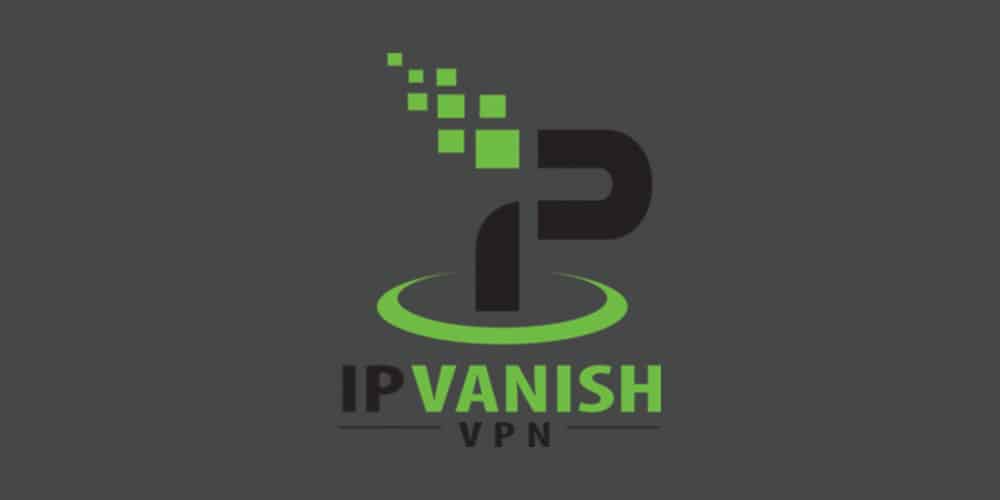 This is one of the most affordable VPNs available for Windows 11 users. Aside from windows 11, IPVanish is also compatible for video games like Apex legend and pubg. Given that it is based out of the US, people are skeptical regarding the overall privacy this VPN guarantees.
However, this VPN for Windows 11 too comes with a strictly no-logs policy and primarily focuses on users' privacy. It uses the AES-256 bit Cipher, which happens to be one of the most secure encryption currently present in the market.
Meanwhile, the SHA-512 hash feature automatically scrambles your login credentials to grant you added security. It is equipped with the WireGuard Protocol that offers great performance altogether. Also, you can automate all your connections at once using the Demand Toggle Feature.
In addition, IPVanish provides a free SOCKS5 proxy. To top all this off, there is the SugarSync feature in place that allows for encrypted file storage for up to 500 GB.
Servers: Over 1600 Servers in 52 Countries.
Platforms: Windows, macOS, Android OS.
PROS —
Customizable Kill-Switch
Good P2P Speed
Unlimited Connection
DNS Leak Protection
CONS —
Doesn't Work in China
No Support for Linux
How to Install a VPN on your Windows 11?
Just as there are multiple VPN for Windows 11 available, there are also a few different ways using which you can install a VPN on your Windows 11. The easiest possible way to do it is via a third-party application. Here is how you can install a VPN on Windows 11 via third-party applications
Download any free VPN from the list of VPN mentioned above
Sign-up on the downloaded free VPN
Now, download the VPN windows application on your Windows OS
Log in to the VPN App
Connect to a server in any of your chosen locations
Your data is now encrypted
Another easy way to install a VPN on your Windows 11 is via settings.
Right-click on the Start Menu
Tap on Settings
Select Network and Internet
Go to VPN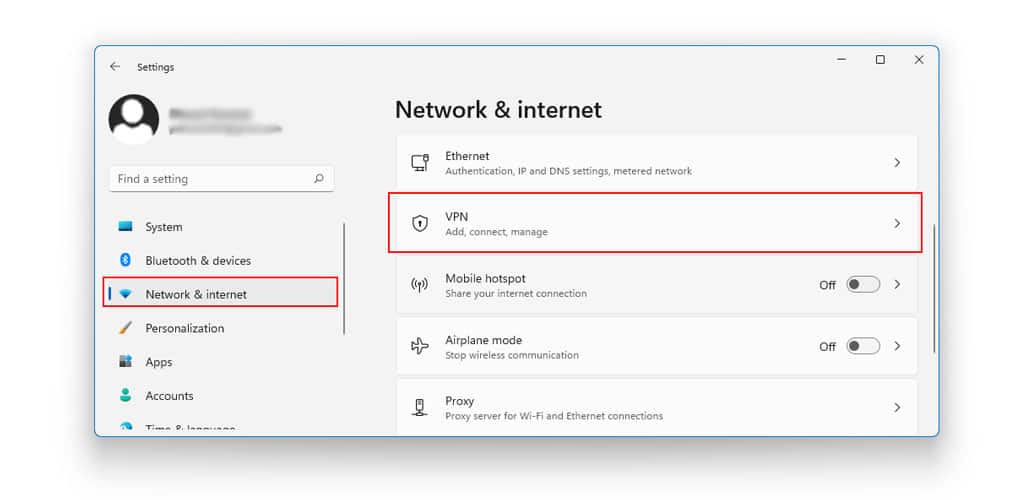 Select ADD VPN
Now, enter the following details in the spaces given
VPN Provider
Connection Name
Server Name
Server Address
VPN Type
Type of Sign-In Info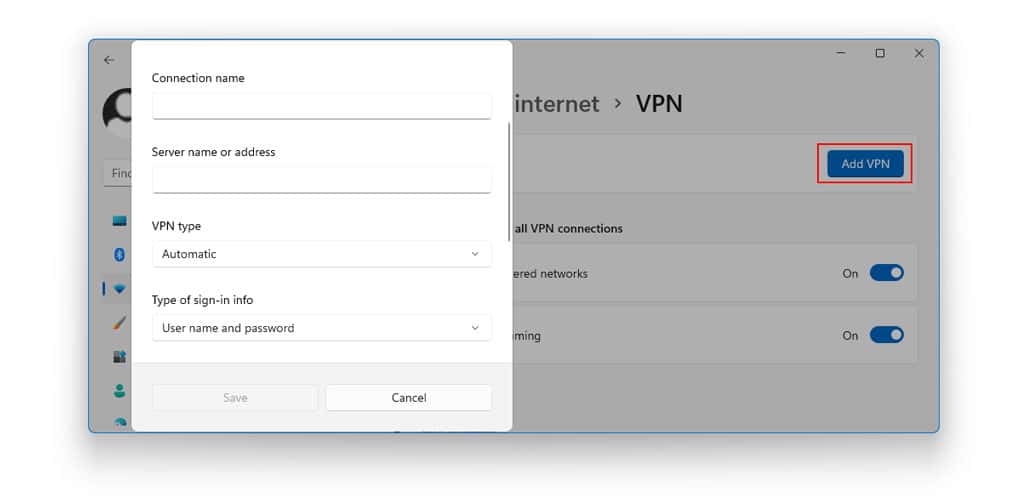 Entering the above information will automatically add the VPN to your connections
To find the VPN connection, navigate to Settings > Network > VPN Connections
Select the VPN Connection
Hit Connect
The Bottom Line
While Windows 11 offers a secure ecosystem for people to work with, the importance of a VPN still stands. This allows you to access the browser with an additional layer of security and grants you anonymity.
The majority of VPNs are free and legal in most countries. However, note that although VPNs are legal in many countries, they can still be used to carry out illegal activities.