The picture-in-picture feature has been out there for a while in the YouTube app. It allows you to browse the app while a video is playing and this feature has been very convenient to use. The video when swiped down, minimises and continues to play in the right hand bottom corner of the screen.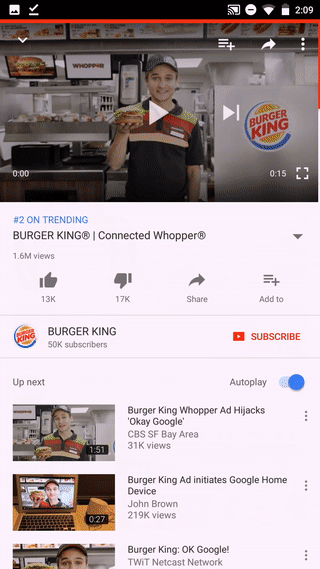 Google is looking to improve this feature and this is good news. A few users have reported that the picture-in-picture mode in the latest version(12.13.53) of the app is different than the previous implementation. Now, the videos get collapsed down as a bar in the bottom of the screen and includes play and pause buttons. While more functionality is given to the video, it is way smaller and difficult to watch. The video just as before, can be tapped or swiped up for full screen view.
Google is testing this change with a very small number of users. The update is expected to roll out to the users based on the feedback received.
Do you think more functionality is more important than the video size? Which implementation do you prefer? Let us know below!