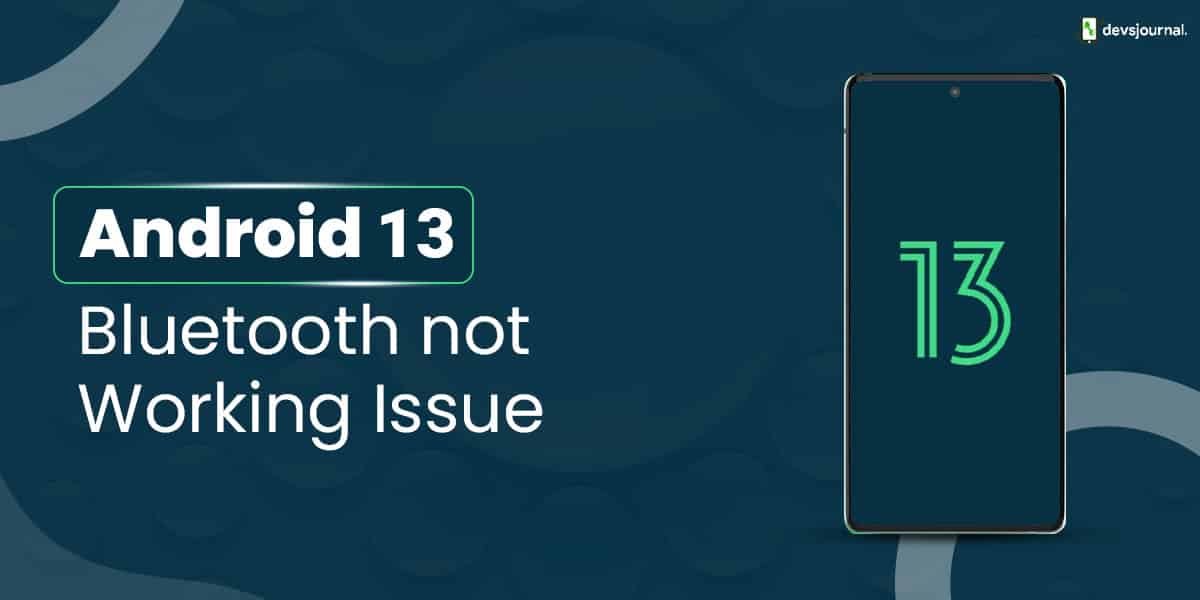 The newest version of the Android operating system, Android 13, brings forth a range of new features and enhancements aimed at improving the overall user experience. However, it's worth noting that, just like in previous versions such as Android 12, some users have reported encountering issues with Bluetooth connectivity after updating to Android 13.
Since Bluetooth enables users to connect to a variety of devices, including headphones, speakers, and automobile audio systems, it can be irritating. In this article, we'll examine some of the typical reasons why Android 13 users experience Bluetooth connectivity problems and offer fixes.
The Reason Behind Android 13 Bluetooth Not Working After Android 13 Update
After the Android 13 upgrade, Bluetooth may not function properly for several reasons. One reason can be that the upgrade messed up your Bluetooth device's compatibility. Bluetooth issues might also arise from flaws or glitches in the Android 13 software. Finally, problems with your device's Bluetooth hardware or settings may also be to blame. You can diagnose and resolve the issue by having an understanding of these causes.
Fix to Bluetooth Not Working Problem on Android 13 Phones
There are a few potential fixes you can try before contacting a professional if your Android 13 smartphone is having Bluetooth communication troubles. These remedies can frequently fix the problem and restore your Bluetooth connection.
We will go over some of the most popular solutions for Bluetooth connectivity problems on Android 13 devices in this article. Basic troubleshooting is necessary for some of the solutions, while software updates or changing device settings may be necessary for others. To fix your Bluetooth connectivity problems and resume flawless connectivity, please follow these instructions.
1. Examine Bluetooth Settings
Examining your Bluetooth settings is the first thing you can do to attempt to resolve the Bluetooth not working issue on your Android 13 phone. Make that Bluetooth is enabled and that other Bluetooth devices can see your device.
You may verify if your device is visible to other devices by navigating to the settings on your phone, choosing the Bluetooth option, and doing this action. To reset the connection, you may also try toggling the Bluetooth setting on and off once more. Continue to the following step if your device is visible but you are still unable to connect to other Bluetooth devices.
2. Try Pairing the Bluetooth Again
Re-pairing the Bluetooth device is the first thing you should attempt if your Android 13 phone is having trouble connecting to it. To accomplish this, go to your phone's Bluetooth settings and delete the device that is preventing a connection.
After that, turn Bluetooth back on for both the Bluetooth device and the phone. Next, try connecting to the Bluetooth device from your phone by placing it in pairing mode. Try rebooting both devices and trying to pair them again if the problem persists. Continue to the following step if this solution doesn't work.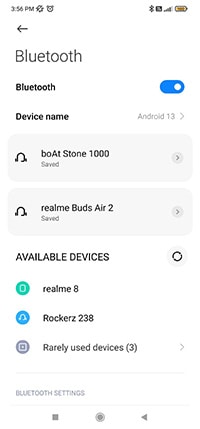 3. Clear Bluetooth Cache
The Android 13 bluetooth problem might be fixed by clearing the Bluetooth cache.
Here are the steps on how to clear Bluetooth cache on Android 13
Go to Settings.
Tap Apps.
Tap the three dots in the top right corner.
Tap Show system apps.
Scroll down and tap Bluetooth.
Tap Storage.
Tap Clear cache.
Tap OK to confirm.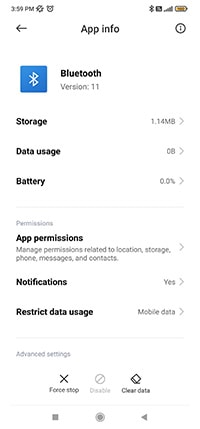 4. Reset Your Bluetooth Settings
The Bluetooth of your android 13 device not working problem can also be fixed by returning the Bluetooth settings to their default state. To do this, open the Bluetooth settings, and select "Reset settings" by tapping on the three-dot menu symbol.
5. Switch to a Different Bluetooth Audio Codec on Android 13
The android 13 bluetooth issue might also be resolved by switching to a different Bluetooth audio codec. Go to the developer options and scroll down to the "Bluetooth Audio Codec" option to alter the codec. Switch to a different codec and see if the issue is fixed.
6. Restart your Andriod 13 Phone
Sometimes a simple restart can fix the Bluetooth not working issue of Android 13 phone.
Press and hold the power button. It is the button that is usually located on the right side of the phone.
Wait for the power menu to appear. This may take a few seconds.
Tap Restart. This will restart your phone.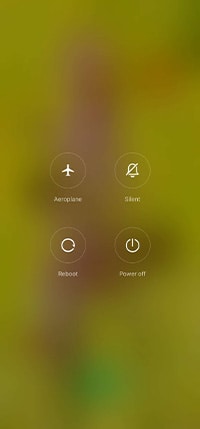 7. Update Your Andriod 13 Device
If none of the above solutions works, check for any available software updates on your Android 13 device. Updating to the latest version may resolve the bluetooth issue of Android 13 phone. To check for updates, go to "Settings," then "System," and then "Software update."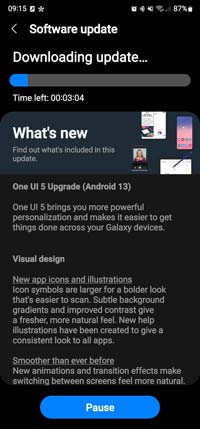 Conclusion
Although Bluetooth difficulties on your Android 13 phone can be aggravating, there are various fixes available. You can frequently fix Bluetooth connection issues by checking your Bluetooth settings, trying to pair your device again, emptying the Bluetooth cache, resetting your Bluetooth settings, switching to a different Bluetooth audio codec, restarting your phone, or updating your Android 13 device.
It's crucial to keep in mind that you can try several solutions till the problem is fixed if one doesn't work. You can experience continuous Bluetooth connections on your Android 13 device by following these above mentioned steps.