During the run-up to the launch of the Xiaomi Mi 6, there were a lot of reports pertaining to Xiaomi releasing two variants of the handset; the Mi 6 and the Mi 6 Plus but come launch only the former was launched. The primary difference between the two devices was restricted to the display size with the Mi 6 bearing a 5.1-inch panel and the Plus variant having a 5.7-inch panel. This was not aided by the fact that initially it was felt that the Mi 6 Plus will be the one bearing the 6 GB of RAM and the vanilla Mi 6 would be restricted to 4 GB.
All this obviously was flipped on April 19th when the company announced the Mi 6 but there was no sign of the Mi 6 Plus. Post-event, it looked as if Xiaomi had simply scrapped the latter but recently on a post @Weibo, analyst, Pan Jiutang laid out the reasons for its no-show. He states that due to the unexpectedly high demand for Samsung's Galaxy S8 series smartphones there has been a shortage of Qualcomm's Snapdragon 835 SoC. This was something we had alluded to in earlier reports but now it seems the Xiaomi Mi 6 Plus is the first device that has got officially postponed due to supply issues.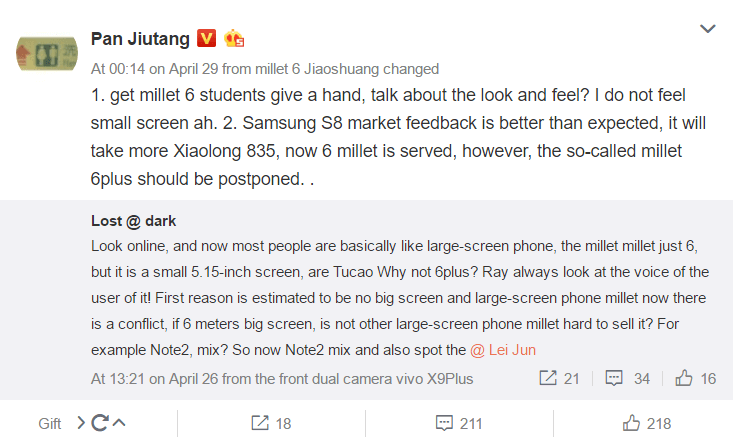 This is probably for the better since Xiaomi has been hard-pressed to meet the demand for the Mi 6 in its opening weeks. The gap in the launch will also allow the company to clear stock of its older Mi Note 2 and Mi MIX handsets which are targetted at customers looking for a smartphone with a large display. This news does confirm that the company was indeed looking at having a concurrent release of the Mi 6 and Mi 6 Plus and that the latter was also to be rocking a Snapdragon 835 SoC mated with, as of now unspecified specifications. For our complete coverage on the Mi 6 head, here.
Follow us on our social media to keep up to date with the latest in the world of Android.