A common trend in Apple products is the inclusion of features that have long been part and parcel of Android devices. While Apple always seems to one-up Android once they actually make the same, rather rudimentary features, that does not take away from the frustration of Apple's dedicated fanbase. One of the recent gripes of the Apple fandom is the lack of an option to split Screen on the iPhone 13.
Imagine getting your hands on the latest iPhone only to be informed that you will not be privy to most of Android's age-old features. We understand the agitation and have tried our best to help you bypass this limitation through a few simple 3rd party apps. Here it goes if you are wondering how to split Screen on iPhone 13.
How to Split Screen on iPhone 13
The iPhone Split Screen Mode is available on select models, and if you have older generations, you are in for some tough luck. But if you have just upgraded to the latest iOS, you might be able to use this feature without having to use 3rd party apps. You can find the Split Screen Mode in your device's menu, though it might seem to be buried deep and difficult to locate at a glance.
Here are the steps to use a split Screen on iPhone 13:
Go to Settings.
Select Display and Brightness.
Choose Display.
Click on Zoom and tap on Set.
Now, choose Use Zoom.
This will enable the split screen mode in your iPhone 13. Hold your device crosswise or horizontally after launching an app, and it will automatically switch to the split screen mode.
You can view additional information such as the time, mail notifications, calendar, reminders, incoming messages, contacts, settings, and similar Apple internal data when the Screen is split.
Split Screen Is Not Supported on All Models
It's true that the split Screen remains one of the least used features on an iPhone, but that does not take away from the company's responsibility to include the option. Why is such a small Apple using population aware of this feature?
The reason is that the feature is not available on most iPhone models. The mode you see integrated with the iOS menu is not the traditional split screen mode.
Whether your iPhone has a separate split-screen mode depends largely on the model of your device. Split Screen is only available in recent iPhone models with the suffix Plus, Max, or Pro attached to them. So, if you bought an iPhone 13 or 13 mini, thinking it will be packed with features, a split Screen will not be one of them.
So, if you have iPhone 6s Plus, you can enjoy the split screen feature right up to iPhone 13 Pro Max. But if you have any of the following- iPhone 6 to 13 and their mini versions- be prepared to do without it.
Split Screen On iPhone Using Apps
Even though the split screen is not the most widely available feature in iPhones, there are ways to get around it and still use this forbidden treasure with the help of 3rd party apps. Below, we have listed 4 apps that can help you get a taste of the split screen on iPhone 13.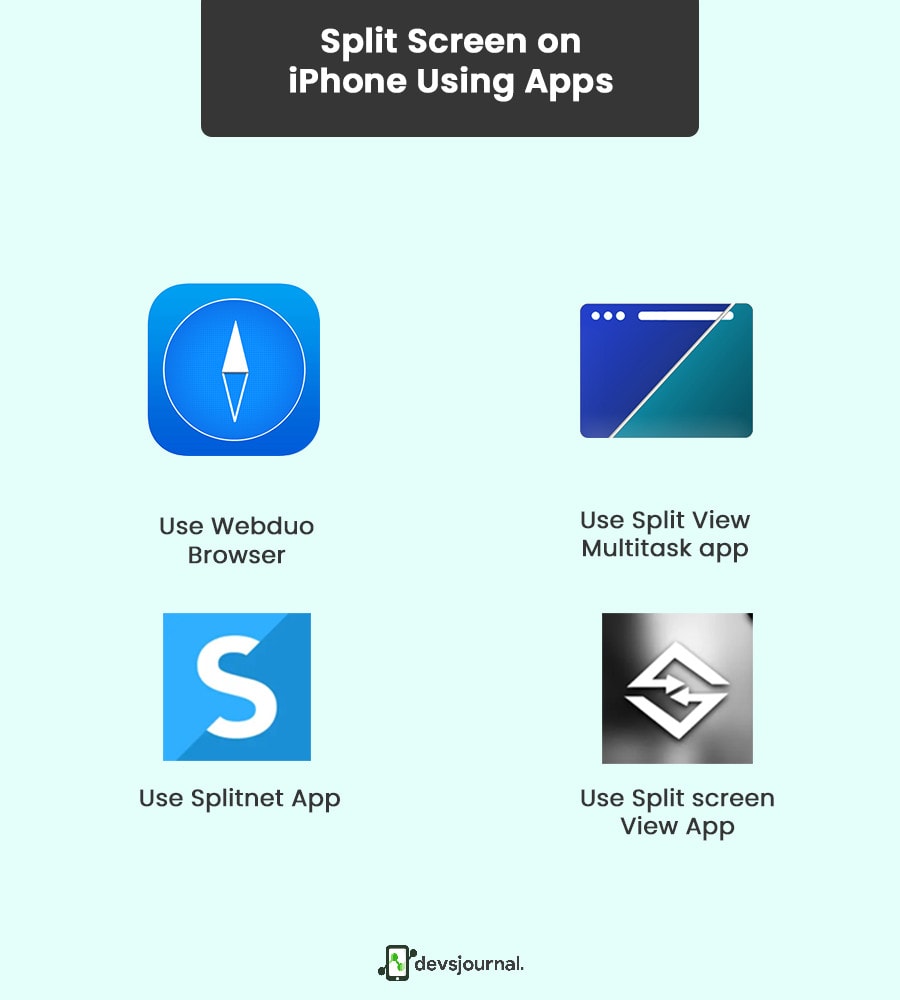 1. Use Webduo Browser
If you are trying to figure out how to split Screen on iPhone, the Webduo browser app can help. One of the best iPhone split-screen apps, Webduo is a unique web browser app that lets you view 2 websites simultaneously.
Beware that this feature does not allow the use of multiple apps simultaneously. So, you can use split Screen in Chrome, Safari, and other browsers, but not on apps such as Instagram or Whatsapp. This app is not free and will set you back by $1.99.
2. Use Split View Multitask app
Next in line is the Split View Multi Task app that comes in both paid and free versions and lets you view simultaneous content- both apps such as Instagram or Twitter and websites. This gives you 100% control over the screen contents you wish to share with it, but it does come, wight, a small flaw- the app's UI is a little outdated.
3. Use Splitnet App
Right after the Webduo and Split View Multi Task browser apps, the SplitNet app is the app for split Screen on iPhone. It is available in both paid and free versions and is quite similar to the Split View Multi Task app.
It allows the option to view simultaneous content in apps and browsers as well and offers you unmitigated control over the screen contents you wish to share with the app. This app's UI is a little dated, much like the Split View Multi Task app.
4. Use Split screen View App
The Split Web Browser is yet another app that lets you get the split screen option. Similar to the WebDuo app, this app is free to download from the iPhone App Store and allows you to view 2 browsers in parallel. You will not be able to use it with apps, but the good news is that the app is both free and ad-free.
Conclusion
When it comes to split screens on iPhone 13, these are the best ways to go about attaining the unattainable feature. Make sure you download them from the iPhone App Store and go through the instructions thoroughly. Good luck!