The Samsung Galaxy Active line of handsets have been restricted to retail via telecom major AT&T.  In a surprising twist though a new handset bearing the model number SM-G892U surfaced on the Wi-Fi Alliance. This is intriguing since the base Samsung Galaxy S8 Active bears the model number SM-G892A. What this change in the model number seems to imply is that the former is an unlocked variant of the Galaxy S8 Active.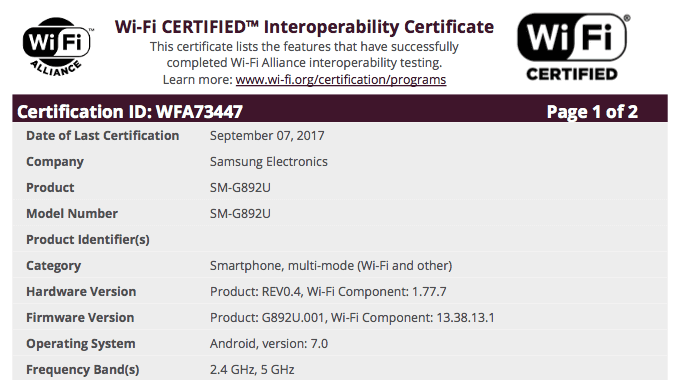 This could mean that the Korean electronics giant might launch an unlocked version of the S8 Active if not outright in the other markets. This would be the first model since Samsung's Galaxy S5 Active although the chances of it appearing on other markets vis-à-vis being launched in an unlocked form are rather slim.
The Samsung Galaxy S8 Active is identical to the base Galaxy S8 featuring a Qualcomm Snapdragon 835 SoC (US only release via AT&T). The chipset is complemented with 4GB of RAM and 64GB of internal memory which is expandable via microSD card. The 5.8-inch Super AMOLED panel is a flat "Infinity Display" setup with a QHD+ resolution (1440 x2960). Apart from this, the battery has also been bumped up to a 4000mAh unit thanks to the increased internal space. The camera units though remain the same 12-megapixel on the back with 7-megapixel selfie shooter up front.
Read More: The Samsung Galaxy Tab A 2017 (8.0) has been revealed
Other changes include the external chassis being made out of tough polycarbonate instead of the metal and glass frame. This is to ensure compliance with the MIL-STD-810G standards. If this does turn out to be true, the earlier rumour around the S8 Active's release would be vindicated.
Follow us on our social media to keep up to date with the latest in the world of Android.