Whatsapp has finally rolled out the feature of pinned chats to the Android users. Whatsapp has been testing this feature through beta release from the past one month. If you are a beta tester, you might already notice or experienced this feature. Starting from today, Android users can get this feature by updating the app through the play store.
How to pin the chats?
The new highlighting feature let the users pin their favorite chats on the top the chat list. Just hold down the chat for options to appear, and then tap the pin-shaped icon at the top the left top the screen to pin the conversation. Apart from the pin icon, users also see other regular options such as mute, delete and archive. Also, you can unpin the chat in a similar way whenever you want.
Simple and Useful: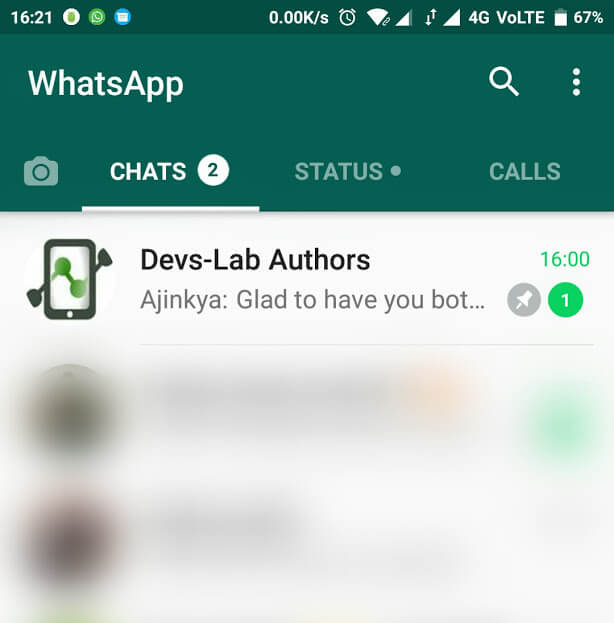 This feature can be handy as users can pin their favorite chat on top, irrespective of the last conversation timing. This feature helps the users in providing the easy access of frequently contacted persons, without searching or scrolling down the full list. Also, pinning of chat on top will also remind the users to message their best friend or family every time they open the app for some cause.
Both the personal chat and groups support the pinned chat feature. As for now, Whatsapp only allows pinning the maximum of 3 conversations. We are not sure if WhatsApp will increase this number in the future, based on the feedback from the users.
WhatsApp Press release:
"With pinned chats, you never have to worry about scrolling through the long list of conversations to text your family members or your best friend. Users can now pin up to three of the important group or individual chats to the top of their chat list for easy access – just tap and hold a conversation, and then tap the pin icon at the top of your screen," said one the officials from WhatsApp in a press statement.