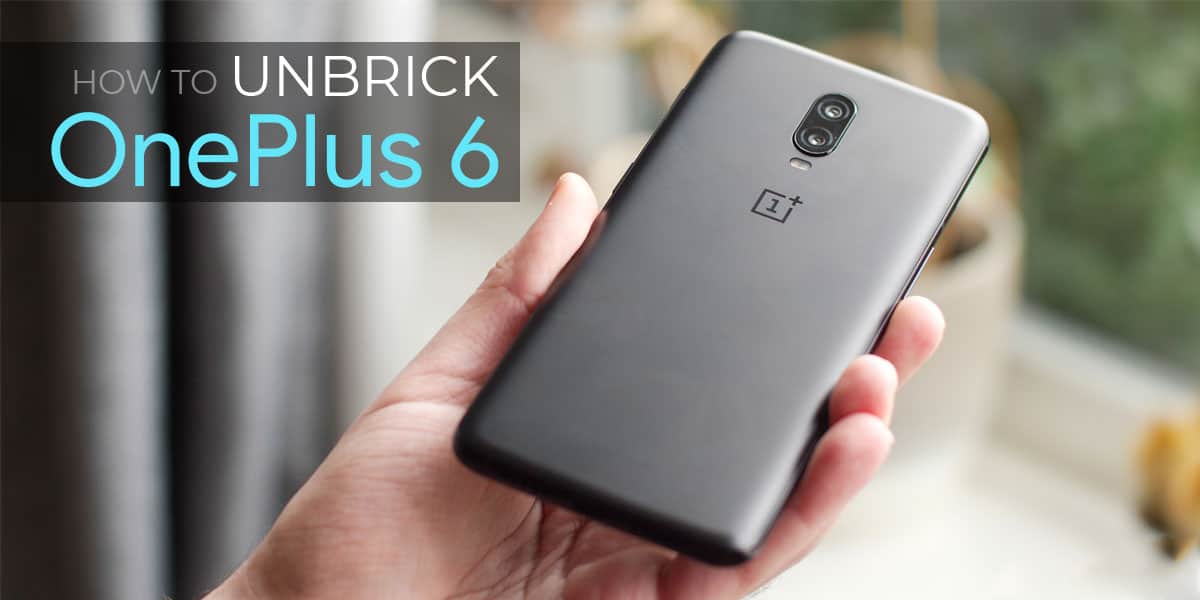 For those of you who already have hands on this nasty beast, we have a good one for you. Complete instruction for you to unbrick OnePlus 6. This article will guide you through the complete procedure to reinstall Stock OxygenOS ROM and recovery in OnePlus 6 using the official OnePlus tools available thereby not voiding your warranty.
OP6 as Popularly called, is the latest flagship model from the BBK Electronics (holding company), OnePlus! Some of its best features are:
128GB /256GB packed with 8GB RAM, yea that's a beast.

6.3inch HD Clear Screen for power-packed display. You don't need anything else.
This beast is not only mighty regarding specs but also in terms of performance. To cut short chase, it is complete fluid performance just gliding through all apps including heavy Need-for-speed game. Coming to connectivity, a whopping 1.2 Gbps download speed is just what you need for streaming, uploading, and going live even for 4K videos. With built-in 16MP Sony Sensor with Ap f/ 1.7 as the primary camera, a powerpack 20 MP secondary camera and your sturdy hands, transform you into that photographer with the desired skill with these specifications.
All in on this phone is an actual beast, which if used correctly, promises to satisfy all your needs that is required in a flagship phone. But if you're someone like me who tends to play around with Custom ROMs and don't like to stay on a single ROM for long time, you might at sometime brick your device due to improper zip flashing or flashing something which was not meant for your device.
You might already have tried unbricking using various trial and error methods by Magisk way or installing custom ROM, etc and some of them have reported that it didn't work and compromised their device. Here's a step-by-step process to unbrick your OP6 device.
Pre-requisites
Unbricking Tool for OnePlus6:

MSM Download

(Has the tool & OxygenOS for OP6)
Important drivers from Qualcomm: Download
OnePlus 6 device which has at least 40% battery.
An original OnePlus Type-C cable.
A Windows PC/Laptop.
Disable Driver Signature in Windows (Temporary)
You need to disable the driver signature enforcement in your Windows PC. This process is essential as Windows 8 & 10 only allow drivers which are signed by Microsoft. To install OnePlus Qualcomm drivers which are not signed by Microsoft, we need to temporary disable the Driver signature enforcement. Don't worry, it won't harm your Windows OS in any way.
Step 1. Going forward with this, restart your pc by keeping shift key pressed.
Step 2. One your pc is rebooted you need to select the Troubleshoot option available.
Step 3. Post this, choose Advanced Options and in that select Startup Settings which will display other options; click on Restart button at the bottom.
Step 4. This will show you a set of startup settings that can be easily modified. You'll find the "Disable driver Signature enforcement" option on No. 7. Press "7" or "F7" on your keyboard.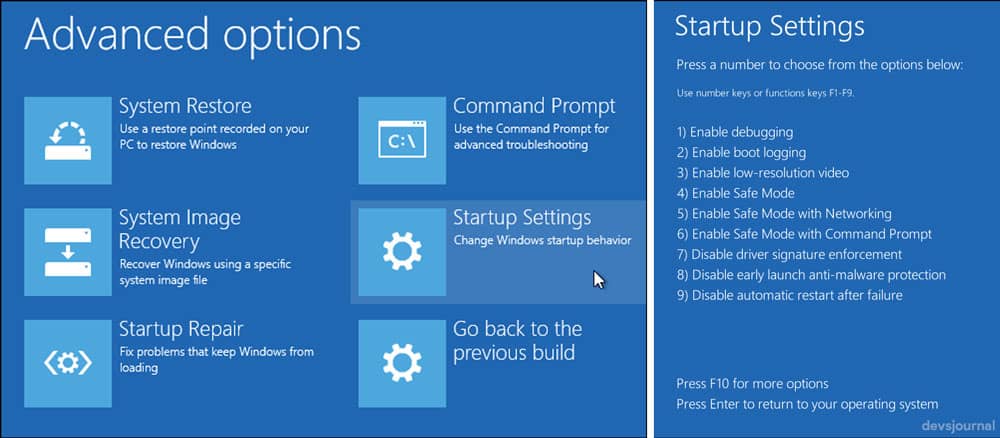 Step 5. This will automatically boot your system with driver signature enforcement disabled. Now it will not ask you to verify the digital signature of the driver.
Note: After the next restart, the driver signature enforcement will be enabled again.
How to Unbrick OnePlus 6 and Install Stock OxygenOS
Step 1. Download these tools on to your pc (computer). (you need to unzip files and add them to a folder on your computer)
Step 2. Switch off your OnePlus 6 and press the volume up button for approx 5-7 seconds and while you are at it, connect USB cord to your phne and PC. You will receive a popup on your screen mentioning that the device has been connected.
Step 3. In your Windows OS, open device manager (Press Windows+R on your keyboard. This will open Run-command window. Then just type in "devmgmt.msc" and click ok). You would find your bricked OnePlus 6 under "Other devices" with a name something like, "QHUSB_BULK".
Step 4. Right click on it and select "update driver" and click "browse" which is available on the screen. Then pick up the folder where you saved the downloaded Qualcomm OP6 drivers from above. Now click on update the driver.
Step 5. Once the drivers are installed, you would see a similar screen which shows drivers installed successful. Now your phone will be displayed under the name Qualcomm 9008. (Under Ports (COM & LPT)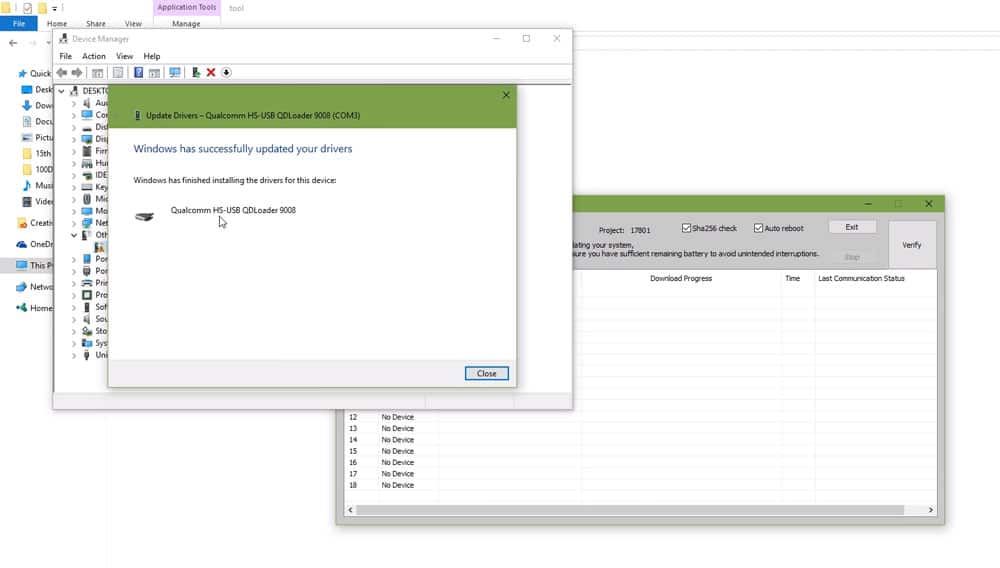 Step 6. After successful driver installation, open your unbricking tool that we downloaded earlier. Make sure it shows a "COM device" in the tool which means your OnePlus 6 is detected.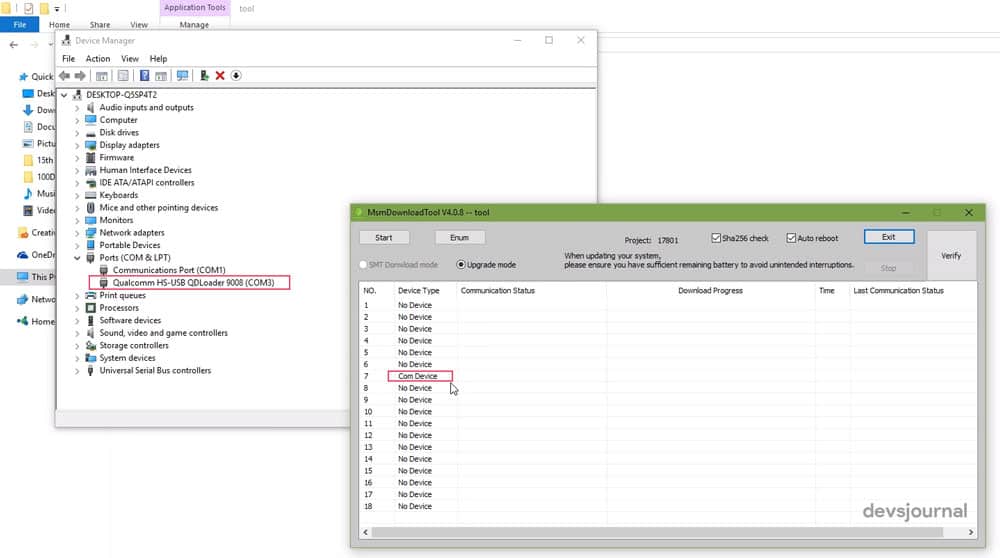 Step 7. A start button will be seen on top. You need to click that. By doing this, a program will be started to write specific files on your phone. Allow it to complete it after which you need to disconnect your pc and phone.
Step 8. Now your phone will restart and work normally. The initial booting process would take about 5-8 mins to prepare first boot (Just like you boot your device out of the box first time).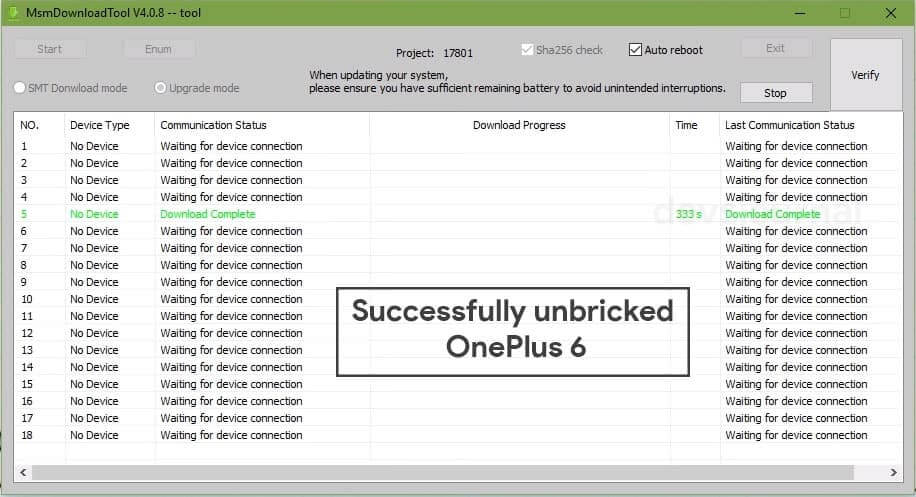 So Congratulations. Your OnePlus 6 has been unbricked, and you can use it to its full potential again.
After performing this, the phone will be restored to Oxygen OS 5.1.5. If you want to install the latest OxygenOS, you can install OxygenOS latest version by flashing this zip.
However, a word of caution while unbricking device your phones. Ensure that you understand risks beforehand. Backup your data (If you're able to get into the device) from your phone such as your audio, video, photos, etc., to your pc or pen drive or other online storage, when you unbrick your phone.
Unbricking a device erases all the data in it's memory and provides a fresh software just as you got it when you took it out of the box. Don't move the device or shake the USB cable during the unbricking procedure which starts when you click the "Start" button. If you disconnect your device during the process, there are very high chances you could permanently brick your OnePlus 6 which could only be repaired via service centre through a hardware change.
Just be extra cautious while playing with smartphone systems as their memories don't come cheap. If you have any doubt regarding the procedure or you're stuck somewhere, you can ask us in the comment section and we would try to revert back as soon as possible.