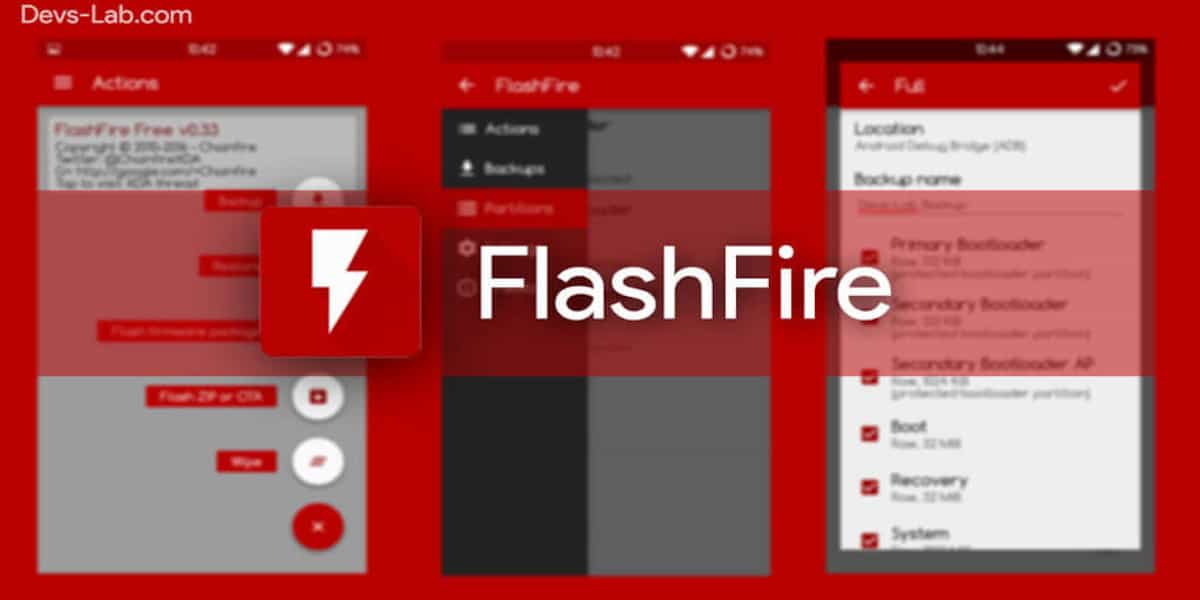 XDA Recognized Developer Chainfire, a man who needs no introduction to an Android enthusiast. FlashFire is the successor of Mobile Odin, an application that aids in flashing Android devices on-the-go. With the latest update of FlashFire, Chainfire is surely the man Android community deserves. Many of us complain about having "No storage while creating a backup of your system & data files." Well, thanks to Chainfire! Now you can not only backup & restore your System using a mobile App but also directly create the backup file on your PC/Laptop. No more space issues!
FlashFire also allows you to flash OTA & zip files just like Flashify App. The latest update to FlashFire has brought the ability to backup and restore your phone partitions through ADB. These are full backups of your device, but you do have the option to choose which parts of your phone you want to back up.
Note: Your warranty may get void after following this procedure. We won't be responsible for anything happening to your device during this process as you are the one who have decided to do this modifications. All the steps mentioned below are tested & found to be working perfectly! Make sure to read & follow each step carefully.
Features of FlashFire
1. A/B OTA: Support for yet another streaming variant
2. Magisk support: Fix some black screen issues and much improved OTA flashing compatibility (excluding A/B devices)
3. SuperSU: Updated embedded SuperSU version to v2.82-SR4
4. Backup: Exclude paths from backup with /sdcard/FlashFire/userdata_excludes and ./internal_storage_excludes
5. Restore: Fix issue where FBE keys sometimes weren't restored
6. Wipe: Add option to not wipe files from internal storage that aren't backed up
7. ZIP: Open ZIPs from file managers and (Chrome) downloads directly, or share to FlashFire (file must resolvable to reside on /data)
8. Adjusted timebomb for non-Pro users to 2018-04-01
Prerequisites
Rooted Android device. Make sure to have SuperSU running or CM SU with SELinux set to Permissive.
Android 4.2+ or newer
Device should have minimum of 1GB RAM: Operations may fail on low memory devices because the FlashFire app uses a lot of RAM
Unlocked Bootloader
FlashFire App
Note: Unlocked Bootloader is not necessary for many functionalities of FlashFire App. The only problem with the locked bootloaders is that, if something goes wrong there is much higher chance of a device being unrecoverable. So we recommend to all root users to run unlock bootloader.
Check Partition details in FlashFire App
FlashFire has got a bunch of cool features that we always look for, after rooting our Android device. Transferring the system backup was a really boring task. Yeah, low storage sucks! Thanks, Chainfire you da man, for decades now! If you are not aware of different partitions on your device, no worries. This App will guide you about different partitions in your device by Name, size, block size & Flags i.e., What it's called!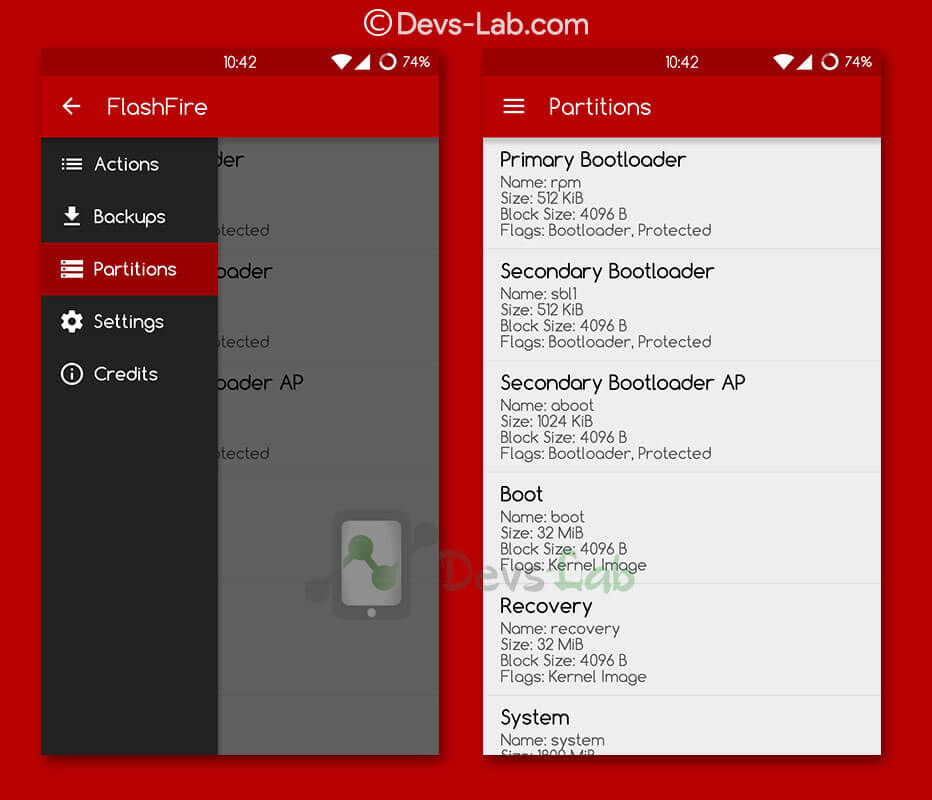 How to Backup System via ADB over WiFi
Step 1. Download the FlashFire App from the above link & install the apk file normally. If you are prompted with unknown sources error, Goto Settings App> Security > Enable Unknown Sources.

Step 2. Once the app is installed, launch the app. If you are unaware of different partitions, slide out the menu & goto Partitions.
Step 3. To backup your device, Tap on the + icon. You would see something similar to below image. Just click on Backup.
Step 4. After clicking on Backup options, you'll be asked for the type of backup: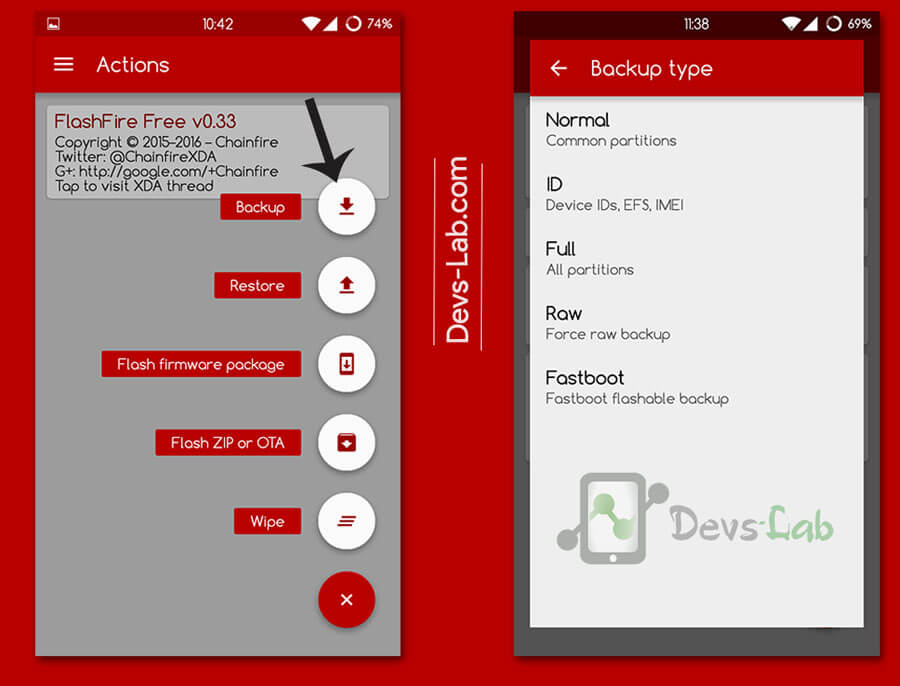 Normal Partition Backup: It includes normal partition i.e Boot, System, OEM, Data and Internal Storage.
ID Backup: Device IDs, EFS & IMEI.
Full Backup: It includes partition of entire partitions of your device.
Raw Backup: It includes Raw partitions that comes factory installed i.e Boot, System & OEM.
Fastboot Flashable backup: It creates file that can be sideloaded from ADB.
Step 5. Once you have selected the type of backup you want to create. To backup directly in your PC using wifi, Select location as Android Debug Bridge (ADB). Tap on the √ symbol to start backup.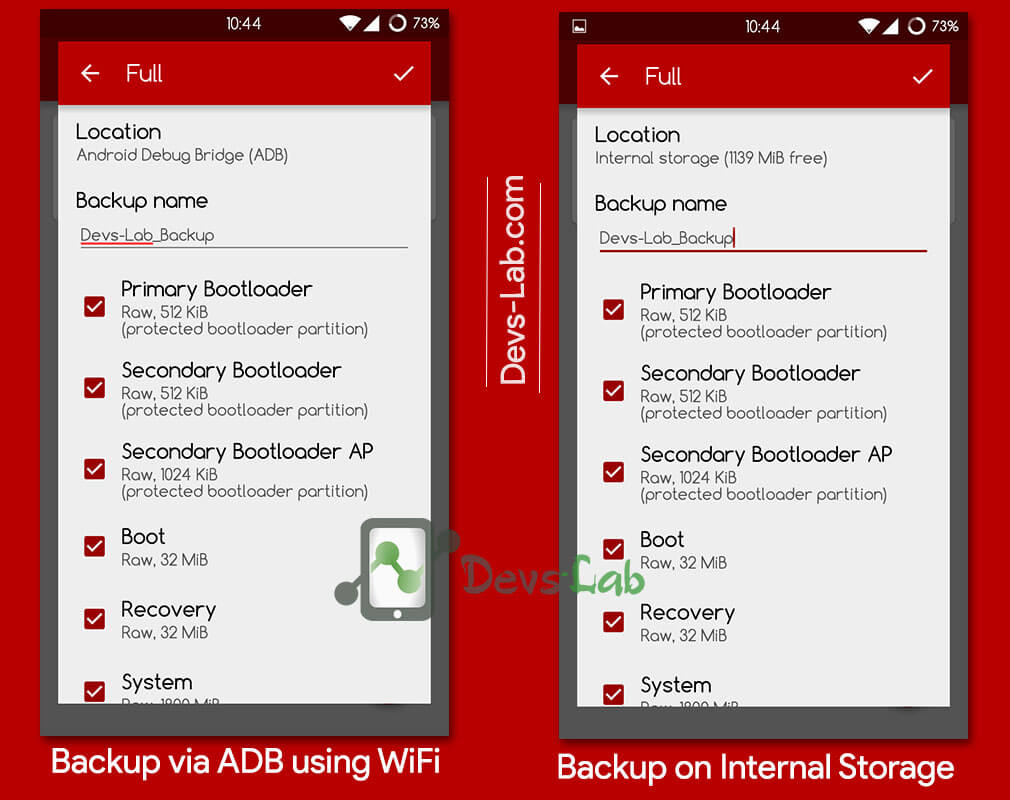 Step 6. After tapping the Flash button, you will be presented with on-screen instructions as needed.
Note: Some device brand don't work with this App. Only Samsung, HTC, OnePlus and other big brand devices work with this device. However, there are possibilities that it might work with your device.
How to Restore Partitions
To restore, create a new restore action, and tap the USB icon at the backup selection screen. Then select the partitions you want to restore if present in the backup. Chainfire notes that the backups are created and wrapped in a ZIP file in a specific order, which means that you cannot zip existing backed up partitions created on your phone and restore them through adb.
Conclusion
Since this update is a significant change, there are bound to be bugs. If you run into any, be sure to head on over to the XDA thread for reporting. We advise that you search the thread and read the last few pages before reporting. Although its a very nice feature, it's still under development. You don't need to get dishearten if your device is not supported. For those who have used Flashfire, was it a nice option then other ways of creating backup? Let us know in the comment section below.
FAQs
1. What is FlashFire?
FlashFire is the advanced on-device firmware flasher available for Android rooted devices. It flashes full firmware packages from various manufacturers. It also apply OTA and ZIP updates – all while maintaining root, and without using a custom recovery. It offers full device backup and restore functionalities in several formats.
2. How to install Xposed framework FlashFire?
FlashFire app allows you to flash .zip files that were meant to be flashed only via a custom recovery. This allows the Xposed framework to be installed on a device without the need of custom recovery, but it requires root and the FlashFire app.
Install Xposed without Recovery using FlashFire app Open FlashFire app, Grant it root access and Agree to its disclaimer note. Now tap on the + floating icon on the FlashFire app » select "Flash Zip or OTA" from there and then select the Xposed framework's .zip file
3. How long does FlashFire take?
FlashFire takes long time to flash usually half an hour, 5 Minutes to get to the "Loading" Screen, another 5-10 min to get to the actual FlashFire Screen and remaining minutes for the actual Flashing process.
4. How to backup with Fastboot backups?
Fastboot backups are meant to be flashed from your computer using the fastboot command. These backups cannot be fully restored using FlashFire, though you can recover some partitions (but not /data or internal storage) by using the Flash firmware package action on the ZIP file.
5. How to backup with Android Debug Bridge (ADB)?
To backup to your computer using ADB (either through USB or Wi-Fi), simply select Android Debug Bridge (ADB) as the Location for the backup. You will be provided with the adb commands to run when you need to run them.
6. How to restore data with TWRP?
The standard and RAW backup types come with twrp.zip file in the backup's folder. This ZIP file can be Installed in TWRP to perform an emergency restore.
7. How to Flash Firmware Package using FlashFire?
The Flash firmware package action allows you to parse and flash firmware packages from various OEMs in many different formats. These are the firmware packages you would normally flash with fastboot, ODIN, or other OEM-specific flashing tools.
8. How to use FlashFire to Wipe System Partitons?
The Wipe action allows you to wipe various parts of your device. It depends upon the users which part of the device to Wipe. Various options available to the user to wipe data such as System data, 3rd party apps, Dalvik cache, Internal storage, Keep internal storage excludes, Cache partition, Cache partition format, Wipe systemless SuperSU, Wipe boot image backups, Wipe encryption keys
9. How to Reboot using FlashFire?
The Reboot action is automatically added when at least one other action is present, you do not need to add it manually. A number of reboot variations are available, but please note not all of them may be available on all devices and firmwares. Normal, Recovery, Download, Bootloader, Delay reboot and Preserve recovery.