XDA Recognized Developer Chainfire, a man who needs no introduction to an Android enthusiast. FlashFire is the successor of Mobile Odin, an application that aids in flashing Android devices on-the-go. With the latest update of FlashFire, Chainfire is surely the man Android community deserves. Many of us complain about having "No storage while creating a backup of your system & data files." Well, thanks to Chainfire! Now you can not only backup & restore your System using a mobile App but also directly create the backup file on your PC/Laptop. No more space issues!
FlashFire also allows you to flash OTA & zip files just like Flashify App. The latest update to FlashFire has brought the ability to backup and restore your phone partitions through ADB. These are full backups of your device, but you do have the option to choose which parts of your phone you want to back up.
Features of FlashFire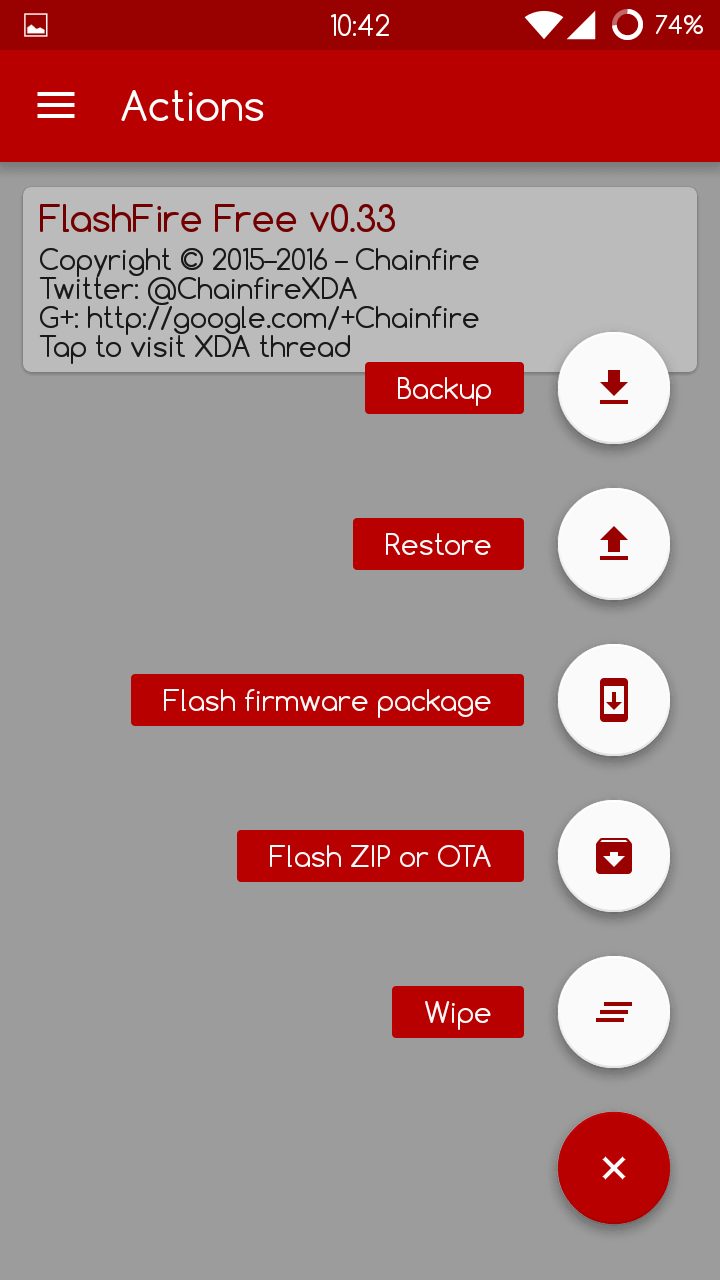 Backup/Restore System Partitions & data.
Flash Firmware, ZIP/OTA files.
Wipe System, Internal storage, cache partitions, recovery partitions etc.
Best of all, Backup over wifi i.e Send your backup files directly to PC.
Prerequisites

:
Rooted Android device. Make sure to have SuperSU running or CM SU with SELinux set to Permissive.
FlashFire App
Check Partition details in FlashFire App
FlashFire has got a bunch of cool features that we always look for, after rooting our Android device. Transferring the system backup was a really boring task. Yeah, low storage sucks! Thanks, Chainfire you da man, for decades now! If you are not aware of different partitions on your device, no worries. This App will guide you about different partitions in your device by Name, size, block size & Flags i.e., What it's called!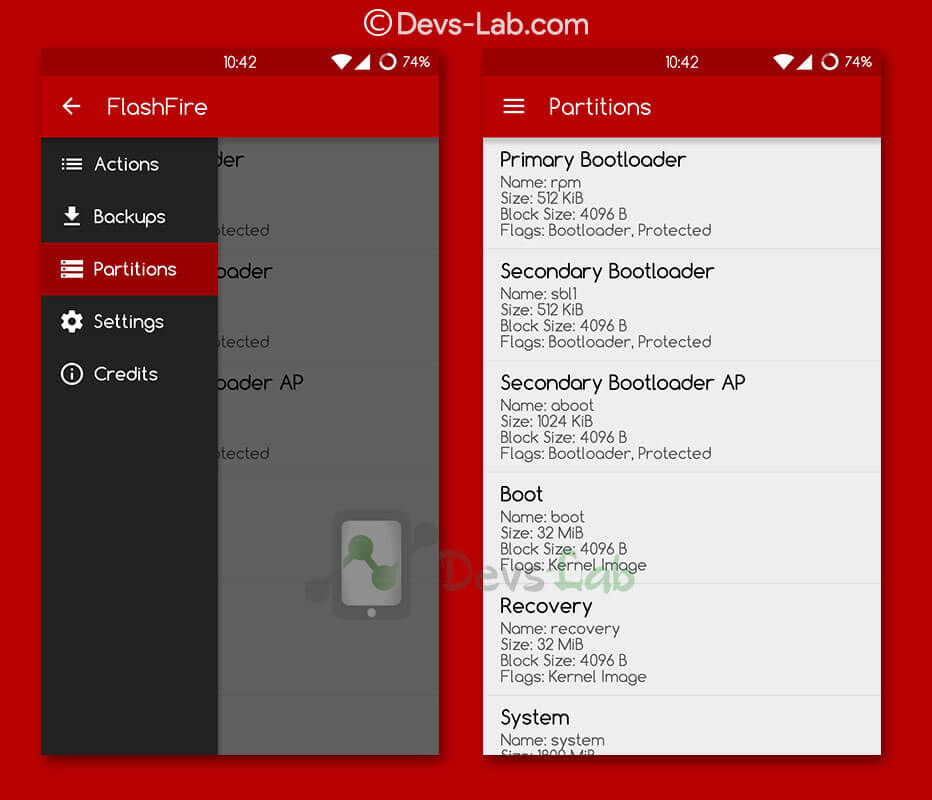 How to Backup System via ADB over WiFi
Step 1. Download the FlashFire App from the above link & install the apk file normally. If you are prompted with unknown sources error, Goto Settings App> Security > Enable Unknown Sources.

Step 2. Once the app is installed, launch the app. If you are unaware of different partitions, slide out the menu & goto Partitions.
Step 3. To backup your device, Tap on the + icon. You would see something similar to below image. Just click on Backup.
Step 4. After clicking on Backup options, you'll be asked for the type of backup: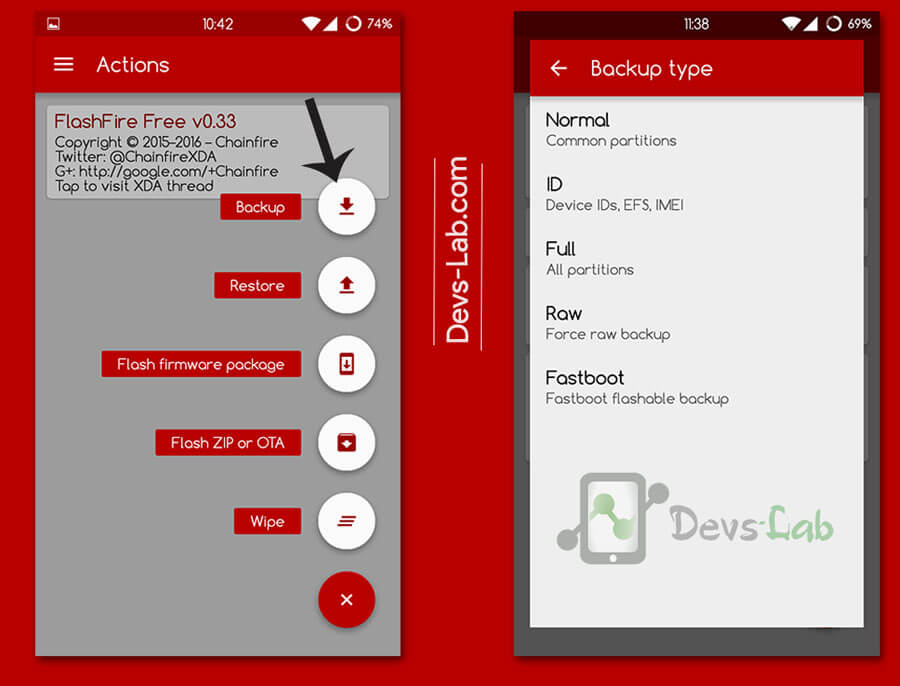 Normal Partition Backup: It includes normal partition i.e Boot, System, OEM, Data and Internal Storage.
ID Backup: Device IDs, EFS & IMEI.
Full Backup: It includes partition of entire partitions of your device.
Raw Backup: It includes Raw partitions that comes factory installed i.e Boot, System & OEM.
Fastboot Flashable backup: It creates file that can be sideloaded from ADB.
Step 5. Once you have selected the type of backup you want to create. To backup directly in your PC using wifi, Select location as Android Debug Bridge (ADB). Tap on the √ symbol to start backup.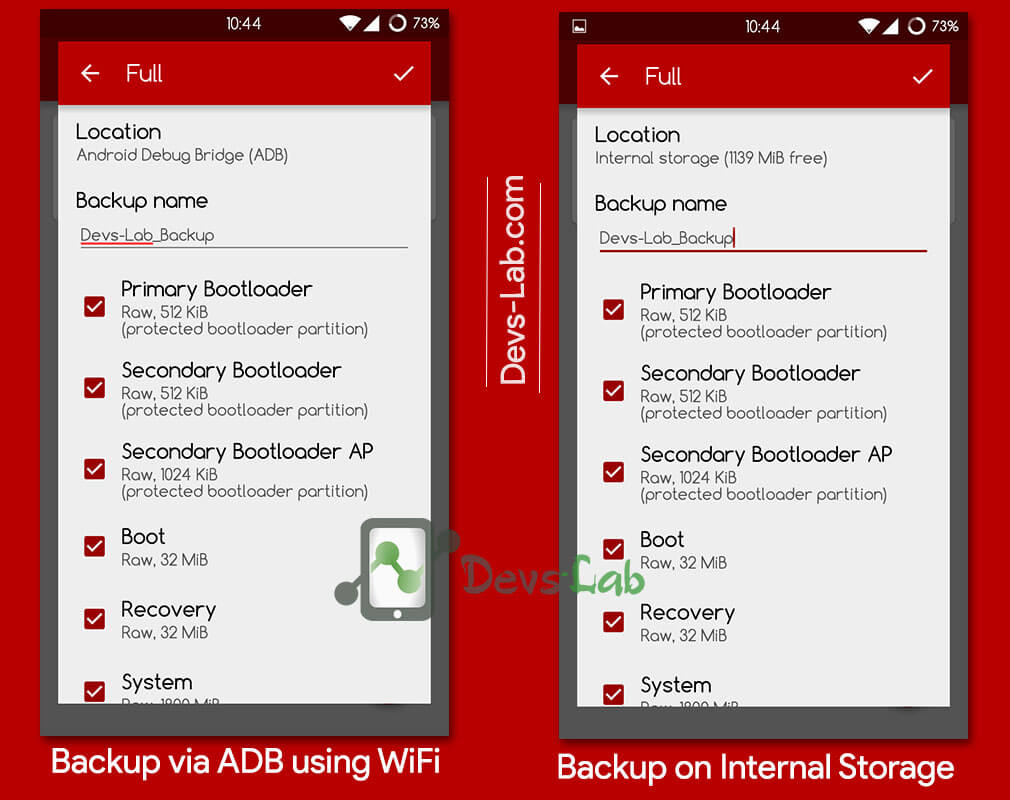 Step 6. After tapping the Flash button, you will be presented with on-screen instructions as needed.
Note: Some device brand don't work with this App. Only Samsung, HTC, OnePlus and other big brand devices work with this device. However, there are possibilities that it might work with your device.
How to Restore Partitions
To restore, create a new restore action, and tap the USB icon at the backup selection screen. Then select the partitions you want to restore if present in the backup. Chainfire notes that the backups are created and wrapped in a ZIP file in a specific order, which means that you cannot zip existing backed up partitions created on your phone and restore them through adb.
Since this update is a significant change, there are bound to be bugs. If you run into any, be sure to head on over to the XDA thread for reporting. We advise that you search the thread and read the last few pages before reporting. Although its a very nice feature, it's still under development. You don't need to get dishearten if your device is not supported. For those who have used Flashfire, was it a nice option then other ways of creating backup? Let us know in the comment section below.