Benchmark softwares has been our wild Venus flytrap for "yet to be released " mobile devices for years. Although it didn't show up many specs, it helped us get a clue about Nokia's upcoming Smartphones. The recent victim of this flytrap are Nokia phones which apparently been able to be determined using the codename used by the company in the past.
On Geekbench database, there are wide range of devices that bears the codename "Heart." As we all know, " Heart" is an internal term for HMD Global's Android devices. We've seen this before with Nokia 3 listed as "HMD Global Heart" on Geekbench prior to it's release and "Nokia Heart" at GFXBench for Nokia 5.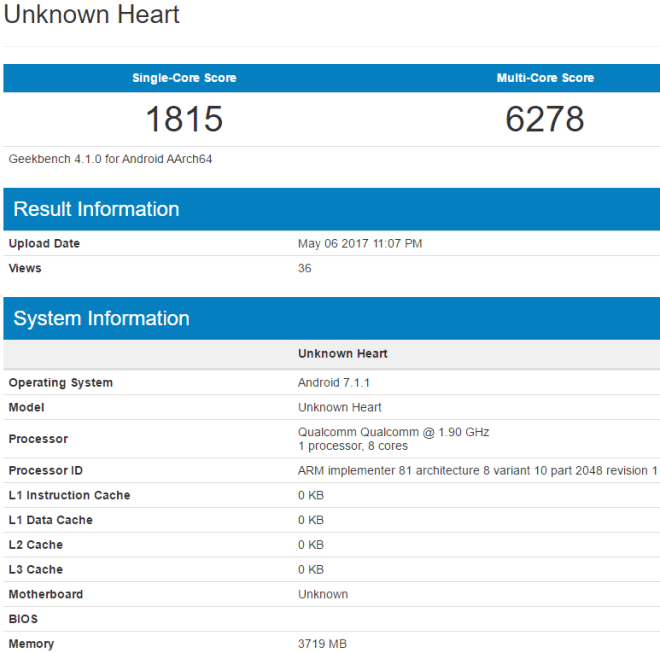 One of the device that got us excited is codenamed "Unknown Heart". The device is said to bear the latest octa-core Qualcomm Snapdragon 835 clocked at 2.45GHz coupled with 4GB of RAM. The chipset is identified only as " ARM implementer 81 architecture 8 variant 10 part 2048 revision 1″ which quick Google reveals devices with Snapdragon 835. Therefore, it is speculated to be the long-rumored "Nokia 8" or "Nokia 9″.
Also spotted on Geekbench database is a device clocked at 2.21GHz which is suspected to feature either Snapdragon 626 or the 630. This apparently belongs to the mid-range category. Also, another device which codenamed " Heart" is spotted on Geekbench database. This time, with Qualcomm's latest Snapdragon 660 clocked at 1.84GHz. All of these mid-range devices will have 3GB of RAM under the hood and will run the latest Android Nougat 7.1.1.
Get notification about our latest updates, leaks, hacks & exciting offers in realtime!