Here's one more piece of evidence that we may see Samsung' foldable phone soon. The handset aka the Galaxy X was certified by S. Korea's National Radio Research Agency(NRRA). The phone appeared under the model-number SM-G888N0. A number that has been associated with Samsung's new concept phone for some time. Now, the new info comes after as the existence of the Galaxy X has been officially confirmed by Samsung CEO. This happened on the eve of the iPhone X launch and it was the first instance that the company CEO officially assured us that it was coming.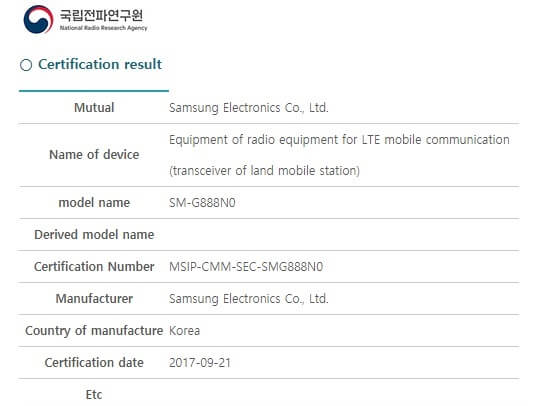 Moreover, the model number SM-G888N0 has been spotted on other certification websites such as the Wi-Fi Alliance (WFA) and even at Bluetooth SIG. However, the latest green light seems to point towards an advanced stage of readiness for launch. Unfortunately, the most important thing which would like to know about the subject is not available in the NRRA docs. So, for now, we'll just have to make do with our own cooked ideas and concepts. It seems that the Samsung Galaxy X will first launch in S. Korea which is hardly a surprise. In fact, it could also be a S. Korea exclusive or Samsung could sell very limited quantities like the Note Edge.
After all the thin-bezel fad and dual camera this year, the vista of innovation seems to have dried up in the smartphone industry this year. And, if Samsung does manage to pull the foldable screen mechanism properly, this could very well be the next big thing the industry will have. To be frank, we didn't expect Samsung to be in such an advanced stage of production. Since the recent CEO comments seemed to point the phone is way off at least till 2018. Even after today's report, we can't say when the phone will have an actual launch but clearing the NNRA hurdle does mean it could well be before 2018.
Related Posts