Samsung may not have unveiled the Samsung Galaxy S8 at the Mobile World Congress, but Samsung has managed to release another stylish piece of hardware. Samsung released two new hybrids and named them the 'Galaxy Book'. Samsung is really trying to compete with the Microsoft Surface Line and the Galaxy Book indeed has quite a few unique features up its sleeve.
There are 10 and 12 inch variants of the Surface Book and both of them are compatible with the new S-Pen that Samsung announced for its Tab S3 and the Surface books.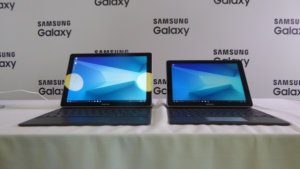 Display:
Samsung has always produced top-notch displays and the Galaxy Book is no exception. The 12-inch model sports a 2160×1440 AMOLED panel which looks absolutely gorgeous. The display also has HDR support which gives a wider colour gamut which makes images and videos look more vibrant and richer. The Samsung Galaxy Note 7 came out with a HDR display last year and it made a night and day difference while watching content that support HDR. Netflix and Amazon Prime video provide content with HDR support enabled. Unfortunately, the 10-inch version of the Galaxy Book comes with a full HD LCD panel, which does not support HDR.
Specifications:
This is one area where Samsung has done a very good job. Samsung has made a product that maintains the portability aspect without sacrificing performance. Despite the 7.4mm slender profile, the 12-inch variant sports an Intel Kaby Lake Core i5 processor, 4GB or 8GB of RAM and a 128GB or 256GB SSD. This configuration seems pretty promising performance wise for a hybrid device with such a thin profile. However, the 10-inch variant is powered by a Core M processor, which is still acceptable for a laptop convertible.
The Galaxy Books sport a 30 and a 39 watt-hour-battery for the 10 and 12-inch variants respectively which is not bad considering that these are portable devices. Samsung claims to deliver 10 hours of battery life on a single charge and the inclusion of fast charging makes it really impressive.
Software and Features:
The Galaxy Book runs on Windows 10 with a few extra features. The Galaxy Book supports the new S-Pen, which can detect up to 4096 levels of pressure with its fine 0.7mm nib. The S-Pen can now understand the angle at which it is being tilted and Samsung is really proud of this feature. It believes that this feature can be really handy for artists and designers. Samsung has included familiar S-Pen features like Air Command shortcut and Screen off Memo.
Samsung has added a new feature and has named it 'Flow'. This enables you get smartphone notifications on your laptop screen. Flow also allows for easy transfer of files between Samsung devices.
Verdict:
The 12-inch variant clearly looks more of a worthy buy considering that it has a better display, a slimmer profile and a much better processor. Samsung has also added a few handy S-Pen features which make the devices more useful. However, all would depend on how Samsung optimises these features. Sammy has not announced details regarding the pricing although it is expected to be priced similar to the Surface Book.