In 2017, smartphone manufacturers have dedicated most of their time to shrinking bezels. But by the end of this year, one thing is clear. These designs are not as bezel-less as they are presented by their makers. In fact, the screen to body ratio still remains 90% at best. So, what stops companies from bringing a 100% full-screen phone? The chief culprit is that front camera. That means if someone has a workaround for that, we could see a true full-screen phone.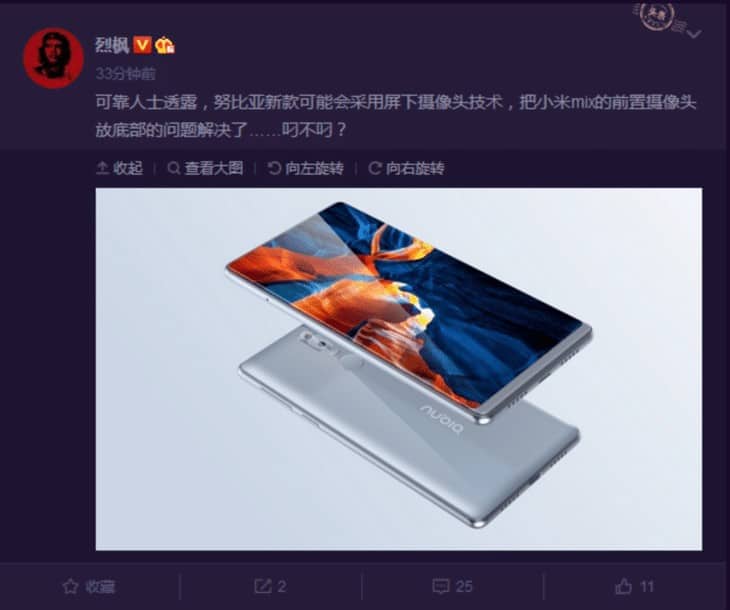 Rumours arising from Chinese circles is that Nubia, of all brands, has a solution up its sleeve. And a very whacky solution at that. A report states that Nubia is working on a front camera that will work from under the front display. Word is that the next Nubia flagship will adorn that new camera which will be placed under the display. The big question is, how effective it will be with that screen on? Only time will tell. We've also got some renders that show how the handset will look like.
ZTE's sub-brand, Nubia, was one of the first to say bye-bye to side bezels with its flagship phones. So, it wouldn't be surprising if the company one-ups Xiaomi once again. The render while not showing a 100% full-screen phone does appear to have slimmer bezels than the Mi Mix 2.
The Nubia Z17 is the flagship of Nubia with the Z17s being the upgrade of the former handset this year. With 2018 still in the waiting, we expect there will still be some time before we actually see the truth to this story.