There have been a plenty of leaked images and renders about the upcoming iPhone 8. The latest renders(leaked by iDropNews) show us the Apple flagship running on the newly announced iOS 11. It shows us the new control centre, the lock screen and newly updated apps like Apple Music and Messages running on the bezel-less iPhone 8. The render gives us more insight on the design of the 10th anniversary iPhone.
The leaked images give us a detailed look at the front of the device. The front panel sports a bezel-less design with a cut out for the earpiece and the camera at the top. This is similar to the Essential phone and does not hinder the user experience since it only takes up the empty space in the notifications centre. It is also worthy to note that there is no Home Button in the front. The report notes that the Touch ID sensor will be embedded under the display and also claims that the iPhone 8 will have a front laser and an infrared sensor to bring special facial recognition capabilities.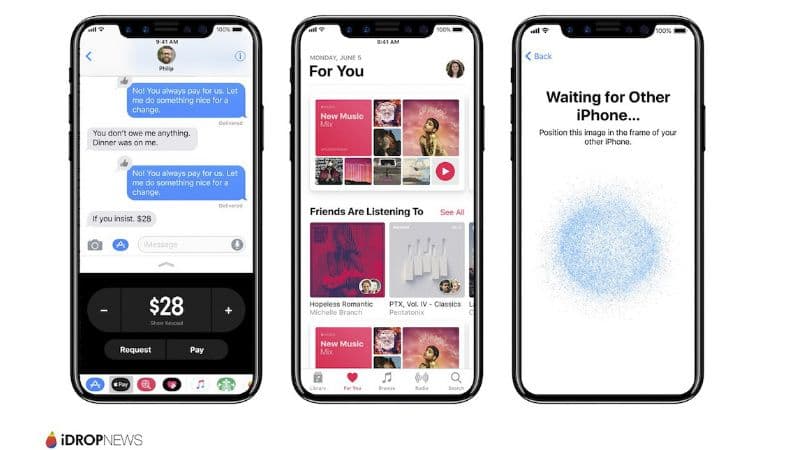 The iPhone 8 is expected to follow an all glass design this time around, hence enabling wireless charging. Therefore, a large pad is expected to be included inside the device to enable the much awaited feature. The glass rear will feature a vertical dual camera arrangement that will be crucial for AR. Apple released ARKit with iOS 11 and has reiterated several times that it is taking AR very seriously.
Also Read:The iPhone 8 will be larger, thanks to the bezel-less design
Apple is expected to go with an OLED display for the latest iPhone powered by an Apple A11 chipset. However, the launch date for the iPhone 8 still remains a mystery with a few rumours claiming that the device will be delayed due to production issues.