A week earlier we had reported that Qualcomm was gearing up to launch the Snapdragon 450 chipset. Today the company launched the entry-level focused chipset in the Mobile World Congress, Shanghai. Qualcomm also handed out literature and media that showed how the 450 improves on its predecessor the Snapdragon 435 SoC and how it got there.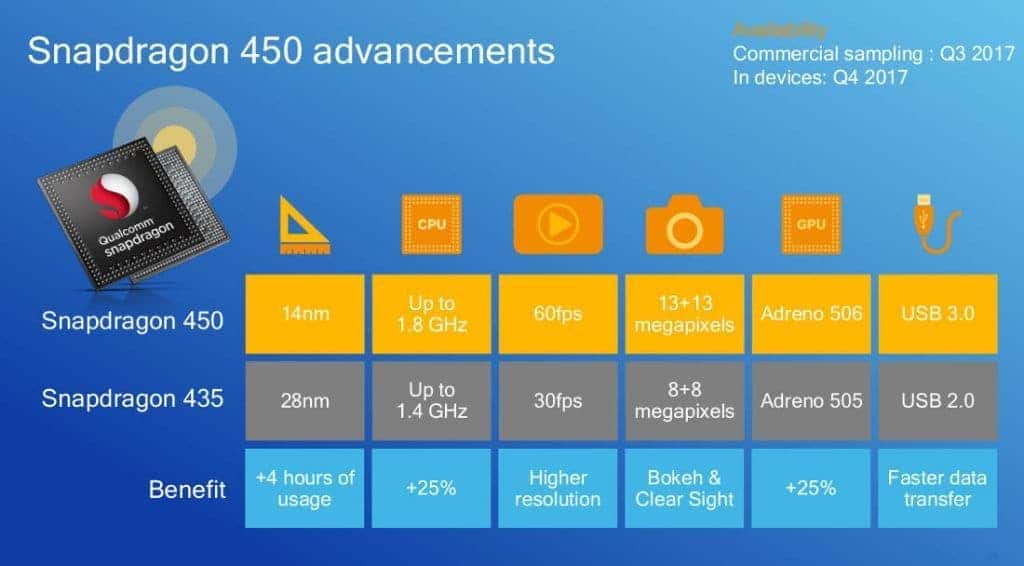 Qualcomm has finally managed to move all its mobile platform chipsets to the 14nm node and below. Thanks to this transition, the company claims an up to 4+ hours increase in operational time. Moving to a smaller node also means that the octa-core processor based on Cortex-A53 cores can be clocked as high as 1.8GHz. The GPU on the package is the Adreno 506 which the company claims has a 25% performance boost vis-á-vis the Adreno 505. The chipset is finally natively supportive of USB 3.0 (Type-C connector) which will now start making an appearance on cheaper handsets. This support also makes the Snapdragon 450 compatible with Qualcomm's Quick Charge 3.0 standards.
The processor is now also capable of supporting dual cameras in a combination of up to twin 13-megapixel sensors which allow for improved capture quality and bokeh in images. Moreover, it can also record video content @60fps up from the Snapdragon 435's 30fps cap.
Qualcomm has stated that the Snapdragon 450 will be available for commercial sampling in the Q3 of 2017 while devices powered by it should surface sometime in the Q4 of this year.
Qualcomm Snapdragon Wear 1200 platform
The 450 was not the only silicon revealed by Qualcomm though as they also showed their brand new Snapdragon Wear 1200 chipset as well. The Wear 1200 is focussed on smaller wearables which do not require as much processing power or LTE bandwidth as traditional mobile platforms. The chipset measures in at 79 square millimetres which is a 45% reduction in size vis-á-vis the Wear 1100 platform it supersedes but that comes at the cost of only including a single Cortex-A7 core for processing capabilities.
This though should not be much of an issue since the SoC is focussed on smaller devices like fitness trackers, and smart bands, headsets. The chipset boasts support for GPS, GLONASS, Galileo, BeiDou and LTE Cat-M1 (300 kbps download, 375kbps upload) and Cat-NB-1 (20kbps down, 60kbps up) modem. This might not be much compared to modern smartphone chipsets but is more than enough for the transfer of smaller amounts of data between connected devices and VoLTE.
The Wear 1200 also comes with Qualcomm's Secure Execution Environment, a hardware-based cryptographic engine and hardware random number generator and TrustZone for improved privacy and security. The chipset is pin compatible with the older, cheaper Wear 1100 chips for faster adoption rates in products that are more concerned with battery life over raw performance.
Qualcomm claims that the Snapdragon Wear 1200 will be out for commercial sampling by manufacturers in Q3 this year while it should be arriving in the market by Q4 of this year.