Oppo has been known for making smartphones with excellent cameras. Now the company has released an official media invite for the launch of its next smartphones which are likely to be the Oppo F3 and the Oppo F3 Plus. The company, in its invite has stated the launch date to be March 23 and the invitation contains a silhouette of dual camera module. This most likely means that the phone will come with dual camera setup.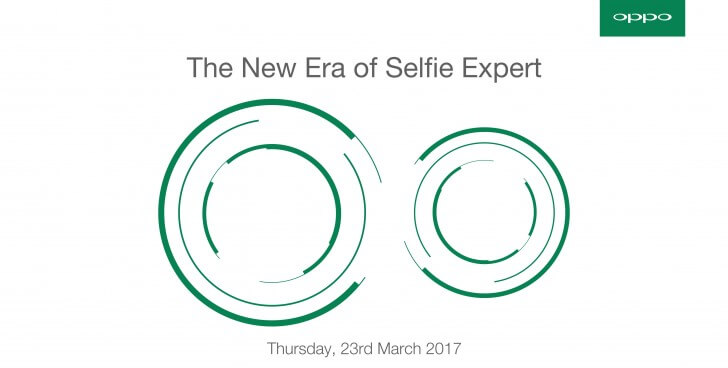 One thing worth noting is that the company is known for its selfie cameras and the invite also states that the phone will come with a "new era of selfie camera" so the dual camera setup is most likely to be on the front of the phone.
Oppo's next smartphones, F3 and the F3 Plus were spotted in Billboards which look to be official and reveal more details about the smartphones to be launched. In the ads, we can see that the phones are indeed going to be named as F3 and F3 Plus. Also the ad clearly states that the phone will feature a dual selfie camera and not cameras this means that only one of the phones will have a dual selfie camera which most likely will be the Oppo F3 Plus.

As far as the specifications are concerned, we have got our hands on the leaked specification sheet of the Oppo F3 Plus thanks to the guys at androidpure.com. The Oppo F3 is the smaller of the two phones which will contain slightly lower specifications and may not contain the dual selfie camera setup as compared to the Oppo F3 Plus. In terms of camera, Oppo F3 Plus comes with a dual front camera setup with 16 MP + 8 MP camera sensors and a 16 MP main rear camera at back. For the battery backup, Oppo F3 Plus is powered by a 4,000 mAh battery. dual SIM support (dual Nano Sim). The phone supports 4G LTE with bands B1/2/3/4/5/7/8/20/28. In terms of dimensions, Oppo F3 Plus measures 163.63 x 80.8 x 7.35 mm and weighs 185 grams.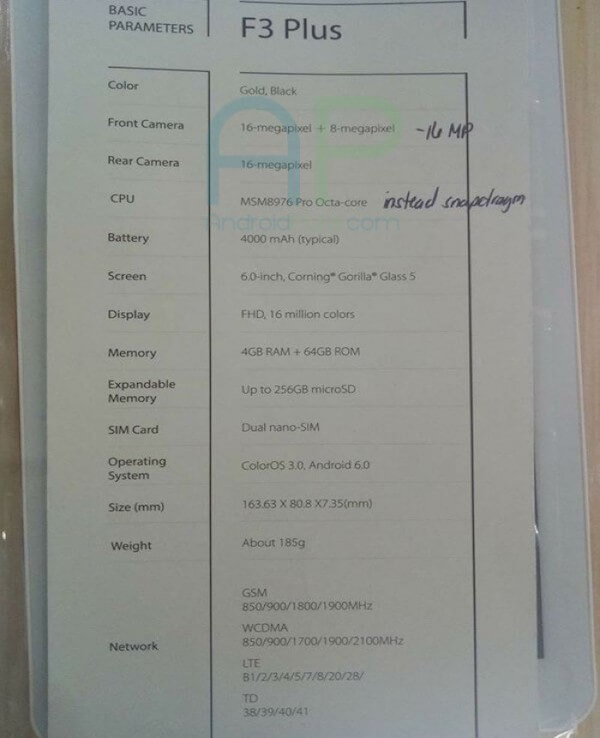 There is no news yet whether the Oppo F3 will also sport a dual selfie camera setup but we will know for sure in the coming days. Oppo is known for its innovations in the smartphone camera and it also has the tagline of 'camera phone'. The Oppo F3 and the F3 Plus are certainly going to set a new benchmark for selfie cameras. We will keep you updated as we know more about this devices.
Get notification about our latest updates, leaks, hacks & exciting offers in realtime!