OnePlus, the Chinese Manufacturer had launched the OnePlus 3T last year and the phone has received some excellent reviews with some of the reviewers giving the phone the tag of the 'Smartphone of 2016' for its competitive price and excellent specs. Now the company has been planning to launch the OnePlus 5 which would be the successor to the OnePlus 3T. We have already known that the OnePlus 4 would not be the name of the successor to 3T as the number '4' is unlucky in China and the company wants to avoid misfortune.
Also Read : OnePlus' CEO confirms the OnePlus 5 is coming.
We have already seen some leaks about the device which is about to launch soon. The OnePlus 5 is rumored to come with a dual-rear camera setup and a larger battery then its predecessor. Now we have some newer leaks about the OnePlus 5 which are a bit contrary to the earlier leaks.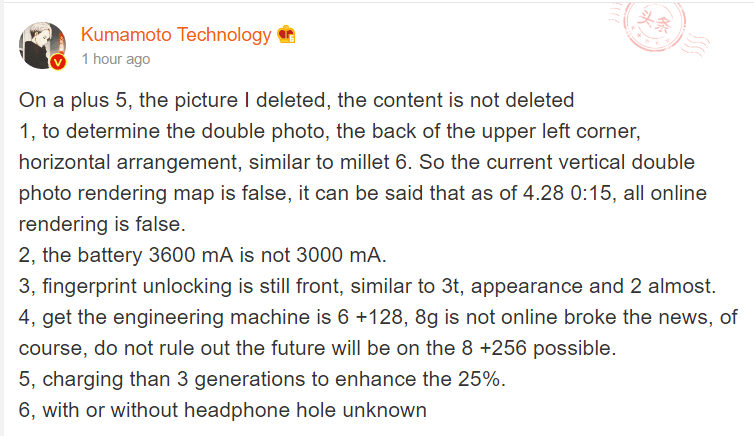 According to this leaks, the OnePlus 5 will indeed feature a dual-rear camera but that would be located at the upper left corner of the phone just like the Mi6. We had seen images of the OnePlus 5 which had dual-camera on the back placed vertically in the middle. The OnePlus 5 will have 3600 mAH battery and there would be a 25% increase in charging speed than the OnePlus 3T. The fingerprint sensor on the OnePlus 5 would be placed on the front same as the OnePlus 3T and the phone will have 6GB of RAM with 128GB of storage but a 8GB RAM/256GB storage combination is also possible.
OnePlus 5 is expected to come with the latest Qualcomm Snapdragon 835 chipset and a QuadHD Optic Amoled display. Stay tuned as we know more about the OnePlus 5.