OnePlus has been busy drumming up the hype machine for its upcoming product of the year, the OnePlus 5 which it confirmed will be called that, a week back. There were also earlier leaks about a dual camera setup on the device and again sketches got leaked with details about the handset being made of premium materials like metal and ceramic. Today, Android Authority got its hands on a prototype device through a trusted source, which showcases the dual camera setup. The article also goes on to talk about an imminent price hike to come alongside the OnePlus 5.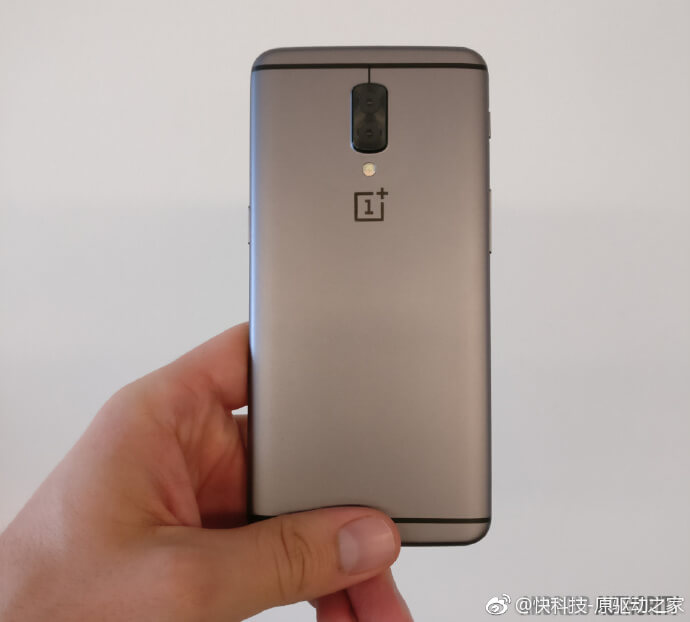 The OnePlus 5 prototype was photographed (image above) which shows a device that looks a lot like an earlier render that was leaked online which sparked the dual camera setup debate. In the image, we can see that the camera is arranged in a vertical orientation with the two lenses stacked one on top of another. The LED-flash has been relocated to a position below the camera module just above the company's logo. The leak does not talk about any other details about the device, not about its dimensions, its weight or what hardware it is packing but we will get to that in a bit.
The leak does share that the OnePlus 5 will be made of premium materials and packed to the gills with the latest and greatest in terms of hardware which in turn will require the company to increase the price of the device. Although no concrete terms have been put out, the high water mark for the pricing has been kept as high as $650 according to the source. To keep in mind, it has been more or less confirmed that the OnePlus 5 will come with Qualcomm's Snapdragon 835 SoC, coupled with 6GB/8GB of RAM and 128 GB of internal storage with a 5.5-inch QHD resolution display. Let us know your opinions on the price hike in the comments section.
Follow us on our social media to keep up to date with the latest in the world of Android.